Are you looking to create a certificate of appreciation? In this article, we'll guide you through how to make a certificate of appreciation that looks professional and memorable. We'll cover everything from choosing the right design software to selecting the certificate layout, adding text and images, choosing fonts and colors, printing and distribution, as well as appreciation certificate templates.
Understanding the Purpose of a Certificate of Appreciation
Before we dive into the steps, let's take a moment to understand the purpose of a certificate of appreciation. This formal document is used to acknowledge someone's contributions, achievements, or efforts. It can be used to recognize outstanding performance, celebrate a milestone, or show gratitude to a volunteer or employee. A certificate of appreciation can also serve as a valuable addition to a resume or portfolio.
Use PhotoADKing
To create a certificate of appreciation, you'll need design software that allows you to customize the layout, add text and images, and choose fonts and colors. If you're looking for an online design platform to create a certificate, PhotoADKing is a great option to consider. It offers a user-friendly interface with a wide range of customizable certificate templates, layouts, fonts, and images that can be easily edited to suit your needs. With PhotoADKing certificate maker, you can create professional-looking certificates without any prior design experience. Additionally, it allows you to download and share your certificate in various formats, including PDF, PNG, and JPG. Give PhotoADKing a try, and you might just be surprised at how simple and effective it is. 
Create Account
If you already have a PhotoADKing account, log in to the platform. If you don't, you can create a free account in a matter of minutes.
Search Templates
On the PhotoADKing homepage, type "Appreciation Certificate" into the search bar. This will take you to a page with various menu templates.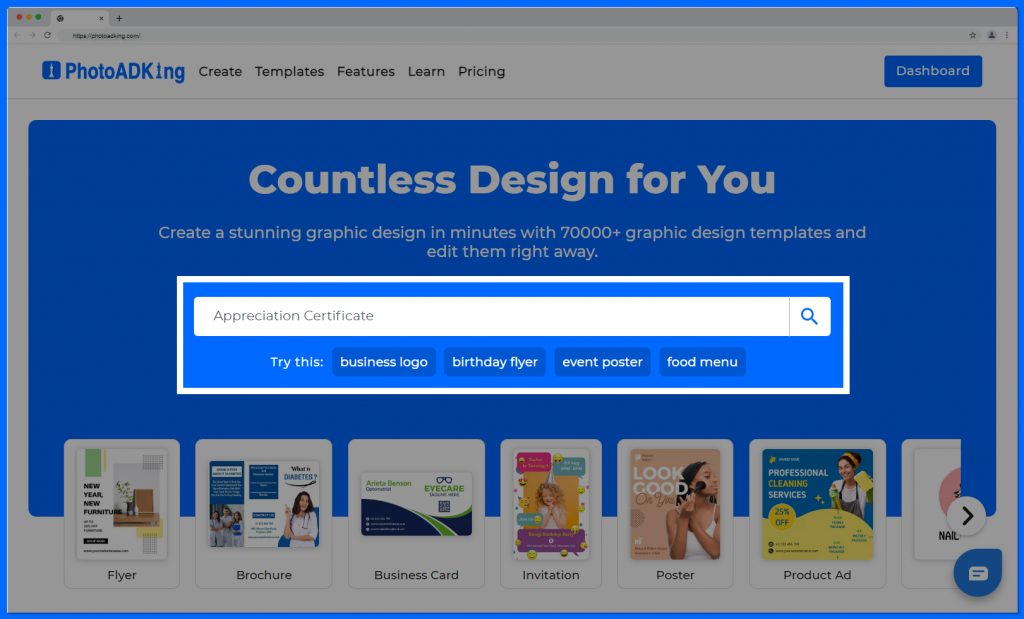 Selecting the Appreciation Certificate Templates
Once you have a good idea of the type of template you're searching for, the next step is to scroll through PhotoADKing's vast selection until you discover a design that complements your needs. Simply click on the chosen template to open it in the editor.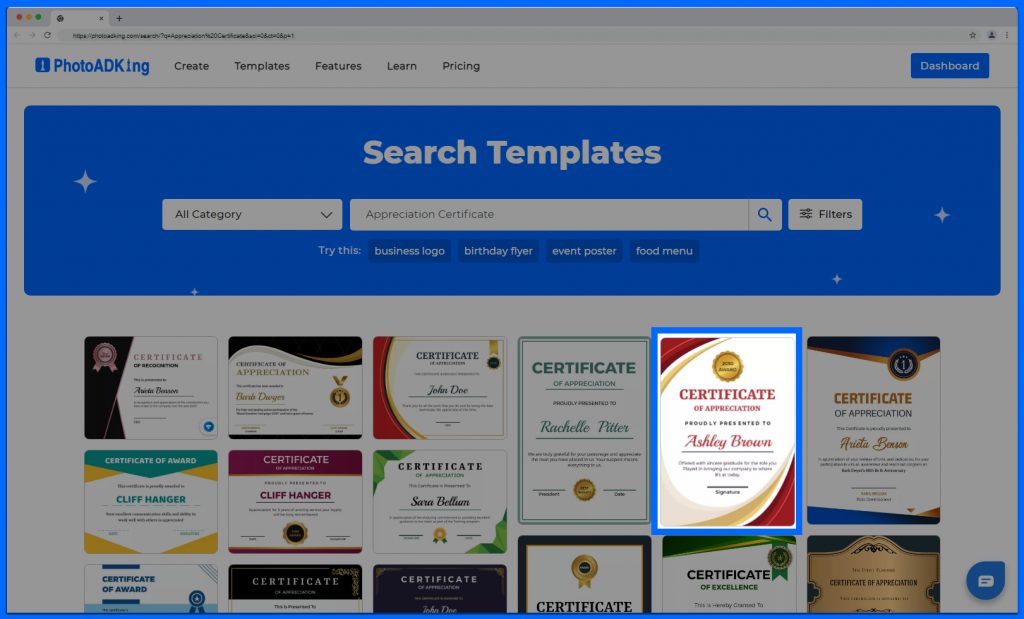 Customizing Appreciation Templates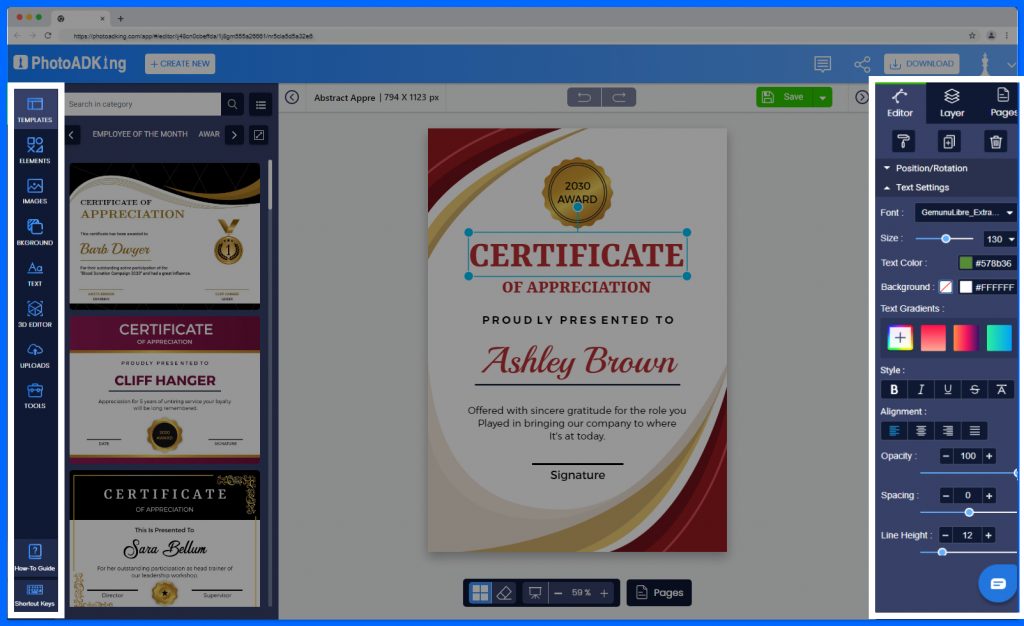 Adding Text
The text of your certificate of should include the name of the recipient, the reason for the recognition, the date, and the signature of the authorized person. Ensure the text are aligned, legible, and visually appealing.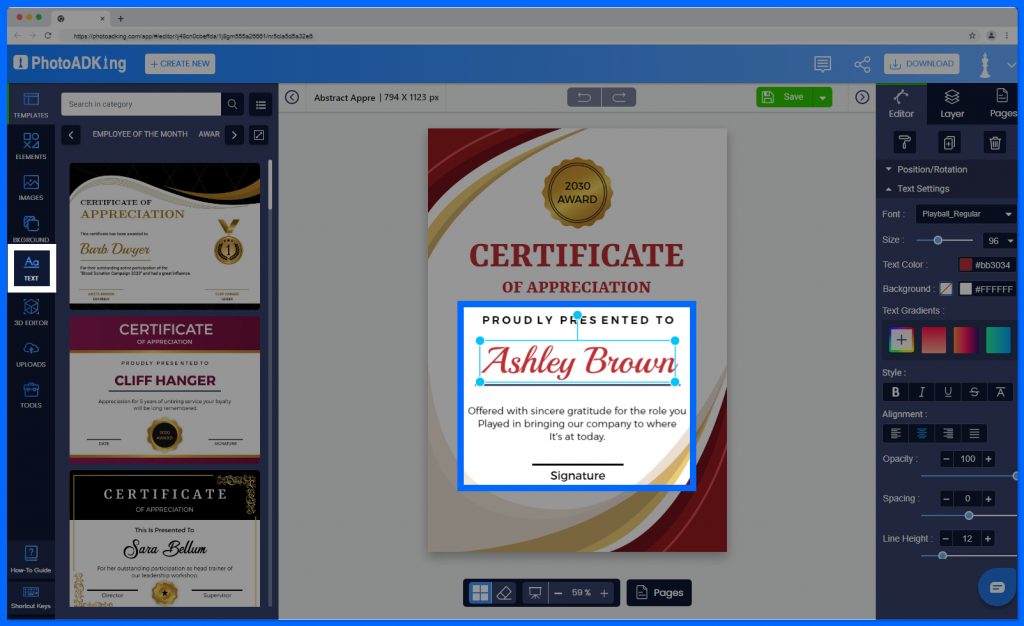 Choosing Fonts and Colors
Fonts and colors play an important role in the overall look and feel of your certificate of appreciation. Furthermore, use colors that are consistent with your organization's branding or the occasion's theme and choose fonts that are easy to read and complement the design style you have chosen. It is important to avoid using too many colors or fonts that clash.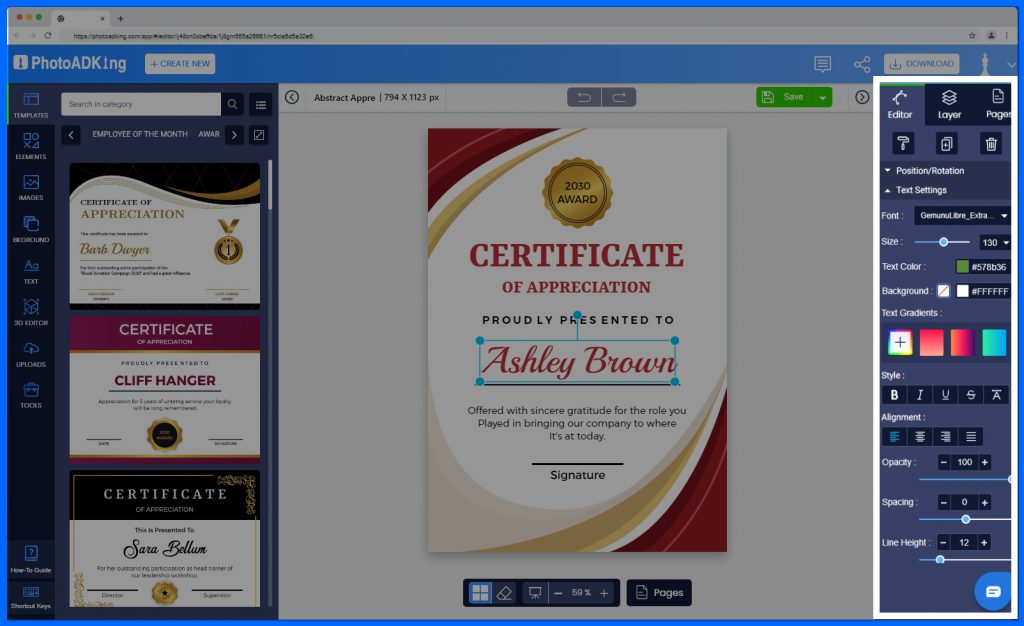 Save and Download
After you've made all the necessary changes, click on the "Save" button to save your menu design. You can then download the menu as a PDF, PNG, or JPG file.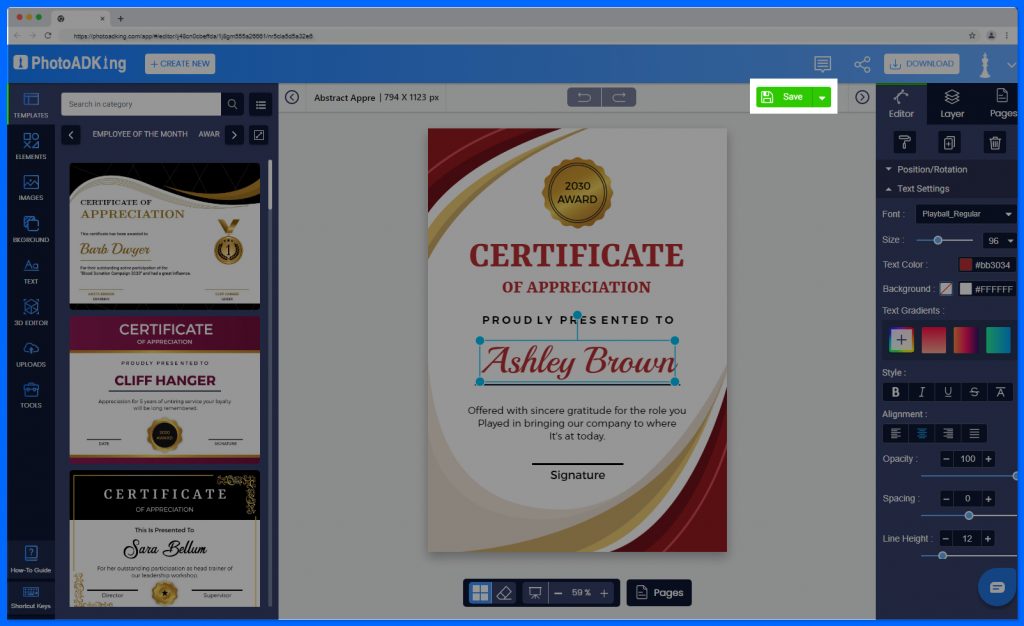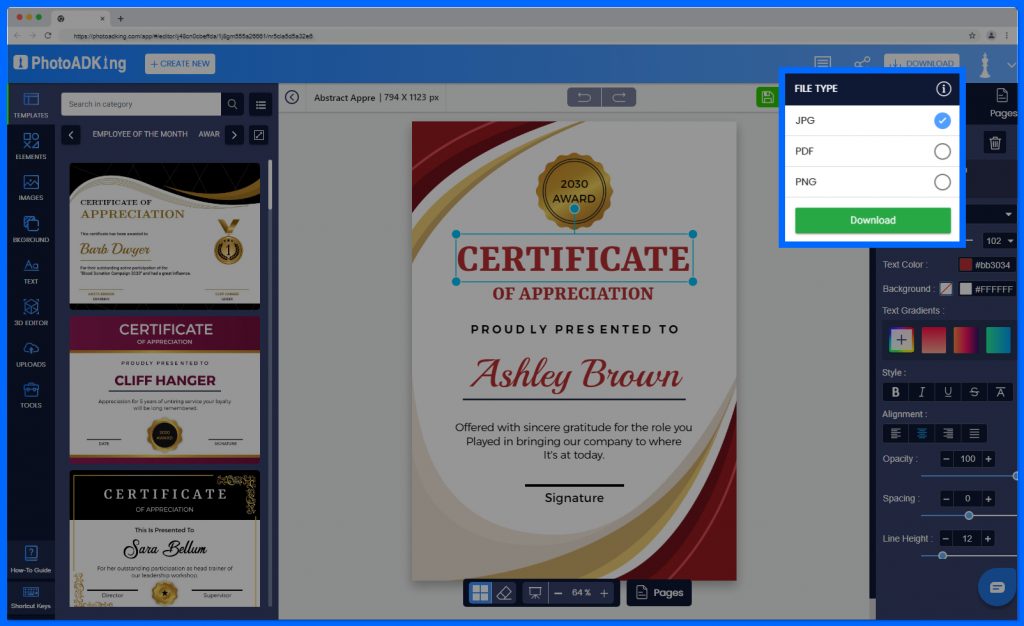 Printing and Distribution
When it's time to print your certificate of appreciation, make sure you use high-quality paper or cardstock that complements the design. Choose a printer that can handle the paper size and ink requirements. You can also consider printing multiple copies or creating a digital version for easy distribution. Finally, present the certificate of appreciation in a professional and respectful manner to the recipient.
Appreciation Certificate Templates
If you're short on time or design skills, however, you can consider using pre-made certificate templates. Many design software programs offer a variety of templates that you can customize to fit your needs. These templates can save you time and effort while still creating a professional-looking certificate.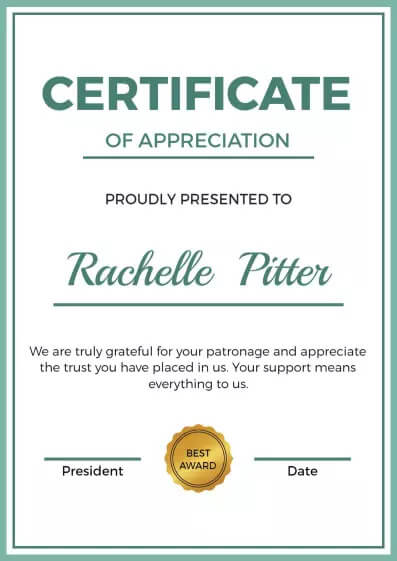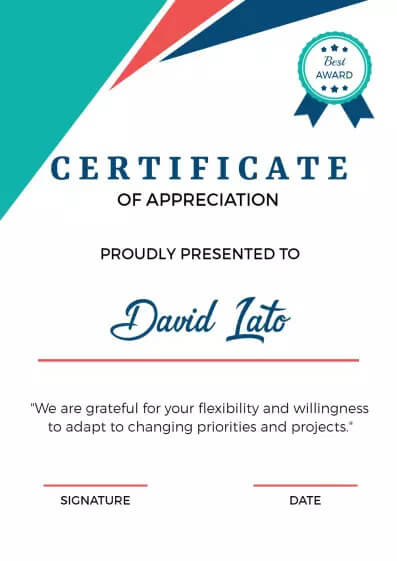 If you like what you read on our blog, you might also be interested in checking out some of our other blogs.
---
Recommended Blogs
Certificate of Appreciation Samples
Example of a Certificate of Appreciation
Background for Certificate of Appreciation
How to Make a Certificate Online
Certificate Size
Certificate Layout
How to Choose the Right Certificate Size for Your Design
What Are the Different Types of Certificates?
The Ultimate Guide to Choosing the Perfect Certificate Font
Certificate Border Design Ideas
How To Use Certificates For Marketing Your Business
Certificate Background Design Ideas
Best Strategies and Practices to Promote Certificates
---
Conclusion
In conclusion, creating a certificate of appreciation can be a rewarding and memorable way to acknowledge someone's contributions or achievements. By following the steps outlined in this article, we have guided you on making a certificate of appreciation that looks professional, memorable, and personalized. Whether you choose to create your own design or use a pre-made template, the key is to make the certificate meaningful and sincere. If you want to know in detail about how to make a certificate online then refer how to make a certificate online article.