Designing a hotel menu is not an easy task, especially if you want it to stand out and appeal to your customers. However, with the right template, you can make the process much easier and more efficient. Whether you're a small boutique hotel or a large chain, using a hotel menu template can save you time.
In this article, we will explore how to design a hotel menu using templates that can help you create a visually appealing and effective menu that can enhance the dining experience for your customers.
Why Use Templates for Hotel Menus?
Using a template for designing a hotel menu can save you time and effort while still achieving a professional-looking and eye-catching design. Templates provide a framework that can be easily customized to suit your specific needs and preferences. With templates, you don't have to start from scratch or spend hours trying to come up with a design that works. You can simply choose a template that matches your brand and style and customize it to fit your needs. Also, Want to get more information about it, then check out these menu style ideas to get inspiration.
How to Choose the Right Template for Your Hotel Menu
When selecting a template for your hotel menu, there are a few factors you should consider. First, think about your brand identity and the message you want to convey to your customers. Your menu should reflect your brand values and style, so choose a template that aligns with your branding.
Secondly, consider the layout and design of the template. A good menu template should be easy to read and navigate, with clear headings and sections. It should also be visually appealing and engaging, with high-quality images and graphics that showcase your dishes.
Lastly, consider the practicalities of printing and distributing your menu. Choose a template that is easy to print and fits within standard sizes for menus.
Customizing Your Hotel Menu Template
Once you have chosen your template, it's time to customize it to suit your specific needs. Start by adding your restaurant name and logo, and then adjust the color scheme to match your brand identity. Next, add your menu items and descriptions, making sure to include high-quality images of your dishes.
When customizing your hotel menu template, it's important to keep your target audience in mind. Consider what your customers are looking for in a dining experience and tailor your menu accordingly. For example, if you are targeting health-conscious customers, include a section for healthy options or dietary restrictions.
Step-by-Step Process: How to Design a Hotel Menu
Designing a hotel menu can be a fun and creative process, but it also requires careful planning and attention to detail to ensure that your menu is both aesthetically pleasing and functional.
Here's a step-by-step guide to designing a hotel menu.
Step 1: Create a Free Account
Visit the PhotoADKing website and sign up for an account.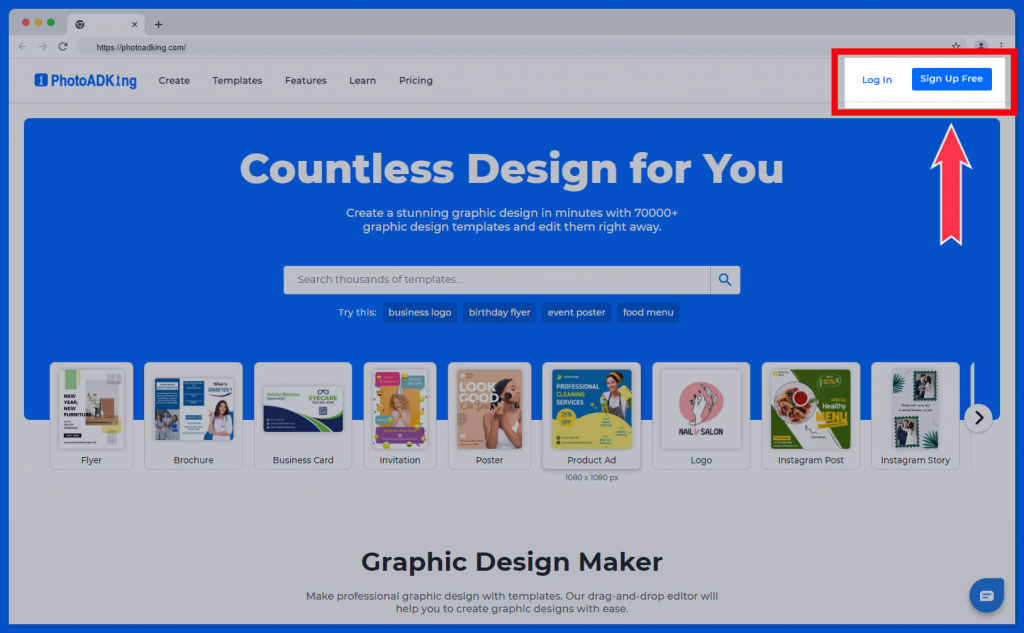 Step 2: Search Menu Template
Once you are logged in, type 'Hotel Menu' in the search bar.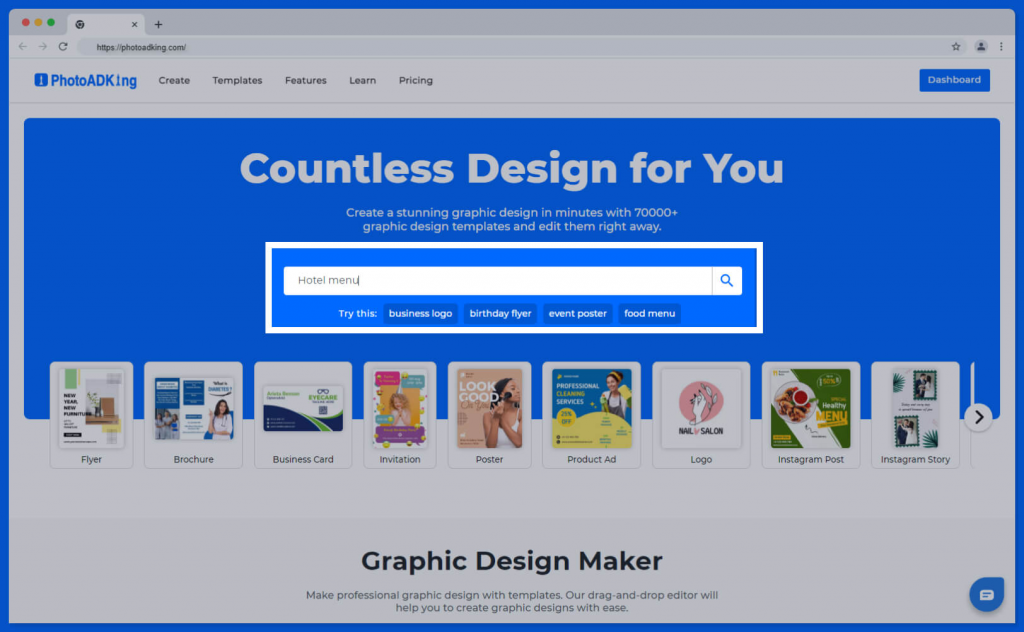 Step 3: Choose Right Menu Template
Choose the right template according to your need and whether you want to edit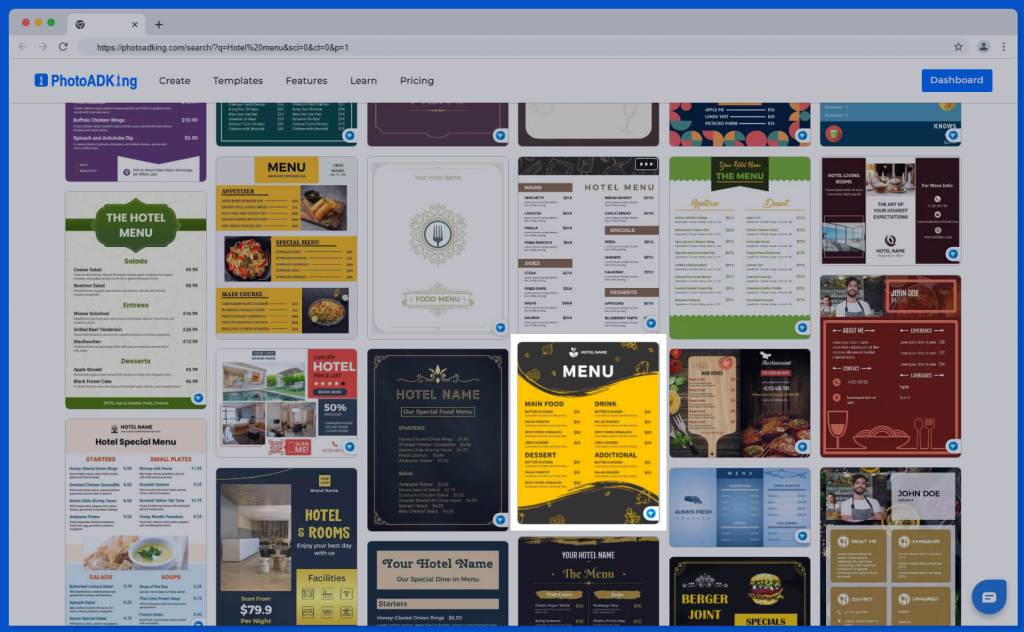 Step 4: Customize Menu Template Design
Customize the layout and design of your hotel menu, including the color and other visual elements.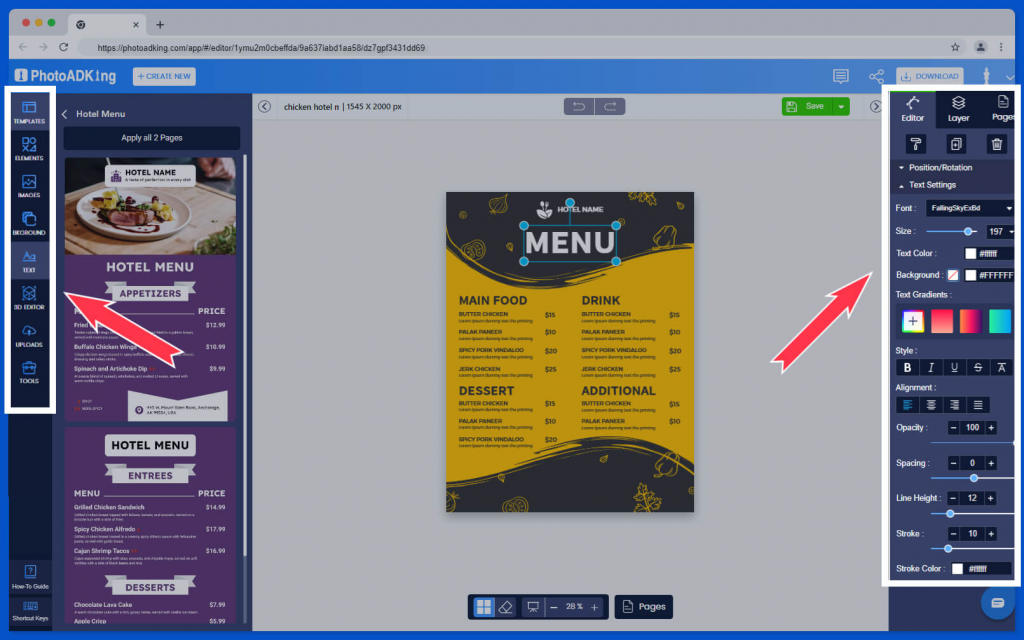 Step 5: Download Menu Template
After changes, you can download or print your template. On this page, you will see the top right corner button download, click the button and download the flyer template.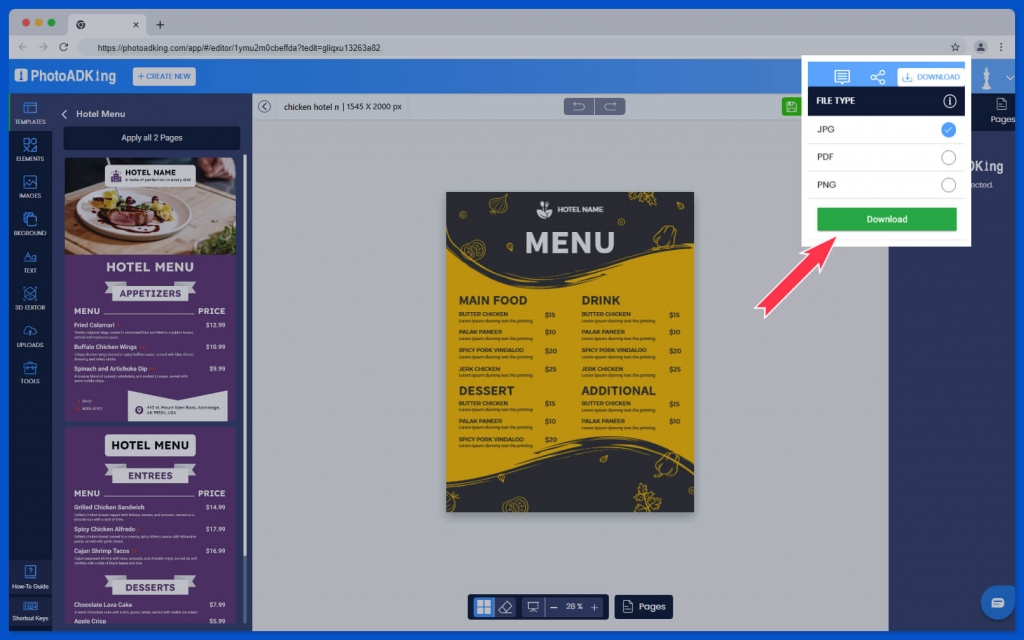 By following these steps, you can design a hotel menu that not only looks great but also effectively communicates your hotel's cuisine and brand to your guests. Also, here are some unique and great hotel flyer samples that can help you with your hotel business.
Some Examples of Hotel Menu Templates
Simple Hotel Menu
Our simple hotel menu template provides a clear and easy-to-read layout for our guests to peruse. Also, adding the features of a variety of dishes, with options to customize and tailor to individual preferences, ensures a personalized dining experience for all.
Italian Hotel Menu
This template showcases a delicious selection of such as authentic Italian dishes, from savory pasta to delectable pizzas and more. Moreover, with detailed descriptions and mouth-watering photos, our menu is sure to entice guests and provide a memorable dining experience.
Special Hotel Menu
It features a unique and seasonal selection of dishes, using the freshest ingredients available. From holiday-themed menus to chef's specials, our menu offers a variety of options to surprise and delight our guests. With an elegant design and personalized service.
Contrast Hotel Menu
This hotel menu template offers a modern and dynamic design, featuring a balance of bold typography and striking visuals. The menu offers a range of contrasting flavors and textures, from sweet to savory, to provide a memorable dining experience for our guests.
If you're looking for a pre-designed template then, check out these hotel menu templates and start creating your own menu templates today! you can easily customize your menu with your own branding, images, and text to create a professional-looking menu that showcases your hotel's cuisine.
Floral Hotel Menu
The menu template features a charming design with delicate floral accents and elegant typography. The menu showcases a selection of fresh and vibrant dishes, using locally-sourced ingredients to create a delightful dining experience for our guests.
Thai Hotel Menu
It showcases a variety of bold and flavorful dishes, such as inspired by the vibrant and colorful cuisine of Thailand. Also, With options range from spicy curries to refreshing salads. The elegant design and clear layout of the menu make it easy to navigate and order.
Non-Veg Hotel Menu
It offers a mouth-watering selection of dishes, featuring a variety of meats cooked to perfection. From juicy steaks to succulent seafood, our menu is sure to satisfy the cravings of meat lovers. With detailed descriptions and customizable options.

Creating a hotel menu using a template is quick and easy. Want to get your restaurant menu online? Many template websites offer pre-made designs that can be customized to fit your specific needs. To get started and want more information check out how to create restaurant menu online. With a little creativity and attention to detail, you can create a professional-looking hotel menu that showcases your restaurant's unique offerings and entices customers to dine with you.
Conclusion
Designing a hotel menu using templates can save you time and effort while still achieving a professional-looking and effective design. When choosing a template, consider your brand identity, the layout and design, and the practicalities of printing and distributing your menu. Customize your template to suit your specific needs and target audience, and make sure to review and finalize your menu carefully before making it available to your customers. By following these tips and using the right template, you can create a hotel menu that stands out and enhances the dining experience for your customers.