It has been observed that in the restaurant industry, some individuals cannot make a profit even if they invest heavily. However, there are many factors behind this. But here we are talking about different menu styles. Due to a lack of knowledge, many people are unsure about menu style, where the menu should be displayed, and how it should be visible. In addition, they don't realize there are a variety of menu style ideas to represent menus.
A well-organized restaurant menu style can increase everything from your brand identity to your customer experience and your profits. Your menu is not only used for serving food, but it also represents more than a simple list of items your restaurant has to offer.
As you know you can display your menu in various ways and it should be in a similar kind of theme. You also should change or update your menu as per your dish price update and as per the festival season. This process is itself time-consuming as well as costly. But you can save your time and money if you use menu templates that can be customizable as per your need. And PhotoADKing can be the most convenient tool you can use as it has 1000+ professionally designed menu templates.
Here, we have identified several menu style ideas that you should know about.
Table of Menu Style Ideas
1. Single Page Menu
Single-page restaurant menus are the most effective option if you sell fewer items or have limited food products. The idea is to use it at the beginning or when the restaurant is just getting started. Because when you start a restaurant, at the beginning you will focus on quality rather than quantity. This is more than enough for a single-page menu, especially if you have limited food.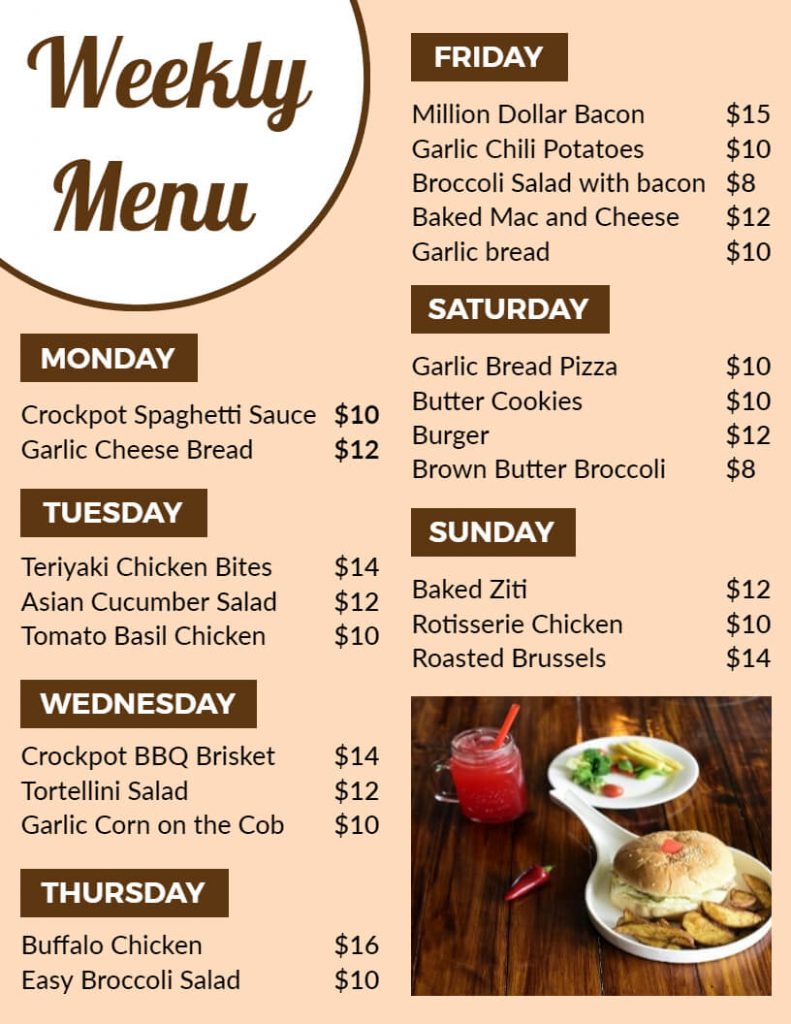 2. Bi-fold Menu
A menu type like this is helpful if you want to specify two types of food separately, or if you need to fix anything else, such as vegetarian or non-vegetarian food, or a native language or international language.
The bi-fold menu has 2 panels with each one having two pages, so there is a total of four pages. The following GIFs will help you understand better.
3. Tri-fold Menu and Z-fold Menu Style Ideas
Effectively, both menus are used in the restaurant. However, there is a minor difference between the Z-fold and the Tri-fold menus. That is only a matter of panel crease difference.
Both tie-fold and Z-fold menus have three panels, each with two pages. So the tri-fold and Z-fold menus each have six pages. We can see that in the GIFs.
Tri-fold Menu
Z-fold Menu
In a restaurant, both tri-fold and Z-fold menus are used when there are several different types of dishes and a variety of food available. Since they can be printed on both sides, a wide range of words can be put on menus. Additionally, this layout is ideal for multilingual menus. In different panels, you can use Spanish, English, or any other language you choose.
4. Book Fold Menu
The book menu is helpful for restaurants serving all kinds of dishes in different languages, alcoholic and non-alcoholic beverages including vegetarian and non-vegetarian dishes. So there is no way to fit everything on one or two pages. In this case, a book menu can be extremely helpful because we can bind many pages into a single book menu.
5. Tabletop Menu
Tabletop menus are also known as self-standing menus. Menu cards are placed on both sides of a tabletop menu to advertise special drinks, appetizers, wine lists, and more.
The two-sided layout of the table tents allows both sides of guests to simultaneously view the advertisement during the entire course of their meal. This tabletop menu is also used to encourage your guests to order different items, such as expensive wine or desserts.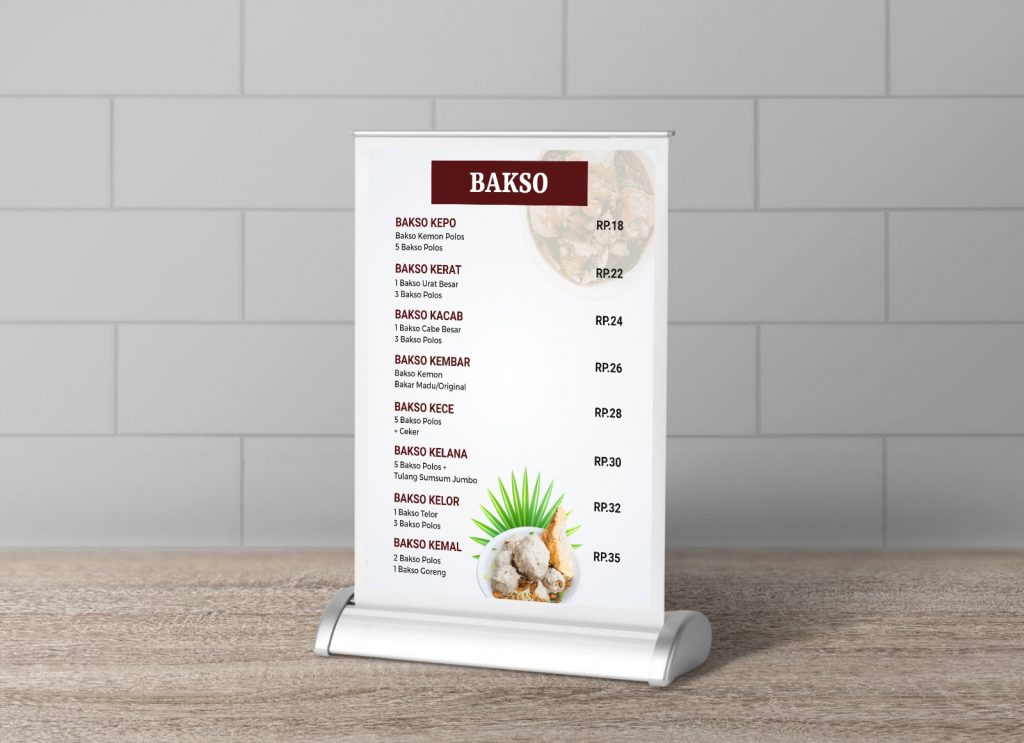 6. Flip-Stand Menu
Basically, there is no noticeable difference between the flip stand and the tabletop menu. Both are self-standing menus. You just need to focus on your menu card design to attract your customers directly to the expansive items that you plan to sell.
The flip-stand menu has its own distinctive principles. The slotted ring clip at the top of the fixture allows for smooth motion as a guest. The page is flipped using a card-holding stand. Put a menu card on the table so guests can turn it in as they wish. It's kind of like flipping calendars.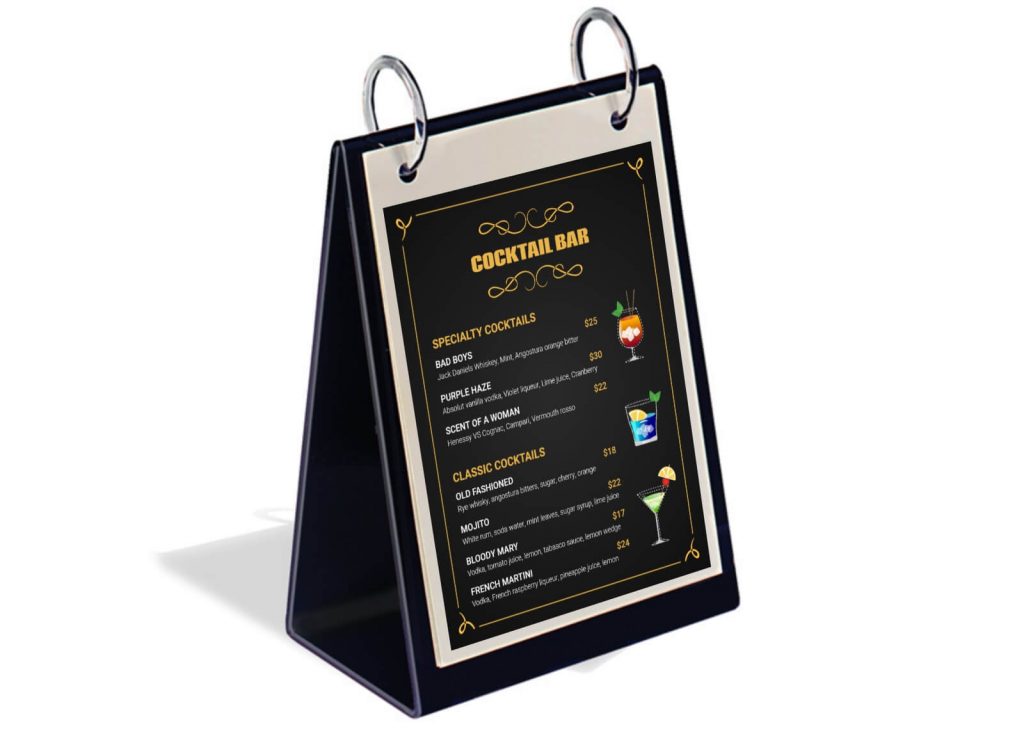 7. Pocket Menu
The pocket menu is pocket-sized. It's like a folded brochure that merges pictures of your restaurant, your entire menu, your business card, and a detailed map of your location. It is usually used for lavish weddings, functions, and parties. Customers can carry the pocket menu around with them. Pocket menus are mysterious because of their size.
8. LED Board Menu
Since the menu board structure is lighted by LEDs, it becomes a stunning piece of art. Menu boards are used to display food items, highlight food prices, and allow customers to place orders. These items are available at restaurants that offer drive-through service.
9. Magnetic Letter Board Menu
Magnet menu boards are an unexplored way to display your menu, with a modern design and a minimalist look. This magnetic menu board is ideal for restaurants and coffee shops. In addition, magnetized letters make it easy to change what's on offer wherever you want.
Magnetic whiteboards are made of a thin layer of steel sheet metal over a white surface. Since the steel is behind the thin plastic, magnets stick quite well to them. Utilizing magnetic letter boards is an eye-catching way to represent the menu on the board.
10. Wall Mount Chalkboard Menu
The wall-mounted chalkboard menu is used for displaying available foods and can be customized. The chalkboard menu hangs on the wall so guests can easily see and place an order.
11. Digital Display Menu
In most restaurants, digital menu boards are mounted on the wall so customers can see them as soon as they walk in. A digital menu board, which you can display on your television screen, is an electronic and modern way to display your menu. They let customers know what they can order before heading to the register.
It is helpful during busy times in any restaurant. They show off their menu to customers while they're waiting in line. Customers arrive at the cashier's desk knowing exactly what they want to order.
It is also beneficial for hotel owners or managers. Suppose you want to change anything on the menu like the price or food item, or you want to add or remove anything from the menu. In this case, you need to customize the menu right away. If you have a hotel menu template page, you can easily manage the menu while running a busy restaurant. The only thing left is to edit and display it on a digital screen.
12. Video Menu
A video menu is used when you wish to convey a special menu to your guests. You can use it as an advertisement for your restaurant's food. You just need a digital display that can play your video.
13. Outdoor Chalkboard Menu Stand
The outdoor chalkboard menu stand is generally located outside the restaurant and cafeteria. A chalkboard menu displays special food dishes, or a daily cycle menu, as well as something about the restaurant that makes it unique.
The flexibility of chalkboard menus makes them a smart choice for small and busy restaurants because they can be customized daily or even throughout the day. Menus, usually displayed on chalkboards, can include anything from individual items to entree selections of the day.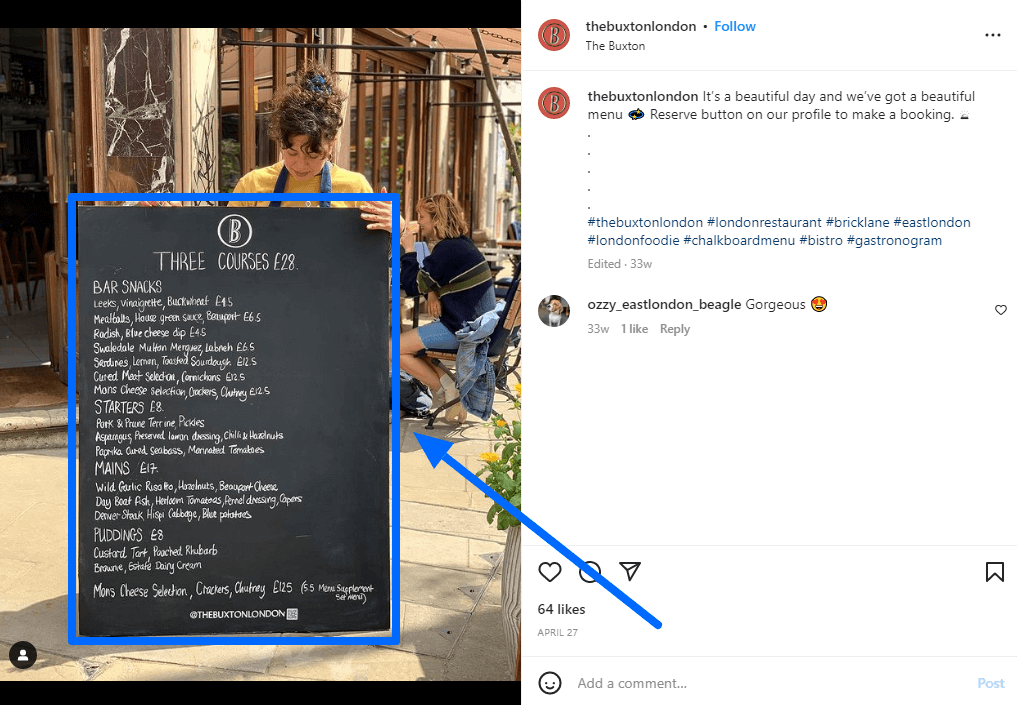 14. QR Code Menu
The QR code menu is easy to use and convenient to place your order. You can easily create QR codes using the QR code generator tool. After you create a QR code HTML or PDF file, you can print it on your restaurant menu. It might also help to include some information on how to scan a QR code on an iPhone or Android. This will help those who cannot scan QR codes. However, there are some QR code risks with free online services.
15. Online Menu
Creating an online restaurant menu has never been easier with our menu templates. Our templates offer a range of designs and styles to choose from, allowing you to showcase your dishes in an eye-catching way. From minimalist to bold, our templates are fully customizable to fit your brand and restaurant's aesthetic. With a professional and polished look, your menu will leave a lasting impression on your customers.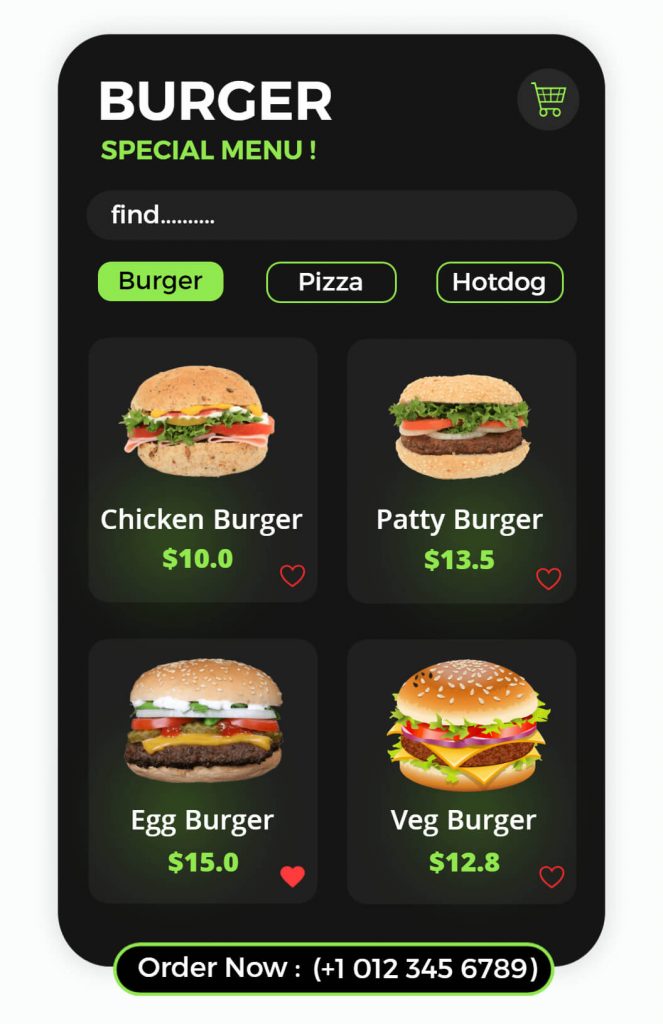 Conclusion
After seeing some restaurant menu style ideas, you can easily create the most attractive design for your restaurant menus. This can be achieved with the help of a menu maker tailored to the style of your restaurant. Developing menu styles plays an influential role in this industry, so if you are running a restaurant, you must always keep your skills sharp.