Menu card designs are visual treats that are served to the eyes before the food arrives on the table.
Even if you have spent lavishly on making the picture big with eye-candy interiors and everything that falls within, attractive menu counts!
Your food joint may be for Indian food, Mexican food, Chinese cuisine, dedicated to Kids, ice cream, etc. What uplifts the quality you serve is nothing but the menu design ideas you bring forward. Not essentially you have to print a hundred copies, you can hang one that makes a big impact.
Before you Start…
As you roll up your sleeves to make a wonderful menu, don't forget to do the competitive analysis first. There are multiple ways to market your restaurant business, well with the menu it is easy on the This is to be attempted not with an intention to copy someone but to determine how you could be better than them?
We've handpicked 13 interesting menu card designs that will make your customers talk about after leaving your premises.
13 Menu Card Design Ideas to get inspired with:
1. Go with the Theme First
When the color scheme matches what you serve, what else can be a better choice for menu design? See the background effect and font style. These are the small things that make a big impression. It makes the customers feel that you didn't just spend on the restaurant but also gave a thought to the menu.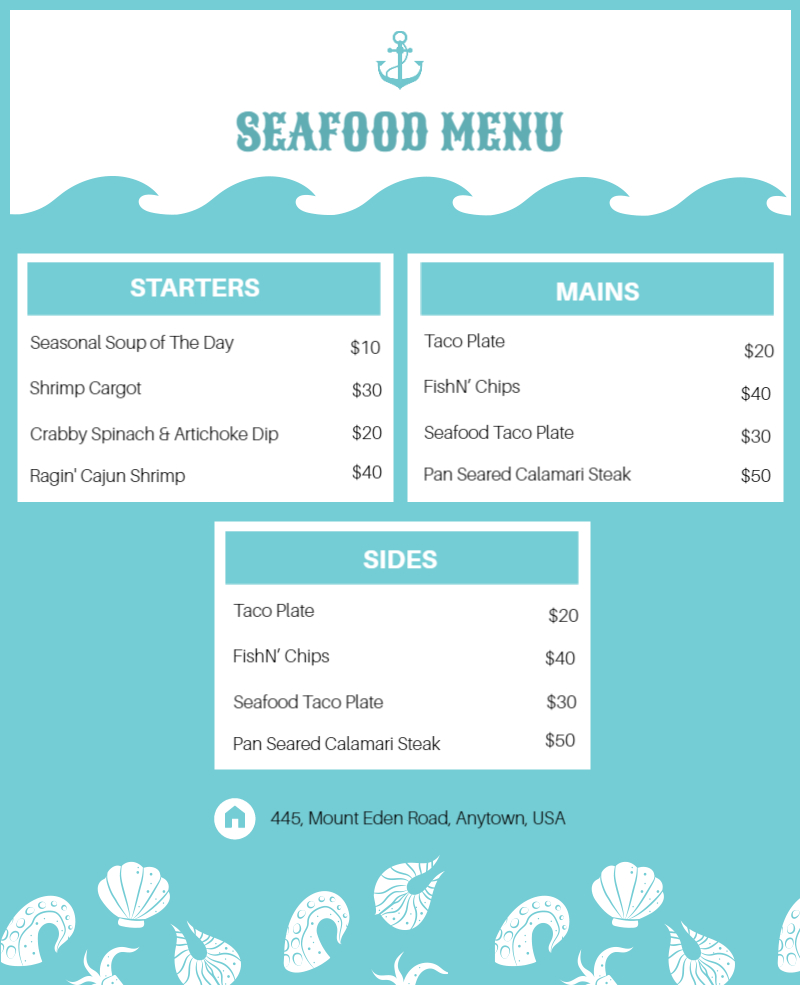 2. Side-by-side yet Neat & Clean
A fine blend of color codes, images, quotes as well as text representation must be something like this. You may call it a minimalist choice. For instance, if you have numerous items to be listed & you don't want your menu to be typical, this idea always works.
Such menu templates online are easily available & at times you don't even need to replace the pictures. Edit the details & you are up & running in a few minutes only.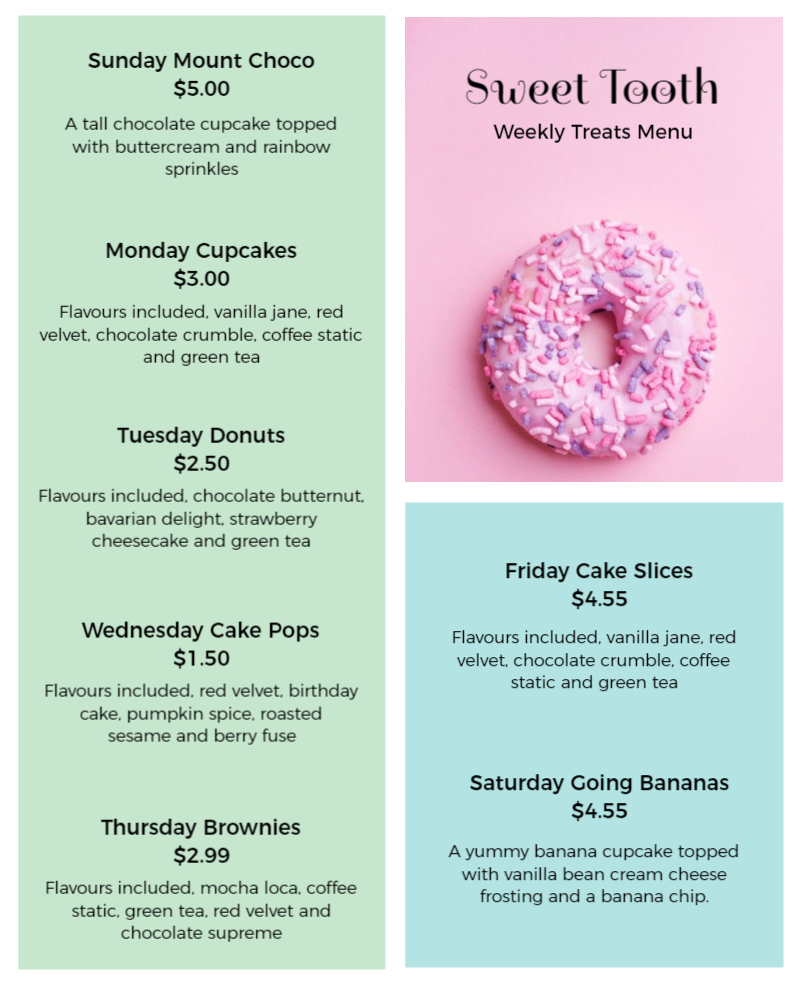 The above example shows a café menu card design. Did you notice the color combinations? It feels like home for coffee lovers and they don't have to stress much to order as everything is right in front of their eyes.
3. Dark-Light Contrast
One of the classic catering menu card designs could be dark-light contrast. As it improves readability, it is very easy to capture the attention of customers on what they should order.
This saves their attention from being diverted to anything else on the menu card apart from the details to show. The last images & cleanly displayed list are all you get to flaunt here.
4. Go Vintage
Appealing the background effect holds equal weightage as the rest of the elements on the menu. If you are obsessed with graphics, put it in your menu card this way…
This Pizzeria has a unique dark-light combination that steals the show with mouth-watering graphics floating in the background. The best part is the clear-readable details.

5. Show off the Ingredients
Very few restaurants have the courage to shout out the ingredients of their recipes. If you are bold enough to share the secrets, you may just pop up the bubble & share what's inside.
Please note that the above example is just an instance of the complete-recipe menu. You don't have to add all these details. Only a few ingredients will do.
5. Play with the Graphics
Not all the time you should show off real images. Stunning graphics or vectors are equally attractive. Those who wish their menu card design to be neat and clean and want to allocate the bottom line to graphics can choose this one.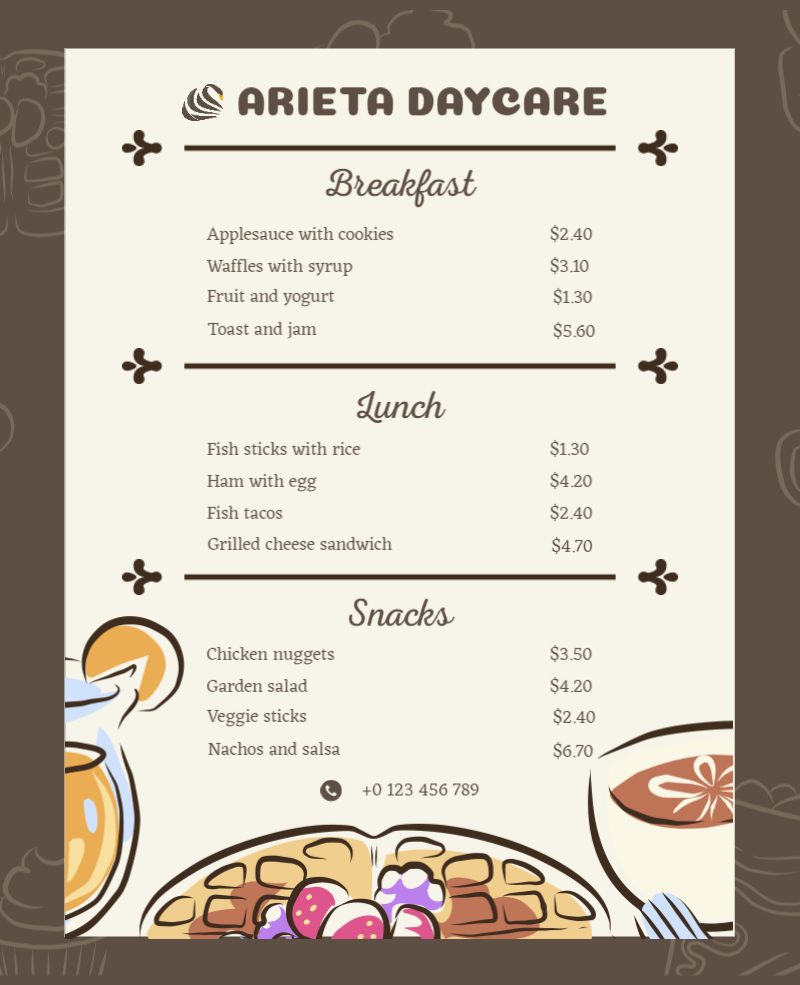 Such menu templates online are made for juice corners, fast food joints, pancake sellers, and so on. Notice the separators and the way they add to the overall appeal of the menu.
Keep in Mind: Font Styles play a crucial role in depicting the seriousness and decency of the menu. Be a wise picker!

6. When the theme is your Showstopper
Sometimes, it is a good idea to set everything apart and keep your theme the focus. You need a good dose of courage to do this as not every food joint is made to accommodate this. Startups with a few items on board can surely experiment with this.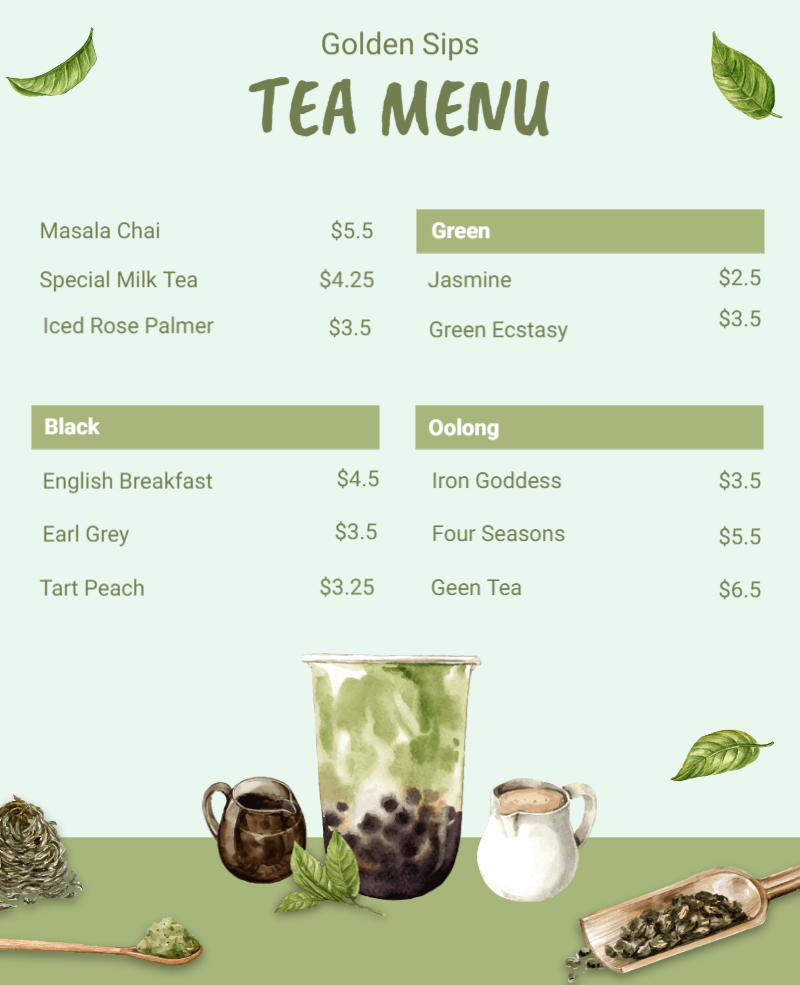 The above example represents such a magnificent tuning of colors with contrasting graphics. Imagine a customer arriving at your tea joint and expecting a simple menu list with pricing and coming across this thoughtful design, it's a win-win condition to remember.
7. Showcase the Final Output
What would you do if you want to keep text and visuals balanced on the menu? Simple! Dedicate equal areas to both of them. Not just a single page, your entire menu template could be like this. Add real pictures to bring them to life. Choose the colors according to your cuisine so everything seems to be in harmony.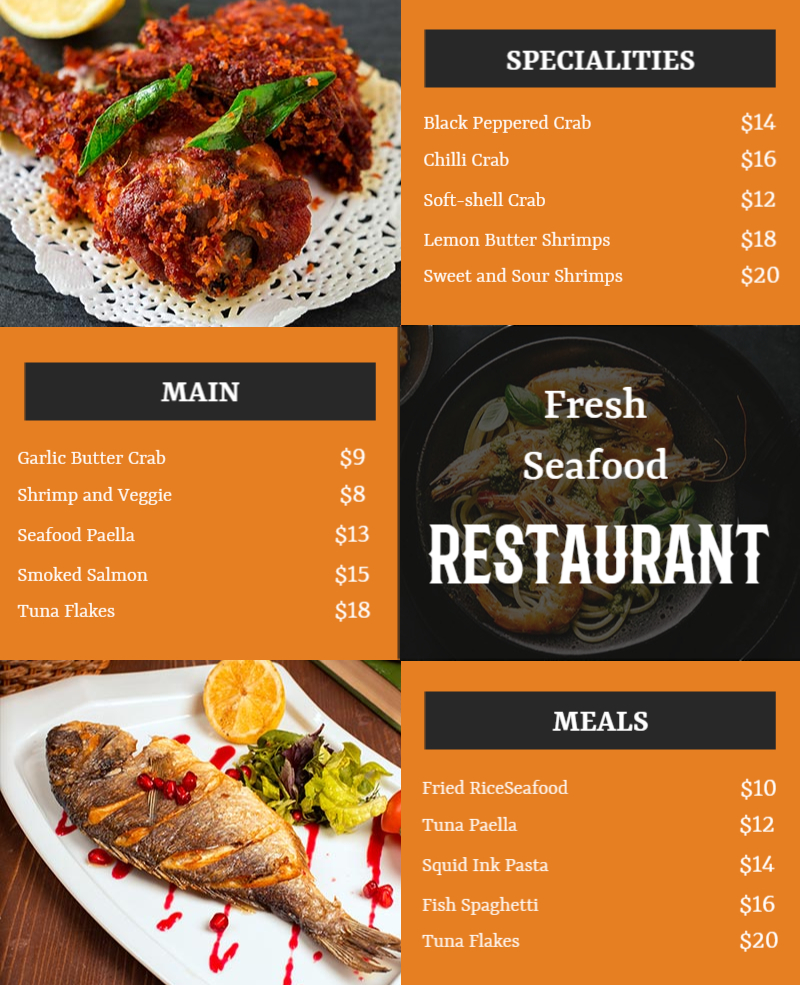 Do you know? Restaurant Menu Card Design can be used as a self-branding tool. Extraordinary menus work for mouth-publicity. The result is you have to spend less on marketing as walk-ins will automatically increase.
8. The Minimalist One
Some things are better displayed as minimal. This could be tried when you sell something very common that doesn't need any introduction then it's the best fit for you.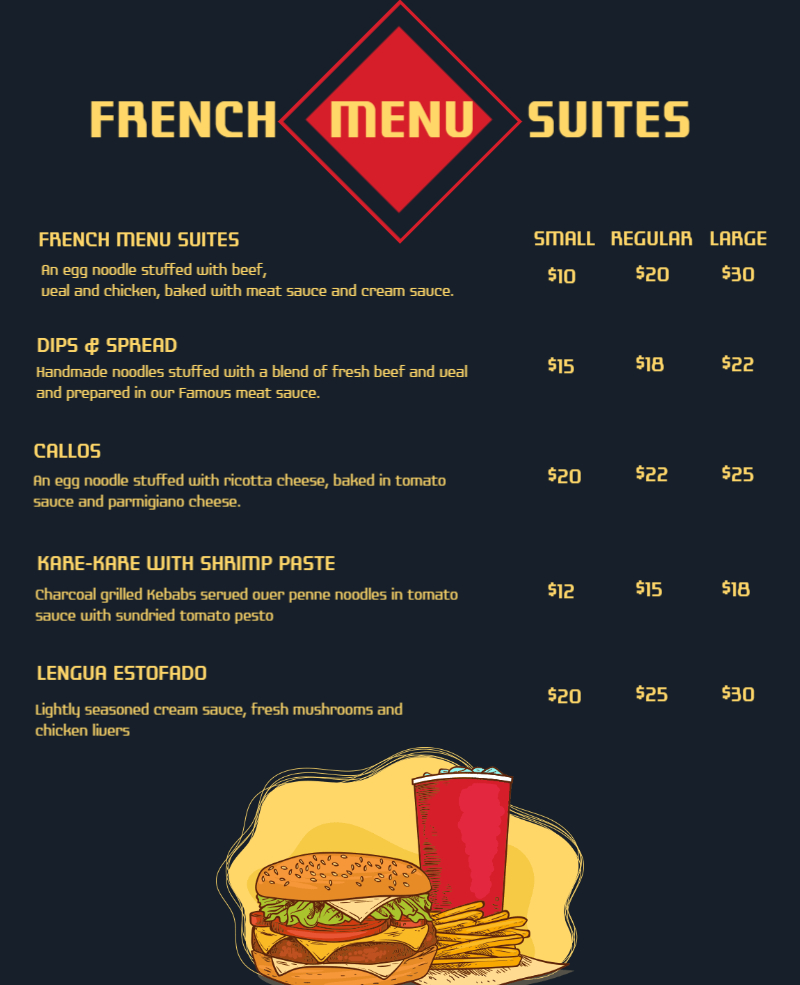 A single to no graphic will also do & you won't regret adding any since your menu card design is enough for the professional appeal. Even if you are selling Chinese on the street, this will give you a smarter look.
Moreover, it will be ready with the least time and effort and that's all you desire, isn't it? It's the coolest DIY approach.
9. A Menu Dedicated to the Occasion
Besides having the regular menu on the table, there are times when your kitchen cooks festive special items or seasonal exclusives. You don't want to list these items permanently.
What would you do to list out the time-being menu?
Hanging flyers is indeed an attention-grabbing idea but slipping a laminated copy of this 'additional' menu along with the regular one will make your customers notice it. Not only it will be appreciated but your efforts will be worthwhile as customers will order from that amazingly designed menu.
10. The Flyer Style Menu
Do you have more items on display and don't want to settle for anything less than outstanding? Here's your take. Grab such stunning copies and fold them as flyers. No matter if you have less than 20 or 50 items to show, you can make the cover look interesting according to your theme.
As you can see, the color combination is the show-stealer. Make sure yours turn out to be a fantastic one. Experiment with this with colorful images and combination text bubbles for a richer outlook.
Juice corner owners, did you find something new with this?
11. Wooden Menu Card Design
Some restaurants have a wooden theme. Either the food is cooked in an oven or it's a pizzeria. No worries if your theme doesn't suit it, if you like such unique menus, go for it.
Apply such menu design ideas to stand out as your punch line, best-sellers, offers/discounts, logo, address, and anything else that falls in place for a clutter-free look. You can also use it as your menu cover or add more items on the backside. Use it according to your convenience as it's going to be rocking for sure.
12. Budget-friendly Menu
Even if you don't want to spend much on the menu, you still have a chance to make an impression. Such three-fold flyer-style menus can accommodate more items and you can also have the first flap dedicated to your restaurant name, logo & contact details.
One thing to keep in mind here is that it should not create a mess or hinder readability. Utilize separators properly for a clear-looking menu. Such menu card design is ideal for any food joint and if designed well, it can accommodate up to 100 items. Interesting! Isn't it?
Note: Flyer style menu designs are the common ones but you can turn it into an incredible experience by showing off your creativity in every inch.
The Takeaway
Creative menu card design is what everyone desires these days you have the key to making one. Lure your customers with an enticing menu card that looks and feels good with not just the catchy graphics but quality print.
Highlight your ingredients, show the real-dish pictures, spotlight your specialty, and utilize the fun elements whenever needed. These are some ingredients to make your menu yummier.
After all, a menu is brought to life with the material it is printed on. Choose from the extensive range of hard-bound, wooden themes, or anything that resembles your food joint well.
You may hop on to our menu maker online for free now!