Looking for a fun-filled game night? Want to join us for an evening of excitement and friendly competition? Are you ready to roll the dice and challenge your skills?
Hey, listen up! There is a way to join more people & bring your potential audience together for a night of non-stop entertainment. We've got the perfect way for you. The game night flyer is like the secret ingredient to make your game night shine, grabbing everyone's attention and friendly competition, and good vibes all around!
However, looking to create eye-catching flyers for your next game night? Try PhotoADKing's flyer maker and design captivating promotional materials in just a few clicks! Get started today and make your event stand out with stunning visuals.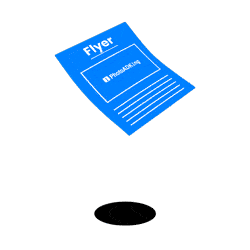 Create Game Night Flyer with PhotoADKing's Flyer Maker
PhotoADKing's online flyer maker and it's features will ease your work to make a flyer.
Try Flyer Maker Now
Now, let's go move ahead with the topic. In this guide, we will explore some creative game night flyer ideas and examples that will help you attract more attendees and make your event a success. Also, you will see typography ideas and colors for game night flyers.
Table of Contents
Video Game Night Flyer
A video game night flyer is basically designed to promote an event where participants come together to play video games. This could be a casual gathering with friends or a larger event hosted by a gaming organization. The flyer may include details such as the location, date, time, and types of games that will be available.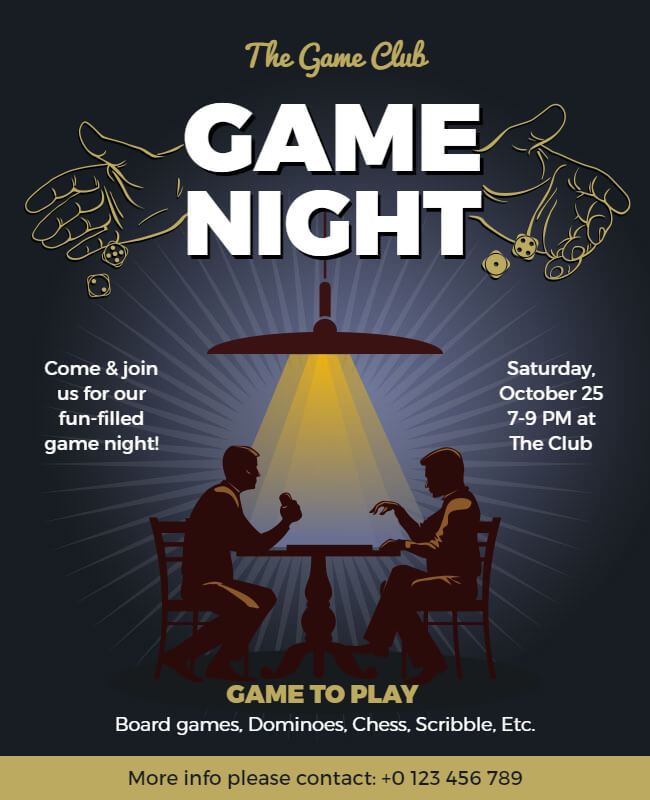 Virtual Game Night Flyer
Similar to a video game night flyer, a virtual game night flyer advertises an event that takes place online rather than in person. Flyers of this type may include information about the online platform used to host the event, as well as instructions on how to participate.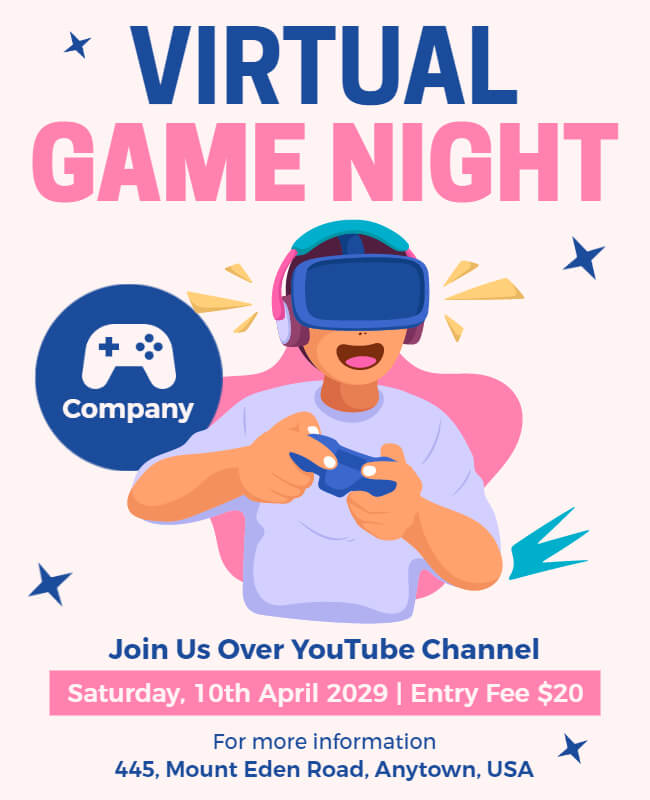 Game Tournament Night Flyer
A game tournament night flyer promotes an event where participants compete in a series of games to determine a winner. This could be a video game tournament, a board game tournament, or any other type of game. The flyer may include information about the rules, prizes, and registration process.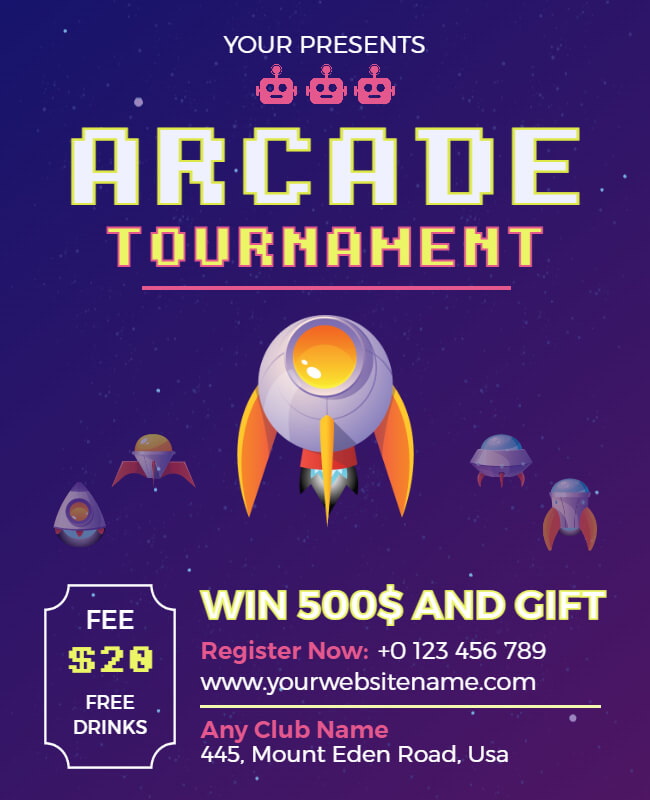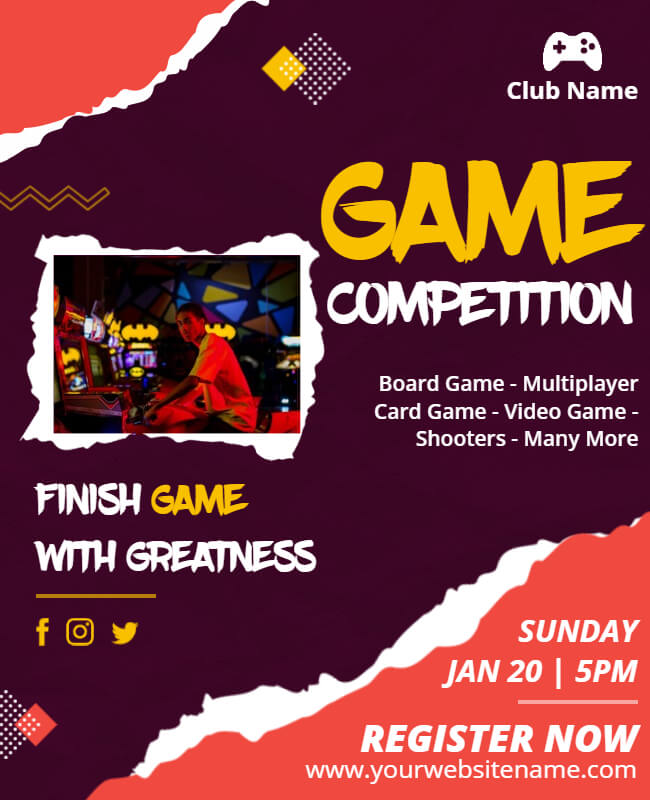 Additionally, for more game night flyer inspiration, explore these related articles, we recommended you to read them.
You Might Like These Articles:
Family Game Night Flyer
A family game night flyer is designed to promote an event where families can come together to play games. This could be a casual gathering or a more organized event hosted by a community organization. Details such as the location, date, time, and types of games that will be available for all ages may be included in the flyer.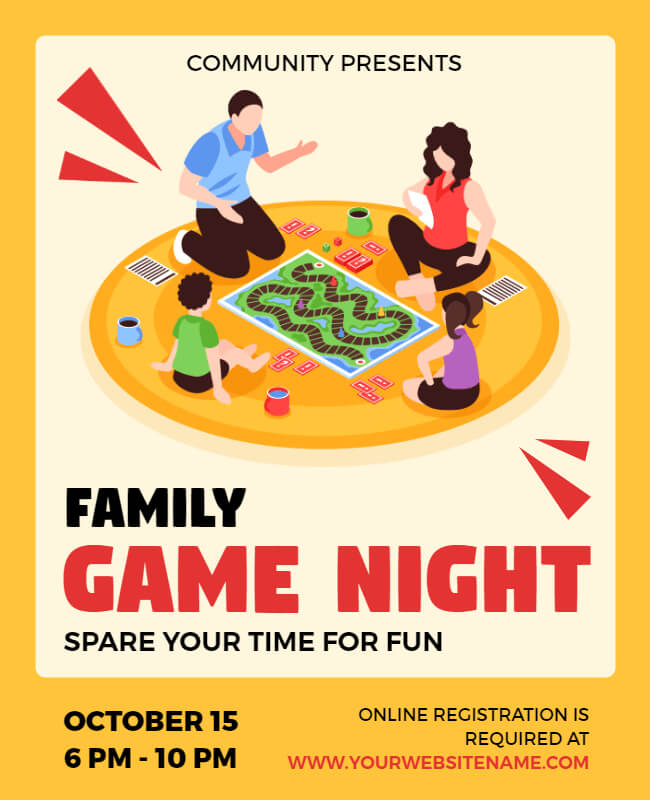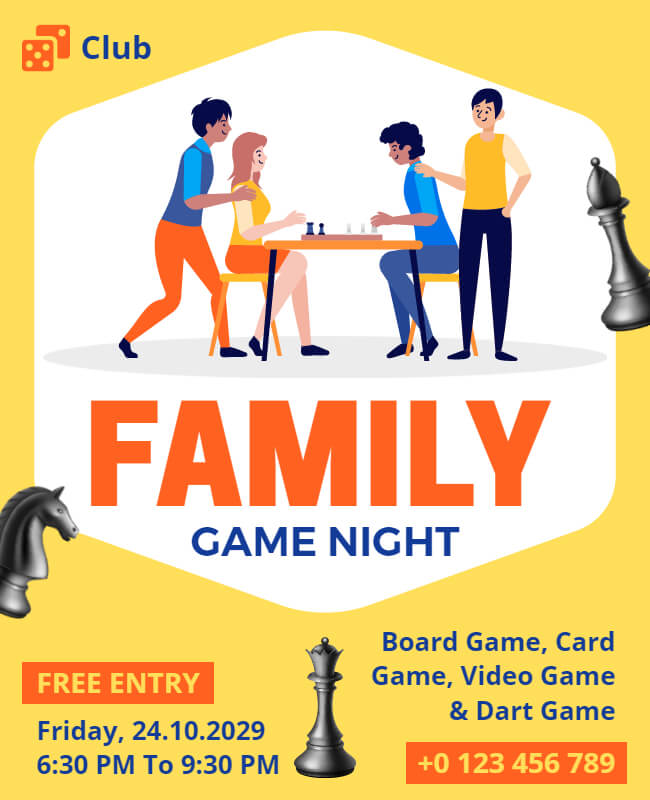 Bunco Game Night Flyer
With a Bunco game night flyer, you can promote an event where people can get together to play this popular dice game. There can be information on the rules, location, date, and time of the game on the flyer.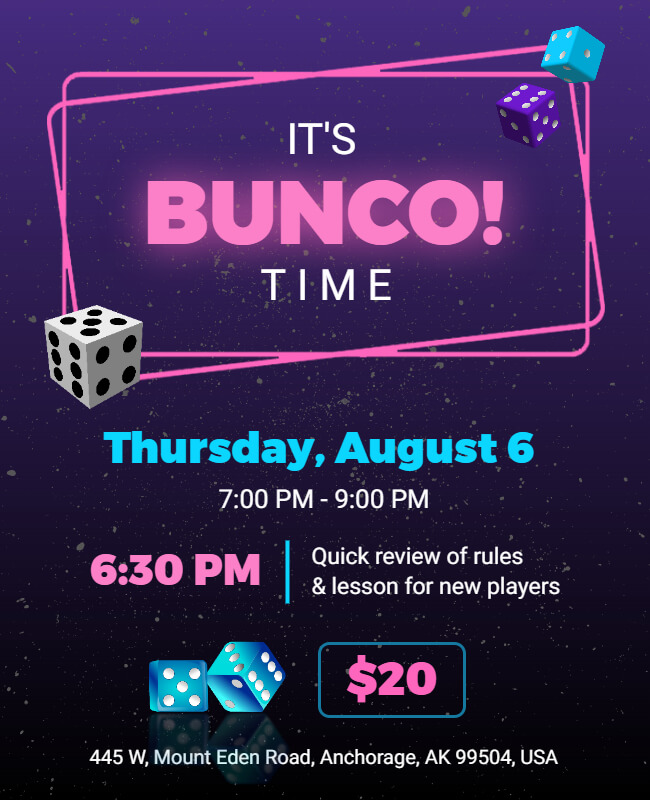 Moreover, if You want to see more of these game night flyer templates then visit this above link. It has a vast collection of templates on every occasion. Also, keep in mind when creating bunco game flyers using dice-related graphics, and we guarantee you'll make a fantastic flyer on your own.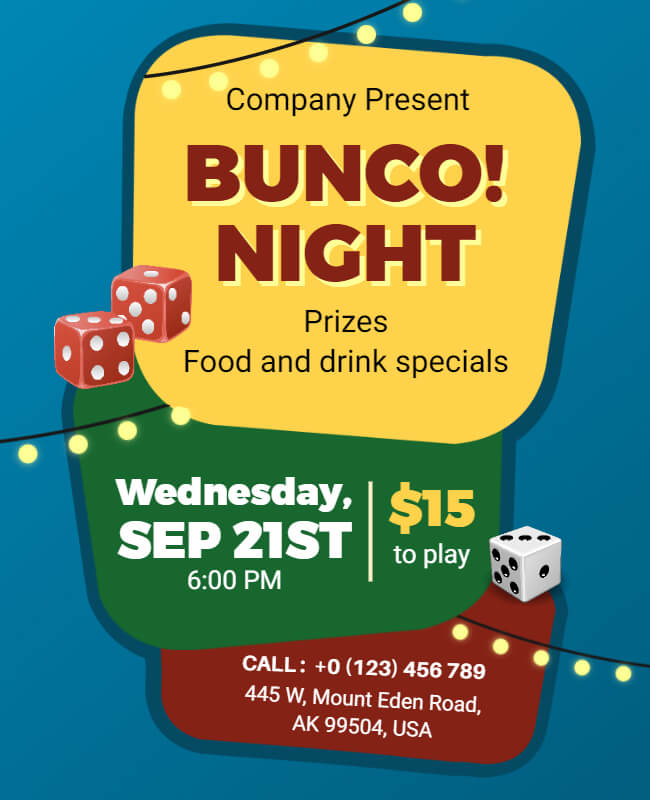 Sports Game Night Flyer
Sports game night flyers are used by organizers to advertise events where attendees can watch and support their favorite teams. There could be a casual get-together or a more formal event hosted by a sports organization. The flyer may contain details about the event's venue, date, and time as well as the sports that will be played there.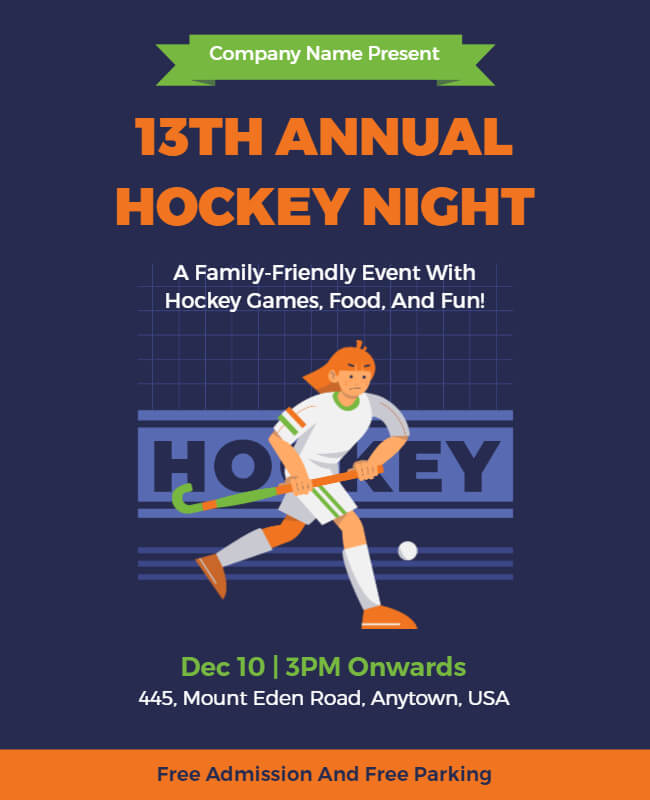 Boxing Night Game Flyer
A boxing night game flyer would be a promotional document advertising a live boxing match or event, likely taking place in the evening. Also. it may include information such as the date, time, and location of the event, as well as the names of the boxers who will be competing. Additionally, the flyer may feature graphics or imagery related to boxing, such as gloves, punching bags, or action shots of fighters.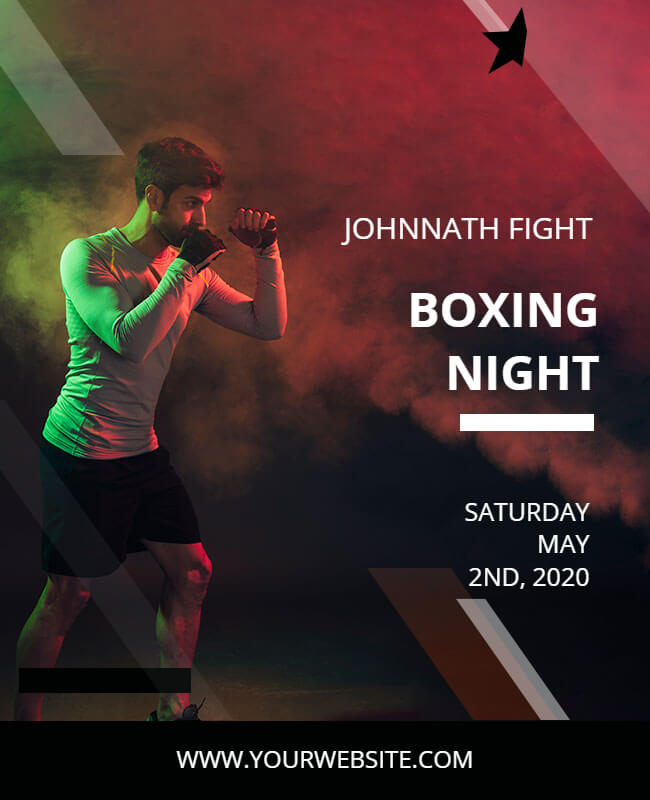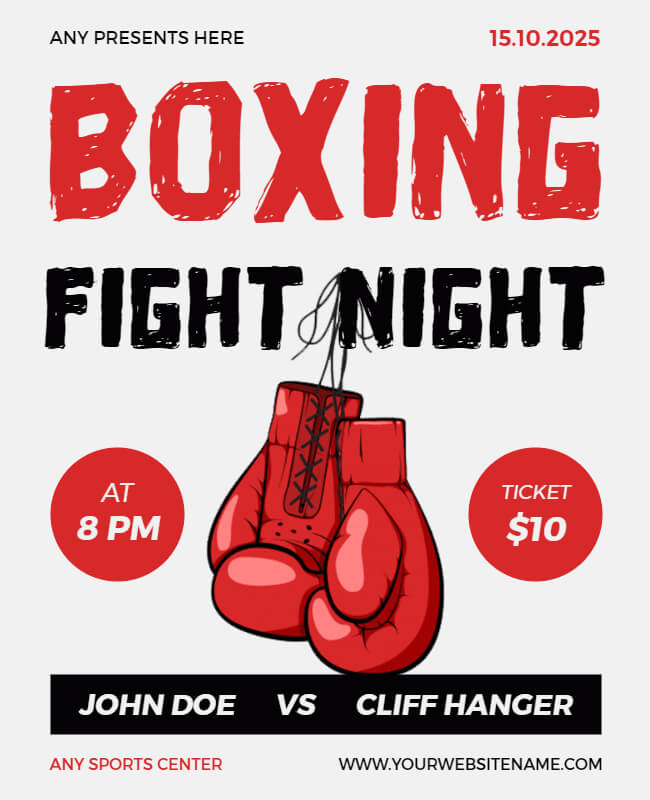 Game Night Event Flyer
A flyer for a game night event would promote a gathering where games would be played. Board games, card games, video games, or any other kind of game that can be played with others would all fall under this category. The flyer may contain details about the event's date, time, and location in addition to information about the specific games that will be offered for play. Aside from that, the flyer might include gaming-related graphics or images, like controllers, dice, or game pieces.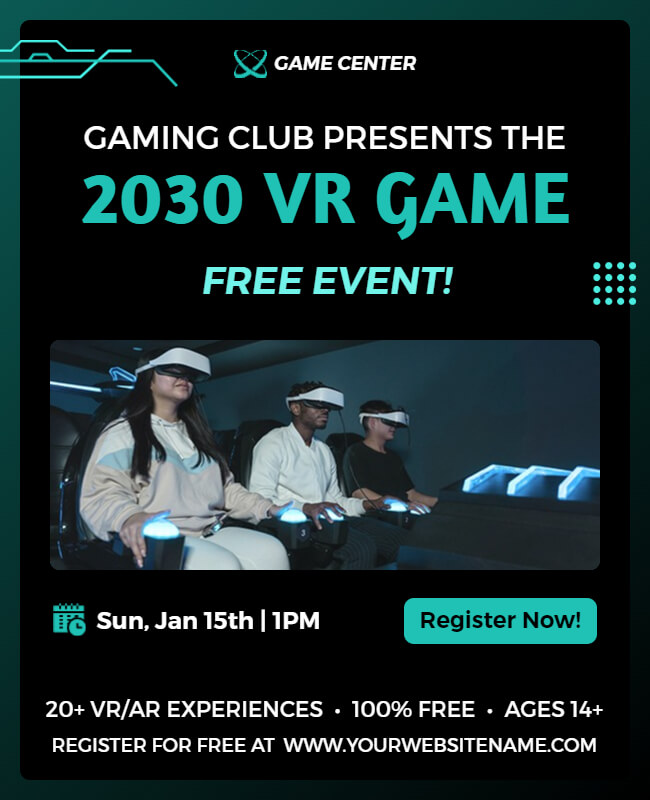 Typography Ideas for Game Night Flyers
Typography is an important aspect of any design, and game night flyers are no exception. Here are some typography ideas to consider:
Combine bold and regular fonts to establish contrast and hierarchy.
For a polished and neat appearance, utilize a sans-serif font for headings and a serif font for body text.
Vary font sizes to emphasize essential information.
Colored text may be employed to highlight specific details.
If the event is more informal, contemplate using a lively or amusing font.
Colors for Game Night Flyers
Color can have a powerful impact on the design of a game night flyer. Here are some ideas for using color effectively:
Use bright and bold colors to create a sense of excitement and energy.
Use complementary colors to create visual interest and contrast.
Consider using a color palette that is relevant to the theme of the event.
Use color sparingly to draw attention to important details.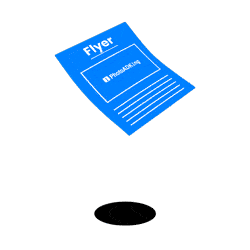 Get Easy to Customize Flyer Templates from PhotoADKing.
PhotoADKing's online customizable and easy to use templates will save your time.
Explore Flyer Templates Now
Conclusion
A well-designed game night flyer can be a powerful tool for attracting attendees to your event. By considering design elements like typography, graphics and images, and color, and by incorporating a creative theme, you can create a flyer that is both eye-catching and informative. With these game night flyer ideas in mind, you'll be well on your way to organizing a successful and memorable game night. We hope you find these game night flyer ideas and tips helpful. Also, you can check out our ideas-related articles that will help you to choose the right material for your event to promote!
Recommended Articles:
FAQs
How can typography enhance a game night flyer?
Typography plays a crucial role in setting the tone and theme of the event. Choosing appropriate fonts can help create a playful, retro, or modern atmosphere, depending on the desired style.
What colors work well for a game night flyer?
Colors should be vibrant, eye-catching, and reflect the overall mood of the event. Common choices include bright hues like red, blue, yellow, or green to evoke a lively and energetic atmosphere.
What are the different types of game night flyers?
Game night flyers can vary based on the specific type of games being played or the overall theme of the event. Some examples include board game nights, video game tournaments, or even specific game-themed parties (e.g., poker night).
How can I create a sense of excitement on my game night flyer?
Use dynamic typography, exclamation marks, and action-oriented phrases to convey enthusiasm and encourage participation. Words like "thrilling," "challenge," or "epic showdown" can evoke a sense of excitement.
Can I use themed backgrounds on my game night flyer?
Yes! Themed backgrounds can enhance the overall look and feel of your flyer. Consider using backgrounds that resemble game boards, pixelated landscapes, or even virtual environments to create an immersive experience.