Evеnts arе a cеlеbration of momеnts, and announcing thеm in a mеmorablе and stylish way is kеy to sеtting thе tonе for what's to comе. One popular method of doing this is through savе thе datе tеmplatеs. Thеsе tеmplatеs not only inform your guеsts about thе upcoming еvеnt but also givе a glimpsе of thе еxcitеmеnt and thеmе of your occasion.
In this articlе, we'll dеlvе into thе world of savе thе datе tеmplatеs and еxplorе how thеy can add flair to your еvеnt, making it an unforgеttablе еxpеriеncе for all involvеd.
Table of Content:
Save The Date Templates
1. Modern Designs Save the Date Invitation Templates
If you want to show off your fun and playful side, modern Save the Date designs may be more your style. Think bold colors, playful fonts, and creative designs. You can incorporate your wedding theme or use a photo of the two of you in a fun and unique way.
2. Floral Frame Save the Date Templates
Elevate the charm of your upcoming celebration with our exquisite floral frame save the date templates, blending nature's beauty with your special announcement. The magic of floral beauty meets the anticipation of your celebration in our floral frame save the date templates, ensuring your guests mark their calendars with joy and excitement for the day you say 'I do'.
3. PhotoFrame Save the Date Templates
Dozens of pictures must be on your mood board that you can't wait to share on the big screen at your wedding with wedding invitation templates. Pick the best picture to gear up the excitement with the Save the Date invitation card itself.
Pro Tip: When you choose this card, you can keep the background light/dark depending on your picture for a professionally designed look.
4. Cheerful Save The Date Templates
You don't need to follow any rules when it comes to save the date invitation designs. After all, it's about the intimate bond you two share. Grab this cute save the dates card that's too adorable to handle.
Share a few words framed into a lovely poem below the graphic & make them go 'aww'. Not just this cutesy train that you have, we have hundreds of darling illustrations to choose from.
4. Destination-Wedding-Perfect Save The Date Templates
Are you about to plan a destination wedding in Paris? And who cares if you aren't, this night-theme save the date announcement card is super cool.
You can combine all the dreamy elements that have been an important part of your relationship. No wonder this design is legit for travel-loving couples whose dream destination was always Paris.
Pro Tip: As the overall template is in lite mode, choose illuminating fonts that pop up & become readable. Your save-the-date card will be a big hit with this one for sure.
5. Elegant Save The Date Templates
Okay, so you like to have your save the date invitation stuffed. We have some unique save-the-date templates & we have one of the most subtle template suggestions which you can see below.
6. Unique Save The Dates templates
Have you planned a romantic cruise wedding? Share a glimpse of the shore-side ceremony with this crafty & dashing save the date card that's sea-themed. It is for all those adventurous couples with a soft corner for beaches.
Anchor your love at the sea with this unforgettable save the date card design, we don't need to say is unique. It will be no wonder to share insights on how your guests should plan their wardrobe for your wedding.
7. Garden/Forest Theme Save The Date Templates
Bring the spring hues to your save the date card with alluring pictures adding to the charm. Much recommended for garden wedding & forest nuptial ceremonies, the green leaves & white flowers are so winning.
8. Pastel Love Save The Date Templates
If there is any save the date invitation template you can't get over then this is the one. Look at the color combination of fonts, superb little-heart graphics & oh yes, the provision to add more pictures without looking messy – so stunning. We can say it's an effortless winner even if you're making save the date card at the last moment.
9. Watercolor Heart Balloon Save The Date Calendar
Feel free to get playful & experiment with save the date calendar ideas & we've handpicked this one for you. Just imagine, when this printable card will be placed on the table, there is no way your wedding ceremony be missed by any guest.
You can surely change the color scheme & default fonts as per your wedding color themes.
Pro Tip: Print a heart balloon with your wedding date & attach it with this card to make it a more thoughtful approach.
10. Black and White Save The Date Invitation Template
Look no further if you've found your match with this awesome black-white card. Even if you keep the default color combination & only edit the details, you'll rock it.
11. Storytelling Save The Date Invitation Templates
All save the date invitation ideas we've seen above are one-sided. With this wonderful design, you get to use both sides. You may wonder what you would do with so much space.
Well, make the front side the show-stopper & share a few lines about your love story at the back. Utilize the space to express the warmth of your relationship & how it is to be knotted forever soon. So romantic it is!
12. Photo-Based Save The Date Templates
When it comes to photo-based save-the-date invites, the options are limitless. As you see, this template has a full-size provision for you to share a larger-size image in the backdrop.
To balance the color contrast, you may apply color filter & mute the background image. This will bring "save the date announcement" into the limelight & how gorgeous it looks with wedding announcement templates!
14. Lovey-Dovey Save The Date Templates
Doves symbolize love & peace. Such touching graphics can mean a lot when illustrated in save the date cards. So, what are you waiting for? This trending pastel-based wedding save the date invitation card is ready to use for couples.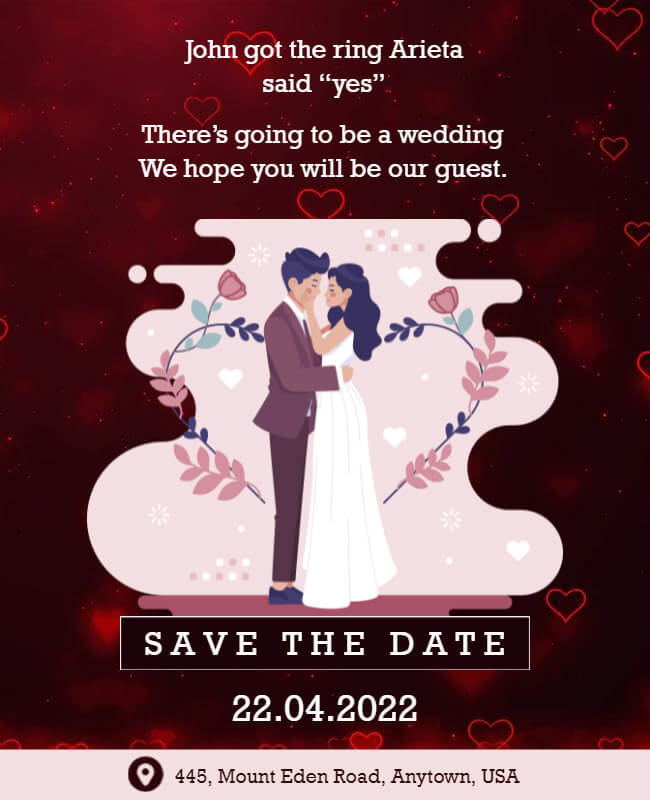 15. Minimalist Wedding Save the Date Templates
Who says you need something extraordinary to get there? Sometimes, the real magic is spelled from sophistication & how! This one is a stunner that features a white & golden theme, rich in elegance.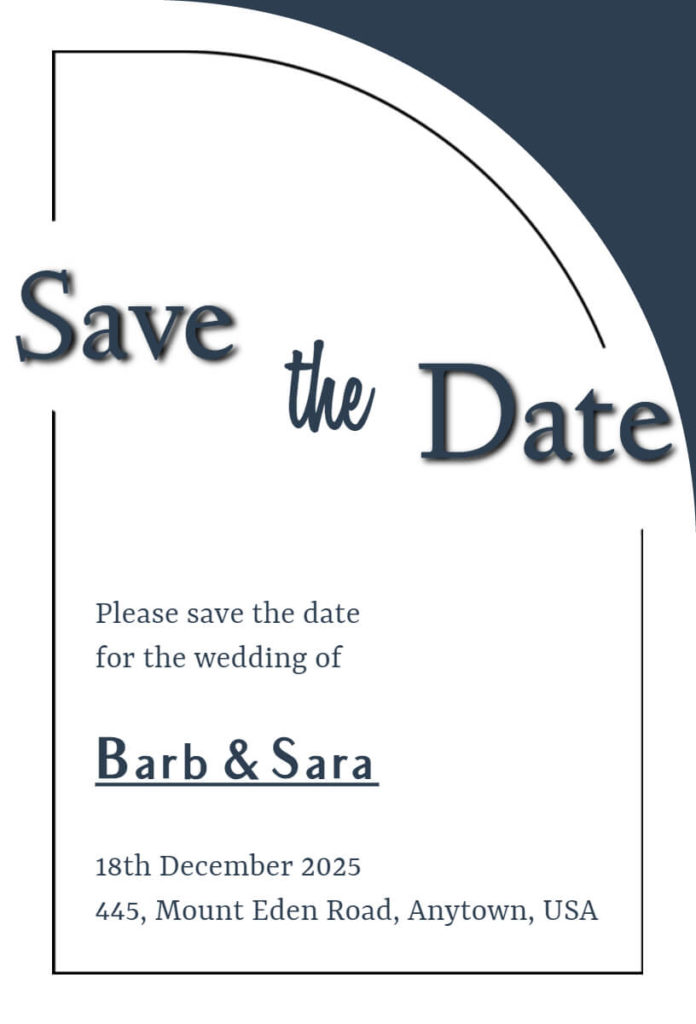 Ideal for tasteful couples, it's a foolproof save the date invitation for a wedding you would truly adore.
So, which of these creative save-the-dates left a lasting impression on your mind? If you can't get over it, start making it today to print & share high-quality save dates with your friends & family.
Save The Date Invitation Tips
Planning an event? The 'Save the Date' invitation is your first opportunity to make an impression. Here's how to ensure it's unforgettable.
1. Craft a Compelling Introduction:
Introduce your event with enthusiasm and clarity. Let the recipients know what's in store and why they shouldn't miss it. Engage them from the outset.
2. Choose the Right Words
Words have power. Select a language that resonates with your target audience and reflects the tone of your event. Whether it's casual, formal, or somewhere in between, choose words that embody the spirit.
3. Highlight Key Details
Ensure the essential event details are prominently displayed. Include the date, time, location, and any other pertinent information. Make it effortless for invitees to mark their calendars.
4. Design Matters
Aesthetics matter! Invest in a design that complements your event theme and aligns with your branding. Choose colors, fonts, and visuals that encapsulate the event's vibe.
5. Personalize the Experience
Personalization is key to making your 'Save the Date' invitation stand out. Address the recipient by their name and consider tailoring the message to their interests or relationship with the event.
6. Maintain Clarity and Brevity
Keep the invitation clear and concise. Avoid overwhelming your audience with unnecessary information. A clutter-free design and a to-the-point message will have a more significant impact.
7. Use Engaging CTAs
Encourage recipients to RSVP or take action with a compelling call-to-action (CTA). Whether it's visiting a website or confirming attendance, guide them on the next steps.
8. Leverage High-Quality Materials
Invest in high-quality printing and paper materials. The tangible feel of the invitation can create a lasting impression and convey the event's importance.
9. Proofread and Edit
Before finalizing, meticulously proofread the content. Check for any grammatical errors, typos, or inconsistencies. A polished invitation reflects professionalism and attention to detail.
10. Test Before Sending
Send a test invitation to a small group for feedback. Use their insights to make any final adjustments, ensuring your 'Save the Date' invitation is perfect before sending it out to your full guest list.
Recommended Blog
Wedding Invitation Background
Wedding Invitation Ideas
How to Make Wedding Invitation: A Step-by-Step Guide
Guide for Perfect Wedding Invitation Layout
Top 20 Wedding Invitation Designs Ideas
Wedding Invitation Wording
Invitation Border Designs
Invitation Examples
Creative Invitation Ideas
Invitation Ideas
Invitation Size
Stunning Invitation Card Background
Best Fonts for Invitation
Invitation Layouts
Invitation Sample
What Are the Different Types of Invitations?
How To Create Video Invitations With PhotoADKing
How to Create Invitations Design With PhotoADKing
FAQs
Can I use save the date templates for events other than weddings?
Yes, save the date templates can be used for various events, including birthdays, anniversaries, and corporate gatherings. They are a versatile tool to inform and excite your guests about any upcoming celebration.
Are there eco-friendly save the date template options?
Absolutely! Many designers offer eco-friendly save the date templates that use recycled materials or digital formats to minimize environmental impact. You can choose a sustainable option that aligns with your values.
Can I create my save the date templates?
Yes, many online platforms provide user-friendly tools to design your save the date templates. You can unleash your creativity and tailor the design to suit your event and preferences.
How far in advance should I send save the date templates?
Ideally, send save the date templates 6 to 8 months before the event, especially for weddings. This gives your guests enough time to mark their calendars and make necessary arrangements.
Can I include a save the date template in my digital invitations?
Certainly! Save the date templates can be seamlessly integrated into digital invitations, enhancing the overall aesthetic and providing essential event details at the same time.