Confused about what size of invitation card you need to choose for your perfect occasion?
There is no thumb rule for a particular ceremony to have a particular standard invitation size.
Yet when the occasion differs from birthday to housewarming to wedding or baby shower you need to choose a particular invitation size for digital as well as print purposes that creates an impact.
Here in this blog, we are going to help you create an invitation with standard sizes for design and print, along with beautiful ideas and some pro tips.
Table of Content
Must Know About Invitation Card Sizes
Indeed, there is a correlation between the theme of the party and the type of invitation to choose. The invitation serves as a preview, similar to a film trailer. With the help of your invitation, you can convey important information about the upcoming event in a concise and effective manner.
By selecting the appropriate invitation card size, you ensure that the overall atmosphere and style will be conveyed effectively. To be more specific, intimate gatherings for close family and friends should lean towards more intimate and understated designs, rather than large and overly elaborate designs.
In reality, parties with numerous visitors, for example, legendary office parties, will find success with standard invitations. With everything taken into account, the more you know about the variety this field offers, the more exact your decision will be.
Standard Sizes for Invitation Card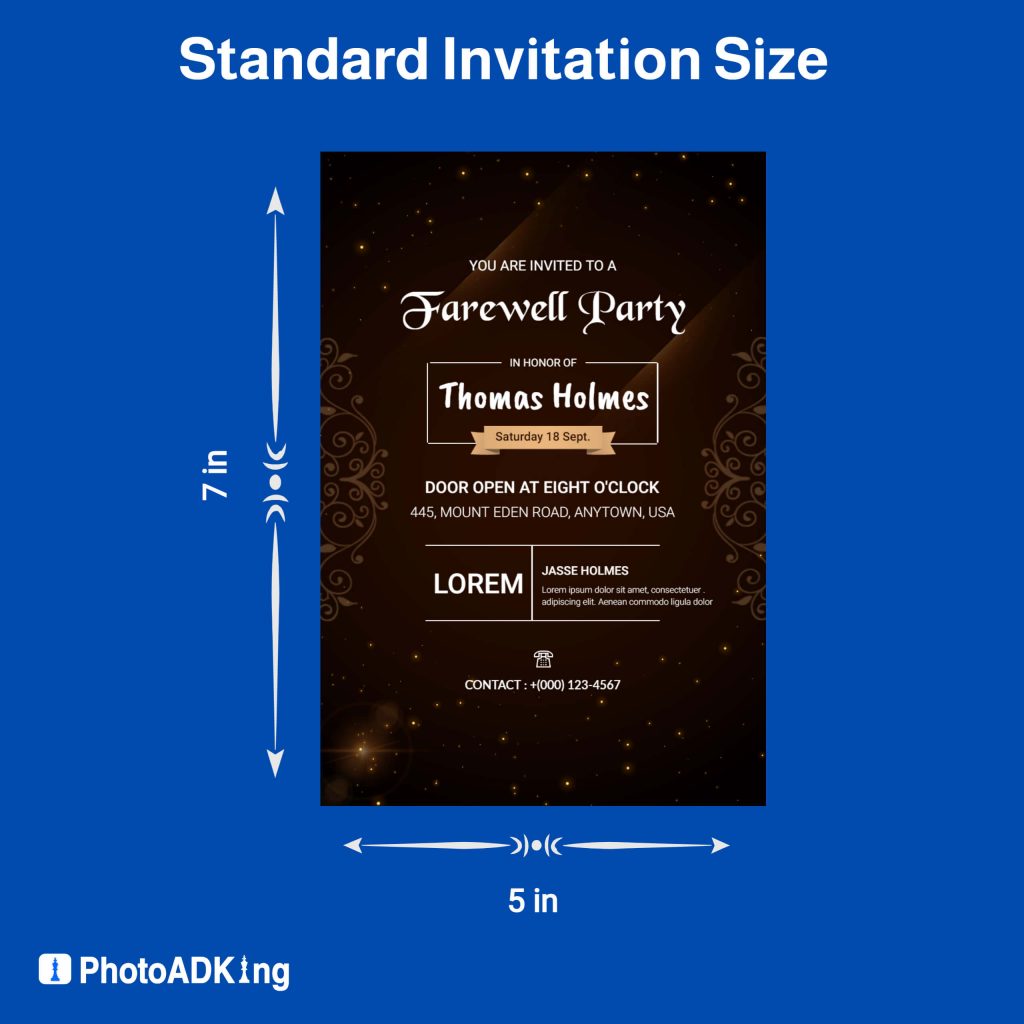 You can use 5"*7" as the standard size for an invitation and it is very convenient for printing as well. For this particular size, there are many pre-designed envelopes also available.
Square Invitation Card Sizes
| Square | Folded Card Size | Unfolded Card Size |
| --- | --- | --- |
| Small | 5.5 × 5.5 in | 5.5 × 11 in |
| Medium | 6.25 × 6.25 in | 6.25 × 12.5 in |
| Large | 6.75 × 6.75 in | 6.75 × 13.5 in |
The Square invitation is generally used for Digital Invitations and can be posted on social media too.
The small and compact form of the square invitation comes in a size of 5.5"*5.5"
The medium square invitation has a size of 6.25"*6.25".
Large is of the size of 6.75" * 6.75".
Rectangular Invitation Card Sizes
A1 invitation size usually works best for RSVP cards and is of size 3.5*4.88 inches. It can fit in a C1 envelope and when folded it fits in a C2 envelope.
Rectangular-sized invitations are best for weddings, home gatherings, graduation festivities, and birthday celebrations, and the sky's the limit from there. The folded size can differ from 4″ * 5.25″ to 4.25″ * 5.5″ or 4.5″ * 6.25″. The unfolded is easy to work out — its width is two times the size of the length.
The average greeting size for wedding invitations is 5.13″ *7″. For clients of the decimal standard, the undifferentiated variant of this standard A7 design is 13.03 * 17.78 centimeters, with the width augmented to 26.67 centimeters when unfolded.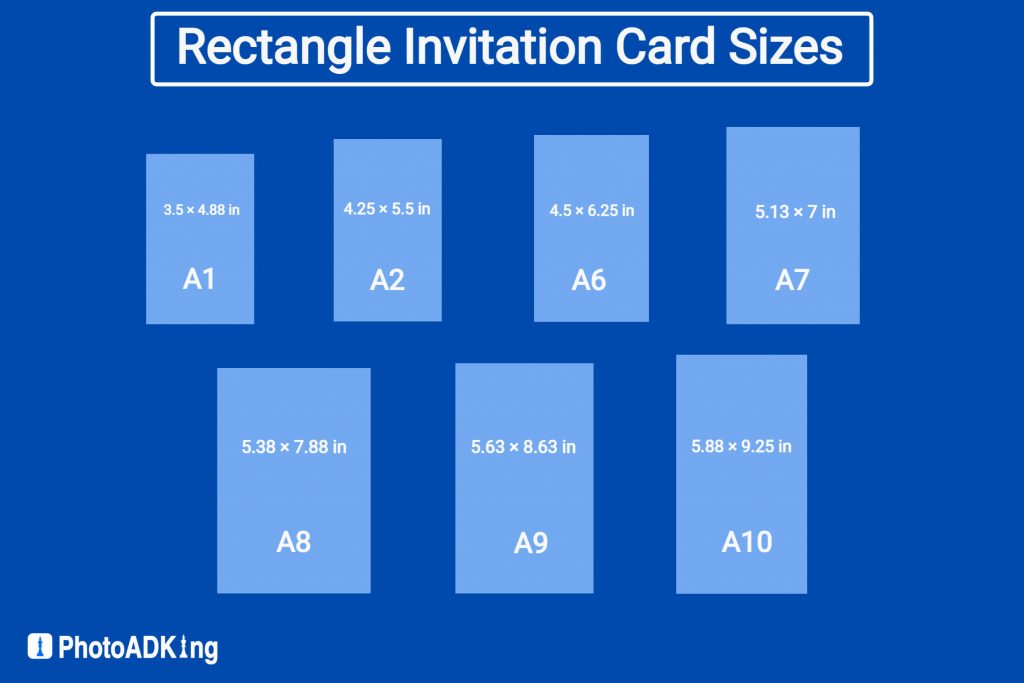 Standard Wedding Invitation Size
| Wedding Invitation Sizes | Inches |
| --- | --- |
| Standard | 5 x 7 |
| Square | 6 x 6, 5.25 x 5.25 |
| Long | 4 x 9.5 |
| Extra Large | 6.5 x 8.75 |
| RSVP | 3.5 x 5″ |
| Medium | 6.25 x 4.5 |
| Small | 4.25 x 6″ |
A 4.5"*6.25" rectangular card is the customary size and shape for wedding invitations. Yet, couples are directing more perky or present-day flows with round, scalloped and square invitations.
You ought to have a thought of the kind of occasion you're tossing — exemplary and rich, easygoing and loose, or glitz and present-day — before you begin looking for writing material, so you can pick a greeting style that stirs things up around the same context.
Invitation Sizes for Social Media Platforms
The ideal size for an invitation on social media can vary depending on the platform. Here are some general guidelines for common social media platforms:
Facebook: The recommended size for a Facebook event cover photo is 1920 x 1080 pixels.
Instagram: The recommended size for an Instagram post is 1080 x 1080 pixels.
It's also important to consider the aspect ratio of the image and to make sure that the important elements of the invitation are legible on smaller screens such as mobile devices.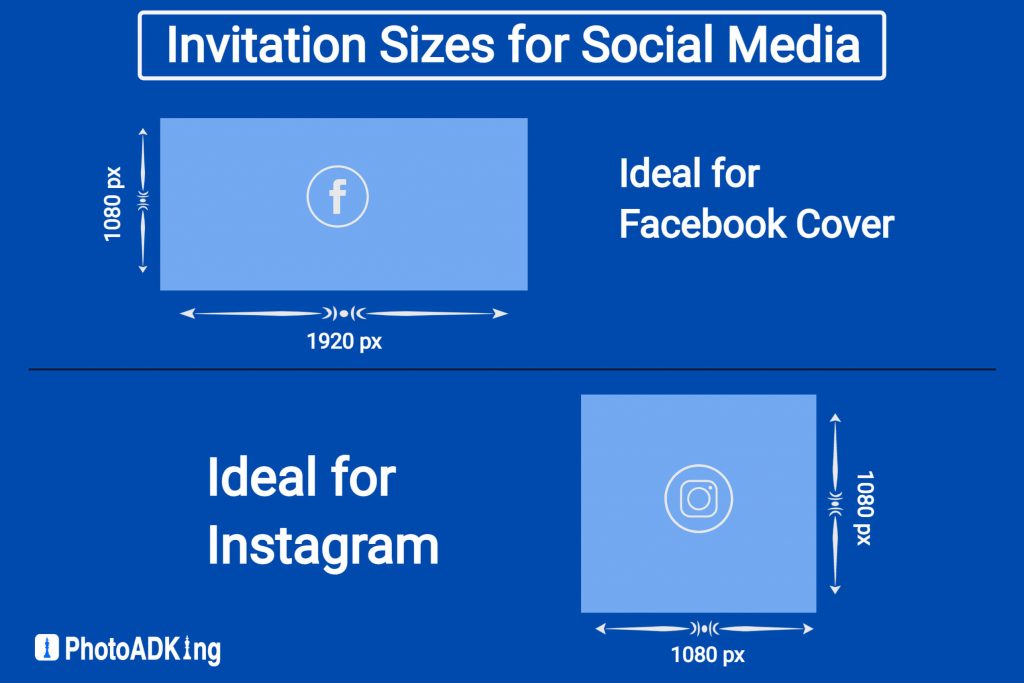 Email Invitation Size
You can choose around a 600 x 450 pixels wide option for standard size for an email invitation and by choosing from predefined sizes and layouts it becomes easy to use. You can use custom invites with your email invitation and feature images, and text and make it more readable on desktop or mobile.
Invitation Sizes for Business
The size of an image used in a business invitation will depend on the purpose and format of the invitation. For a printed invitation, such as a formal event or a business conference, the recommended size is 4×6 inches or 5×7 inches.
Some Pro Tips for Invitation Card
The following are influential factors you have to take care of while designing an invitation card.
Budget
When you have a limited budget choose wisely. You can use standard invitation sizes and it may reduce your spending greatly and remain budget-friendly.
Delivery
If you are sending the invitation card by post you have to keep this factor in mind. You need to keep minimum to maximum format requirements in mind to find the one which best fits.
Color Schemes
This is a factor that cannot be overlooked. Depending upon the celebration type you need to work on the color scheme. You can plan lively color schemes for birthday parties or baby showers whereas go for a savvy color scheme while planning for office parties.
Font
There can be made a lot of variations in font color, type, and size to indicate the categories represented on the card. You can even use bold, italics, cursive, and bigger or smaller fonts to differentiate between each category on the invitation card.
Composition
You don't need to overdo it on the invitation card. It can have some clean space too which gives it a more clear image.
Conclusion
Your invitation is the first thing that gives a peek to the receiver into your function. With the help of varied standard invitation sizes and templates available on 1Invites's Invitation Maker, you can make beautiful invitations just by downloading the app without signup. 
Please find the links below for downloading the invitation maker app.
Invitation maker app for android
Invitation maker app for iPhone.
In conclusion, understanding invitation card sizes is an important aspect of creating professional and polished invitations. Standard dimensions such as A7, A6, and 5×7 inches are commonly used and can be easily found in invitation templates. It is also important to consider the overall design and layout of the invitation and to leave enough space for all necessary information to be included. By keeping these tips in mind and using invitation templates as a guide, you can ensure that your invitations are a perfect size and make a lasting impression on your guests.