Showcase your business, products, services, and ideas through pamphlets. Why? It is because pamphlets are attractive; they use a combination of graphics and text; deeply explain your thoughts, and are quite easy to create. A lot of free Pamphlet Templates are available online to use and market your work.

Pamphlets are the perfect choice to disseminate information that you would like to share with a broader audience. Moreover, pamphlets are easy to design and aren't that expensive.

What is a pamphlet, and why use it?

For those of you who do not know, a pamphlet is a printed sheet of paper or can be an e-pamphlet. This sheet advertises the business, services, and products offered by your company.

The pamphlets are usually eye-catching, authentic, and informative, attracting anyone who sees them. So you know, it is a must to create your business pamphlets for marketing and easy reach. You may design a template on your own using a wide range of free Pamphlet Make available online.

For a long time, informational pamphlets have been used by businesses as a powerful way of communication. Also, business pamphlets can be shared online, or handouts can be created to be given to dormant customers.

Pamphlet design templates

Free pamphlet design templates can be used with customizations according to one's requirements. Depending on your needs, products, or campaigns, the pamphlets can be tailored.
Many people confuse a brochure with a pamphlet. A slight difference between the two is that a pamphlet generally gives detailed knowledge about one topic. It has a narrow focus. One of the most common types of pamphlets used for promotional purposes is the Tri-fold pamphlet.

What is an informational pamphlet?

As the name suggests, an informational pamphlet handout is used to serve information to the customer or user to whom the pamphlet is handed out with Brochure Maker – Pamphlets, Infographics, Catalog. It can be any one of the underlying types:

Infotainment: A company or individual advertising its services or products.
Product user manual: A detailed manual guiding a buyer, "how to assemble" or "how to use a product."
Cultural/Educational: Pamphlets designed by the government for public awareness or to educate people about a specific campaign.
Ten tips for creating a foolproof pamphlet

Planning to develop your template? Make sure you teach the following information and advice to make your pamphlet ideal:
1. The template:
The first step is to choose the template that you find apt for the purpose you want to serve. You can choose from our wide range of sample pamphlets available, including business pamphlet templates or information pamphlet templates. Choose the template that perfectly suits your objective.
2. The cover image:
Isn't a picture the first thing we notice on a pamphlet? Of course, we do! So, once you've selected one of our free pamphlet templates, choose a cover image that is compelling, catchy, and of good quality.
The image should give a clear idea about your product and should instantly grab the customer's attention. Let us suppose you are creating a pamphlet for your restaurant; you'll choose the best, famous and alluring picture of one of your dishes' as your cover page by which the customer would want to grab a bite of the meal.
3. The color coordination:
Even if you want your pamphlet to look attractive, you don't have to add all the colors of the world to do the same. Try to keep the colors well coordinated with your theme.
Keep minimal colors, but those colors should be coordinated, making it a unique theme. For example, it is always recommended to use shades like grey, black, blue, or maroon for professional corporate pamphlets.
4. Picking fonts:
The font you choose for your pamphlet should be well organized and aligned. Choose a font size that is consistent throughout the pamphlet. Using fonts in a single pamphlet is a big No-No!
Your font will be one of the deciding factors if the user would like to read your pamphlet or not. Choose a cohesive and coherent font.
5. Contact information:
What is the purpose of giving out pamphlets if the customer cannot contact you for further business? Giving contact information is the most practical way for your customers to address you.
The contact information should include your work address, a telephone/mobile number, and email address or social media handles to which customers can connect.
6. Let backgrounds do the talking:
Try to adjust this information either on the front page or on the last page, and the info should be precise and clear.
An essential component of your pamphlet will be the backgrounds you use. Even if you use solid colors, try to use the subtle ones. You can also use images as backgrounds, but you'll have to filter the images to set some transparency to avoid it from distracting one from reading the text.
7. Call to Action:
A CTA is an integral part of a business pamphlet or any pamphlet. Now, here is a thing a lot of people won't even bother reading your pamphlet if it does not contain a cool catchphrase. Your pamphlet's front page should include a "call to action" phrase.
This can be a "sign-in" button, a QR code to scan, and a "click here" button. The CTA should be visible and should make the reader take action right away.

For example, you have created a beauty blog pamphlet; you can use phrases like, "Want to get rid of acne instantly?" and follow it with a "click here" button.

8. Division of graphics and texts:
A pamphlet with loads of text would be dull, and so would be a pamphlet with all graphics. Keep both the media elements in equity.
Use a free designer pamphlet template that divides the pamphlet into blocks where some blocks can be assigned images while some can be used for text. Your pamphlet should be visually stunning. The photos you use should complement the version of your pamphlet.
9. Inculcate Infographics:
Not only infographics make your pamphlet attractive but also chatty. An infographic is self-explanatory for many processes. The steps become clear, short, and precise. It is an exciting way of describing a long process in a secure format that the user won't hesitate to read.
10. Don't forget the spaces:
I know you would want to put all the information in your pamphlet. But wait! Don't forget the essence of a Brochure Maker With Templates. You don't want your readers to get tired of seeing a bulk of content imprinted on it.
A pamphlet should contain information in a concentrated form. The content and visuals being described side by side should not fill up all the pages. Keep some spaces between them. Open white space around your text, rows, columns, and images is a must. It will make it more convenient to be read.
Types of free pamphlet templates
Some of the commonly used types of free pamphlet templates are:
1. Medical Insurance pamphlets: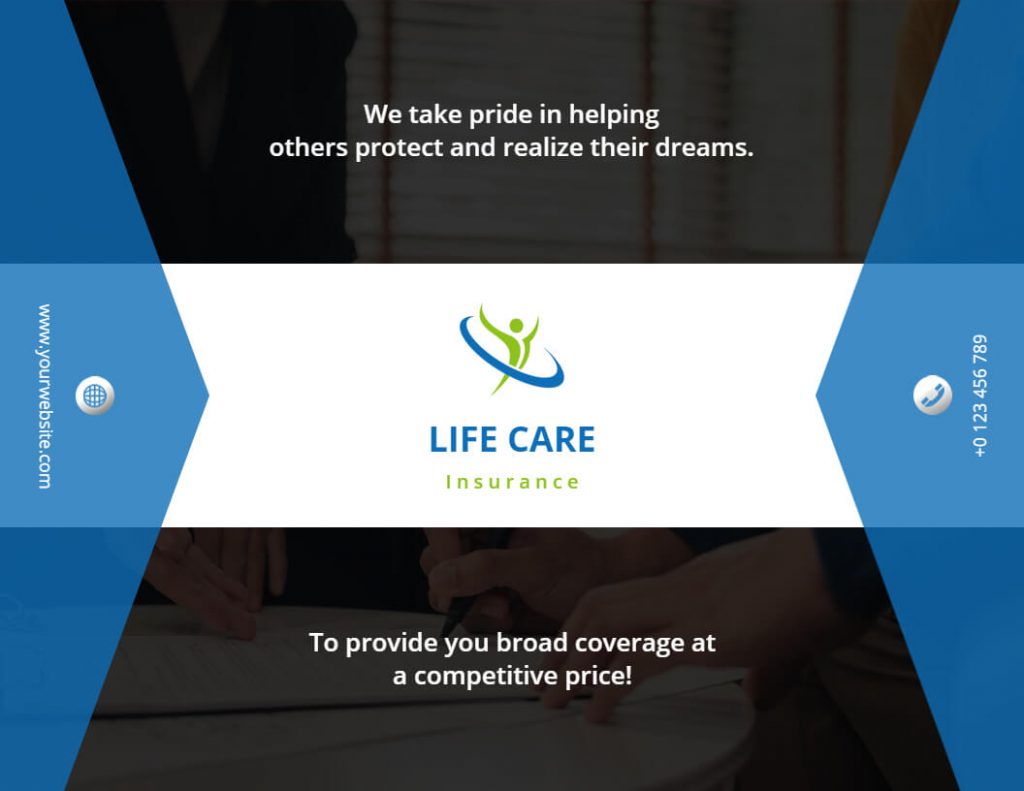 These pamphlets are used for medical plans, health insurance or child-care plans, vaccinations, etc. You may include various medical and health plans in the pamphlet for the customer to choose one.
2. Wedding pamphlet templates:
Wedding pamphlets can be used by wedding planners to give the customer an idea of the decorations, caterings, and preparations. The customer would judge your work and choose the planner accordingly.
3. Hotel pamphlet template: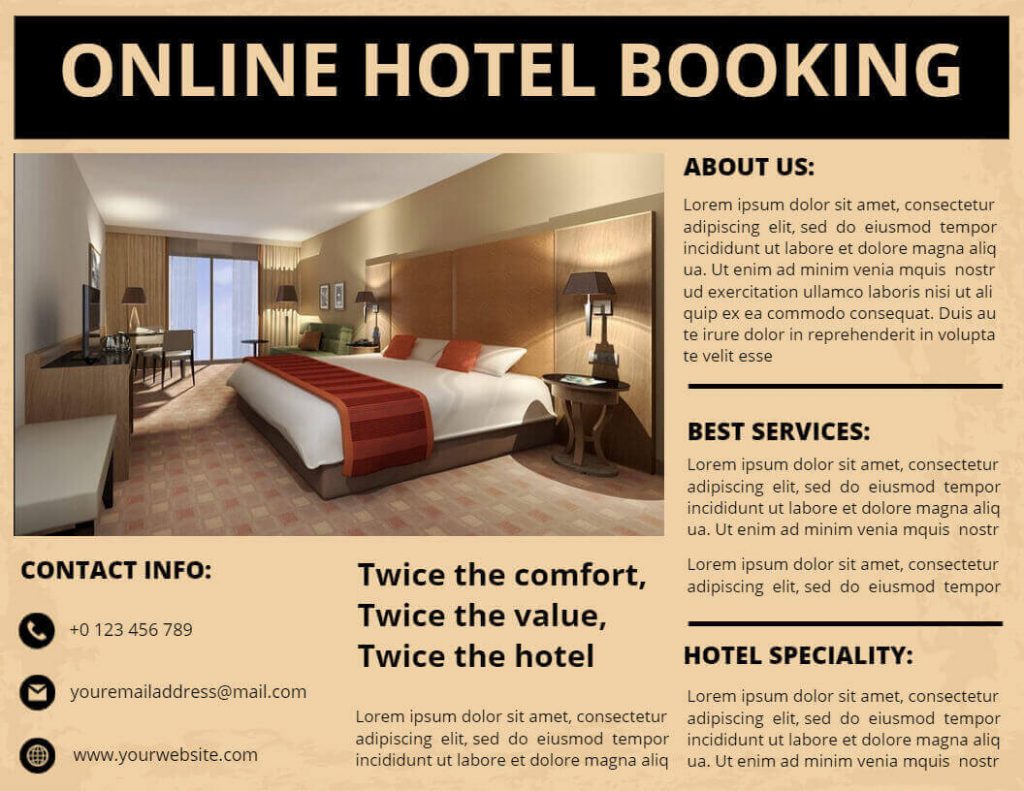 Hotels provide pamphlets to let the customers know the services they provide. Everything is included in the pamphlet for the customer to choose from rooms, cleanliness, security, pricing, and food.
4. Hairstylist pamphlet templates:
Different hair stylists or salons use these pamphlets to give their potential customers an idea of the services they provide. Such pamphlets shall include various hairstyles, hair colors, hair treatments, and their pricing. You can also elaborate on the types of products you use.
5. Travel pamphlet template:
A travel pamphlet template is used by travel agencies to lure customers to visit a country via their agency. Such travel brochure templates shall include the places to visit, the things to try, the products to shop and discounts and coupons on future travels.
6. Florist pamphlet templates:
A florist widely uses pamphlet templates to present the types of flowers they deal in. Also mention the special occasions for which they make floral arrangements like weddings, parties, funerals, or birthdays.
7. Food pamphlet templates:
Food pamphlet templates are commonly used by restaurants to design their pamphlets. Food brochure templates include the cuisines, food items, and their prices for customers to order. You may also add offers, home delivery options, and discounts.
8. Pet store pamphlet templates: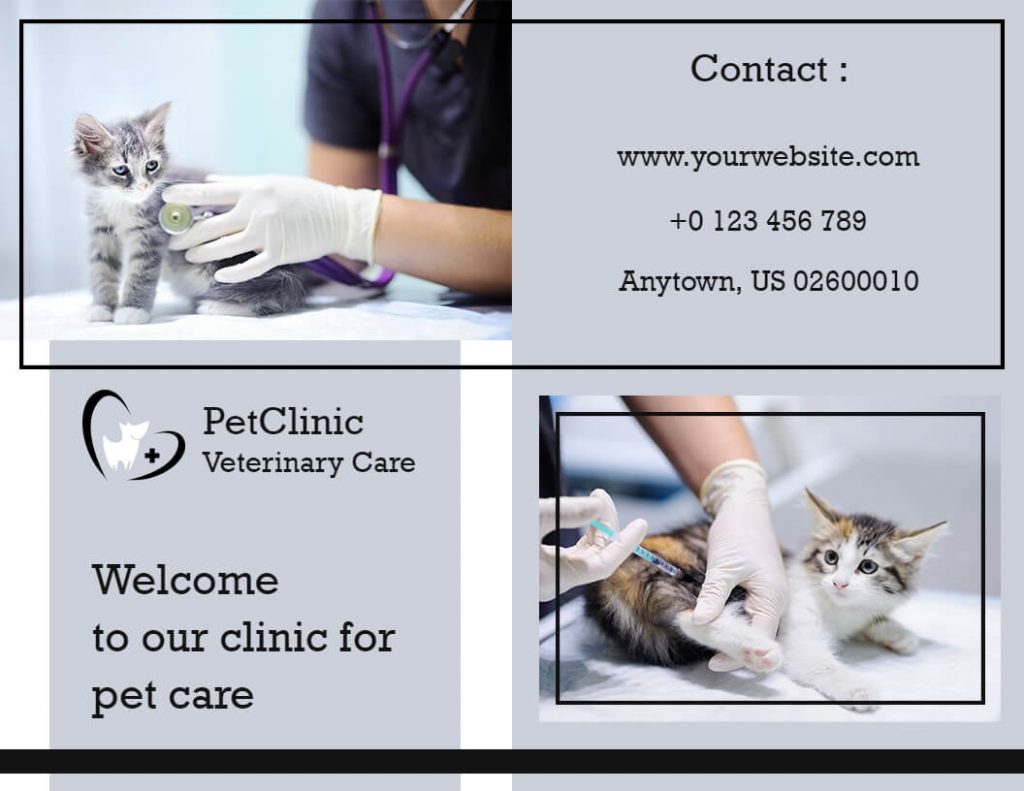 Pet stores use such pamphlet templates to design pamphlets for their services. You can include information like your location, the pet products you sell, the grooming services you provide, and what makes you different from other pet stores.
What can we do for you?

You see, designing a pamphlet is not an arduous task anymore. We at PhotoAdKing provide you with free pamphlet templates to choose from. With our ample choice of pamphlet templates, you can select a suitable template and start the customization and designing. You can advertise your products, services, or brand to the customers on social media or using handout pamphlets designed for your business.