Discover the optimal size for your Instagram posts with our comprehensive Instagram photo size guide. Get tips on image and video sizes for each type of post. Upgrade your Instagram game now!
Instagram allows you to share your most incredible images and videos in various formats, including portrait, landscape, square photos, Instagram Stories, Reels, and videos in your feed. So here you know about Instagram photo sizes.

There are a plethora of fantastic methods to interact with your audience and share eye-catching information. or take your Instagram marketing methods to the next level.
Regardless of how fantastic these different options are, determining the optimal Instagram image sizes for the post may be a little challenging. Before we get into the blog, if you want to have a tool that can help you to design Instagram posts using templates that can save you time and money, We would like you to use our Instagram post maker tool – PhotoADKing. We have 3000+ professionally designed, fully editable Instagram post templates that you can reuse as you want.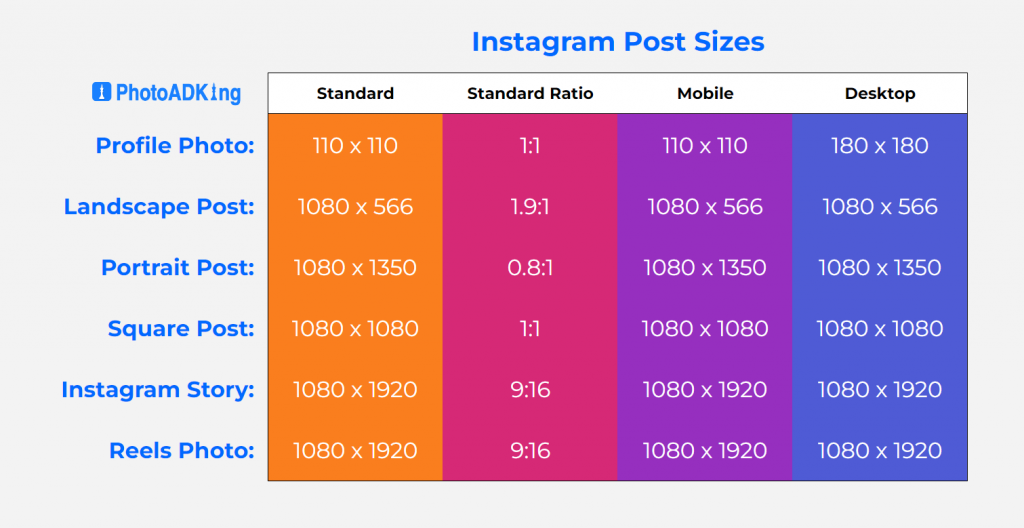 What Are The Instagram Post Dimensions?
The Instagram post dimensions of videos and photos vary depending on the orientation of the image and the tool used to upload it. Below are the most popular Instagram pictures and video sizes for your Instagram.
Photo Sizes on Instagram
People could only submit photographs in a 1:1 aspect ratio when Instagram originally started in 2012.
Those who wanted to show off their magnificent landscape and portrait images had no choice but to trim them into squares or use other programs to work around the problem.
It heeded customer feedback and added horizontal and vertical photo features in 2015.
Instagram Image Sizes
| Instagram Image Types | Instagram Image Sizes |
| --- | --- |
| Instagram Post | 1080 x 1080px |
| Instagram Story | 1080 x 1920px |
| Instagram Profile | 320 x 320px |
| Instagram Portrait | 1080 x 1350px |
| Instagram Landscape Photo | 1080 X 608px |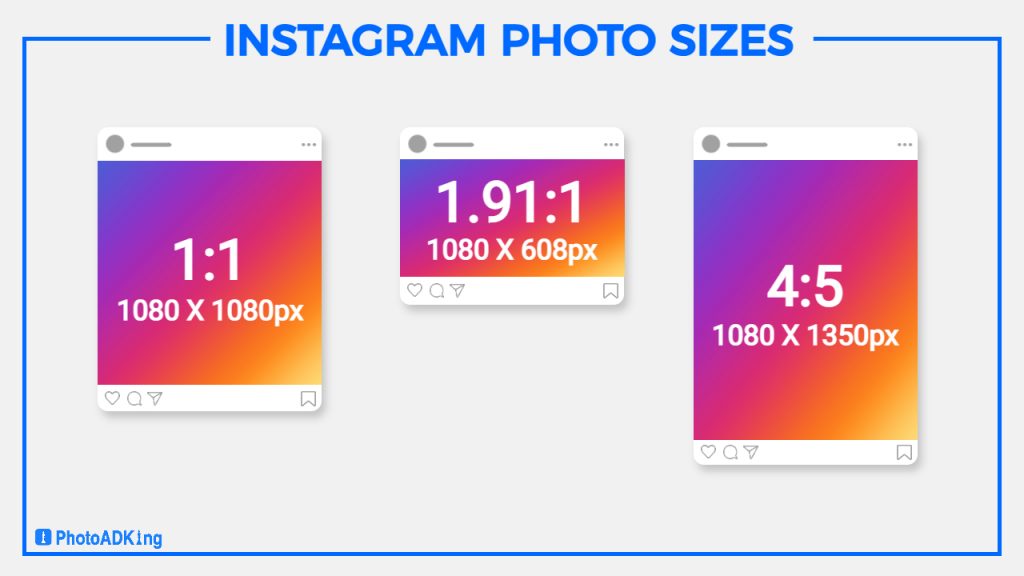 Is It Necessary For Instagram Photos To Be Square?
You don't have to trim your Instagram photographs if you add rectangle portraits or landscape photos to the grid for Instagram posts. The key is to know that the minor side of the image is at least 1080px.
Please remember that there are limitations – if you submit a photo that surpasses a photo's width-to-height ratio, you'll have to crop it.
Let's discuss the optimal size for Instagram photo postings, including the usual square, portrait, and landscape!
The ideal Instagram post size is 1080px by 1080px
A conventional photo post has a 1:1 square aspect ratio.
Because most post maker for Instagram has an auto-cropping feature, this is arguably the most straightforward Instagram photo size to get correct with the first attempt.
The image can be between 320px by 320px and 1080px by 1080px for maximum performance.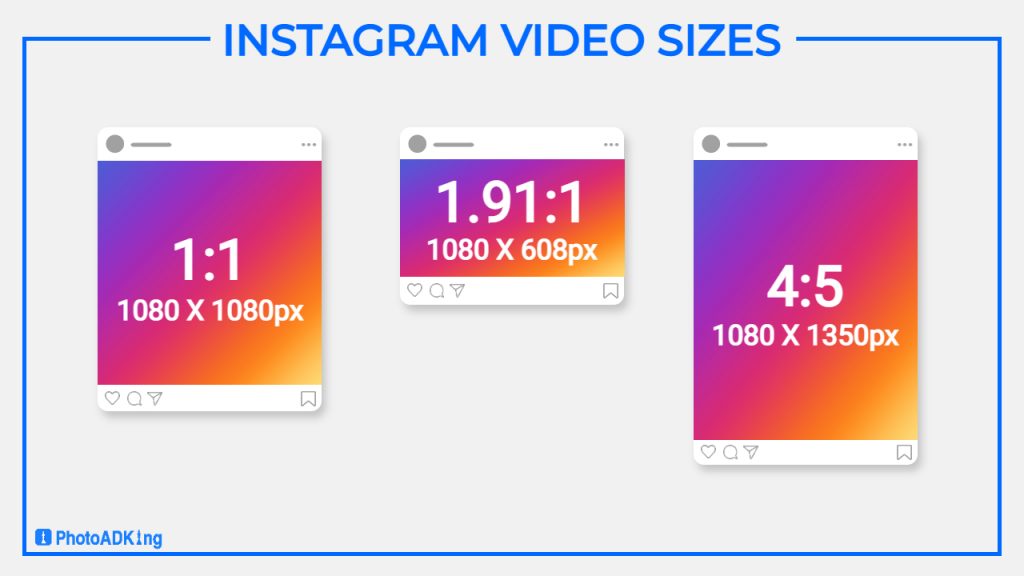 Is It True That Instagram Reduces Photograph Quality?
Files greater than 1080px may become fuzzier after uploading.
If you post an image more significant than these Instagram post dimensions, Instagram will compress it to fit on the screen. Excessive photo processing can damage visual quality significantly or you can use an image compression tool to compress images manually.
When you post an image that is less than 320px by 320px, the same thing happens.
The image will be expanded by Instagram, resulting in pixelation and fuzziness.
Opt for square photo dimensions of 1080px by 1080px in the feed to achieve the most significant results.
The compressed version that appears on Instagram will be roughly 600px by 600px, which will look great on both desktop and mobile Instagram without compromising quality.
When nothing else seems to be working, try posting from your desktop.
What Is Instagram Post Resolution?
Instagram claims that the Instagram photo size is at the highest possible resolution, up to an ideal Instagram post size of 1080 pixels, and an aspect ratio between 1.91:1 and 4:5.
The software will preserve the original quality if the photo's width is between 320 and 1080 pixels.
If the photo's aspect ratio isn't recognized, it may be reduced automatically, reducing its quality.
To avoid automatic scaling or reduction, trim the image to a maximum width of 1080 pixels before uploading.
What Is The Instagram Story Size?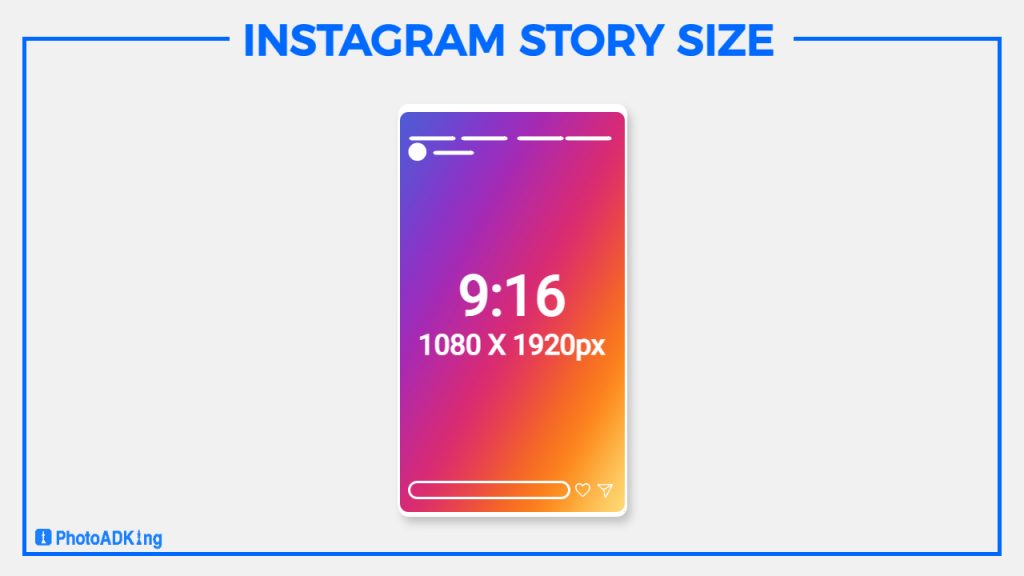 Instagram Story size is 1080px by 1920px.
Instagram story size just does not matter to get more views. For that, you should dive into the Instagram story hacks.
What Is The Best Way To Resize Photographs For Instagram?
Many desktop and online photo applications, such as Adobe Photoshop, LightRoom, and others, may scale your Instagram photo.
The ideal portrait Instagram photo size is 1080px by 1350px.
Portrait shots are relatively simple to get on the first try, though you would have to clip larger vertical photos to fit within Instagram's constraints.
What Is The Instagram Portrait Size?
The recommended aspect ratio for an Instagram portrait is 4:5, with a photo size of 1080px by 1350px.
When you post a giant portrait, such as 4:6 or 9:16, you'll be asked to crop a piece of it to accommodate.
If you want to get more views and likes on your Instagram then you should post different types of Instagram posts. Here is a guide to types of Instagram posts that can help you with your branding.
How Do You Put A Complete Picture That Fits In On Instagram?
You can utilize the convenient full-size option when submitting the photo to automatically adapt the portrait (or landscape shot) to the most excellent aspect ratio accessible if you'd like to publish the complete portrait work to Instagram without cropping it to a square.
To display the entire picture on Instagram, simply tap the enlarged arrows in the lower-left corner of the photo.
When it comes to photo downsizing and enlargement, the same rules apply.
Determining the proper Instagram photo dimensions horizontally might be challenging!
That's because the ideal aspect ratio for an Instagram landscape photo is 1.91:1.
The horizontal photo will look great on Instagram without even a boundary if you choose these proportions.
Landscape photographs with an aspect ratio of up to 16:9 can be uploaded, and the program will automatically draw a border around them.
What's The Best Way To Get Landscape Pictures On Instagram?
Instagram has made it easier to include landscape photographs in the feed. Here's how to go about it:
Activate Instagram.
Select the Add Post option
Select a picture or video to upload.
At the lower left of the photo screen, tap the full-size icon. The photo will be instantly resized to fit the landscape ratio.
By dragging to zoom in and out, you may fine-tune the photo's cropping.
To proceed with the upload, tap Next.
It's best to keep the landscape photos in the same ratio if you use them commonly in the feed.
Instagram Reels
Instagram Reels is a feature on the Instagram platform that allows users to create and share short-form video content, similar to TikTok. It was launched in August 2020 as a response to the popularity of TikTok and has since become a popular tool for creative expression and entertainment on the platform.
Instagram Reels videos can be up to 60 seconds long and can be edited with audio, filters, and various creative tools. Users can discover Reels content through the Reels tab on the Instagram Explore page, or by searching for specific users, hashtags, or sounds.
Reels can be shared on a user's Instagram profile, as well as on the Reels tab on the Explore page, where they may be recommended to other users based on their interests and engagement.
What is the Preferred Instagram Reel Size?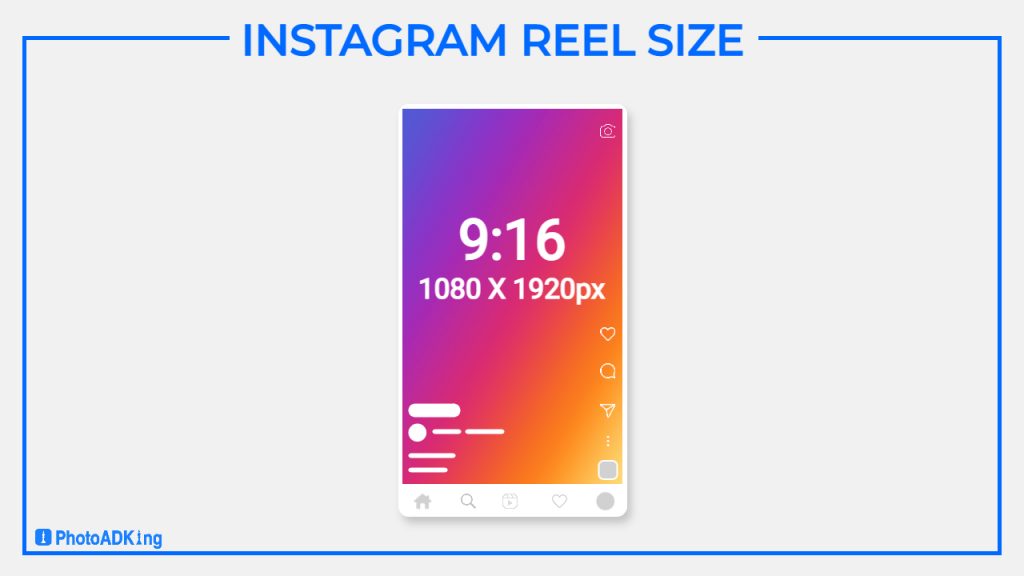 The aspect ratio for Instagram Reels is 9:16, which means the width of the video should be 9 units, while the height should be 16 units. The recommended resolution is 1080 pixels wide by 1920 pixels tall.
However, Instagram also supports other aspect ratios such as 4:5 and 1:1, which can be used to create square or portrait-style videos. It's important to keep in mind that videos with aspect ratios other than 9:16 may be cropped to fit the Reels player, so it's best to preview the video before sharing to ensure that it looks as intended.
In terms of size, Instagram has over 1 billion monthly active users, making it one of the largest social media platforms in the world. Reels have become a popular feature within this community, with many users engaging with and creating Reels content regularly.
To summarise,
For both photographs and videos, Instagram offers three different aspect ratios.
Formerly, the only allowed aspect ratio was 1:1 (square), but Instagram now permits portrait and landscape photos.
Portrait images have a 4:5 aspect ratio, whereas landscape photos have a 1.91:1 aspect ratio.
The following are the ideal Instagram image sizes for posts:
Square: 1080px by 1080px, Portrait: 1080px by 1350px, and Square: 1080px by 608px (Landscape).
Additional:
List of best mobile apps to design Instagram posts using templates:
Android: https://play.google.com/store/apps/details?id=com.bg.socialcardmaker&hl=en_US&gl=US
iOS: https://apps.apple.com/us/app/postwizz-post-maker-creator/id1363852671
Social Media Post Maker App by Postwizz
List of best mobile apps to design Instagram stories using templates:
Android: https://play.google.com/store/apps/details?id=com.onestory.storymaker&hl=en_US&gl=US
iOS: https://apps.apple.com/us/app/story-templates-story-collage/id1484440581
Chrome Browser: https://photoadking.com/templates/social-story/instagram-story/