A cafe menu is undoubtedly designed to create a wonderful dining experience, satisfy customers, and provide your specialties to everyone who visits. This can only happen if your cafe menu is well-designed. And by having a tempting cafe menu that has it all to draw in more customers, you're not just offering food items to your customers; but you're also selling more than you intended.

Here's how you can create a cafe menu that will appeal to a broader audience and what you should include to make it more creative. You will undoubtedly increase your brand's value with these outstanding cafe menu design ideas.
Table of Content
1. Who Can Use a Cafe Menu?
Cafes and Restaurants
Restaurant and cafe owners will obviously use cafe menus because cafe menus are an important part of their establishments.
Online Food Delivery Platforms
Online food delivery platforms allow people to order food online and offer food services by displaying menus from different cafes and restaurants. Thus, these platforms generally use cafe menus.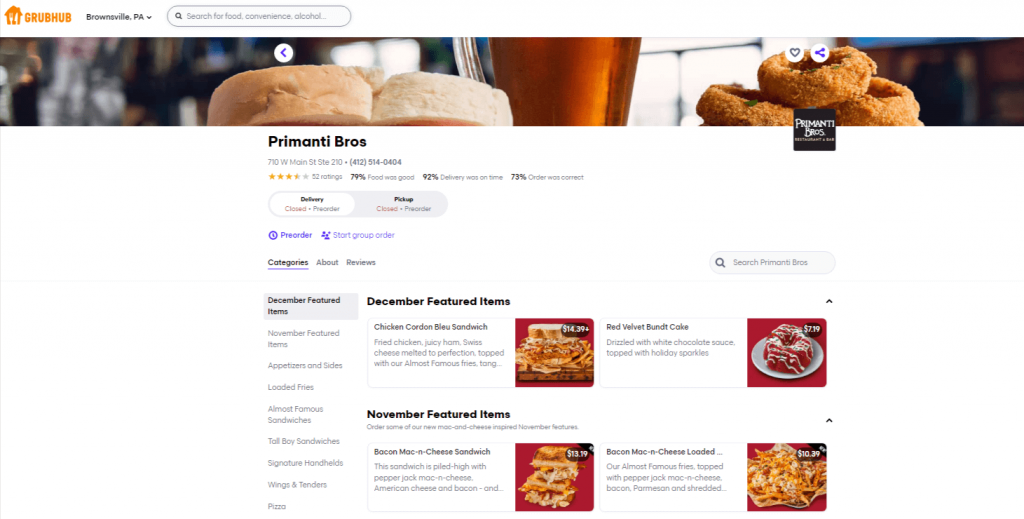 Cloud Kitchen Operators
Cloud kitchens, also known as 'ghost kitchens' or 'virtual kitchens,' are a new approach to growing a food business. These kinds of food businesses only allow food delivery and food takeaway, with no dine-in space. As a result, they need cafe menus.
Event Organisers
Cafe menus are commonly used at events such as weddings, ring ceremonies, or any event where food is the major focus. As a result, cafe menus are used by event organizers for these occasions.
2. Why You Should Create a Cafe Menu?
There are so many reasons to create a cafe menu if you have that boring or similar menu designs that exist in so many cafes. You must really have an eye catchy cafe menu if you're serious about branding. Let's look at the key reasons why you should change your cafe menu design or create a new one:
It Looks Appealing
When people visit your cafe, the first thing they look for is a menu. Menus are obviously intended for ordering food, but have you ever imagined those stunning graphics with delicious food taglines and eye-catching food descriptions that tempt everyone who sees them? If you don't have these things on your cafe menu, it's time to add them because cafe menus are an essential part of successful restaurant marketing.
Important for Branding
When you show important elements of branding in your cafe menu, chances are that people will notice them quickly. These branding elements include logos, cafe menu themes, or something unique your customers haven't seen elsewhere. For example, you can show your signature style food items in a unique way or you can display your cafe logo on the cafe menu. This way, branding will build trust and a loyal customer base.
Draw in More Customers
It is more likely that people would love to visit your cafes if you offer an attractive cafe menu. An appealing menu is more than just beautiful themes and visuals; it combines a good dining experience overall, delicious food taglines, and food descriptions that highlight culinary ingredients in a sophisticated manner. In brief, a cafe menu is a presentation of your cafe, therefore if you include details in a smart way, people will naturally appreciate your efforts and the service you provide. Apart from this, you could also create coffee shop brochures that illustrate your cafe's history, origin, and what makes your coffee so special. Your brand will become more trustworthy this way.
Promotes Profitability
By presenting all the elements of a cafe menu in a subtle manner, cafe menus promote profitability. And how does it work? When you think of profit, what is the first thing that comes to mind? It's obvious that you don't want your menu to include food items that people don't order often. Check if you're missing something that your competitors might get the most benefit from through competitor analysis. Performing regular profitability analyses will also help you maximize the profits from your cafe menu.
Keep Your Brand Fresh
You can keep changing your cafe menu whether some of its designs are outdated or you would like to replace some of its food items with something more delicious. You should do this regularly because people love the freshness and keep your brand fresh as well.
People Love Creativity
Creativity starts with a food menu that is engaging and has some creative features that capture people's attention immediately. By doing so, you're engaging your customers and growing their interest in your food. This leads them to spend more on items they find appealing.
3. What Should You Include in a Cafe Menu?
Cafe's Name With an Interesting Tagline
The first thing you should mention is your cafe's name as it is a symbol of authenticity and a part of branding. As we discussed before, branding is important for any kind of business. So, make sure you add important branding elements to it.
When it comes to taglines, you've heard many famous outlets have interesting taglines. Your cafe should also have a unique tagline as people attract easily by reading some interesting stuff you mention. To understand it better, let's view the example below:
Food Items
Your cafe menu should list the various types of food items you offer. Ensure that you only mention items that people order frequently, not those that no one orders. Be sure to change food items regularly and experiment with the older ones. You can, for instance, change their names and give them a new creative name or you can give your older dishes some new ingredients to make them even tastier. Regularly updating your cafe menu will make people love checking it out.
Highlight Your Specialities
You should highlight your signature dishes on your cafe menu as it not only brings people's attention but also conveys that you have something unique to offer that cannot be found anywhere else. Also, it would be helpful to highlight these items on a menu in a box theme style so people can easily locate them on the menu. Apart from that, a special menu can also be displayed on international coffee day. Alternatively, you can create a coffee day poster and display it outside your cafe to show that you will have a special menu for this day.
Tempting Coffee Descriptions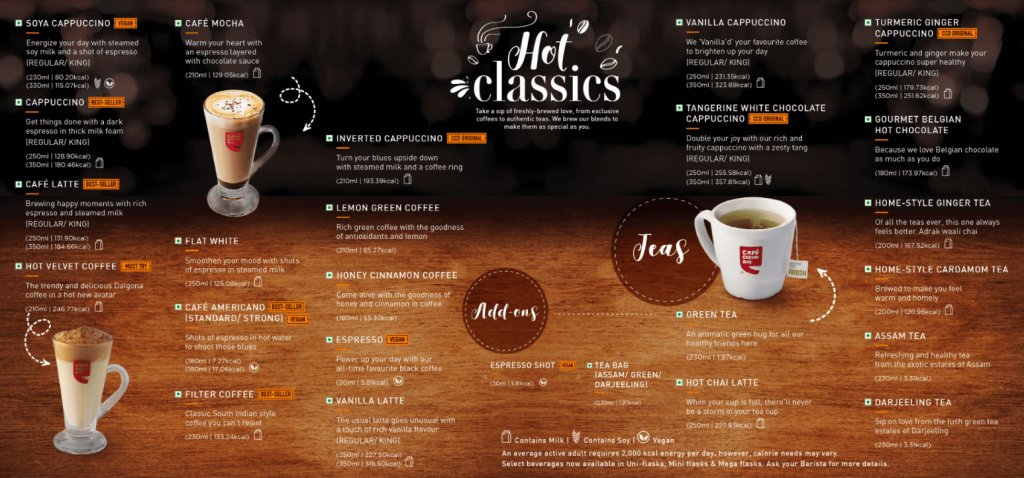 What could be better than displaying every ingredient of your food items in an appealing way? In spite of the fact that they may have never tried the food, people can't resist ordering it when they read these mouth-watering descriptions.
Proper Font Style and Size
Make sure your font style and size are appropriate for your audience so they can read it easily. There are several font styles that can be used here, including Helvetica, Proxima Nova, Didact Gothic, Montserrat, and Dosis. The font family provides a range of font styles that are clear and readable, as well as adding variety to your menu. Thus, it appeals to a wide audience.
Colors and Themes
You should choose vibrant and warm colors when selecting colors for your cafe menu to evoke tastebuds and stimulate appetite. Adding colors such as red, yellow, and orange to your menu is a great way to make your menu stand out. You should avoid adding dull colors to your menu as they will make it less appealing. Whenever you choose themes for your cafe, make sure they match the color of your menu and the overall ambiance.
Images
Images can also be added to your cafe menu, but they should look appealing to your visitors. For example, make sure to utilize high-quality photographs that clearly explain how the information relates to your cuisine. Your customers will be misled if, for instance, you display an image of food that your cafe does not serve. As a result, you may lose a few consumers due to this. On the other hand, illustrations are a better alternative to photographs if you're looking for some creativity.
Use Numbers Instead of Currency Signs
Never display currency symbols on your cafe menus, as this will alert clients of their spending limits. Use numbers instead; it will appear more professional and encourage greater spending.
Website and Social Media Details
Include information about your cafe's website and social media accounts because doing so will enhance traffic to those sites as well. People who frequently visit your cafe will follow you on social media networks, allowing you to establish a large audience for your cafe.
Contact Details
The phone number, email address, and other branches of your cafe can all be included in your cafe's menu as contact information. You can include these details, especially on the takeaway menus so that people can contact you in the future if they need food services or would like to visit one of your other venues.
4. Smart Ways to Present Your Cafe Menu
Cafes nowadays do more than just provide menus on tables; they make their cafe menu stand out from the rest. Here we have a specialized blog dedicated to menu style ideas that include below cafe menu presentation. Let us get inspired by these real cafe examples that will leave you impressed:
5. How to Make a Cafe Menu?
The easy-to-use editor of PhotoADKing allows you to create a cafe menu quickly. Learn how to make a cafe menu in the video above and start editing as soon as you are comfortable with editing. Now you don't need to be an expert graphic designer to create your perfect cafe menu. With PhotoADKing not only you can design a cafe menu but also you can design a menu for 100+ businesses. It has more than 1000+ fully editable menu templates for your need.
Steps:
Go to PhotoADKing, sign up, or log in.
Enter 'Cafe Menu' into the search box.
Click on the template you'd like to edit.
Customize a template by adding color, text, images, and other features.
After you've completed your work, save it and download it.
Share your creativity on your social media platforms.
6. Cafe Menu Design Ideas
Here are some amazing cafe menu design ideas that will inspire your creativity and give you the perfect blend of unique designs:
Coffee Cafe Menu
Colorful Cafe Menu
Coffee Shop Menu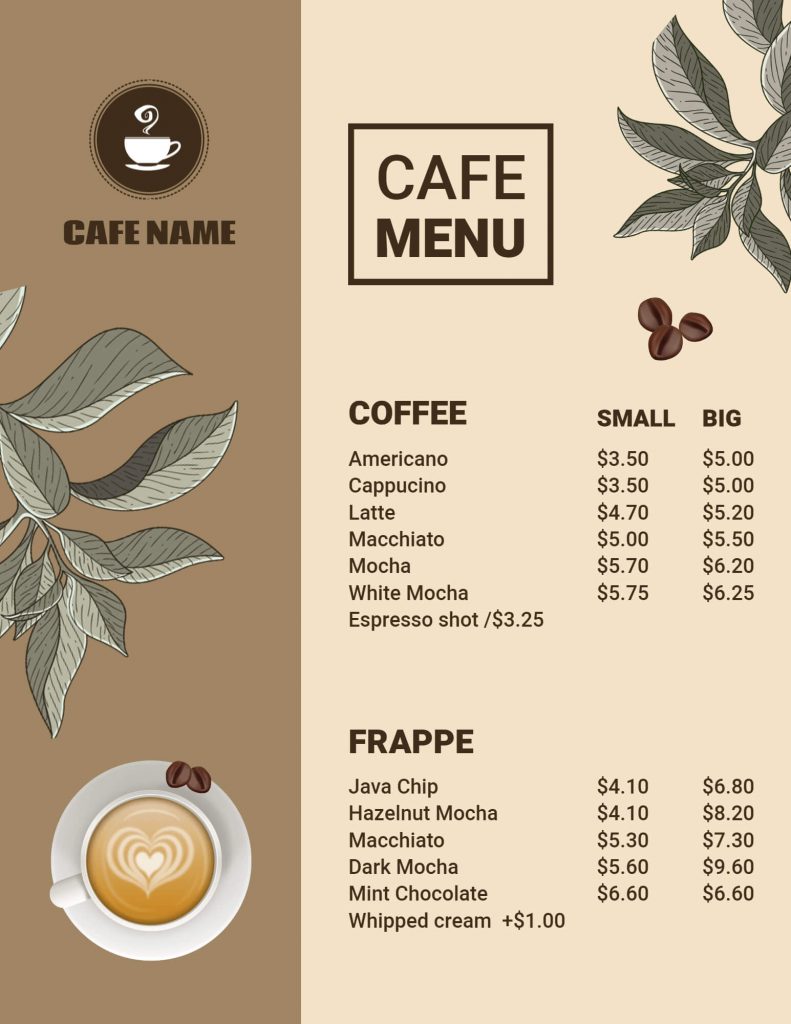 Cafe Menu with Images
Coffee and Tea Menu
The best way to make use of these cafe menu design ideas is to get started right away once you understand everything. With PhotoADKing's easy-to-use editor, editing is quick and easy as this tool allows you to create your design in just a few clicks according to your specifications. So, what are you waiting for? Follow these practical cafe menu design ideas and grab the chance!