Your Tumblr banner is the hero image of your blog. Following the ideal Tumblr banner size guidelines will score more followers for sure.
With 496+ million blogs, 16.74m monthly Tumblr app users in the United States & 327+ million unique worldwide visitors, Tumblr is something to look forward to. (Source: Statista)
This New york-based is a popular micro-blogging platform besides being a social network. It is as celebrated as WordPress & Blogger handles. You need a high-impact Tumblr banner for a lasting visual impression among readers. In other words, your Tumblr banner is visible above the fold & it has the opportunity to win or lose a reader. So, let's not miss out on the essentials & ensure it is the most happening one.
In this post, we'll check out the ideal Tumblr header dimensions, the benefits of following the size guidelines & view some creative Tumblr banners too. We'll start with some basics on the Tumblr header first.
Also, if you are really interested in Tumblr, So this might be helpful to you – Creative Tumblr Graphics Designs Ideas
What Is A Tumblr Header Or Banner?
A Tumblr banner is also known as a Tumblr header. It is the blog cover image visible at the top of the content. Your Tumblr header is the first thing visible to readers as they arrive at your blog.
This is how it looks like: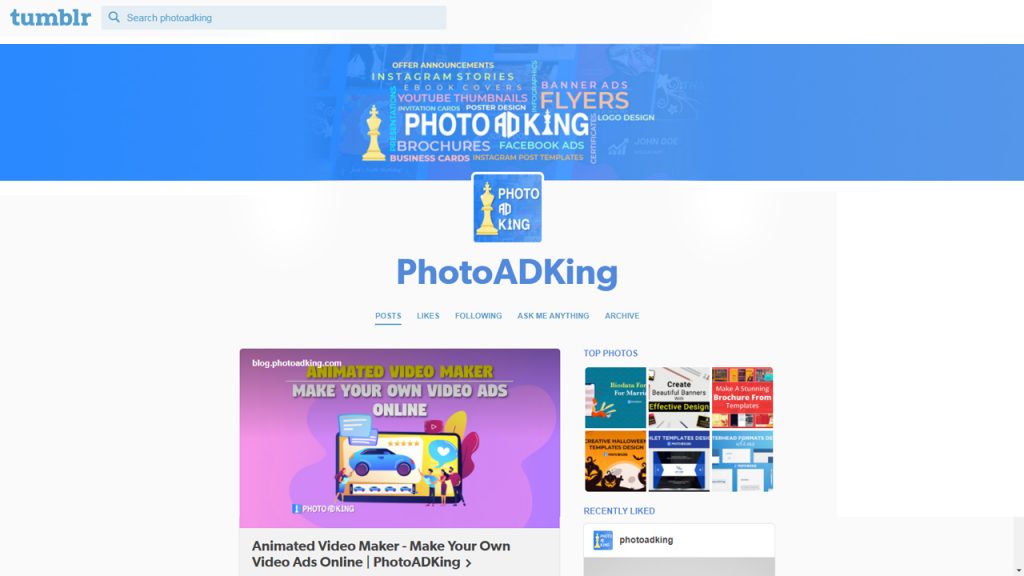 It's better to customize your Tumblr header based on the blog theme as each of your blog posts will have a banner. The best thing about the Tumblr banner is that it is fully customizable as per the theme settings. You can personalize it according to your blog content.
Whatever you design, make sure that your Tumblr header size is to the point & connects readers to your blog.
Tumblr Banner Size
The Ideal Tumblr Banner Sizes:
| | |
| --- | --- |
| Desktop | 3000*1055 pixels |
| Mobile | 640*360 pixels |
Tumblr Banner Aspect Ratio:
For your information, you don't need to create different images for desktop and mobile. Just follow standard size for desktop & the image will auto-adjust for mobiles.
Besides this, your header should be in JPG, PNG, or GIF format. The maximum upload size is 10 MB.
Benefits Of Following The Ideal Tumblr Banner Dimensions
You never know how powerful your Tumblr banner is until you start customizing these images. Even if you've been blogging on Tumblr for quite a long, let us share some perks on why following ideal Tumblr banner dimensions is helpful.
1. Adds A Personal Touch To Your Blog
You're aware of what image size you'll need for your Tumblr header. It helps in customizing your Tumblr banner image from scratch. You don't rely on any stock images or post existing images of someone else because it can ruin your impression.
2. Ensures Precise Header View On Desktop & Mobile
All you have to do is follow the Tumblr header size guide & you're sorted from cross-device image cropping issues. After all, you're not sure whether your blog will be viewed from desktop or mobile. No matter the device, your Tumblr header will always be on-point beautiful.
3. Maintains A Professional Image
Ace your Tumblr header game with custom banners or premade Tumblr banner templates. It maintains a distinct professional profile on the platform. Your regular readers will wait for a refreshing view in the form of a blog header image.
4. Provides Amazing User Experience
Your Tumblr header is a view to cherish with perfect image resolutions. Stating simply, your banner image will neither be short nor distorted than the recommended size.
5. Reduces Bounce Rate
Who will not love to visit your blog when everything starting from your frontline player (banner) is up-to-date?! In a nutshell, a great user experience means a low bounce rate. It's this simple!
Inspirational Tumblr Banner Ideas
1. The Classic Blog Banner

Your Tumblr banner should be two things – classy & detailed. This banner instance is just right for any blog where you're sharing tips, stepwise guides, or similar detailing. You can easily cover both image and text without diverting the user's attention.
2. Minimal Imagery

Who does not like minimalism? Probably none! This Tumblr blog banner is all about muting the image & highlighting the text. It's perfect when you have a short blog title that does not disturb the view. You can keep the backdrop image highlighted too.
3. Thoughtful Collage

Colorful collage is the best choice for days when you choose to go zero-words. Bring all the relatable images together and share them as a graceful combination like this Tumblr header. It falls to be a great idea for fashion & travel bloggers. You can still try your luck anyways if it fits your concept.
Browse the latest Tumblr banner templates with PhotoADKing now!
Apart from the banner or header, you also need to know more dimensions of Tumblr.
If you're out and about to give a nice makeover to your upcoming Tumblr blog or willing to update your old Tumblr blogs we have some outstanding suggestions. PhotoADKing brings you beautiful & easy-to-customize Tumblr banner templates that will only take a few minutes to get done. You can also design some cool Tumblr headers by fully customizing them from scratch. We've got an entire library of free graphics & resources to achieve the image you desire. So, what are you waiting for? Let's do it now!