The average amount of time IT recruiter spends going through your resume is merely seven to eight seconds. You might have a lot of relevant experience and skills, but if you want to create a lasting impression, it's important to make sure that your resume design stands out from the others using PhotoADKing's resume maker.
The very first move towards hunting for your dream job is to design a creative professional resume, a resume that'll not just pass easily through an Applicant Tracking System but also impress the hiring manager.
At PhotoADKing, we have come up with some impressive and good resume examples 2022 along with the tips to laying out a professional resume design. This guide is a mix of modern resume design examples and tips on how to make a good resume with a creative resume maker to put your best foot forward.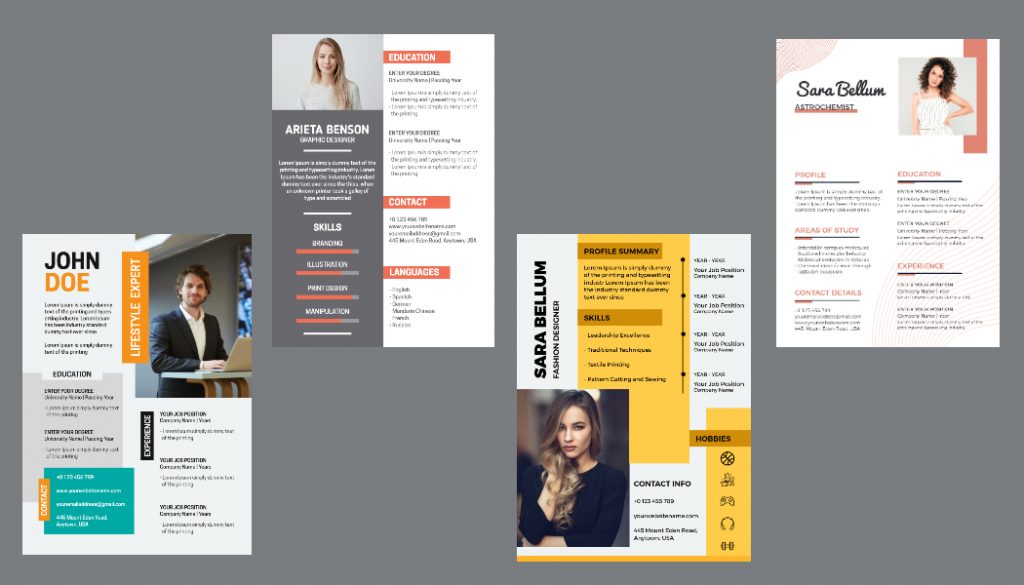 You can also get experts tips and advice on –
How to build a resume to come across professionally and get opportunities to appear in more job interviews?
What should a resume look like and what are the most popular resume layouts 2022?
What are the important things to create unique and modern resume designs?
Want to save time on getting a creative CV design in just 5 mins? Try our quick and innovative graphics editor with access to thousands of templates and graphic elements. Easy to design, download, and print.
Ready to go? Let's get started!
How to Build A Resume? 5 Quick Tips to Design Best Looking Resumes That Turn Into Job Selection
Would you ever go to a job interview in pajamas? Probably not!
Because it would create a very unprofessional on the recruiters that you are not at all serious about the job. A sloppy resume design will send the same message.
Believe it or not, the way you present your professional background is just as important as the information you include. Because the recruiters are not just straightway land up on interview question and answer but they are also going to notice your resume design before they can learn about the educational qualifications, skills, and experience that you have. So based on the industry in which you're applying for the job, whether it be a digital marketing resume, an engineering resume, or even a medical resume, you need to stick to the standard resume design that's been followed in that industry.
By taking the time to refine your CV design, you can increase the chances to receive interview calls from your dream employers. If you are searching for a job at the moment, please check the current openings at Jooble.
Here, we have shared five crucial tips to help you nail down the fundamentals of best resume designs 2022 –
Tip #1. Choose A Font That Makes It A Quick Read
The font that you choose for your resume should be crisp and easy to read. With a variety of professional fonts to choose from, here we have listed the most popular fonts that are used in the latest resume formats
Arial
Helvetica
Tahoma
Calibri
Verdana
Garamont
Cambria
Times New Roman
Georgia
Bookman Old Style.
To make the best choice in font selection, analyze the level of formality expected for the type of job you're applying to.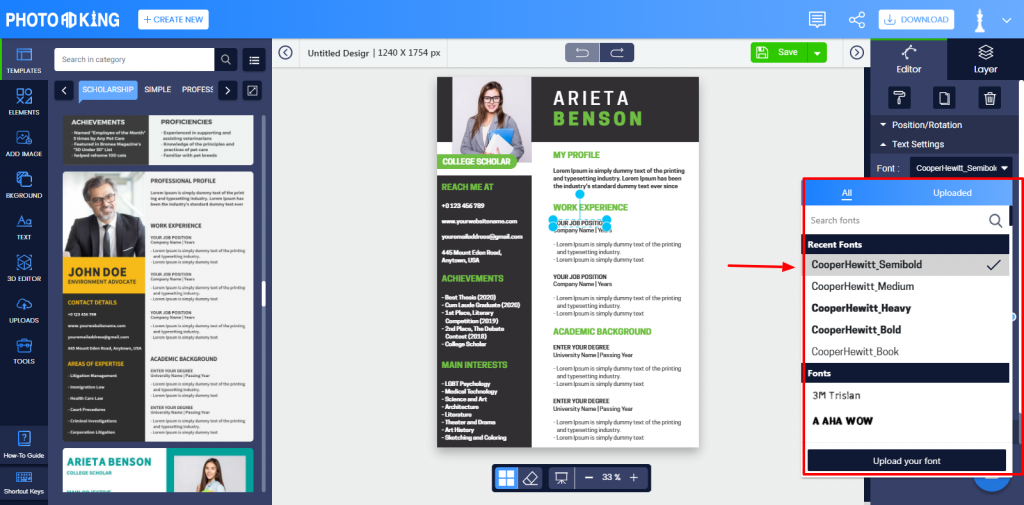 The ideal CV font size should be kept between 11 and 12 as far as the body of your CV is concerned. The headings and titles should be slightly bigger and highlighted to differentiate them from other sections. You can keep their font size 14-16 whichever looks good. However, this font size may vary for the different font families.
Just make sure to avoid fonts that are difficult to read, as this may result in the elimination of your resume before it's even seen by the hiring manager.
Tip #2. Don't Forget to Use the Right Margins & Font Spacing
Though font margins and spacing may seem a very insignificant factor to consider, this plays a major role in the design of your resume.
While putting wider margins may make your CV look awkward and sparse, narrowed margins will make it look cramped.
As per the international standard, the margin between the words should be 1". To get an idea of how it'd look on a hard copy, print a test copy of your resume to see how the margins look.
Tip #3. Hit the Perfect Length
If you're wondering what does a good resume looks like, you must know what should be the ideal length of a perfect resume design.
Unless you have decades of experience that requires more space to put into your CV, it should be a maximum of one page.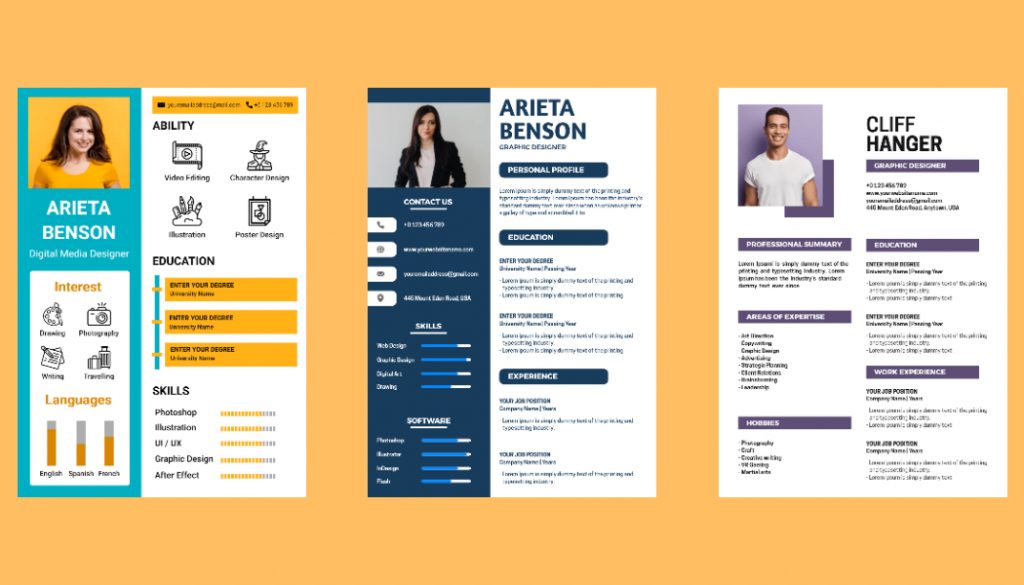 Try to summarize your relevant professional experience in just one page because sometimes, longer resumes could be monotonous to read and might bore the hiring manager.
However, if you have a wealth of experience or skills that perfectly fit the job expectations, you may plan a two or more pages resume.
Find the latest and trendiest 2022 resume templates at PhotoADKing. Customize, Download, and Print in just a few minutes. Try Now!
Tip #4. The Art of Choosing the Right Colors Can Do the Magic
Color schemes can play a vital role in creating a certain kind of mood in your resume to attract the attention of the recruiting manager.
You can use colors in more whimsical ways to make your resume look more creative and appealing. One way to do the same is to analyze the type of industry or company you're applying to.
For example, if you're applying for the banking, law, or the medical industry, you must pick very formal colors and darker tones for your resume. Go with the standard colors like blue, black, grey, or white.
If you're applying for a creative agency or startups or looking for minimalist resume ideas or UX design resume examples 2022.
You'll love to use bold, bright, and multi-colors in the resume to suit your job requirements.
Click here to explore Best Resume Templates 2022 to know what your resume should look like in 2022.
Tip #5. Add Graphics Elements That Draw A Lasting Impression
Your resume is the extension of yourself and the work you do. Adding creative symbols or graphics that are related to your work, industry, and skills, you can instantly capture the attention of your audience, whether it's a recruiting manager, your future boss, or your teammates.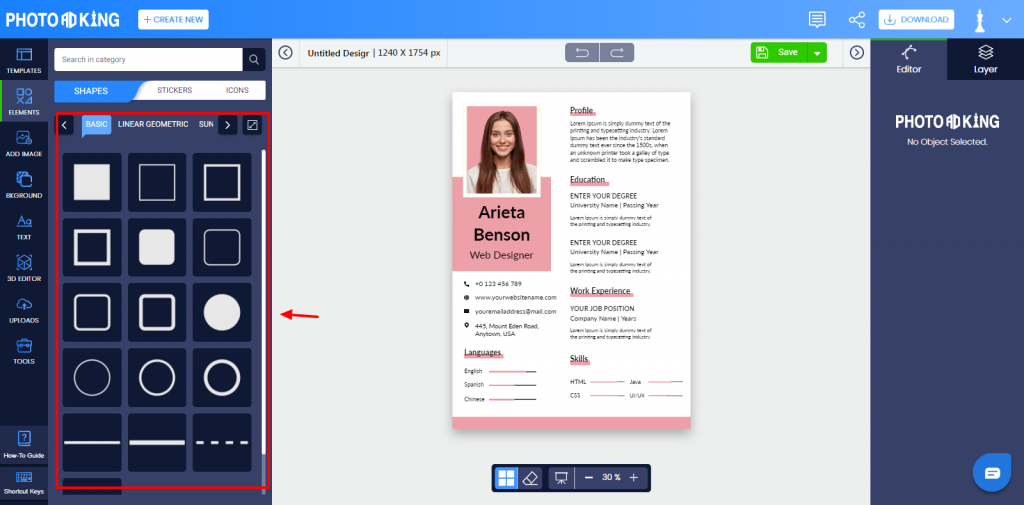 No matter what graphic you choose, make sure it's of high quality and fits perfectly with the information provided in your professional resume design.
Tip #6. Make Your Resume A Self-Branding Tool
Put a professional picture of yours, put everything about your education, skills, and experience that you have achieved so far in terms of the specific industry that you're applying for.
The idea here is to create an identity that helps you put your best foot forward, especially to landing professional opportunities.
If you're a graphic designer yourself, you may create a personal logo using a symbol or even just your initials to make a great impact.
Tip #7. Use Resume Design That's High in The 2022 Trends
To stand out among other applicants, you should consider designing your CV in a way that is right on the trend.
For example, if you're a web or app designer, you can use flat design that will help you convey to hiring managers that you are on top of your design game.
To get more ideas, you can look through PhotoADKing's gallery of creative resume templates 2022.
Ready to Design A Creative Resume?
Now that you have enough knowledge on how to build a good resume structure, it's time to apply this new knowledge to create your own CV.
The team of professional and creative designers at PhotoADKing has created some inspirational resume templates that you can choose, customize, download, and print in mins.
Whether you are a minimalist, marketer, teacher, engineer, doctor, photographer, human resource, chef, graphic designer. From simple to creative, trendy to colorful, you can choose the resume that best suits your skills and industry.