Are you using SoundCloud for promoting music? This blog is about enhancing your vision for visuals too. Get help with SoundCloud graphics & groom your channel like a PRO!
Perfecting your SoundCloud banner size is just a small thing that plays a huge role in promoting your music. The same goes for caring about your SoundCloud profile image dimensions. After all, you're here to make an impression, grow your audience & perform music marketing at its best.
Taking this ahead, SoundCloud is a hub for aspiring music artists who're now focusing on attracting their target audience with impactful visuals. When your profile looks great & professional, it reflects a positive brand image already. It's a bright opportunity for all enthusiastic artists and music labels who don't want anything less than effective.
Firstly, we'll check out the updated size guide for the SoundCloud banner and profile picture. Secondly, we'll have a look at some mind-blowing SoundCloud banner ideas. Finally, we'll show you how to update your profile image or header. Your bonus is waiting at the end of this read.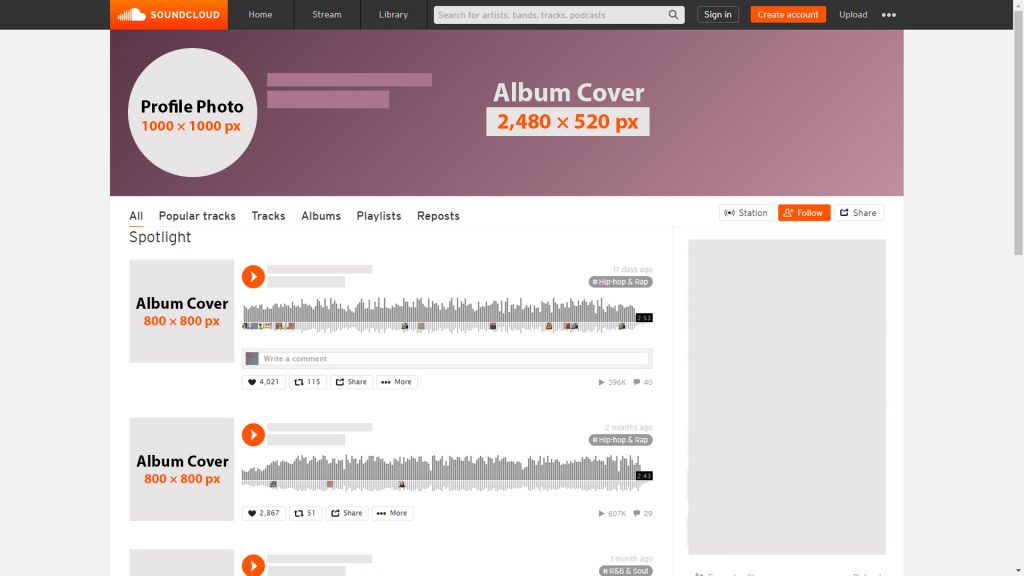 SoundCloud Sizes
| GRAPHIC | SIZE |
| --- | --- |
| Profile Photo | 1000 × 1000 px |
| Album Cover | 800 × 800 px |
| Minimum Header | 2480 × 520 px |
SoundCloud Banner Size (Updated)
The ideal SoundCloud Banner Size is 2480*520 pixels. Also, this music platform suggests the maximum banner or SoundCloud Profile Header size is 2MB. You should keep the file extension as JPG or PNG for optimum results.
With this explained, we'll now see what it means to have a great look & feel SoundCloud Profile Header (or Banner). If you like any of them & want to mimic them for your SoundCloud channel, feel free to customize them with PhotoADKing's DIY SoundCloud Banner Maker.
Some Handpicked SoundCloud Banner Examples
1. 2ToneDisco
This LA-based duo is quite popular. Their banner is nothing but minimal & reflects an epitome of simple yet so crisp. It blends well with their brand name i.e. two-tone. Black and white is a combination that never fails to impress.
Their profile image is a cherry on top & makes the entire banner look seamless.
Crazylegs have one of the coolest SoundCloud banners & we're in love. What an impeccable use of typography it is! The repetitive pattern creates a stunning appeal and making an overall amazing outlook. If you've got a typeface logo, this is a must-try banner style.
'Design is simplicity' is realized by this Paris-based music label. Their smart use of space & neat concept is to crush over. Don't miss out on how their profile image blends with the cover.
A shoutout to all the super-crazy for music artists out there, Billy Kenny is surely making a mark here. Besides being a noteworthy cover, this SoundCloud banner is a lot of fun to curate. Make your face your brand image this way.
Max Liese has one of the most subtle SoundCloud profiles & you can witness it. The geometric cloud looks cool with a feel-good musical vibe. The little blue cloud profile picture stands out too.
Steps To Add/Change Your SoundCloud Banner
You've got some very attractive visuals to try out. Meanwhile, let us guide you with how you can add or change your SoundCloud Banner or Profile Header.
Changing SoundCloud Banner via Desktop
Log in to your SoundCloud account
Go to 'Homepage' > Click your 'username' > 'Profile'
Hover at the blue space visible at the top > Click 'Upload Header Image'
Select the SoundCloud Banner you wish to upload
Save
It's a simple process to change your SoundCloud banner image through the iOS or Android app. Do it this way:
Replacing SoundCloud Banner via iOS/Android
Go to your SoundCloud Profile Page
Tap 'Edit Profile'
Tap the Camera icon & upload your new SoundCloud Banner
Save
Your brand new SoundCloud Banner will show up now.
Fresh SoundCloud Banner Templates:




SoundCloud Profile Picture Size 2021
Your SoundCloud profile picture size is at least 1000*1000 pixels. It makes for the highest-quality profile image. In other words, the aspect ratio here is 1:1. However, you may upload a profile picture with smaller dimensions as 400*400 pixels.
How Do You Add/Change Your SoundCloud Profile Picture?
It's extremely easy to add or change your SoundCloud profile image through your profile page only. We'll show you a stepwise process with how to change your SoundCloud profile picture via computer as well as iOS/Android. Let's go!
Also, you can make an album cover for SoundCloud using PhotoADKing.
Change Your SoundCloud Profile Picture Via Computer
Log in to your SoundCloud account
Scroll over your current SoundCloud profile image > Click 'Update image'
Choose the image you want to replace as your new profile picture > Click 'Save'Save
Tip: Upload a JPG or PNG profile picture with 1000*1000 pixels size for the best outlook
Change Your SoundCloud Profile Image Via iOS/Android
Tap on the lower-right corner of the Homepage > Go to your collection page > 'Profile'
Tap on the three-dotted icon > Edit Profile > 'Profile Image'
Upload your `New SoundCloud Profile Image'
Tap 'Save'
That's it! Your freshly-brewed SoundCloud Profile Picture is updated.
Explore Groovy SoundCloud Banner & Profile Picture Ideas At PhotoADKing
If you enjoy music SoundCloud, you'll Like this read – How To Make Album Cover Online With PhotoADKing
SoundCloud is an ever-evolving platform & so should be your opportunity to grow as a music composer. You're a gem as you choose to make your way through this highly competitive social media platform where listeners and composers unite.
Take your leap of faith with awe-inspiring SoundCloud Banner templates. PhotoADKing has got thrilling ones to choose from & make yours. We've also got an inspiring range of professionally curated SoundCloud profile pictures that'll spotlight your music uniquely. Have a check on them now! You'll love it.