Nowadays, people are switching to Placeit or a Placeit alternative. This gives them the freedom to create professional-looking designs, as not everyone is familiar with Photoshop and other professional graphic design tools.
Placeit isn't the only option, but there are many great tools that can rival it. PhotoADKing is one of the most prominent of all Placeit alternatives. PhotoADKing offers better features than Placeit and other similar tools to Placeit, making it a great choice. Read the brief comparison below to see the main features of both tools.
Placeit vs PhotoADKing: Quick Comparison
The below comparison table will help you to pick the best for your needs: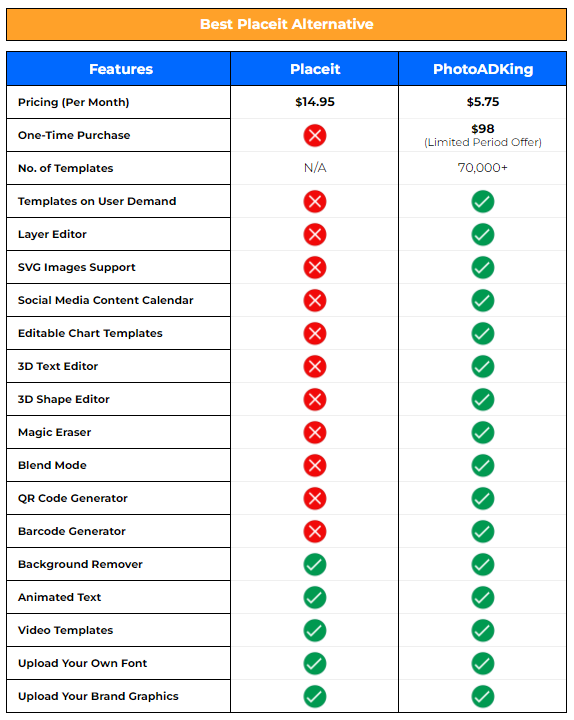 The Key Features of PhotoADKing – A Stunning Placeit Alternative
To use PhotoADKing, you don't need any professional designer skills. PhotoADKing is an effective Placeit alternative and it is allowing users to create beautiful visuals for their projects. This platform provides a variety of features that allow users to edit photos and create flyers, posters, banners, pamphlets, and more. Here are some of the main features of PhotoADKing:
Pricing (Per Month)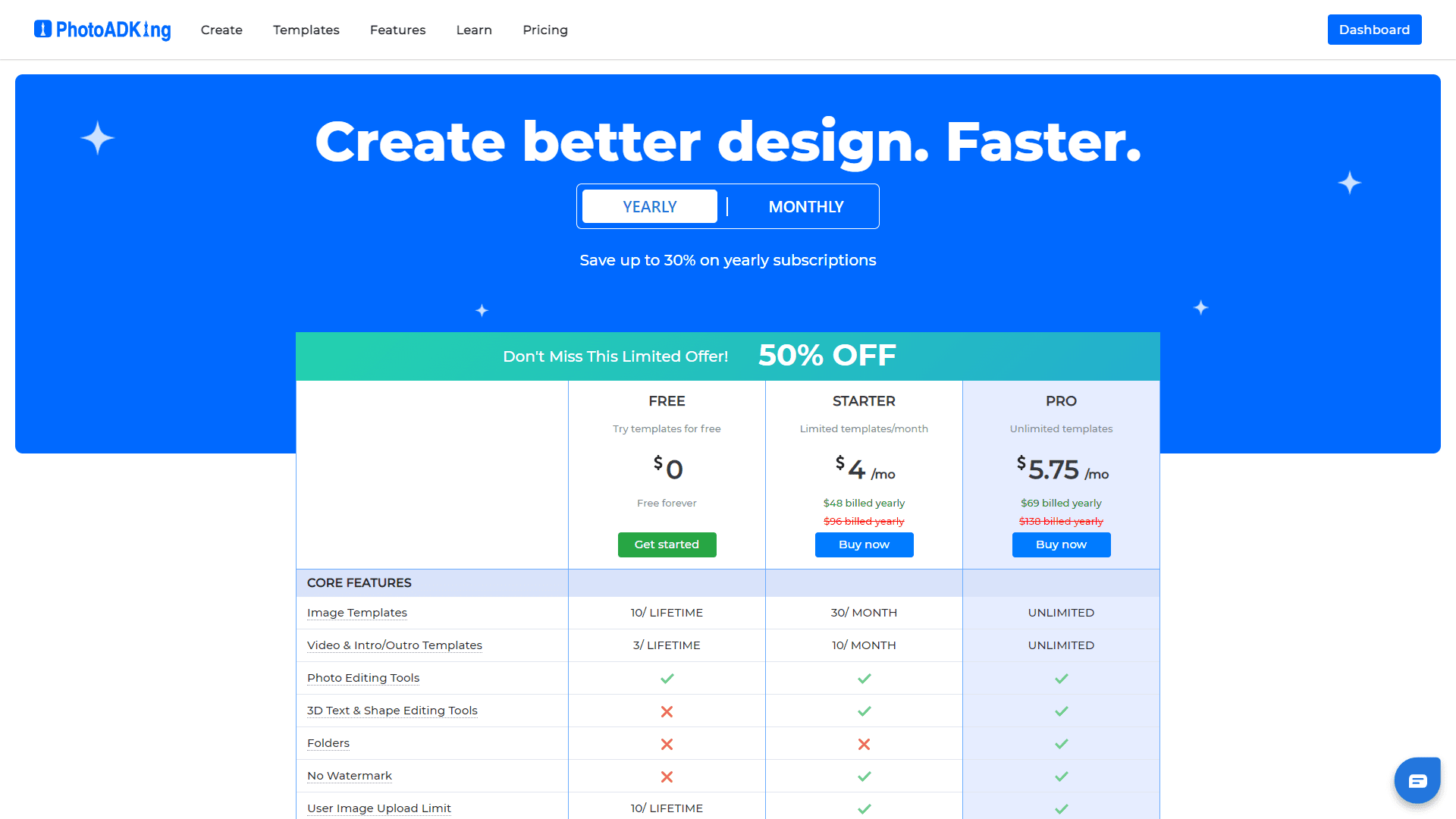 PhotoADKing is very reasonably priced and is an affordable Placeit alternative for those who need to create great images and designs without spending a fortune.
One-Time Purchase (Limited Period Offer)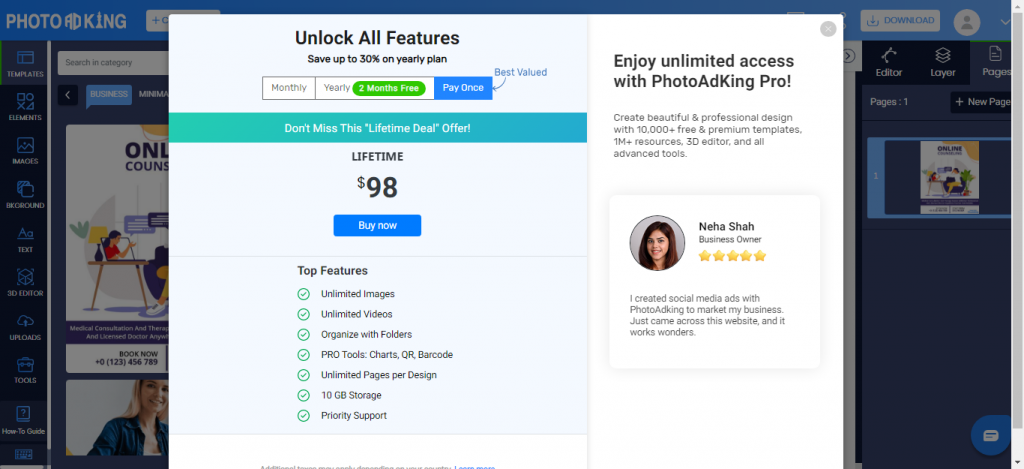 If you're in the creative design industry, you know how important it is to use full-featured design tools. PhotoADKing comes with a one-time purchase of a lifetime offer. This feature may not be available in Placeit or its alternatives. If that's what you're looking for, PhotoADKing is your best choice. Get access to all premium templates and features at an unbelievable price of $ 98.
Templates on User Demand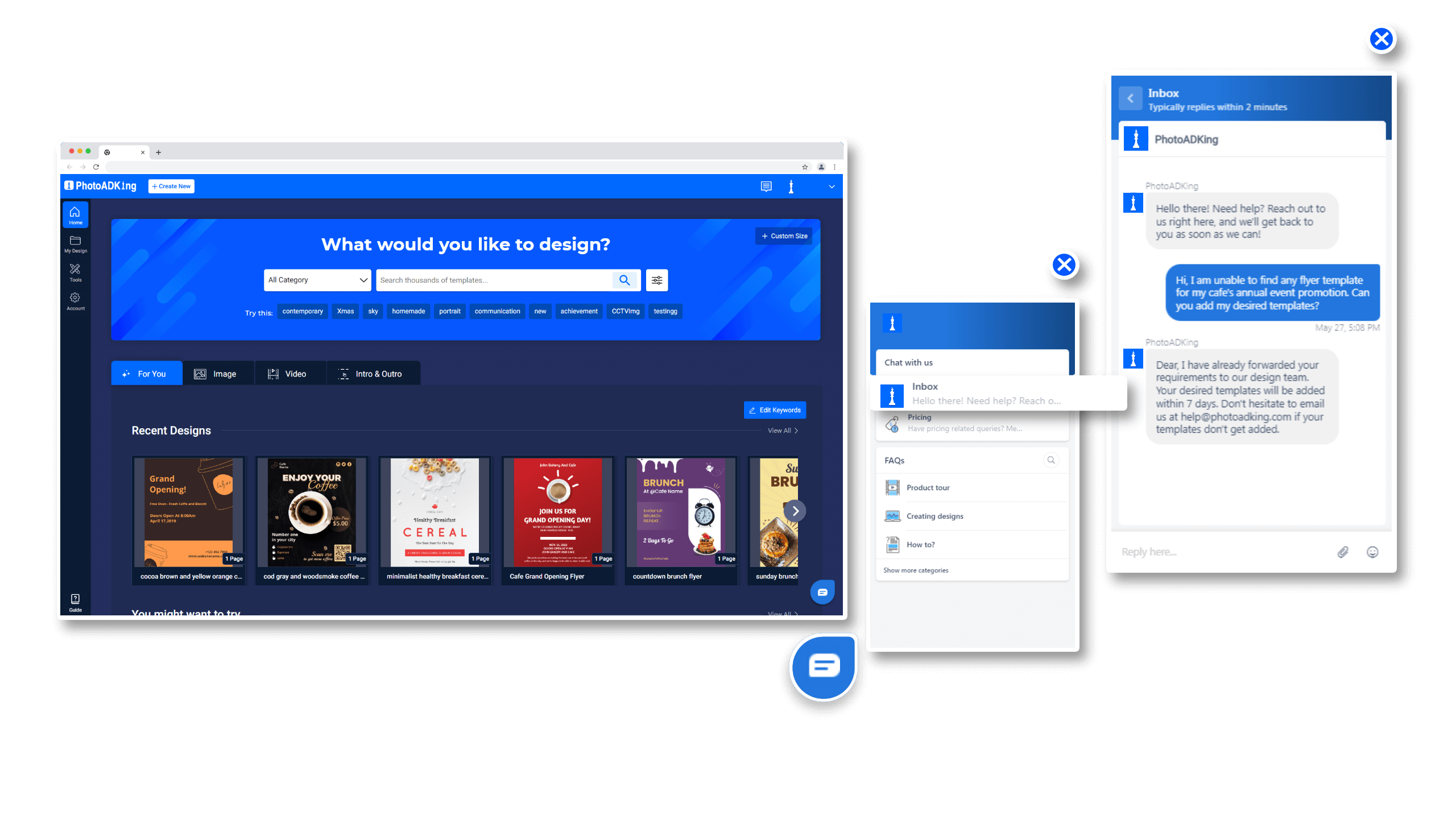 PhotoADKing is the only tool that offers templates on User Demand. Therefore, you can directly request a specific template to use for a specific project.
To get your desired template, just send a message through the help center with your template request. PhotoADKing tries its best to create the template in a quick time and make it available for the users.
Layer Editor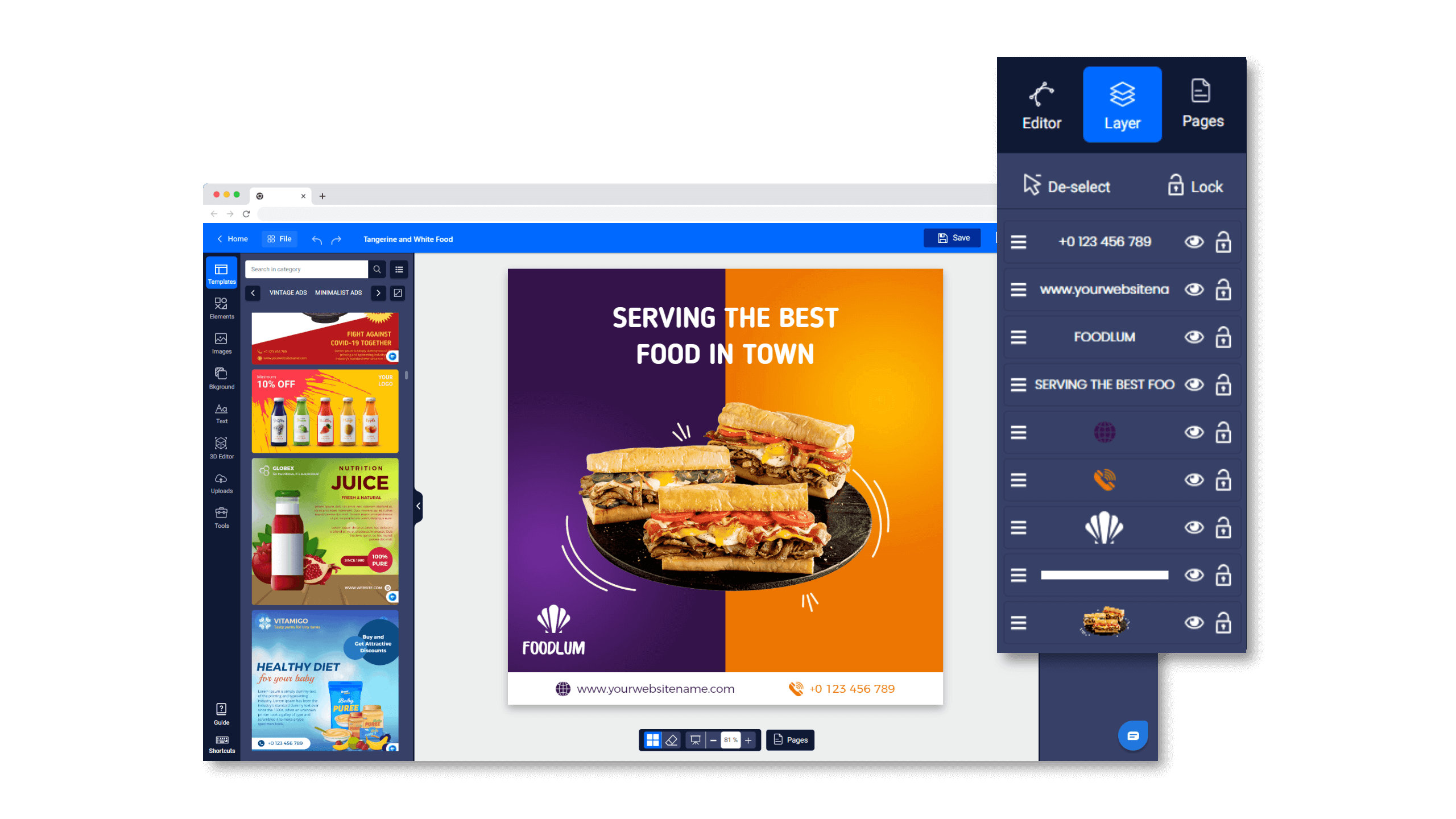 If you're serious about your design work, consider using alternatives that offer more features and options than Placeit. The Layer Editor makes it easy to manage and make changes to your design elements with just a few clicks. Layers can be placed in the template as needed, and layers can be hidden or locked.
Upload Your Own Font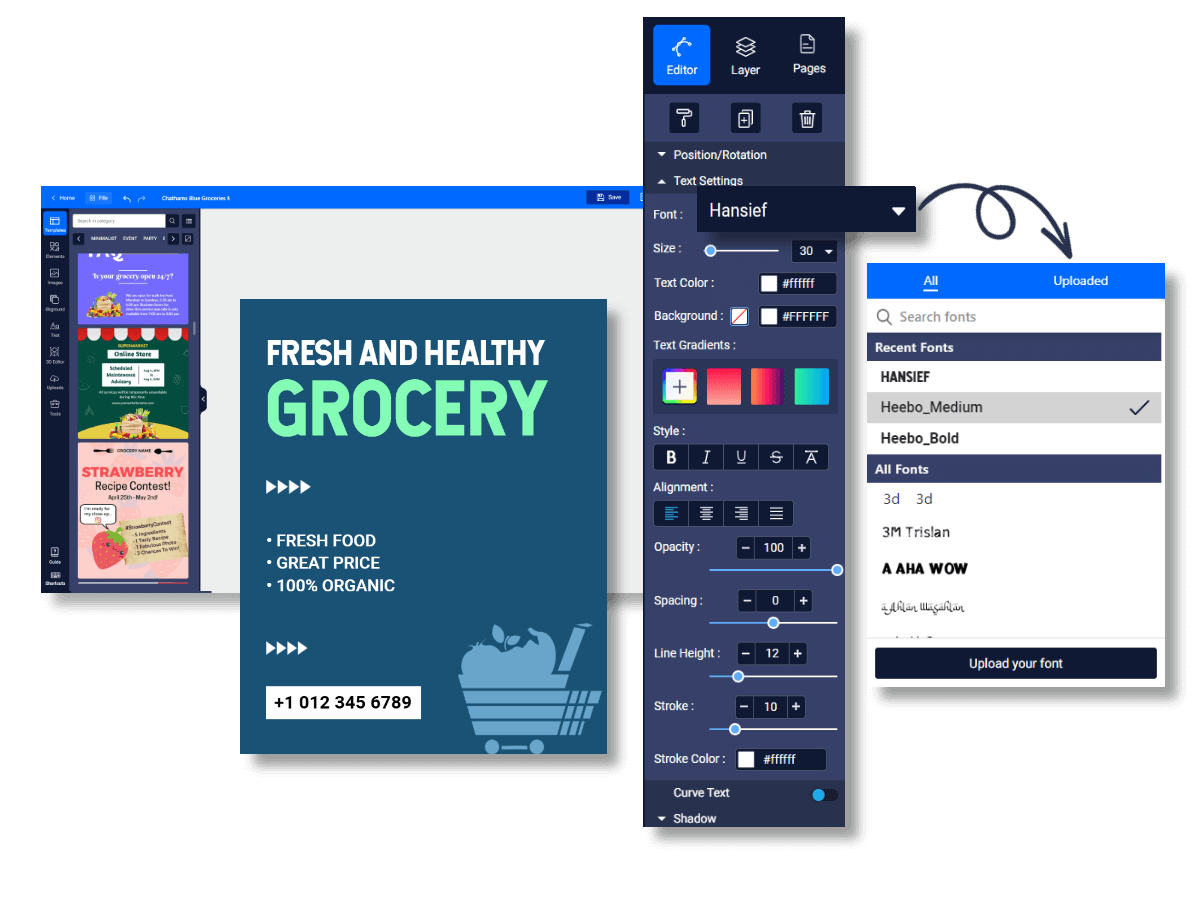 Specific font style is a part of your brand kit and you should follow this in your design works. Did you know that PhotoADKing allows you to upload and use your own fonts? This is a great way to make sure your design typography fits your brand identity. To upload the font, click the 'Upload Font' button in the text settings. Once uploaded, you can use it like any other font in your library.
Chart Templates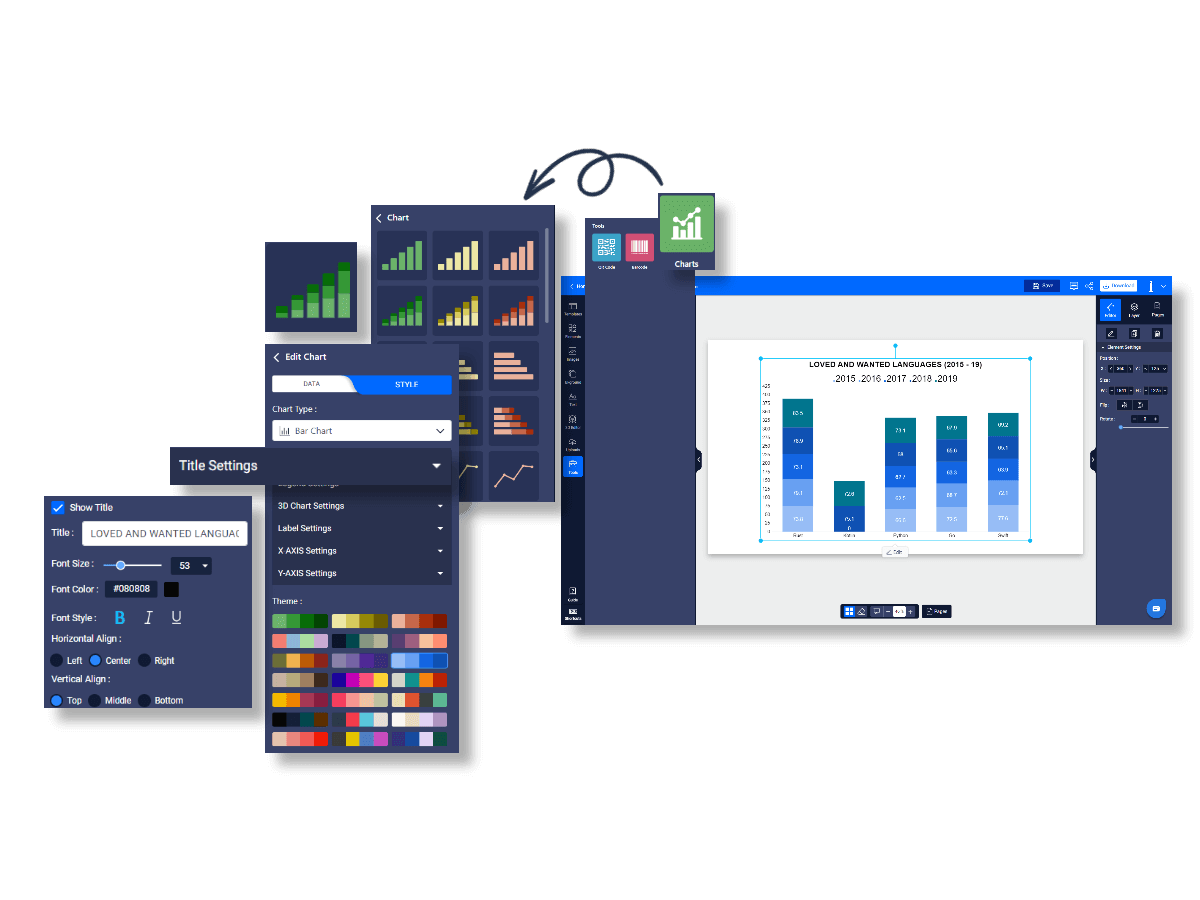 The use of PhotoADKing's chart feature is unmatched. The easy-to-use interface and professionally designed built-in templates make it easy to create unique and eye-catching charts.
This chart maker provides all the tools you need to quickly and efficiently create simple line charts or large multi-layer pie charts. You can directly upload Excel sheets to import your data to create your desired chart.
PhotoADKing's chart templates are a great way to make your data more visually appealing. With a variety of patterns and styles to choose from, you won't have a hard time finding the one that suits your needs. PhotoADKing templates are easy to use and modify, so you can tailor them to your own needs.
Social Media Content Calendar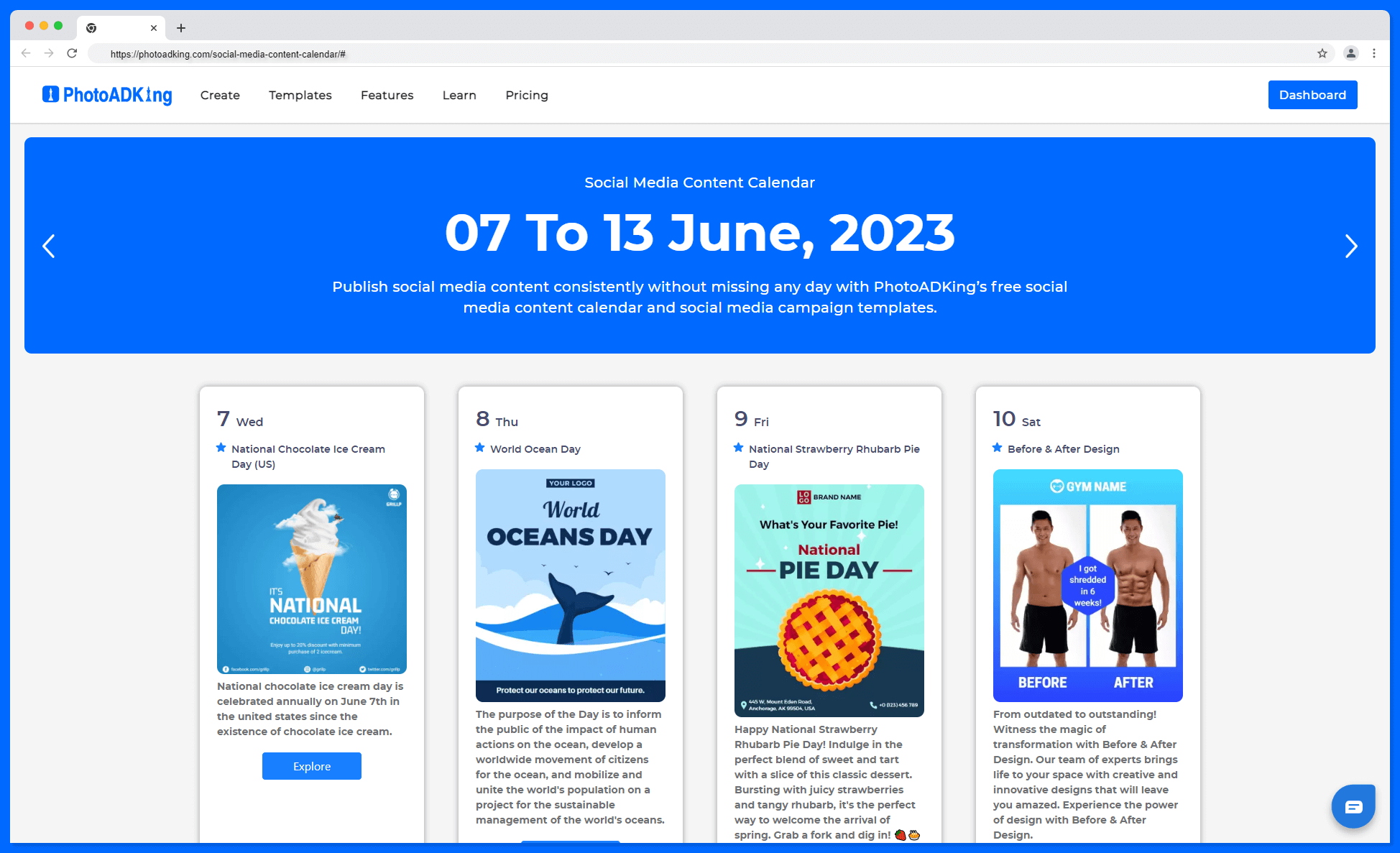 Millions of business owners are ready to be consistent on social media but haven't been able to post content consistently. If you're looking for a social media content calendar option, PhotoADKing is your destination. Use PhotoADKing's social media content calendar to stay up to date on upcoming events. The social media campaign templates will help you expand your social reach. With this calendar, you can plan your content in advance and ensure that it matches your business goals. Content calendars are a great way to stay organized and focus on your social media marketing strategies. You can also edit the designed template as you like.
QR Code Generator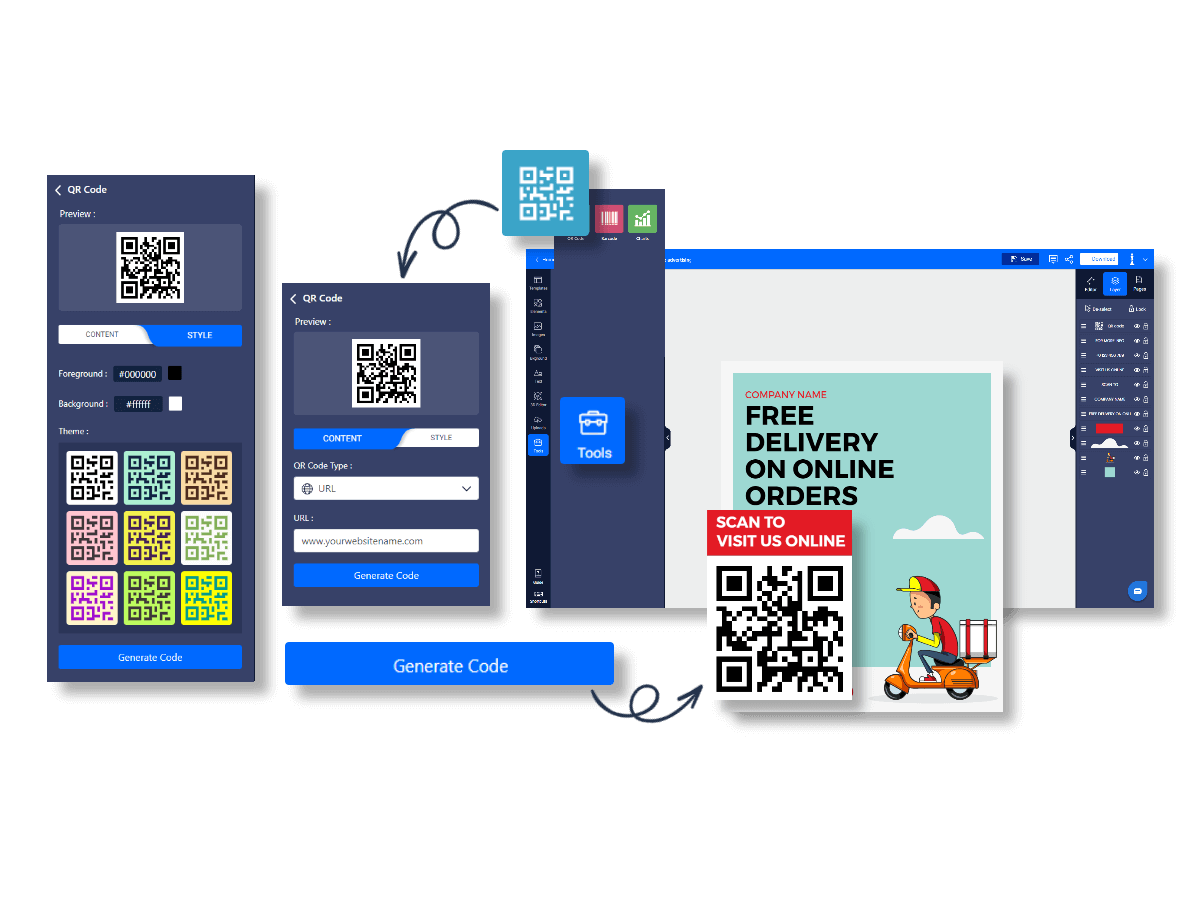 It is a little more innovative to connect with the customers that every company wants these days by QR codes. PhotoADKing's QR Code Maker allows you to create a custom code to open a URL. Create a QR code for your company and provide your customers with contact information. You can also add a QR code to your business card. This feature allows you to create a phone QR code that automatically dials a phone number. With PhotoADKing's Phone QR Code, you can share your phone number with just a few clicks.
Barcode Generator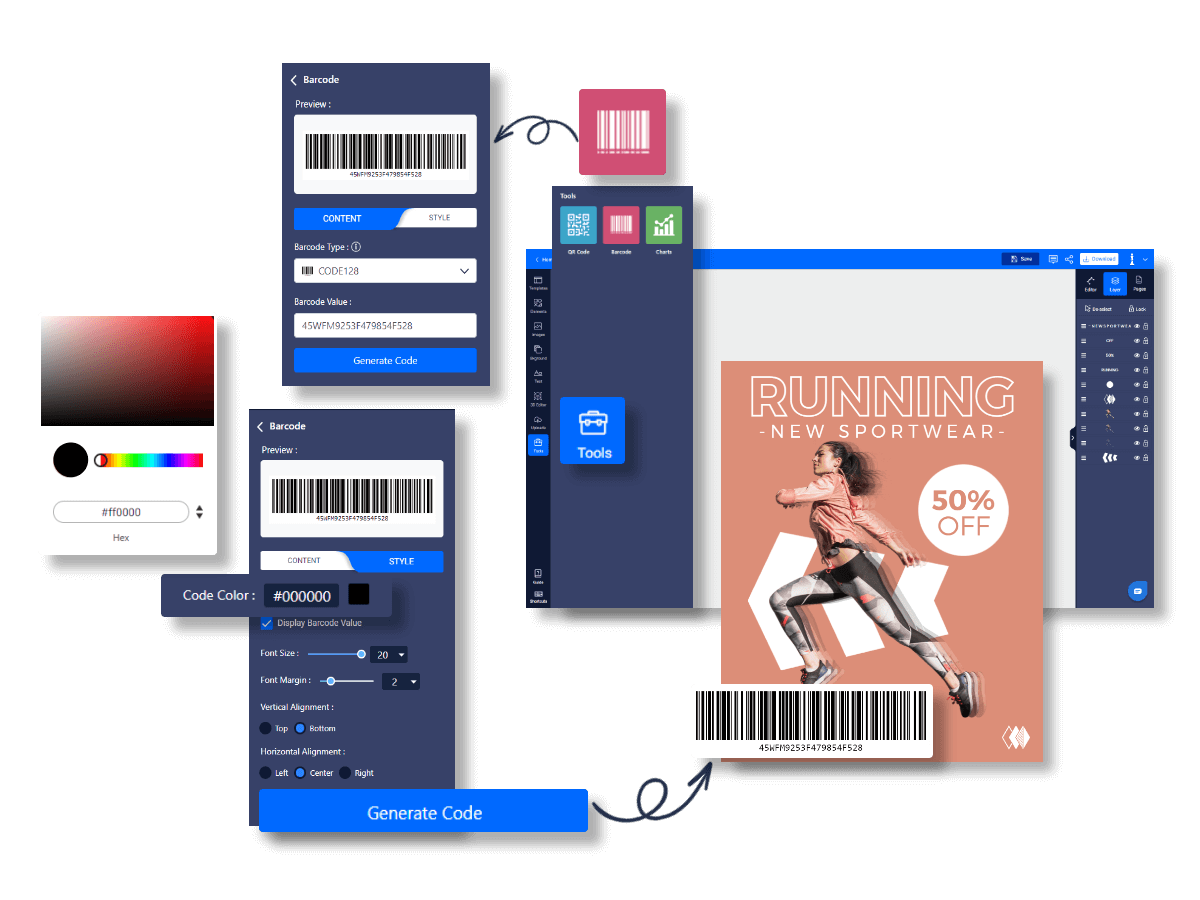 Barcodes are great for making marketing materials wonderfully unique. This Placeit alternative offers different types of barcodes. You can generate barcodes such as Code 128 barcodes, UPC barcodes, EAN8 barcodes, and other types of barcodes. Barcode generators are easy to use and can be customized to your specific needs. PhotoADKing is also available in a variety of sizes and colors, so you can choose the one that suits your project.
Blend Mode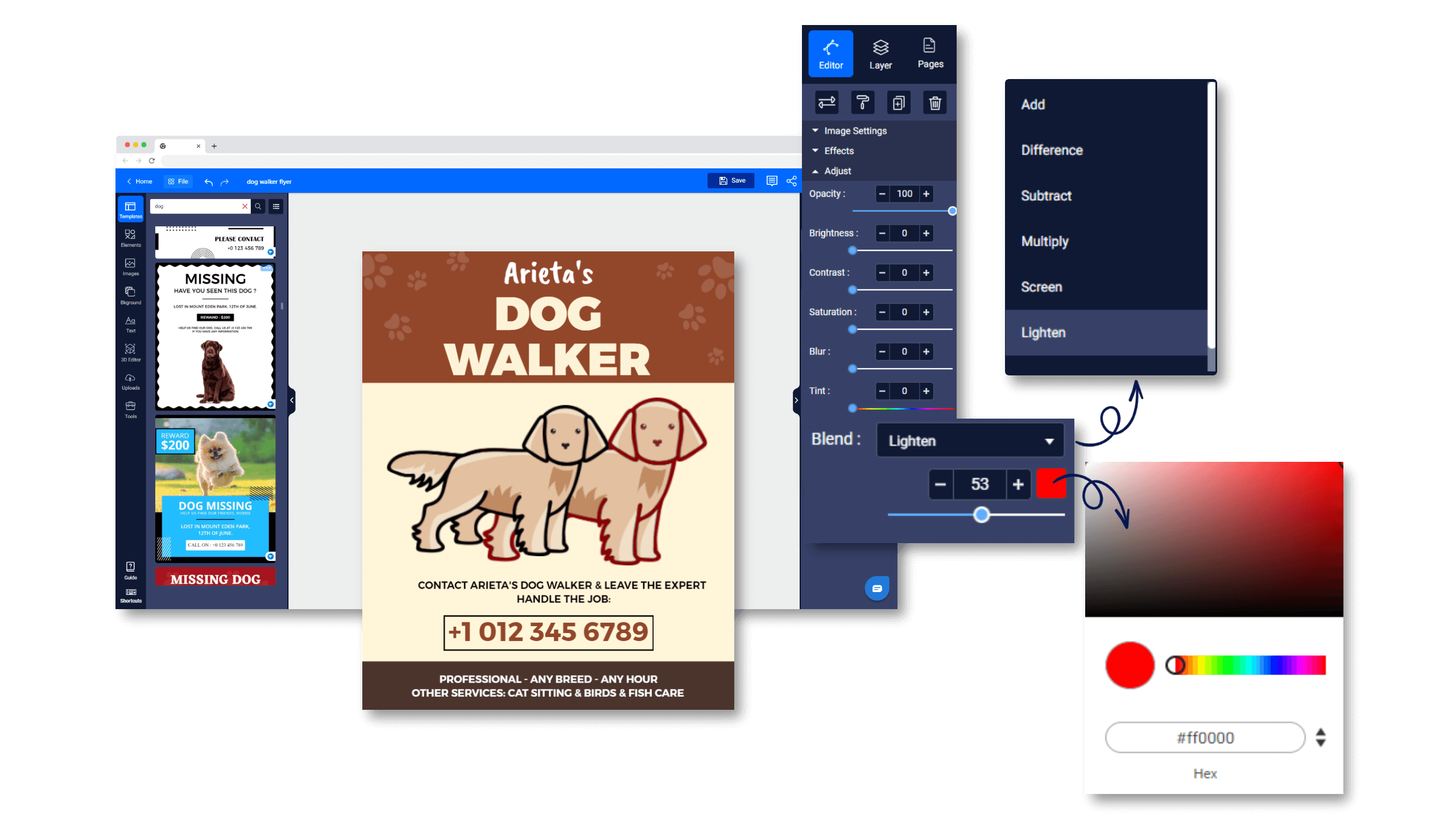 Blend mode is an effect that you can apply to a layer to change the colors of the layers below and how the colors are blended. Simply change the blending mode to change the look and feel of your illustration. PhotoADKing's blend mode feature is a great way to add compelling effects to your images. This option allows you to quickly add multiple colors and effects to your image to make it stand out. Blending modes allow you to create a variety of looks, from subtle to dramatic.
3D Shape & Text Editor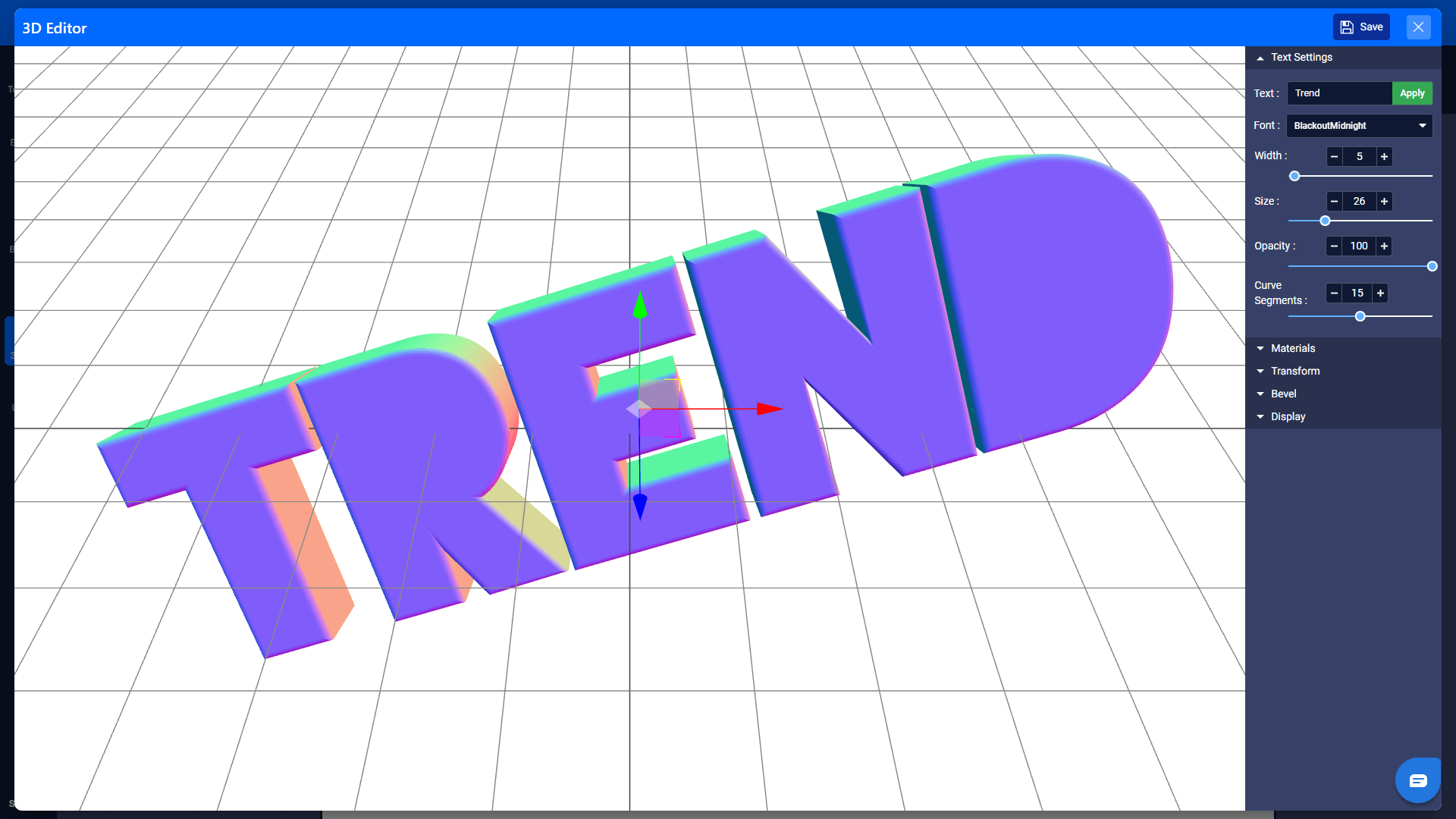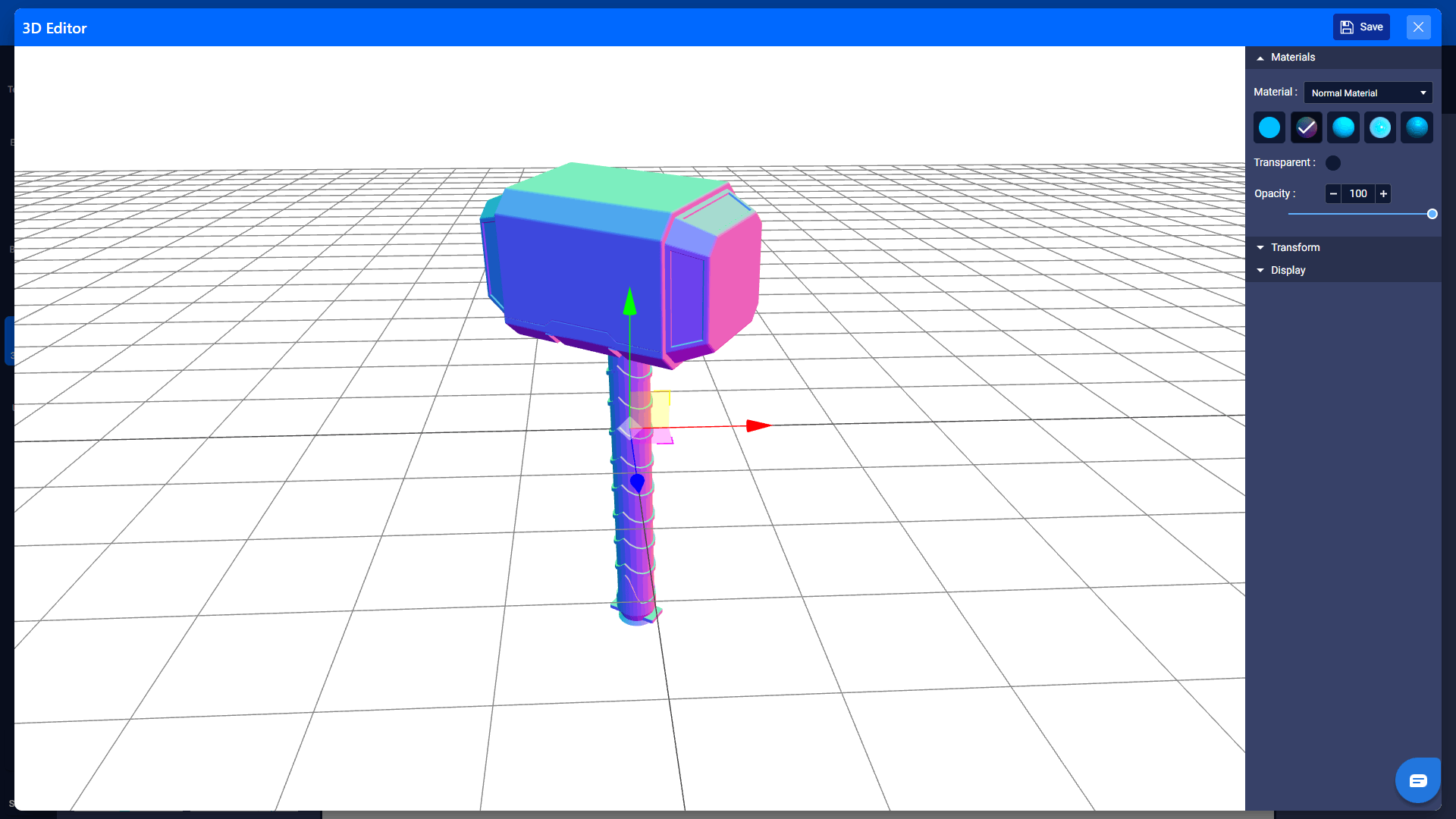 PhotoADKing's 3D shape and text editor is an ideal tool for highlighting your ideas. With this tool, you can quickly add 3D shapes and text to your designs to give them a unique and professional look. Best of all, you can't find this feature on sites like Placeit. And with PhotoADKing providing this feature, you can take your design work to the next level.
Conclusion
Placeit is a well-known online graphic design tool used by many professionals in the creative industry. Nonetheless, PhotoADKing excels at both professional and non-professional graphic design. It is easier to use and offers more features than any other Placeit alternative. There are more customization options and professional-looking templates to meet the design needs of every user.

Most importantly, PhotoADKing's editor is simpler and more user-friendly. Its 3D Editor and Layer Editor are must give try features. Overall, PhotoADKing offers more features at lower pricing. Therefore, PhotoADKing is a better choice than any other design tool.