We've been talking about Facebook, Instagram & Twitter marketing more often than on Pinterest. Though they're the go-to social media platforms, Pinterest has great potentials to attract a more specific target audience with particular interests.
If you're seriously into marketing, you must use Pinterest for business. In our opinion, why just use Pinterest because you have to? Ace the game with our Pinterest Marketing Guide, get thrilling ideas & start executing your Pinterest Marketing & Ad strategy just as you should!
Why should brands be on Pinterest?
You may not start Pinterest Marketing just because we're saying. Well, let us give you some obvious reasons as to why you should think about it even if you're new to entrepreneurship. Here are the top reasons to do so:
First things first, Pinterest is a great marketing tool that builds your brand image.
Amazing source of inspiration.
Use Pinterest because small to big brands & even your customers are using this social media platform.
It helps you to drive traffic to your website by making your products more discoverable.
Get valuable insights into your potential customer's interests.
Do it for the sake of SEO as it helps in boosting your Google rankings too!
Pins don't have any expiry date unless you remove them manually.
Lastly, pinning is free of cost. You don't have to pay for it so, why not?!
5 Key Points For Creating A Pinterest Marketing Strategy
Pinterest marketing guide can help you to boost up your followers. Is it even possible to execute something without a strong plan? NO! Let us share some essentials that'll help you create an on-point Pinterest Marketing Strategy.
1. Keep Your Goals S-M-A-R-T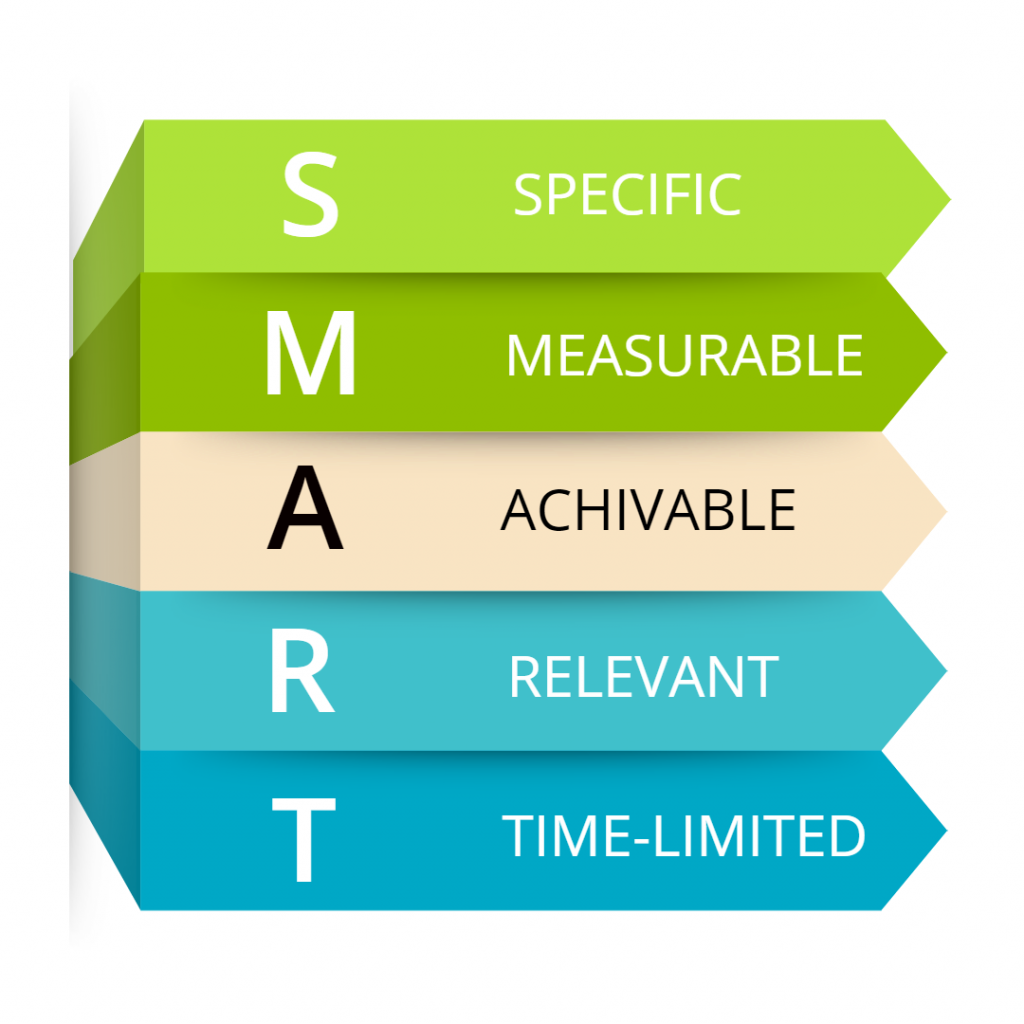 Whether you're promoting your special event or raising awareness for your product, a Pinterest marketing guide will always help you!
When marketing with Pinterest, your goals should be Specific, Measurable, Achievable, Relevant, and Time-limited. For instance, target to achieve # followers per month & find out ways to reach your goals. Know where you can find stunning Pinterest templates to showcase your products/services. Without goals, you'll get nowhere with marketing. Direct your efforts with realistic targets & work towards them.
2. Consistency Is The Key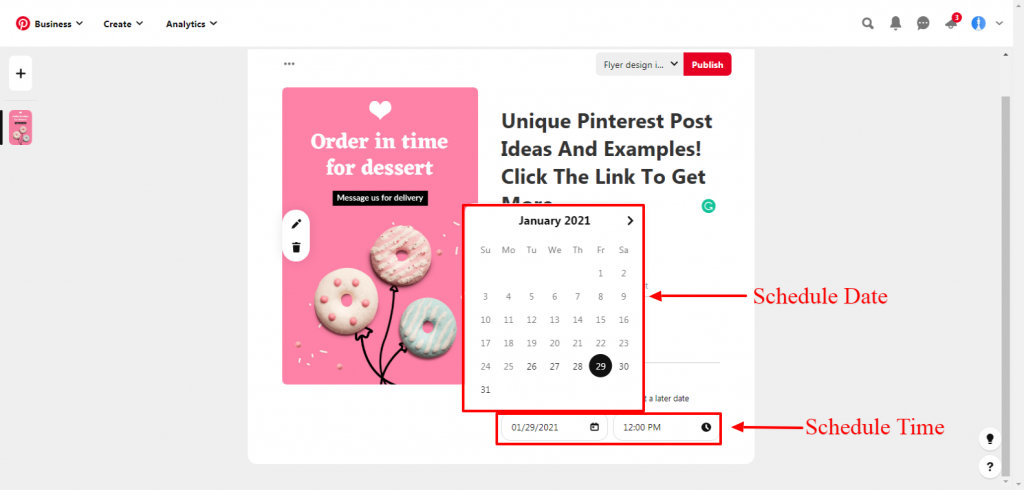 Pinning requires dedication, but this doesn't mean you haven't got any other job than pinning your products all day long. Be consistent in creating pins once or twice a day. If your pinning frequency is too low, your target audience may forget you. In the opposite case when you're pinning a lot, your target audience may feel irritated & can unfollow you.
You can also schedule the date and time of your Pinterest post and it'll automatically post on your scheduled date and time.
Tip: The peak hours for Pinterest pin uploads are 8 to 9 PM on weekends. You may also create pins between 2 to 4 PM for better reach.
3. Be Sorted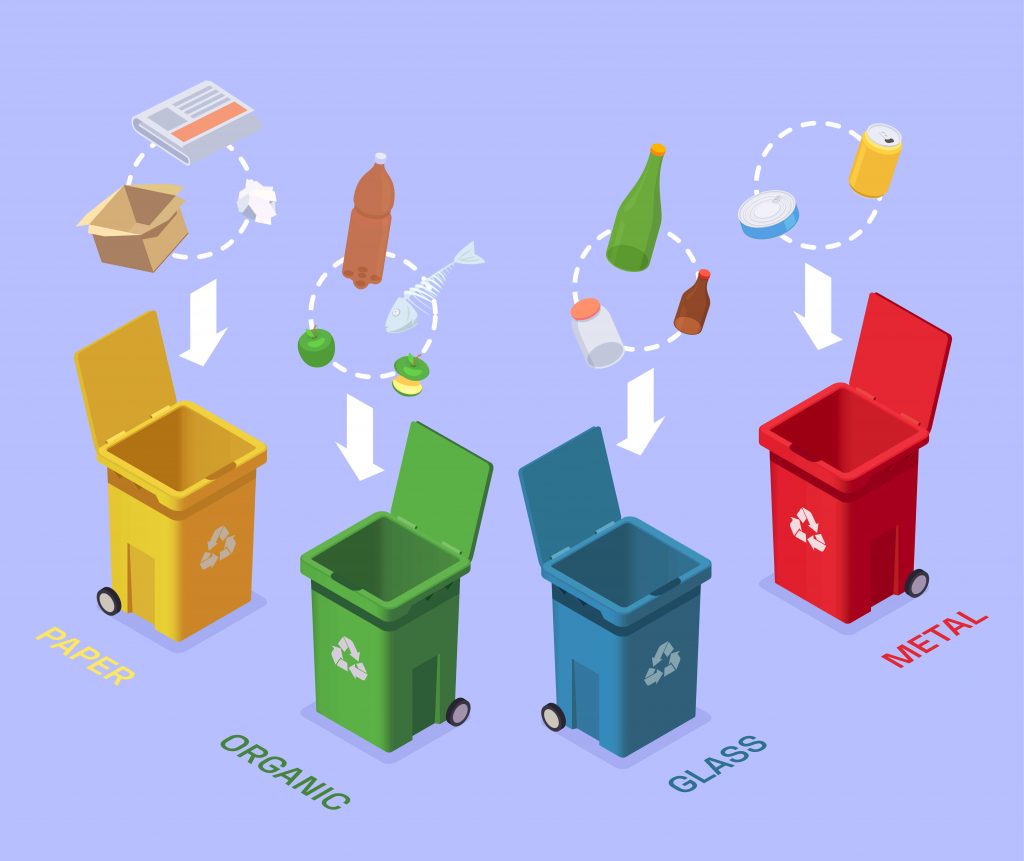 Every Pinterest user is given a profile page. Your profile page may be often visited by your target audience if they're fans of your pins. Make sure your profile doesn't have randomly spread pins but have assorted boards with relevant pins within. Pinterest post size also matters!
It makes a positive impression on your target audience. Not only your follower's count will increase, but your collections will attract & motivate your audience. You may customize impressive Pinterest Pins with free graphic designing tools like PhotoADKing for a smarter appeal.
4. Promote, Whenever Necessary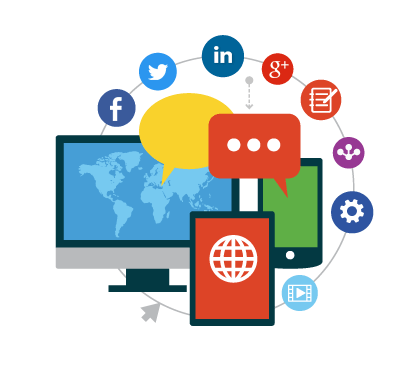 Who says Pins need not be promoted? You have to keep an eye on promotions as well as cross-promotions of your pins on other social media platforms too. It boosts your traffic & follower's count too.
For instance, you may promote relevant pins in guest posts or on your website blog so that if users like those pins, they can save them.
5. Implement & Experiment
Only grasping Pinterest Marketing guide will do no good unless you try & experiment with them. For example, Pinterest had a provision for pinning images previously. But, you can now share images via links & also create highly-engaging video pins too. It's all up to you as to how well you are at making your target audience stop-by.
Video Pins are a great way to tell a more comprehensive story about your brand, idea, or project. Video Pins have a cover image that captures your audience's attention. You can easily create stunning video Pinterest pins with PhotoADKing in just a matter of minutes!
Get Smart with this Quick Pinterest Marketing Guide for 2021
1. You Don't Need To Create Pins All The Time! (Updating Them Can Work Too ;))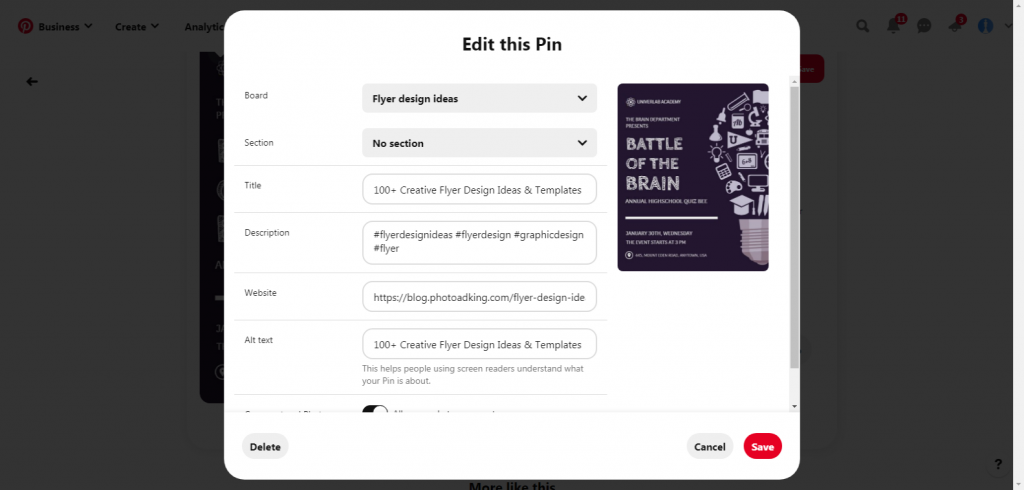 If you're Pinterest Marketing for months or years, you possibly have a lot of pins already. It's great if all of them are performing well. But, if you have any black sheep, feel free to modify your existing pins with optimized title, description, Hashtag, image, etc.
Creating pins is a good idea & updating pins is a better idea as such outdated pins can still be fruitful for your brand. They'll make a positive impression if any user hops on to your old boards & scrolls through old pins. Each of your pins should be stunning from the very beginning, don't you think so?
2. Focus On The Keywords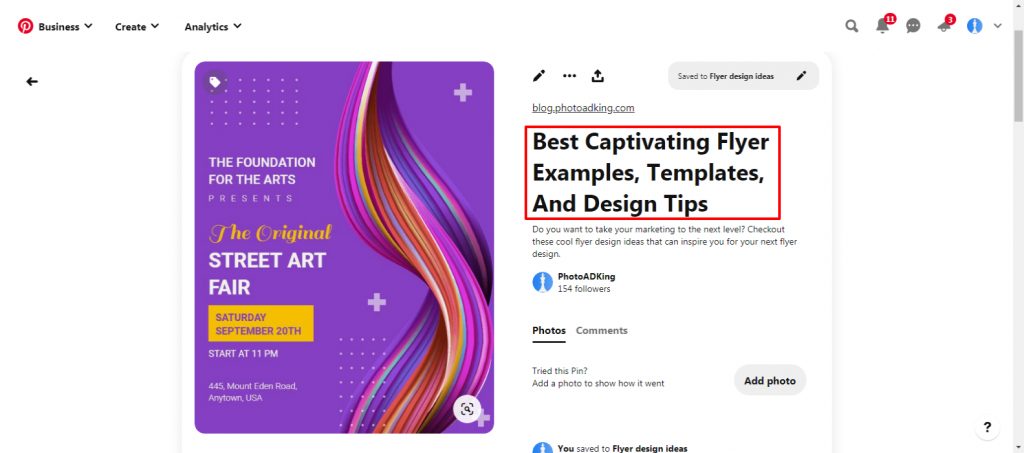 When do you want your pins to be displayed? Which search terms will your target audience use & get to see your pins? All this is under your control. And you're now powered with Hashtags on Pinterest too. This simply means that the user may put up a Hashtag to view similar pins.
The bottom line is, you should be specific with the keywords you use & make sure it drives the potential target audience. For instance, if you're pinning a pasta recipe, don't forget to mention keywords like "Red Sauce Pasta", "Indian Style Red Sauce Pasta", "Arrabiata Pasta in Red Sauce", etc.
3. Mind Your Pin Descriptions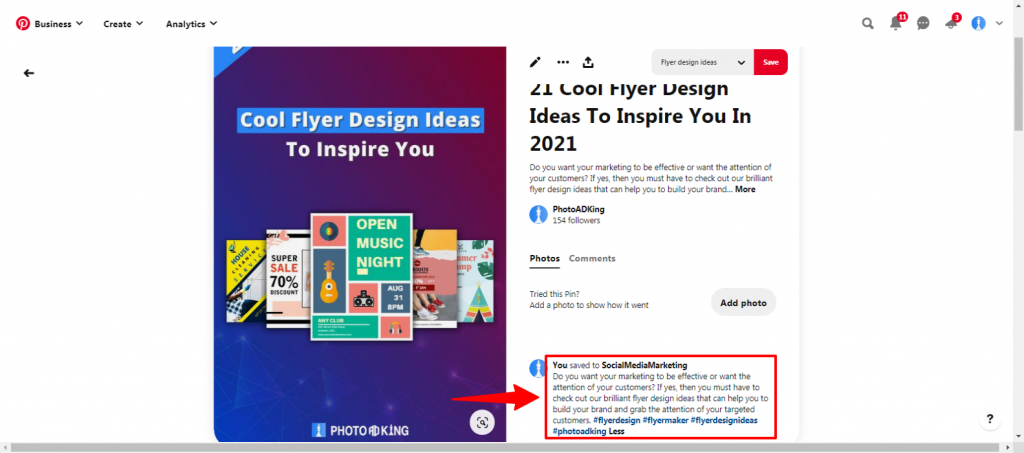 Branding with pins isn't a cup of tea for all. The texts used for pins & placed on images are pathways to attract users. Your pins should have the potentials to make users stop scrolling, click on the pin & save it.
Your Pin title tells your target audience instantly about it. This simply means that your title should be catchy & impressive. Secondly, your pin descriptions should be brief about the pin & not taken for granted. If users are interested in your pin & click on it, they're willing to get more information on the same. So, you better utilize them well.
In the case of using Pinterest Image text, always opt for a personalized Pinterest Pin Maker. It makes your pin easily recognizable among your target audience.
4. Know Which Numbers To Track & Analyze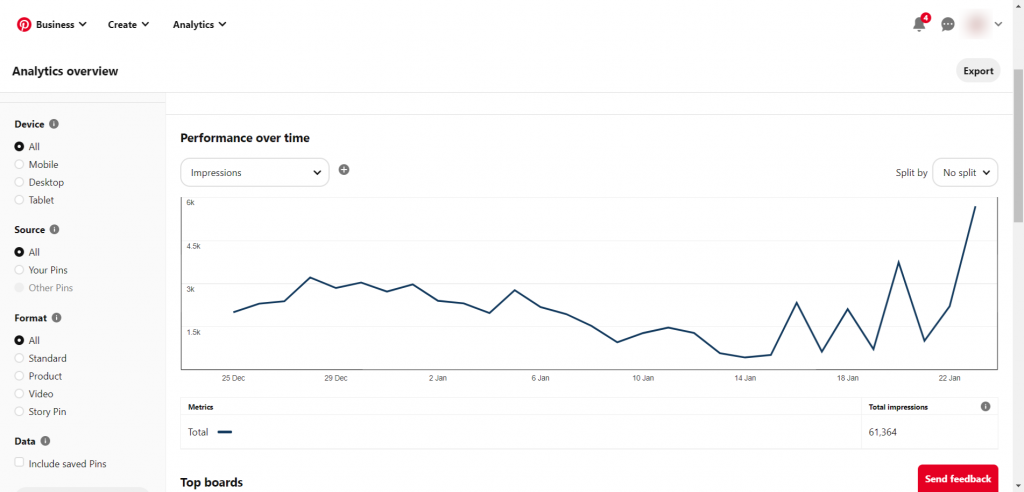 When you're using Pinterest for Business, the social media platform shares some valuable insights like the number of clicks your pins get, total saves of your pins, user intent, and overall impressions of your pins.
In short, you get to see how your pins are performing on the feed. However, you should analyze this data well. For instance, if your pin has a higher number of impressions but is less saved, it isn't a positive signal. What matters to most marketers is clicks & saves.
5. Find The Answer To – 'How Do I Get More Clicks?'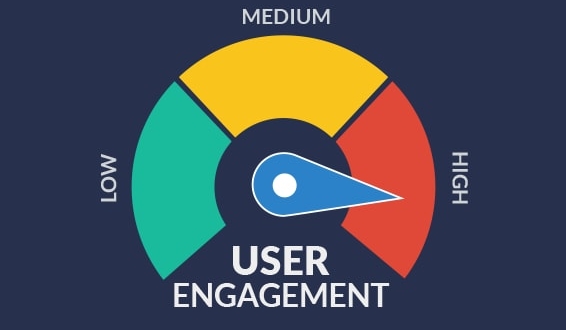 The keywords, boards, and Pinterest images are interlinked. The better you are at analyzing them, the more you understand how to get more clicks on your pins. After all, the sole aim of getting on Pinterest is to get more & more clicks.
You'll get to know about the user engagement with your pins opposite to the pins you're sharing. This helps you to create better-engaging pins. Also, you should try a variety of pins & not stick to image pins only. Even image pins can be created in a variety of templates. If you haven't done this before, try PhotoADKing's Pinterest Templates today! Next, you must try video pins as they've got higher chances of engaging your target audience.
Head Over to PhotoADKing's Pinterest Graphic Maker!
Whether you want to create customized Pinterest Image Pins or personalize trending Video Pins for Pinterest, PhotoADKing never fails to impress. You'll always find trending alternatives to visualize your goals & make the most out of Pinterest Marketing. As we said, only learning strategies aren't enough until you experiment & experience what's working for you.
So, don't waste time & upgrade your Pinterest Marketing Technique today!