As a business owner or marketer, you know the importance of attractive visuals for your business promotions. Picmaker is a well-known tool for creating such eye-catching visuals but it is not the only one. Also, it does not fulfill every designer's individual needs so users try to look for a Picmaker alternative tool.
PhotoADKing comes out as the top Picmaker alternative tool that offers more useful features than Picmaker. It offers a friendly user interface and professionally designed editable templates. In this blog, you will come to know why PhotoADKing gives an edge over its competitors.
Picmaker vs PhotoADKing: Quick Comparison
Please check below the quick comparison between Picmaker and PhotoADKing.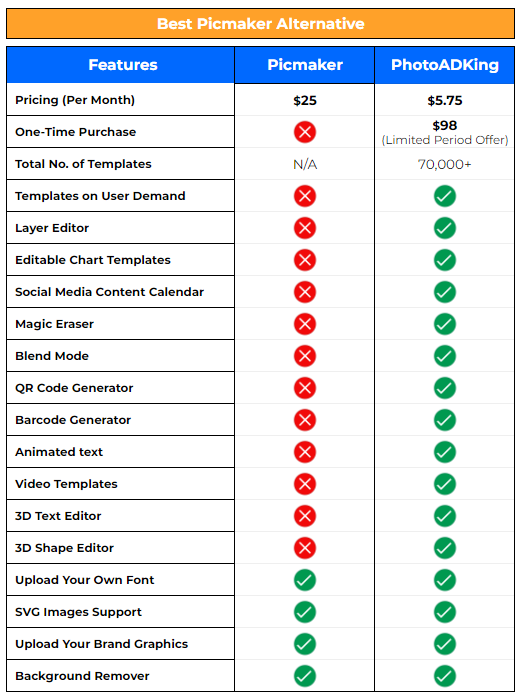 The Key Features of PhotoADKing – The Top Picmaker Alternative
You don't need expert design skills to get the results you want with PhotoADKing. In just a few clicks, you can create stunning visuals. This is an excellent tool for increasing the effectiveness of your marketing by creating flyers, banners, posters, brochures, business cards, and social media marketing materials. Whenever you need urgent flyer designs, PhotoADKing is the solution for you. Some of PhotoADKing's primary features are as follows:
Pricing (Per Month)
PhotoADKing has highly favorable pricing options, making it unrivaled in the design industry. You get a lot of excellent features and thousands of customizable professional templates for a very affordable price.
One-Time Purchase (Limited Period Offer)
What could be better than a tool that has all of the necessary features? PhotoADKing is available for the incredible price of $98 for lifetime access. That is, you just need to pay once to grant access to all of the premium features and layouts.
Templates on User Demand
Now, you can request your specific required templates if you did not find them in the existing ones. You can put your request through an email or via a message through the help center. Your requested templates will be provided asap by PhotoADKing.
Layer Editor
If you want to take your marketing strategy to the next level, you must use a tool that includes all of the elements you need. PhotoADKing comes with an excellent Layer Editor that allows you to simply manage all design elements. With a few clicks, you may make adjustments to your design elements. Any layer can be easily hidden or locked and relocated within the template.
Upload Your Font
You must always ensure that your marketing is consistent with your brand identity as a business owner or entrepreneur. PhotoADKing makes the procedure easier for you. Uploading your own font allows you to utilize it in your projects. Simply go to the text preferences, click the 'Upload Font' button, and save it to your font collection. You can now use your newly uploaded font just like any other existing font.
Chart Templates
The Chart Templates from PhotoADKing are incomparable. This tool is easy to use, and there are numerous built-in templates to help you create eye-catching charts. PhotoADKing is unrivaled when it comes to creating everything from small pie charts to massive multi-layered charts.
The chart templates from PhotoADKing are a wonderful way to visually enhance your statistics. With so many different patterns and styles to choose from, you'll have no trouble finding one that meets your requirements. The PhotoADKing templates are easy to use and customize, allowing you to tailor them to your exact needs.
Social Media Content Calendar
Millions of business owners desire to be consistent on social media but are unable to provide content on a daily basis. Find social media campaign templates for your event. Click on the template to start customizing. As soon as you complete customizing, you can download your social media campaign post. You can also use social media campaign posts in your social media ads campaign. PhotoADKing provides a number of social media campaign templates to assist users in creating a content calendar based on their theme and events.
For example, if you want to create consistent content for Instagram, this content calendar is great. You can access all templates associated with important dates with a single click.
QR Code Generator
Nowadays, QR codes are loved by customers so many businesses started engaging with them using QR codes. In an oversaturated market, QR codes will help you to stand out among your competitors.
PhotoADKing allows you to create various types of QR codes. QR codes connect your online and offline media. You can create a QR code and add it to your marketing materials such as flyers, business cards, brochures, billboards, etc.
Barcode Generator
Barcodes are a fantastic way to differentiate your marketing materials. This Picmaker alternative provides a large selection of barcodes. Barcodes such as the Code 128 barcode, UPC barcode, EAN8 barcode, Code39 barcode, ITF14 barcode, and Codabar can be generated.
The barcode generator is easy to use and can be customized to meet your individual needs. PhotoADKing is also available in a range of sizes and colors, allowing you to choose the perfect match for your project.
Blend Mode
A blend mode is a layered effect that alters how colors on lower layers interact with colors on upper layers. The appearance of your design can be changed simply by altering the blending modes. The Blend Mode option in PhotoADKing is a great way to add a nice touch to your images. The Blend Mode can be used to produce a variety of effects, ranging from subtle to spectacular. To make your shape stand out, experiment with different blend modes such as screen, lighten, add and subtract.
3D Shape & Text Editor
PhotoADKing's 3D Shape & Text Editor is an excellent tool for bringing your ideas to life. With this tool, you can effortlessly add three-dimensional shapes and text to your projects, giving them a unique and professional appearance. Best of all, this feature is not available in a program like Picmaker, and PhotoADKing has it so you may improve your design work.
Conclusion
Picmaker is a prominent name in graphic design but despite this, PhotoADKing is the best value for money tool. This Picmaker alternative comes with almost every essential feature and has thousands of easy-to-customize templates. It doesn't matter whether you are a professional designer or not, PhotoADKing is for all. Thus, PhotoADKing is undoubtedly the end of your search for the best Picmaker alternative tool which helps you to level up your marketing.