Menu flyers are so convenient. You can make a menu flyer and let hundreds of walk-ins know what's in the floating menu today. A special menu can be displayed via menu flyers. You may make a menu flyer and keep those items on sale for as long as you want to. Another major attraction for menu flyers is parties. It's a handy way to impress your invitees with a classic menu curated exclusively for them. What a luxurious feeling!
Before we learn how to make a menu flyer, let us share some essential tips to help you all the way.
Tips to Make a Menu Flyer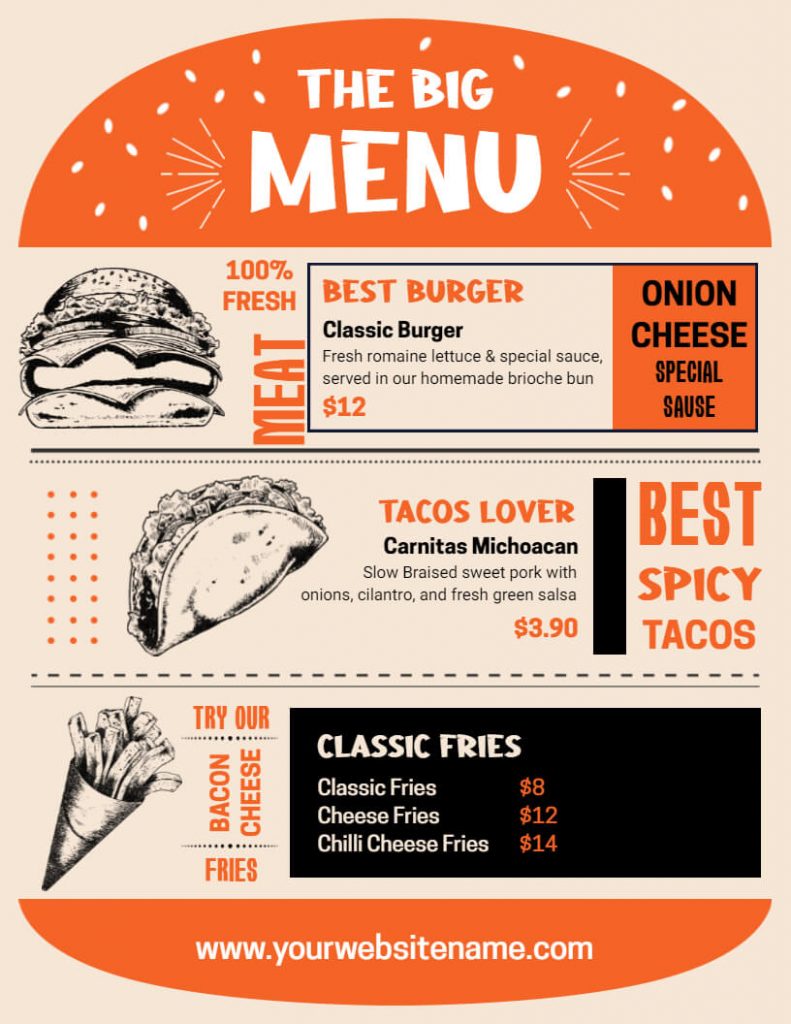 Keep Human Scan Patterns in Focus
Left to right and top to bottom is the common reading pattern whether we're looking up to the menu or computer screen. This means you should place the most crucial part of the menu in the upper left corner. It will highlight the special meals.
Divide The Menu Logically
What will your customer order first? With this said, you should divide your menu logically with starters, main course, desserts, and drinks displayed in the sequence. Furthermore, you can divide your starters and main course according to the vegetarian and non-vegetarian options you offer. Special menus are displayed separately for making decisions easier.
Use Text Boxes for a Neat Presentation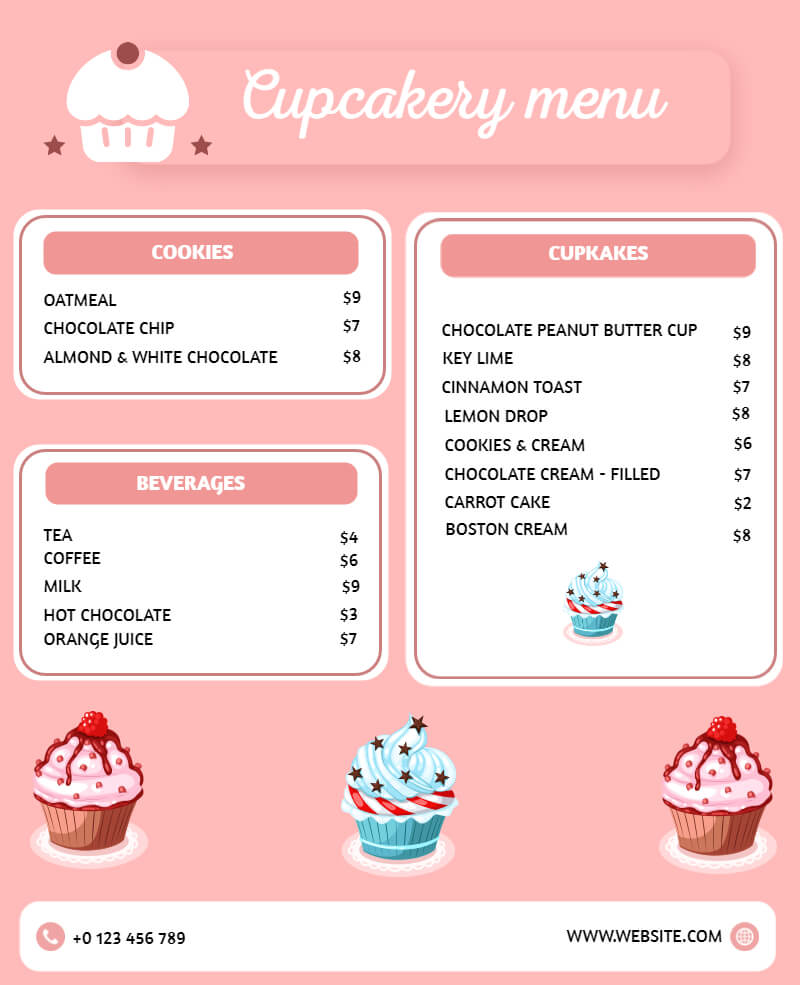 Your menu flyer is all about helping people make decisions. The clearer it is, the easier it will be for enhancing the user experience. Divide sections properly with text boxes so that it seems visually distributed and simple to understand.
Pick Your Theme Wisely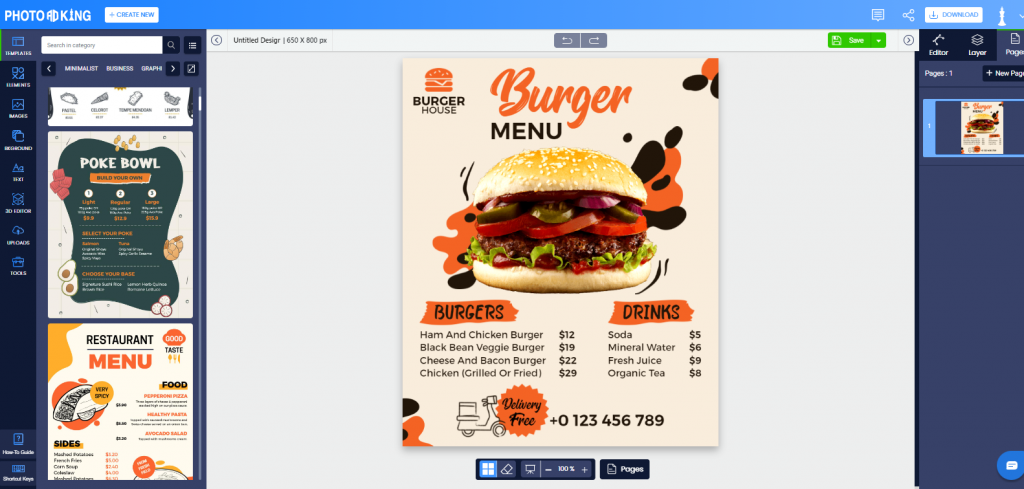 The very first thing about the restaurant menu is the overall look and feel. Decide whether you'll be displaying a lot of pictures or will be using them sparingly. Meanwhile, maintain your restaurant's professional image by not displaying too many pictures on the menu. It's something that most fast food hubs do.
Don't Highlight Prices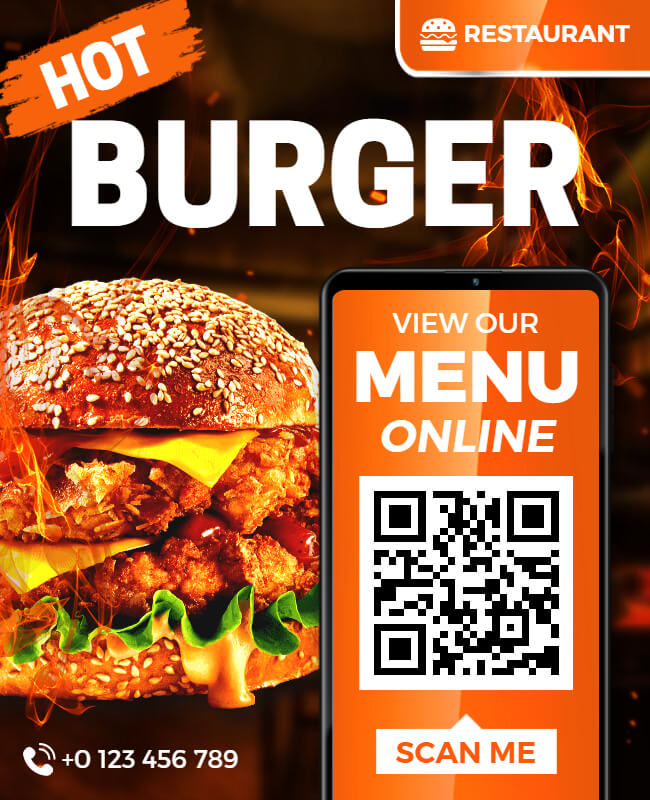 It's up to you where on the menu you want to drive attention. If you highlight the prices, it might overshadow the delicacies you offer. Hence, you better not highlight prices and keep the fonts simple. You can choose to elaborate on the menu items instead so that customers know what the dish is all about.
Typefaces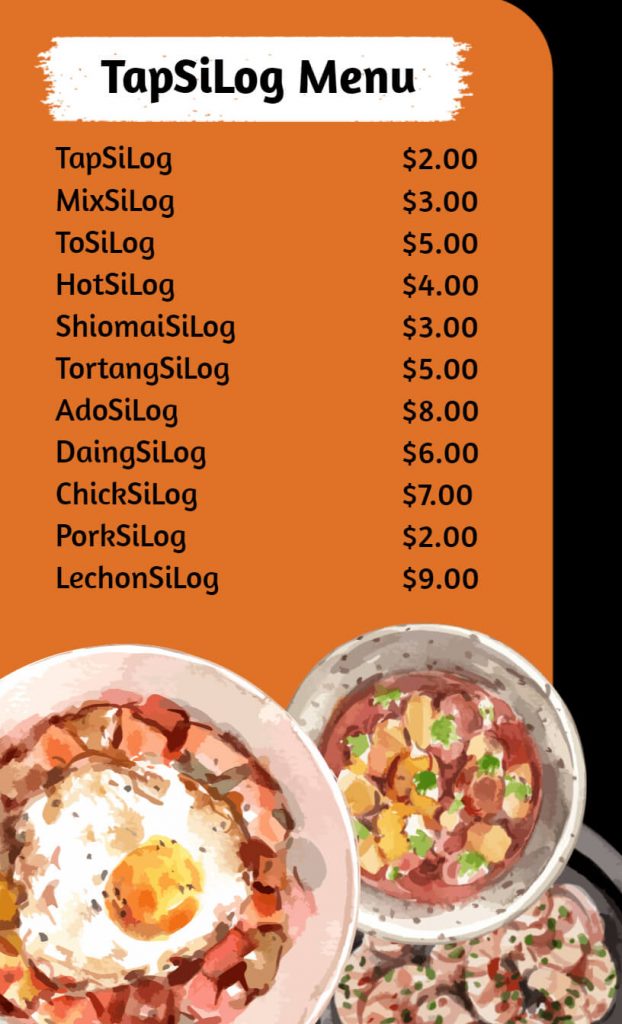 Usually, non-designers get confused as to which typeface to use as they make a menu flyer. The best way is to use a decent combination of two fonts only. Keep one for headers and the other for menu items and pricing. That's enough to cater to soothing visibility and ease your designing efforts too. Remember to keep the readability clear & not use too many decorative fonts.
Have Special Menus – Always!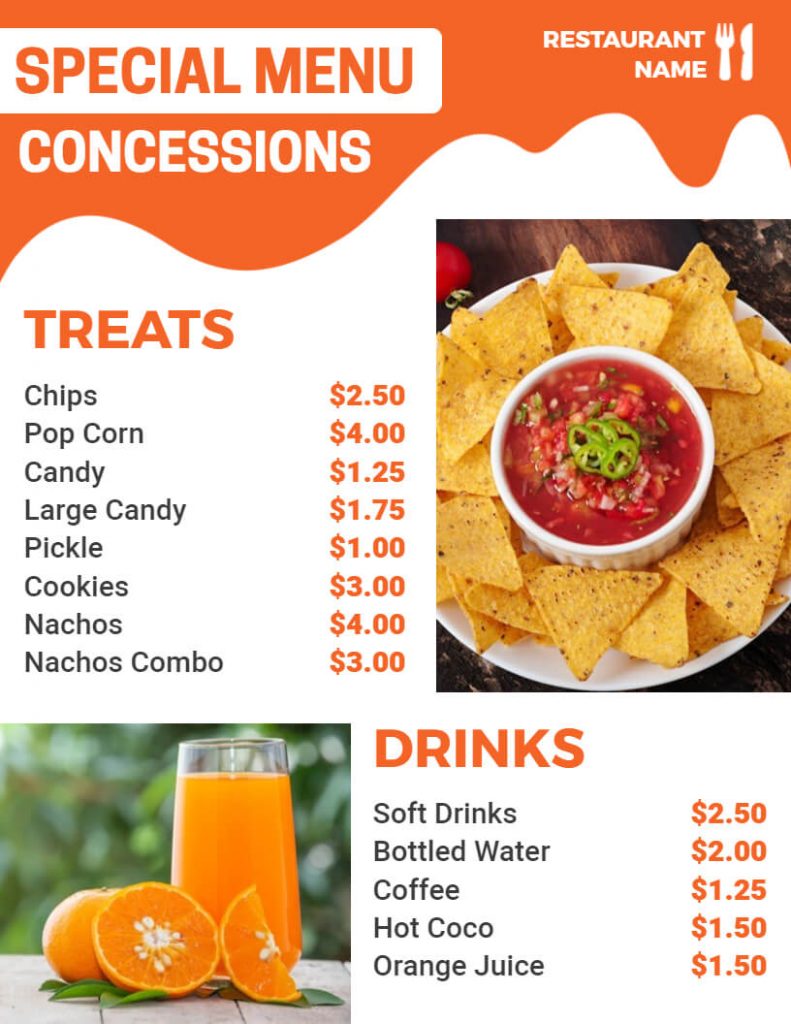 Believe it or not, your customers will like to see something new regardless of whether they visit your restaurant for the first time or more. The seasonal dessert menu, Combo Menu, Family Pack Menu, and more add a dash of thrill to order something new. Moreover, you can also have Kids Menu on display for your little customers to have their favorites at your bistro. If your restaurant facilitates organizing parties then keep a Birthday Party Menu for helping inquiries.
Come let's see how to make a menu flyer with a trending technique. It works for anyone who owns a restaurant, bar, café, club & even if you're organizing a small party at home. You can also design your own special menu online.
Make a Menu Flyer with Customized Restaurant & Bar Menu Themes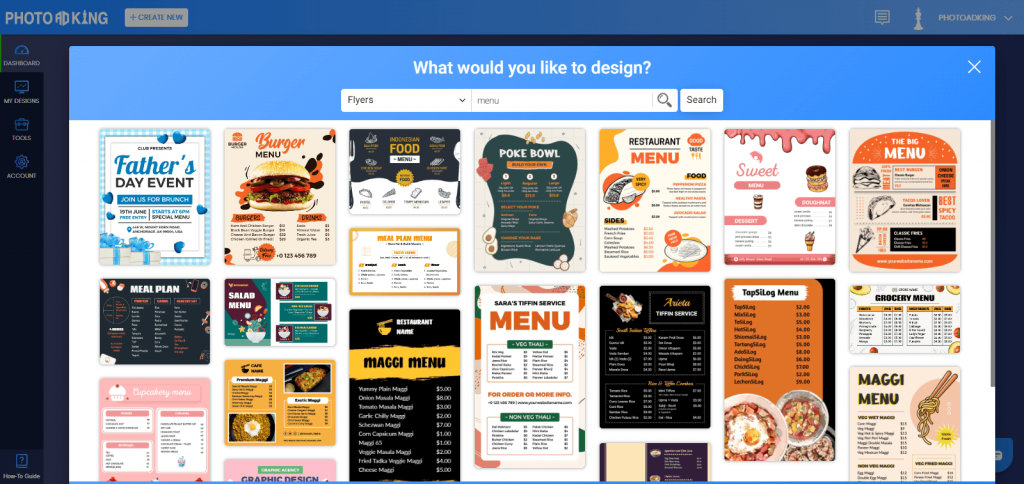 A menu is all about bringing the people into the zone. It's a reflection of the indulgence you'll be serving on the table. In short, it should be as tempting as possible. We can say that it's an inevitable inclusion to make a menu flyer practical yet dramatic. It's an art nevertheless.
Let's not forget that your menu will be the first thing everyone will see after interior and ambiance. Restaurant and bar businesses are much concerned to design a fancy menu that is all about a glimpse of lavishness. However, customizing one with software like Adobe Illustrator, Photoshop or Inkscape seems like a headache. Simple programs like MS Word also offer some nominal flyer templates to personalize but they hardly get noticed.
Luckily, graphic maker tool like PhotoADKing available for instant menu creation. They're the much-needed piece of motivation we all need as an alternative to professionals. These tools have millions of pre-designed menu flyer templates ready to customize. Pick any design you like & make a menu flyer as dashing as you've always wanted.
From daily display menus to weekend specials, party menus & more, every exciting template is available easily. Whether you own a restaurant, bar, café, or club, you'll find relatable themes already designed by professionals. They're waiting to be personalized & enhance your business visibility. Make your walk-ins enjoy new experiences with a delightful menu that drives orders. You can also make a menu flyer & display it on social networks for attracting followers.
How to Edit a Restaurant Menu?
If the many graphic makers are online, we'll be illustrating steps to make a menu flyer with PhotoADKing. The rest of the tools have almost similar steps.
Signup/Login with PhotoADKing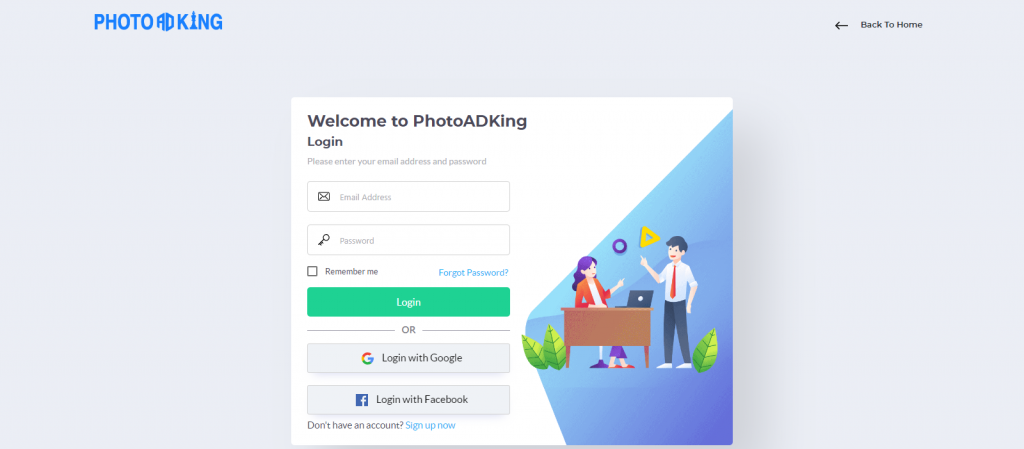 Search for Restaurant Menu Flyer & Scroll Through The Templates

Select The Template Design You Want to Edit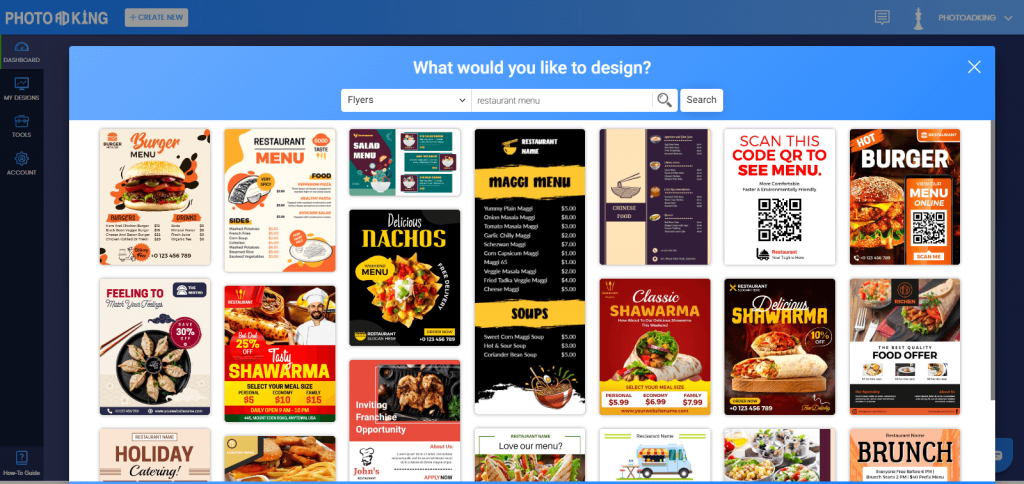 Customize The Menu Flyer with Your Logo, Text Content, Graphics & High-Quality Images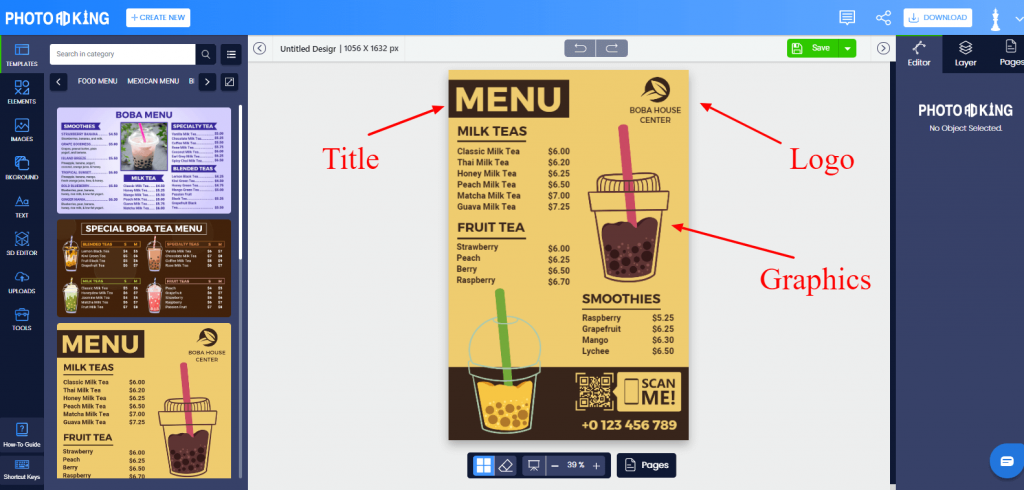 Save The Design & Download It in Your Preferred Format (PNG, JPG & PDF)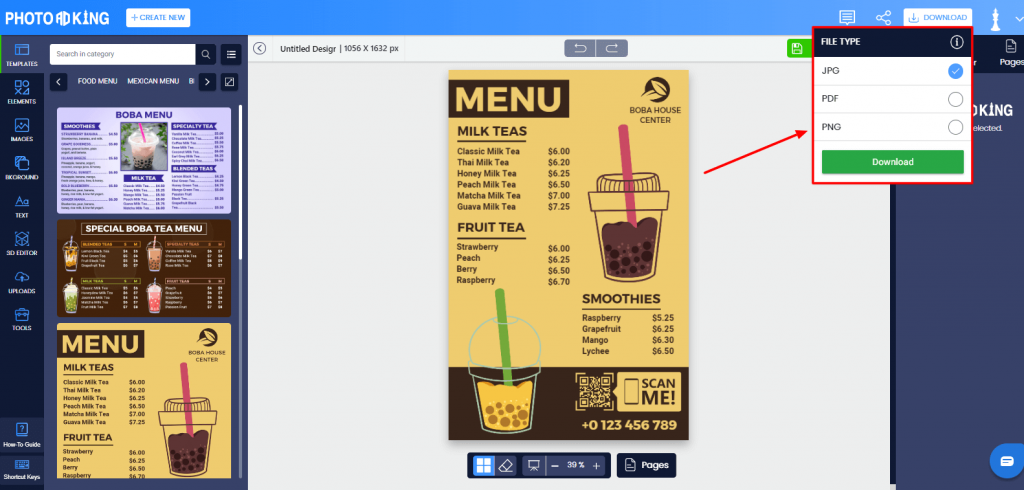 Print your restaurant menu or share it via social media apps

Free Printable Restaurant Menu Templates for Personalizing
Every restaurant has to make an impactful impression on customers. It's the foremost reason to make a menu flyer that's outstanding and challenging for the competitors too. A stunning menu adds value to your business and your brand features outshine.
It's extremely easy to modify any professional flyer template design with PhotoADKing. Spare a few of your precious time & explore the restaurant menu flyer collection. Besides the basic editing with images, graphics, adding/removing background images, colors, fonts, and more, you can also create a QR Code for restaurant flyers. You'll get a 10/10 customization experience as you make a menu flyer with such tools.
Also, once you sign up, your previous designs can be accessed. This simply means that you can view your previous menus and promotional materials too. If you're about to give a makeover to your previous menu then you don't have to type all the details again. Just select your previous menu & change the theme. You're all set for a new look in the least possible time.
Restaurant Menu Flyer Templates Ready to Customize & Print
Indian Restaurant Menu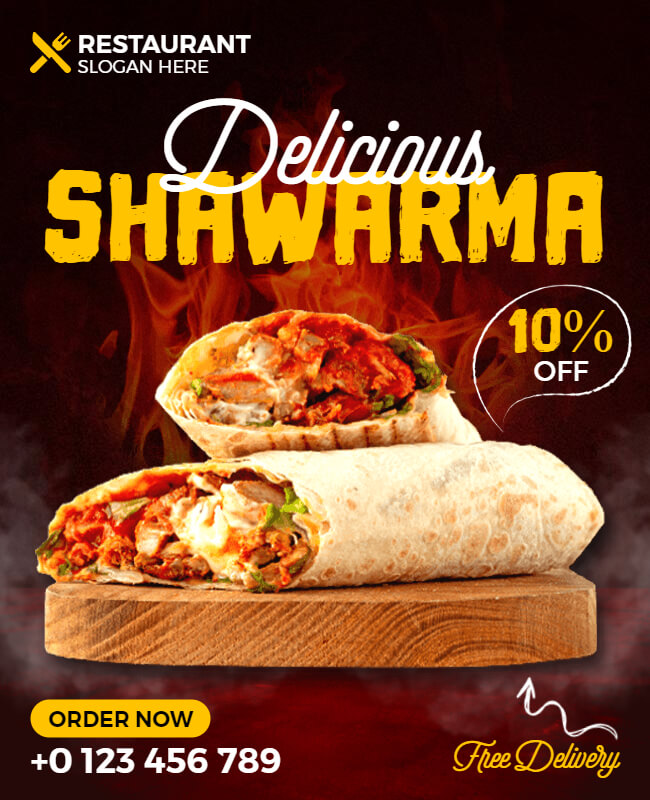 Italian Restaurant Menu

Chinese Restaurant Menu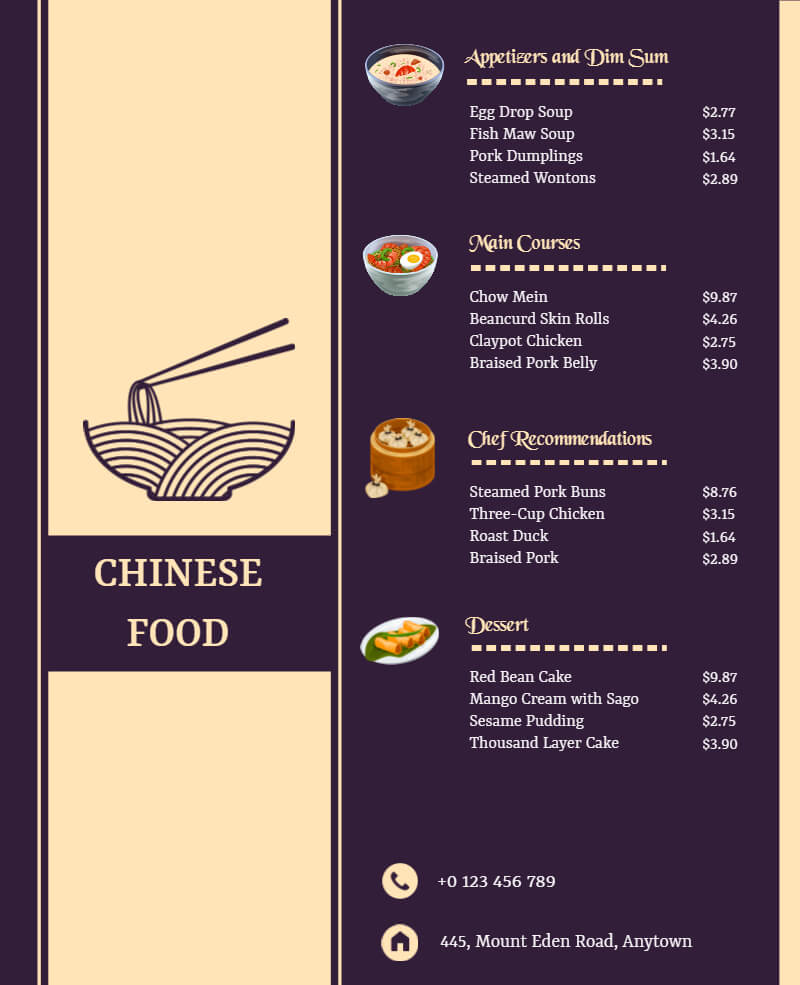 Mexican Restaurant Menu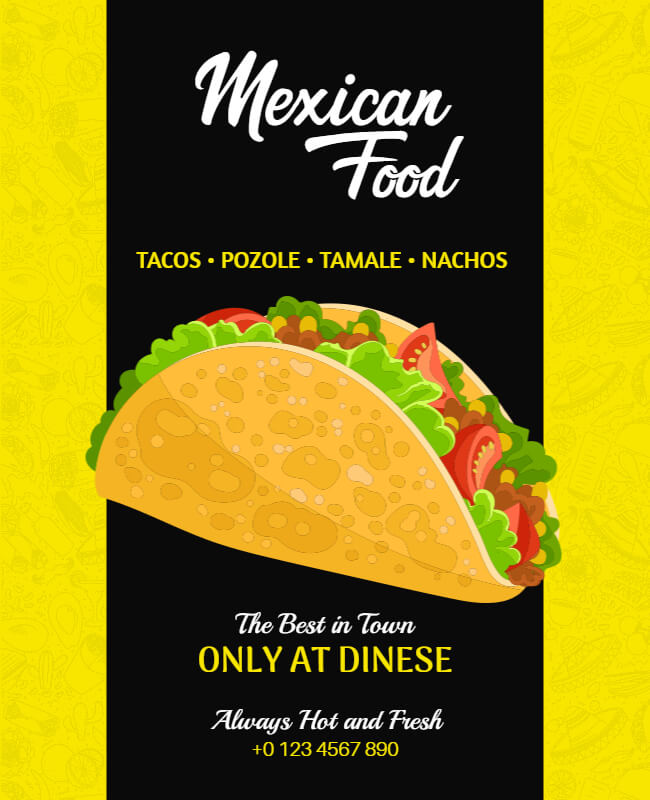 Vegan Restaurant Menu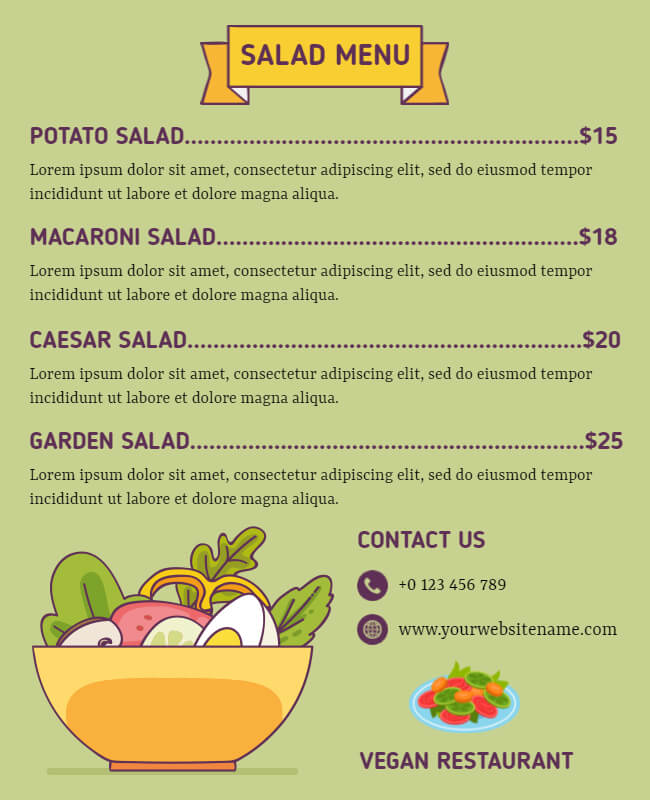 Dessert Menu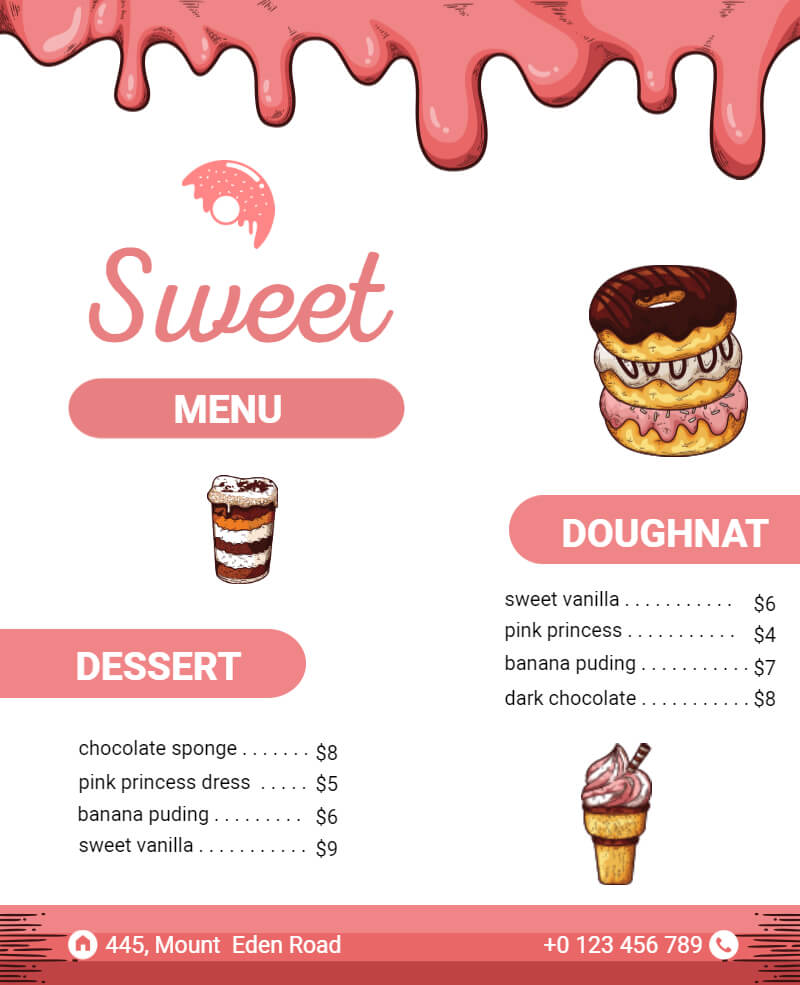 Breakfast Menu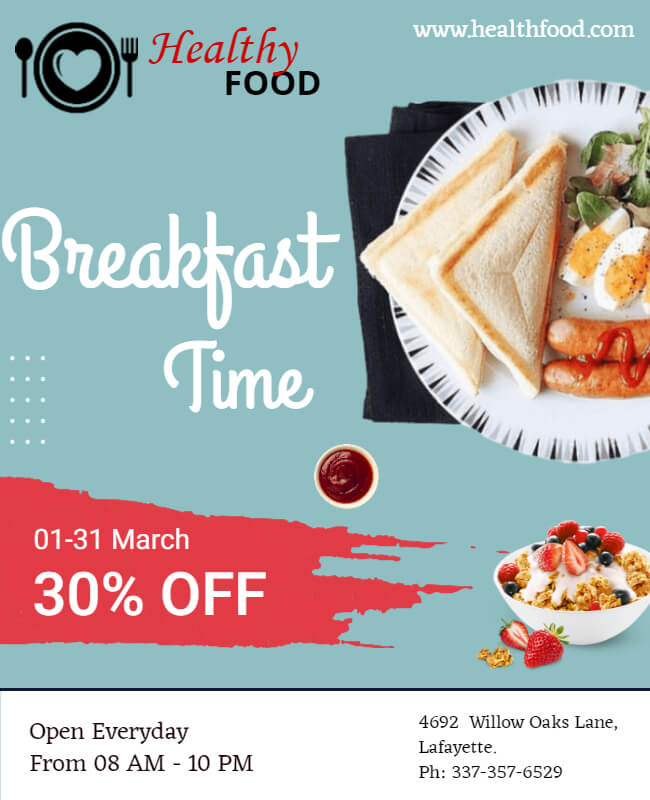 Brunch Menu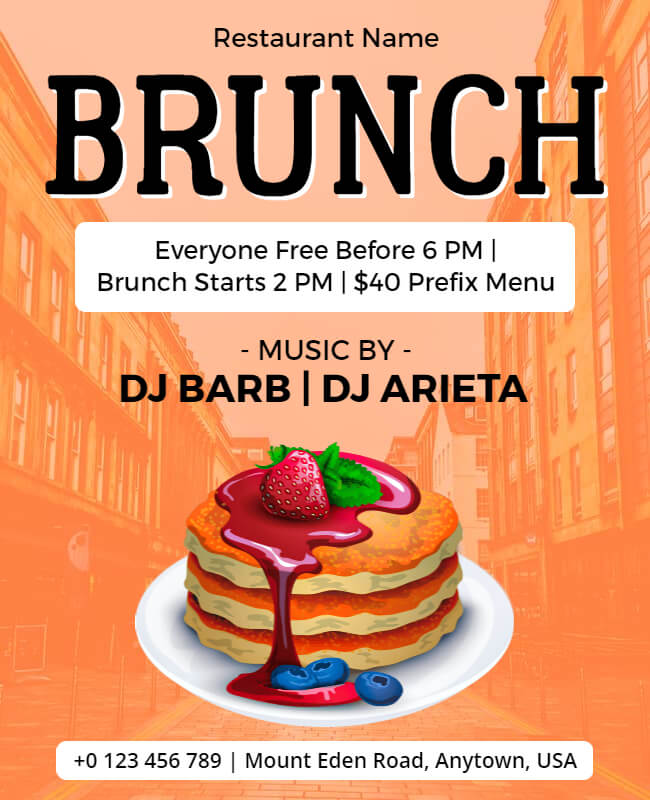 Kids Menu