Whether you're a professional or a brand-new user on LinkedIn, you've no doubt noticed that the platform has an image post limit. Yes, the perfect snapshot is priceless, but what if it's too large for your post? What do you do then?
When you create a LinkedIn post, it's important to keep in mind the optimal size for the post so that your content is visually appealing and engaging to your audience. That's why we have curated this comprehensive guide to Linkedin Post Size: to take the guesswork out of every professional's life. In this guide, we answer all of your questions about post size and how it affects your ability to get creative with images and videos.
We'll also provide some tips and tricks on how to maximize your posts without compromising your content. So if you're ready to make an impression with larger-than-life posts, let's get started!
Table of Contents
Why Are Linkedin Post Sizes Important?
Think of it this way: You have a message that you want people to hear, but it's covered in a thick layer of static. If you need your message to be heard loud and clear, you need to know how to craft the perfect post—which means understanding Linkedin post size.
Linkedin post sizes are important because they are the tool you use to make sure your content stands out and is seen the way it should be.
Without the right LinkedIn post photo size, your post may look pixelated and sloppy, or worse yet, not visible at all!
When done properly, however, Linkedin post sizes can give your content the professional look it needs to get seen—and heard—by your viewers.
So why does this matter? Well, if you want the most out of your posts on Linkedin—to get those views and engage with potential customers or clients—you need to pay attention to how they look. After all, first impressions are everything!
Different Linkedin Image Sizes
If you've ever found yourself asking, "What size should my profile photo be?" you're not alone. It's one of the most common problems modern professionals face when it comes to crafting their LinkedIn presence.
The good news is that it's actually quite simple once you get into it!
LinkedIn Profiles
Your profile photo is the only first thing people see when they come across your LinkedIn profile, so it needs to make a good impression. But since every image is cropped differently on a profile, it's important to make sure you've selected the right LinkedIn post size and shape.
To get the most out of your profile image, aim for 400 x 400 pixels in size and a 1:1 aspect ratio—that's exactly what LinkedIn post sizes will tell you when you upload an image. This will guarantee that all elements of your photo remain visible and sharp, regardless of how it's displayed.
For any cover images on your page, the recommended Linkedin banner size is 1584 x 396 pixels in a 4:1 ratio. This ensures that any logos or text appear clearly when someone visits your page, so use this general guideline to tailor each banner to specific areas of your page and keep visitors engaged.
LinkedIn Company Pages
So, you have your personal page set up, and now it's time to create a company page. The LinkedIn image sizes are slightly different when it comes to LinkedIn company pages, so keep on reading!
LinkedIn Company Logo Image
You'll want to ensure that your company logo looks great on the page. Your logo should be – 300 x 300 pixels. Make sure you don't go over the maximum file size of 4MB.
Cover Photo
Your cover photo is what really sets the tone for the entire page. It's an excellent medium to show off your brand and get people excited about what you do. The ideal LinkedIn post size for a cover photo should be 1600 x 800 pixels, and the file size should be under 4MB.
Shared Images
Plus, when sharing images or updating your feed, make sure that the resolution for those images is 1200 x 627 pixels and that you stay within the 8MB limit for file size as well.
LinkedIn Groups
When it comes to LinkedIn groups, the LinkedIn image size requirements are different. The recommended dimensions are 300 x 300 pixels.
But if you're trying to stand out, there's something even better you can do—create a unique custom design using a few choice images and text overlays that really draw the eye. This could be just one larger image featuring your logo and branding or a combination of smaller images for an eye-catching collage effect.
LinkedIn Post Images
Post images are where you can really make a splash on LinkedIn. Show off your products, highlight events and promotions, or be creative and share something eye-catching. The ideal LinkedIn post size for a post image is 1200 x 627 pixels, which will look great on both desktop and mobile. Aim to include the text within your photo — don't use text overlays — and make sure the text isn't too small to read; otherwise, it might be hard for people to see it at a glance.
Web Links
LinkedIn Web Links refer to the links that you include in your LinkedIn posts or advertisements that direct users to your website or landing page. The LinkedIn post size of the web link itself is not necessarily important, but it's important to keep in mind that the display of the link may vary depending on where it is being viewed. The ideal size for a web link is 1200 x 627 pixels.
Carousel Post
LinkedIn Carousel Posts are a type of post that allows users to share multiple images or videos in a single post, creating a slideshow-style presentation. The LinkedIn image size requirements for each card in a LinkedIn Carousel Post are 1080 x 1080 or 1920 x 1080 pixels.
Video Size
The recommended LinkedIn image size for LinkedIn videos is 4096 x 2304 (maximum) and 256 x 144 (minimum).
Linkedin Ads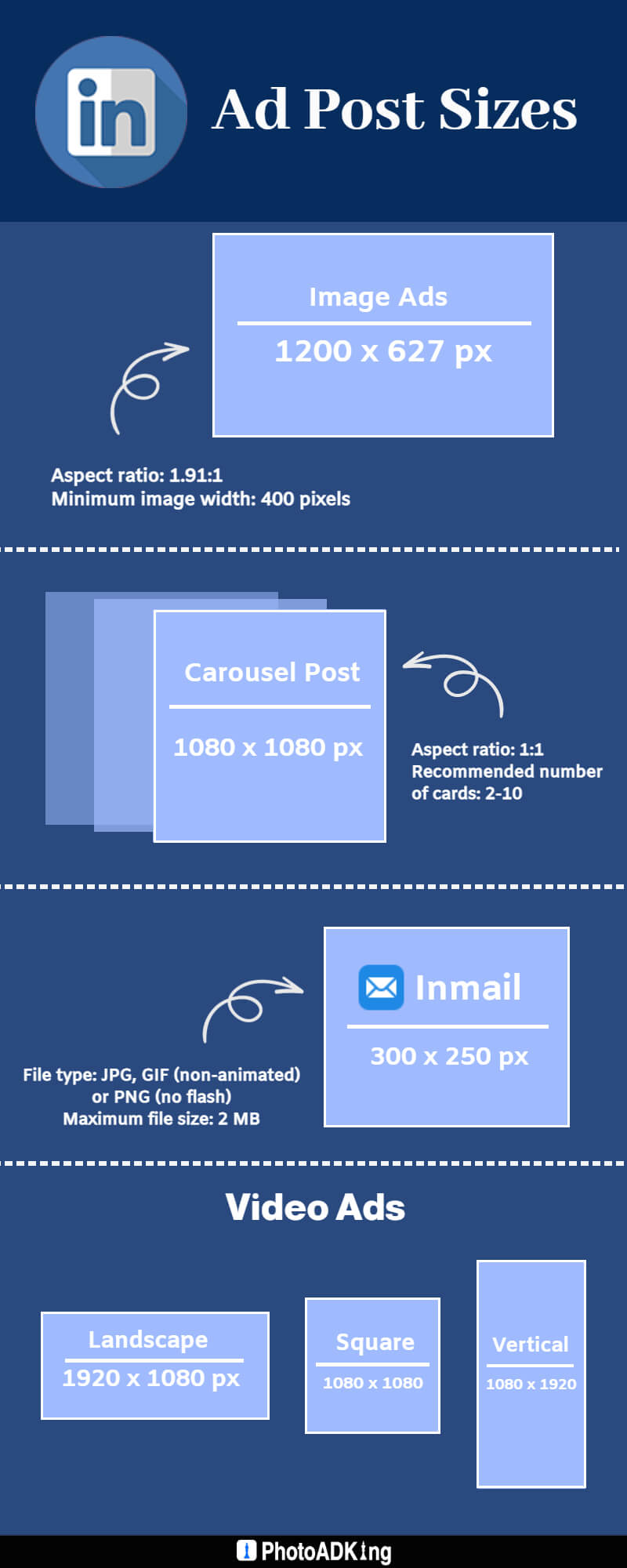 Now that you know everything about the LinkedIn image sizes for your profile and posts, let's take a look at LinkedIn Ads. LinkedIn Ads will use slightly bigger image sizes, so make sure to familiarize yourself with these dimensions when creating your ads.
Profile Image
The Profile Image is the same as it is for the profile photo, with an added requirement of an aspect ratio of 1:1. It should be sized at 1200 x 1200 pixels in order to look great on all device types.
Carousel Ads
Carousel Ads have been gaining popularity on social media, and they're a great way to tell a story while showcasing content. For Carousel Ads on LinkedIn post size, you'll want to use images that are 1080 x 1080 pixels in size, with an aspect ratio of 1:1.
Sponsored InMail
If you choose to go for a Sponsored InMail instead of a carousel ad, your LinkedIn image size should be sized at 300 x 250 pixels. This will help ensure that your images appear correctly across different devices and platforms.
Video Ads
LinkedIn Video Ads have specific size and format requirements to ensure they display correctly on users' screens landscape (1920 x 1080 pixels), square (1080 x 1080 pixels), and vertical (1080 x 1920 pixels).
Conclusion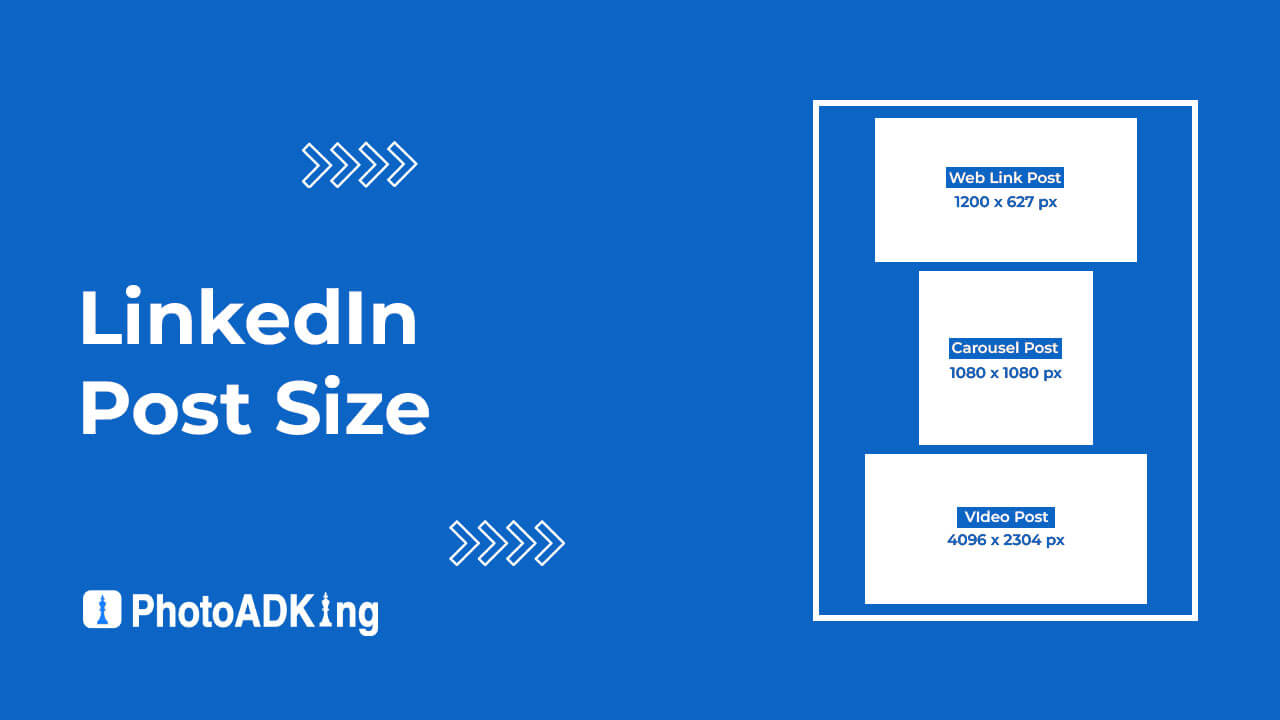 Crafting the perfect post can be a daunting task, especially when you're trying to make sure that your post is optimized for the maximum impact on Linkedin. Linkedin has a vast array of post size requirements, so it's important to understand and adhere to all the different types of post sizes if you want your post to stand out. Moreover, Using pre-made LinkedIn post templates can help you create engaging and eye-catching content for your LinkedIn posts that is not only the right size but also visually appealing. Hopefully, this comprehensive guide to Linkedin post size has been informative and helpful in helping you create the perfect post for your Linkedin post profile size. With this knowledge, you'll be able to maximize your post's impact and reach the largest audience possible.