Creating an infographic can be a great way to present complex information in a visually appealing and easy-to-understand format. However, one important aspect to consider when designing an infographic is the size. The size of your infographic will determine how easily it can be viewed and shared online.

In this infographic size guide, we will discuss the different sizes and dimensions that are commonly used for infographics and how to choose the right size for your specific needs. Whether you create an infographic for social media, a website, or print, this guide will help ensure your design is optimized for maximum impact.
Table of Contents
Importance of Choosing the Right Size for Infographics
Infographics help to get a better understanding of a topic. It is rather a more precise and clear way to convey users. As the size of the infographics varies from the medium it is broadcast it becomes essential to keep in mind the perfect size and dimensions used for the same. Different platforms have different sizes for infographics. Their size also varies from post and printouts. Hence below are some recommended sizes and dimensions.
Infographic Size and Dimension: Cheat Sheet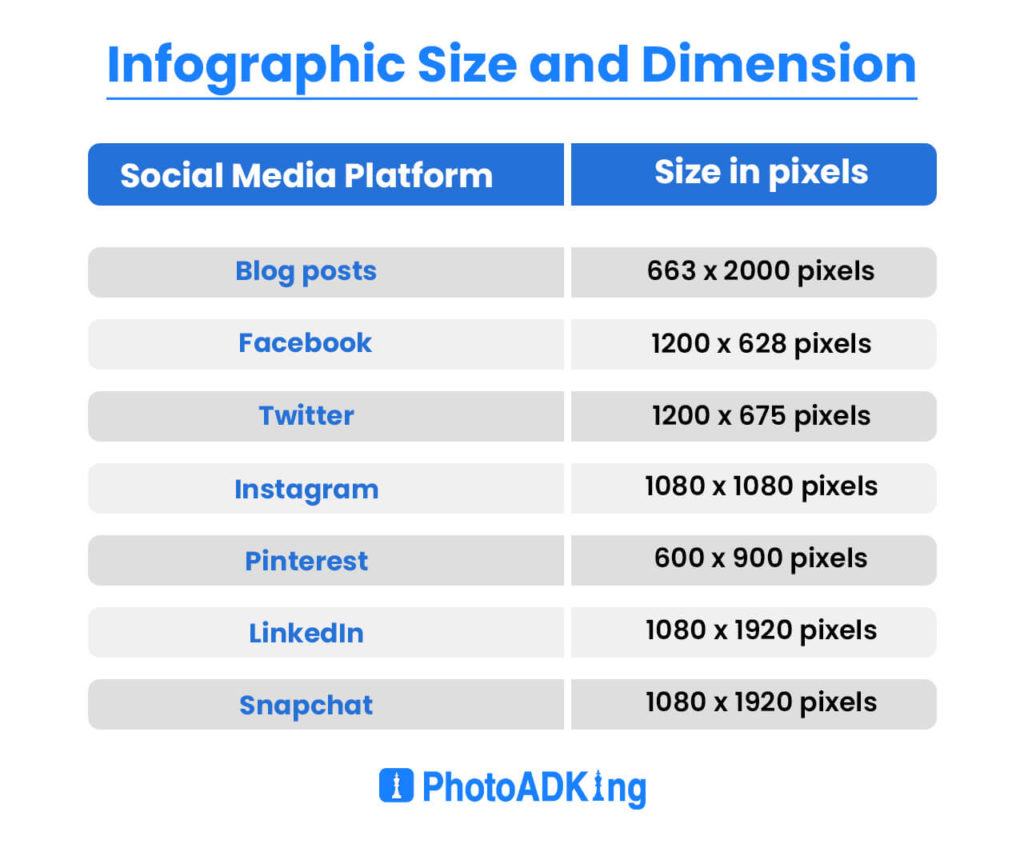 Infographic Sizes and Dimensions for Social Media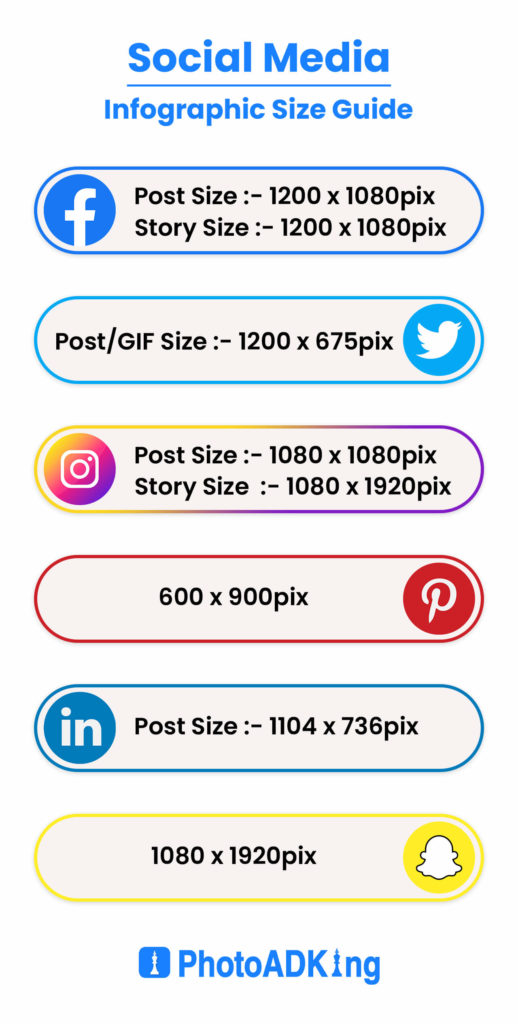 Facebook
When you have to choose the right infographics for Facebook you have to consider the following:
Infographics for a shared post image are 1200 x 628 pixels
If you are considering infographics in Facebook Stories are 1,080 x 1,920 pixels
Twitter
If you have to post an infographic as a single image or gif the size is 1,200 x 675 pixels (aspect ratio of 16:9)
When you want to post the infographic as multiple images the appropriate size is 1,200 x 675 pixels
Instagram
When you are posting a square image the infographics must be 1,080 x 1,080 pixels
When you are considering an infographic as a horizontal image 1,080 x 566pixels
You need to choose 1,080 x 1,350 pixels as an infographic for a vertical image.
For sharing an infographic in Instagram Stories 1,080 x 1,920 pixels is an ideal size.
Pinterest
LinkedIn
When sharing on LinkedIn an infographic as a shared image the ideal size must be 1,104 x 736 pixels.
Snapchat
Infographic Dimensions for Blog Posts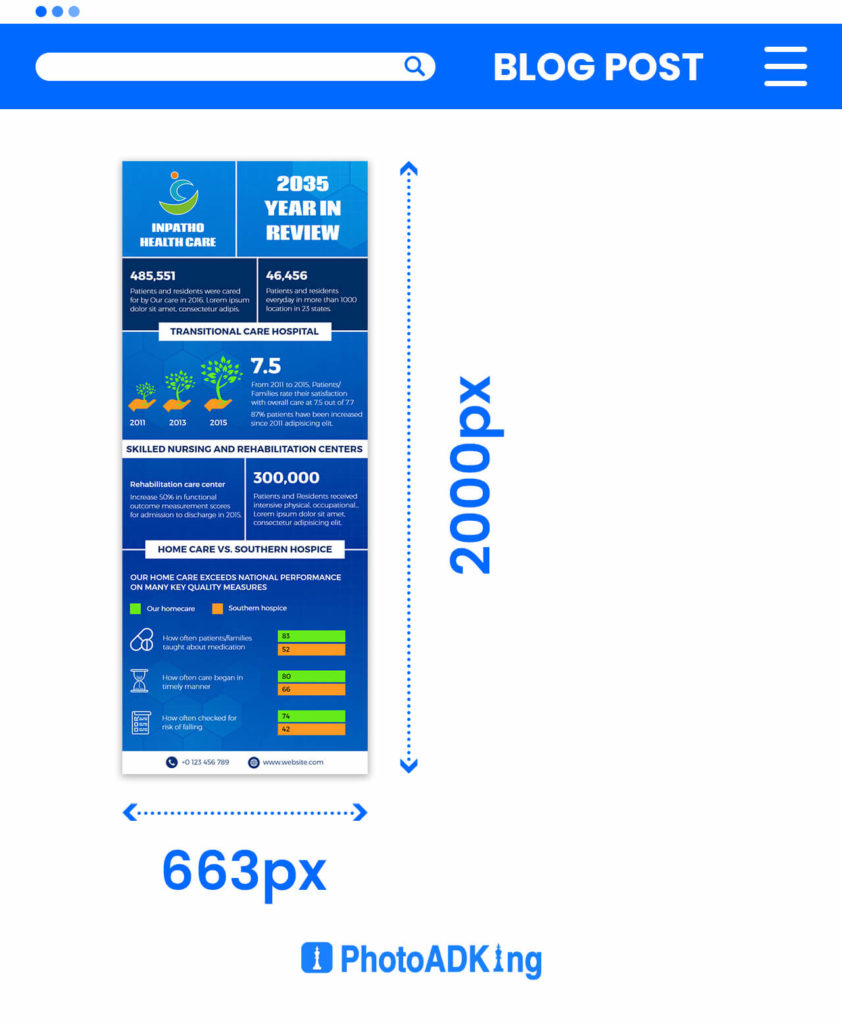 Infographics used in blog posts typically have dimensions of 663×2000 pixels, 600×1800 pixels, or 735×1100 pixels. By using these dimensions, the infographic is easily viewable on computers and mobile devices and can be easily shared on social media. Consider that the dimensions may vary according to the device and platform. To ensure the infographic looks great everywhere, it must be optimized for different devices and platforms.
Infographic Size for Printouts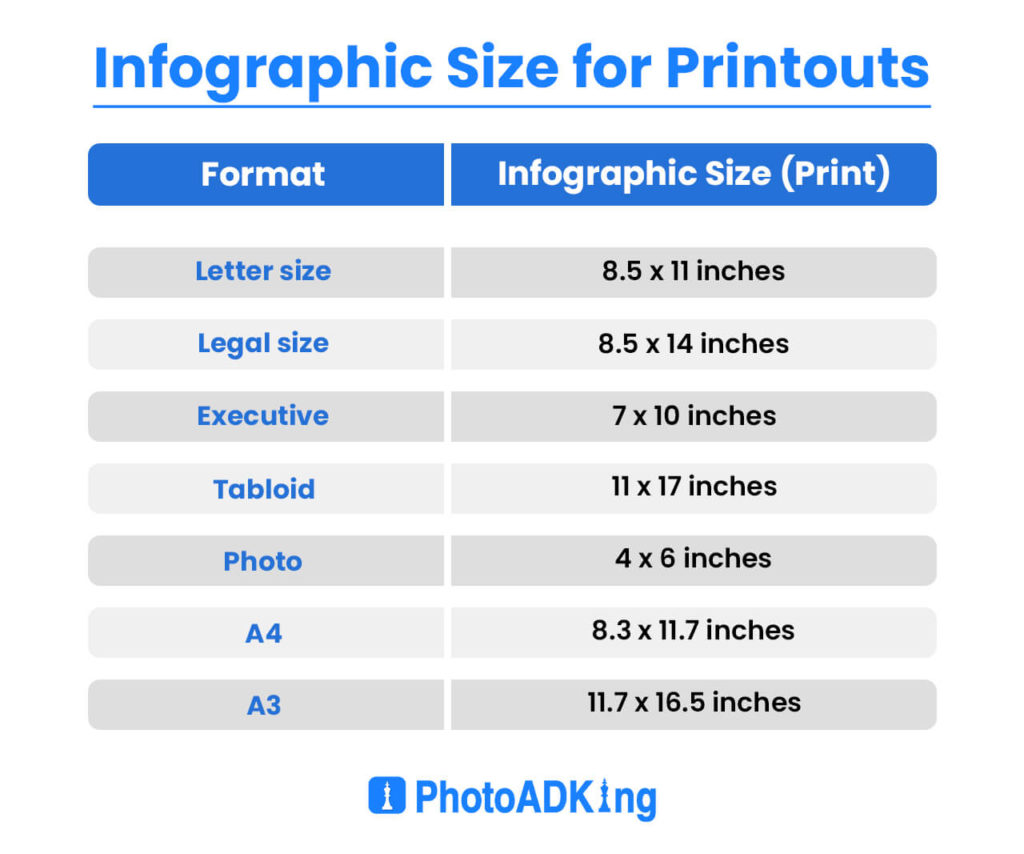 Final Words
In conclusion, size plays an important role when creating an infographic. It should be big enough to read easily, but not so big as to overwhelm. You should consider the platform and target audience when determining the optimal size for your infographic. It is also essential to consider how to make an infographic including colors, images, and typography.
The first step in creating infographics is to be clear about what you want the infographic to convey, collect and organize the data, and then use design elements to make the infographic visually appealing and understandable.
Overall, with the right size and design, an infographic can be a powerful tool for communicating complex information.
You can create infographics based on size and dimensions as per your choice with PhotoADKing. With this tool, you can customize and choose between pixels and inches by setting it to default size options. What are you waiting for? Sign up with PhotoADKing and create your infographic templates from scratch today.