'Flowchart' is a simple term that takes a whole lot of planning & precise implementation to be worthy. A flowchart is either easily understandable or it's a failure. We're here with some quick & effortless steps to create flowcharts online.
This powerful graphical representation requires a lot of homework to make the process painless. After all, the sorted stepwise process that looks so smooth to grasp may take hours for the maker to streamline it.
The term 'flowchart' is broad and includes several variants based on the type of process you wish to explain with the diagram. You'll find the following ones as commonly used flowcharts:
No matter which of the above you wish to create with PhotoADKing, we'll get you sorted. Whether you need one for school, college, or an office presentation, or something else, we have flowcharts instances that'll help. Let's have a look at the basic reasons for using a flowchart maker.
The Key Application Areas of Flowcharts
You must be having clear planning & precise implementation as to how you're going to utilize your flowcharts hereafter. Well, here are the major uses of flowcharts to take note of.
Explaining the Technical data flow in software engineering & programming
Illustrating the manufacturing process
Visualizing business operations for employees
Sales, marketing & promotions
So, what is your good reason to create a flowchart with PhotoADKing today?! Whatever it is, let us lead you the way.
Step-by-step Process to make a flowchart with PhotoADKing.
1. Login/Signup with PhotoADKing
Start by signing up with PhotoADKing if you don't have an account already. You may log in to another case. You may do so using your Google ID, Facebook, or Email.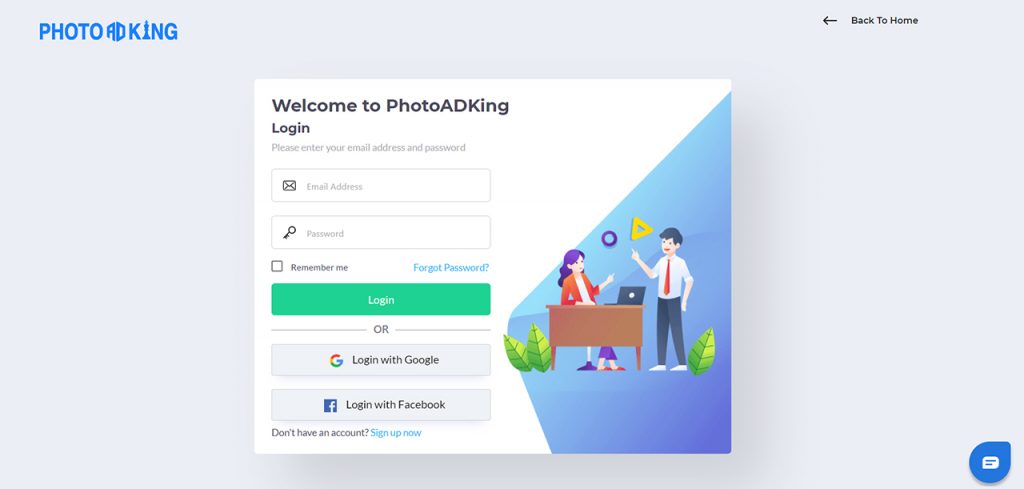 2. Search for Flowchart Design
Move to your dashboard now & search for the type of flowcharts you're looking for by typing in the search bar.
You have plenty of flowcharts examples in any given flowchart type you want to create. Scroll through the entire flowchart diagram library at PhotoADKing & select the one that best fits your needs.
One thing to keep in mind while searching for any respective flowchart design is, it will be 100% editable. So, if you want to change the color scheme or want minor modifications, you can do it.
3. Edit the Flowchart
Now comes the most critical part of flowchart designing i.e. editing your diagram. If no flowcharts template meets your needs or if you're too curious to start from scratch, both are possible. Before you begin, here is what we highly recommend to follow.
Pro Tip: Always have a rough sketch of your flowcharts on hand to ease the process & verify that you are not missing out on anything.
Once you have a rough idea by your side, you will only have to digitalize it with PhotoADKing's powerful editor tool. Here is what you have to do:
● Add Shapes :
Count the number & type of shapes your flowchart will require. Select the shapes from the left-side panel from Elements > Shapes. You'll have several options from empty, transparent, and opaque shapes. Also, we've got all types of flowcharts shape that hold distinct meanings. Simply drag and drop the shapes to the flowchart areas they're supposed to be at.
Don't settle by putting up shapes. Confirm with your rough design that you've used them all.
● Add Text
After adding shapes to your flowchart, you'll have to add desired text to these elements. Look out for Add Text in the left-side panel & you can pick from hundreds of professional font styles. Choose your heading text, subheading text & body text with the same drag and drop process.
Edit this text & replace the dummy one with your flowchart text.
● Add Lines
Here comes the most important part of your flowcharts diagram. Even if you can drag & drop lines using Elements > Lines, you have to be careful with the flow you're directing with these lines. Especially, when you're using arrows/pointers, they should be used precisely & parallel to the process being described. One mistake and the entire meaning gets changed.
Pro Tip: Be extra attentive during pointer placements and verify your arrows/lines shape by shape.
● Formatting the overall look & feel
Now, as your 99% task of flowchart making is accomplished, formatting comes last. If you want the shapes to be of a specific color or want to add a backdrop to your flowchart, you can do so with the Background option from the left-side panel. For custom backdrops, you may upload yours using the Add Image option.
Align your flowchart with the color scheme & backdrop of your choice this way.
4. Preview
You're almost there. But, before you leave, adopt a good practice to Preview your creation & verify it with the rough flowchart diagram. Review each shape, text & have a glance at the entire flowchart process.
Previewing is essential to reduce your rework & make modifications on the spot if any. Don't you agree?
5. Save & Share
Finally, your flowchart is ready to download and use. PhotoADKing provides high-quality file downloads so that you can get a print of your flowcharts or share it with your team without losing that professional feel. If you want to give a second take to this visual, you may save it currently & edit it later too.
Latest Flowchart Templates you may like to try
Get, set & go with PhotoADKing's Free Flowchart Maker Today!
Are you up for making a flowchart today? Why don't you start with PhotoADKing's free flowchart maker!
The entire process is so hassle-free, as you can see. You have abundant options with almost all flowcharts types you may want to create. If you're creating flowcharts regularly, PhotoADKing could be your handiest tool ever. Go for it!