Are you looking for an easy way to create a stunning holiday menu? One that is both visually appealing and delicious? If yes, then you have come to the right place. In this article, we will guide you through the process of designing a holiday menu using templates.
A holiday menu is not just a list of dishes; it is a reflection of the spirit of the occasion. Designing a menu that captures the essence of the holiday can be a daunting task. This is where templates come in. Using a pre-designed holiday menu template can save you time and effort and help you create a menu that looks professional and well-organized.
This article will show you how to choose the right template, customize it to your needs, and create a menu that will impress your guests. We will also provide tips and tricks to help you create a holiday menu that not only looks great but tastes even better.
Step-by-Step Guide on How to Design a Holiday Menu Using Template
Whether you are creating a menu for a restaurant or a holiday, PhotoADKing has a variety of recommended templates to choose from. You can find recommended restaurant menu templates and start your holiday menu design process today!
Step 1: Signup or Login with PhotoADKing
The first step in designing a holiday menu is to sign up or log in to PhotoADKing. PhotoADKing is an easy-to-use graphic design tool that provides a wide range of templates, fonts, and graphics to create stunning designs. You can create a free account or log in with your existing account to get started.
Step 2: Search Your Template
Once you have logged in to PhotoADKing, navigate to the search bar at the top of the page. Type in "Holiday Menu" and hit enter. The search results will display a list of holiday menu templates that you can choose from.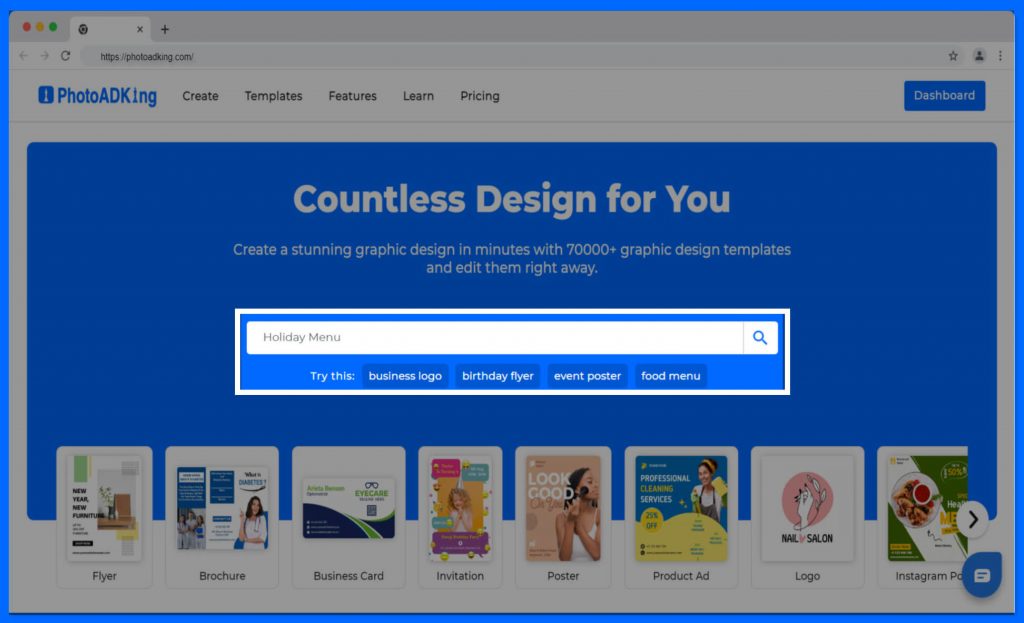 Step 3: Find a Suitable Template
After searching for holiday menu templates, you'll find a vast selection of options to choose from. To pick the right template, consider the style and theme of your event. For example, a template that reflects warmth and coziness may be more appropriate if you're planning a family dinner. Alternatively, a more formal and elegant design may be preferable if you're organizing a corporate event.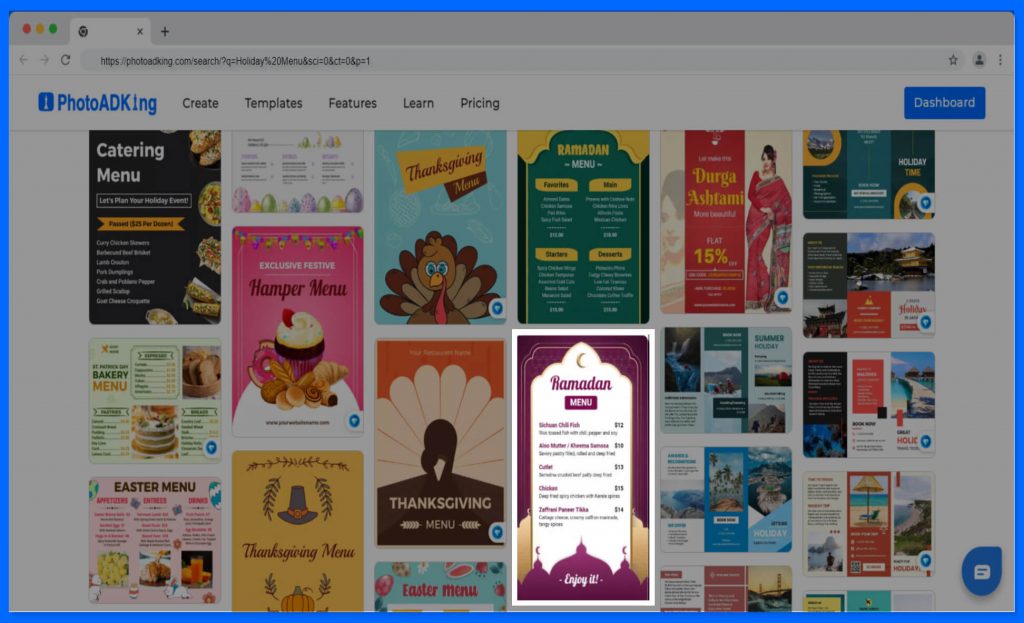 Step 4: Customize the Template
Once you have selected the right template, you can start personalizing it. PhotoADKing's editor provides you with all the tools you need to customize your holiday menu. You can add text, graphics, and photos to make your design unique. Be creative and experiment with different combinations of colors and fonts to make your menu stand out.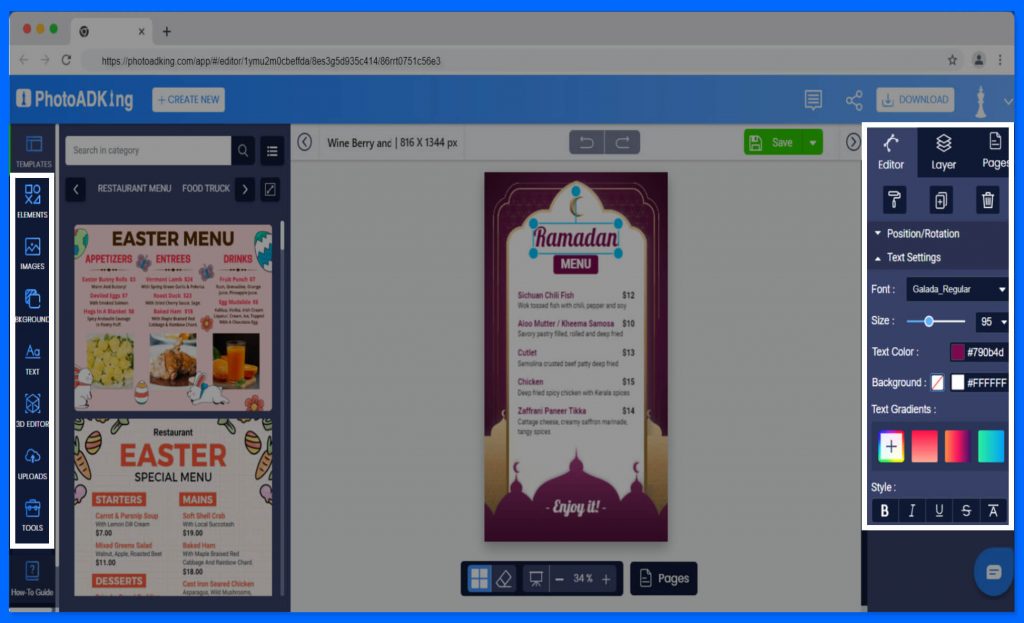 Step 5: Download the Menu in Different Formats
After you have completed designing your holiday menu, you can download it in various file formats, including JPG, PNG, and PDF. The downloaded file can be shared with your family, friends, and guests via social media or printed and displayed at the event.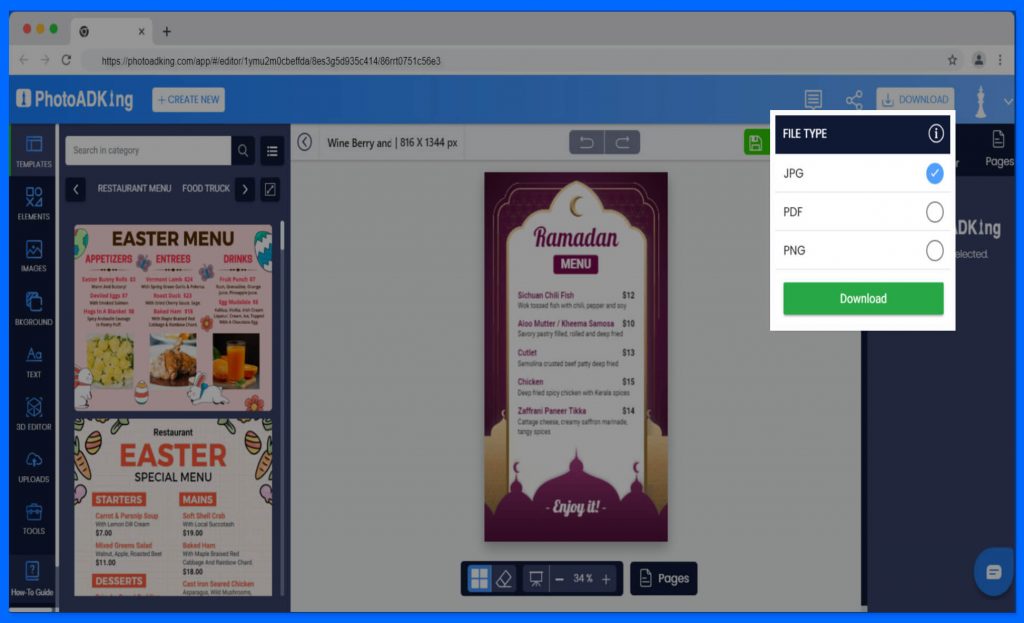 If you're having difficulty designing a holiday menu, you can check out some holiday menu design ideas to get inspiration.
Moreover, if you are still confused, then you can use our menu maker tool. With a menu maker tool, you can browse through a wide selection of different menu templates and styles, from elegant and classic to modern and trendy.
How to Choose a Holiday Menu Template?
Choosing a holiday menu template can be a fun and creative process, but it's important to consider a few key factors before making your selection. First, consider the occasion and the type of event you are hosting. Is it a formal dinner party, a casual gathering with friends, or a family holiday celebration? The tone and style of your menu should reflect the mood and atmosphere of the occasion. You can also find the templates for the dinner party menu here. Which helps you to create a perfect dinner party menu.
Next, think about the food you will be serving and how you want to present it. A menu template that showcases the dishes with beautiful photos or illustrations can be a great way to entice your guests and add a touch of elegance to the table. Alternatively, a simple and minimalist design can let the food speak for itself and keep the focus on the flavors and textures. By considering these factors, you can choose a holiday menu template that perfectly complements your event and sets the tone for a memorable dining experience.
Tips for Creating Holiday Menu Design
1. Embrace the Holiday Theme
One of the easiest ways to create a holiday menu design is to embrace the holiday theme fully. Use traditional holiday colors such as red, green, and gold to make your menu stand out.
2. Keep It Simple
A well-designed menu doesn't have to be overly complicated. Keep your design simple, clean, and easy to read. Use clear fonts and avoid cluttering your menu with too many images or graphics. Remember, the goal is to make your menu easy to read and navigate. If you confusing about menu style ideas, then consider this blog before creating your menu.
3. Highlight Your Specialties
The holiday season is a great time to showcase your restaurant's specialties. Highlight your signature dishes or holiday-inspired creations to entice customers. Use descriptive language to make your dishes sound appealing and irresistible.
4. Include Seasonal Ingredients
Incorporating seasonal ingredients into your menu can be a great way to create a holiday-inspired dining experience. Don't be afraid to experiment with new flavors and combinations.
5. Offer Customizable Options
During the holiday season, many customers have specific dietary requirements or preferences. Offering customizable options on your menu can be a great way to accommodate everyone's needs. Include vegetarian, vegan, or gluten-free options to ensure that everyone can enjoy their meal.
6. Use High-Quality Images
If you choose to include images on your menu, make sure they are high-quality and visually appealing. Use professional photographs of your dishes to entice customers and make them crave your food. Remember, people eat with their eyes first, so make sure your images are irresistible.
7. Don't Forget About the Drinks
A well-designed holiday menu should also include festive drink options. Offer seasonal cocktails or mocktails to complement your menu and enhance the dining experience. Use descriptive language to make your drinks sound tempting and delicious.
8. Consider the Layout
The layout of your menu can also impact the dining experience. Use a layout that is easy to navigate and guides customers through their meals. Consider organizing your menu by courses, such as appetizers, entrees, and desserts, to make it easy for customers to find what they're looking for.
Conclusion
In conclusion, designing a holiday menu using templates can be a simple and efficient way to create a beautiful and organized menu that will impress your guests. By following the steps outlined in this blog post, you can select a template that suits your style and customize it to fit your specific menu items and event theme. Whether you're hosting a holiday dinner party or a festive brunch, a well-designed menu can add an extra touch of elegance to your gathering.