Do you have a special occasion coming up and are struggling to come up with the perfect dinner menu? Fear not; designing a dinner menu can be a fun and creative task that will impress your guests. In this article, we'll show you how to design a dinner menu that will leave your guests asking for seconds.
A well-designed dinner menu is not just a list of dishes but a carefully crafted experience that reflects your taste and personality. To create a successful dinner menu, you need to consider several factors, such as the occasion, the theme, the season, the dietary restrictions of your guests, the menu style, and your budget. If you want to know about menu style, you can also check out some amazing menu style ideas here. We'll guide you through each of these aspects and provide you with tips and tricks to help you create the perfect menu for any occasion.
Reasons for Using Templates for Dinner Menus
There are several reasons why using templates for dinner menus can be beneficial:
Time-saving: Using templates can save time by eliminating the need to create a new menu from scratch every time. With our pre-designed dinner menu templates, you can quickly fill in the dishes you plan to serve and make any necessary adjustments.
Consistency: Using a template, you can ensure that your dinner menus are consistent in terms of the types of dishes you serve, the number of courses, and the overall theme of the meal.
Variety: Although you may use a template as a starting point, it doesn't mean that you can't switch things up and add new dishes to the menu. Templates can serve as a guide to help you create a well-rounded menu with various flavors and textures.
Cost-effective: Creating a new menu design can be expensive, but using a template can save costs associated with hiring a designer or graphic artist.
Easy to customize: Restaurant menu templates can be easily customized to reflect the preferences and tastes of the customers, allowing for the creation of menus that cater to a specific audience.
Professionalism: If you're hosting a dinner party or cooking for guests, using a well-designed template can add professionalism and sophistication.
How To Design a Dinner Menu Using Templates
Step 1: Sign Up or Log In to PhotoADKing
To begin designing your dinner menu using a template, the first step is to sign up or log in to PhotoADKing. PhotoADKing is a user-friendly graphic design tool that offers a vast collection of templates, fonts, and graphics to create visually appealing designs. You can either create a free account or log in with your existing account to get started.
Step 2: Search for a Suitable Template
Once you have logged in to PhotoADKing, navigate to the search bar located at the top of the page. Type "Dinner Menu" and hit enter. The search results will display a list of dinner menu templates that you can choose from.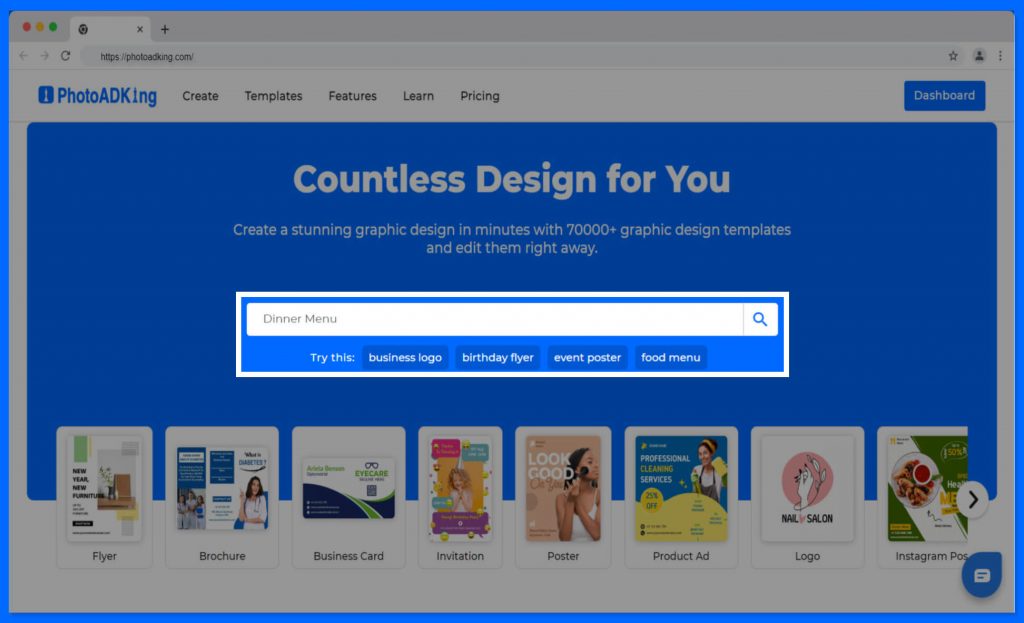 Step 3: Choose a Template
After searching for dinner menu templates, you will find a range of options to choose from. To select the perfect template, consider the style and theme of your event. For instance, if you are organizing a family dinner, a template that showcases warmth and coziness might be more appropriate. On the other hand, if it is a formal event, a more elegant and refined design may be better.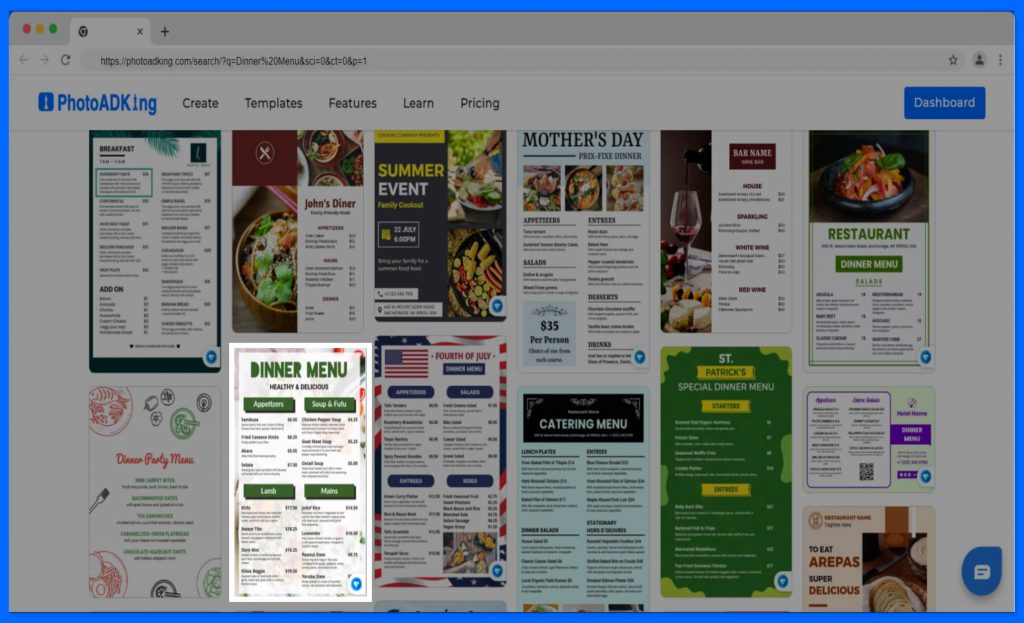 Step 4: Customize the Template
Once you have picked the template that suits your needs, you can begin customizing it. PhotoADKing's editor provides you with all the necessary tools to personalize your dinner menu. You can add text, graphics, and images to make your design unique. Experiment with different colors and fonts to make your menu visually appealing and attractive.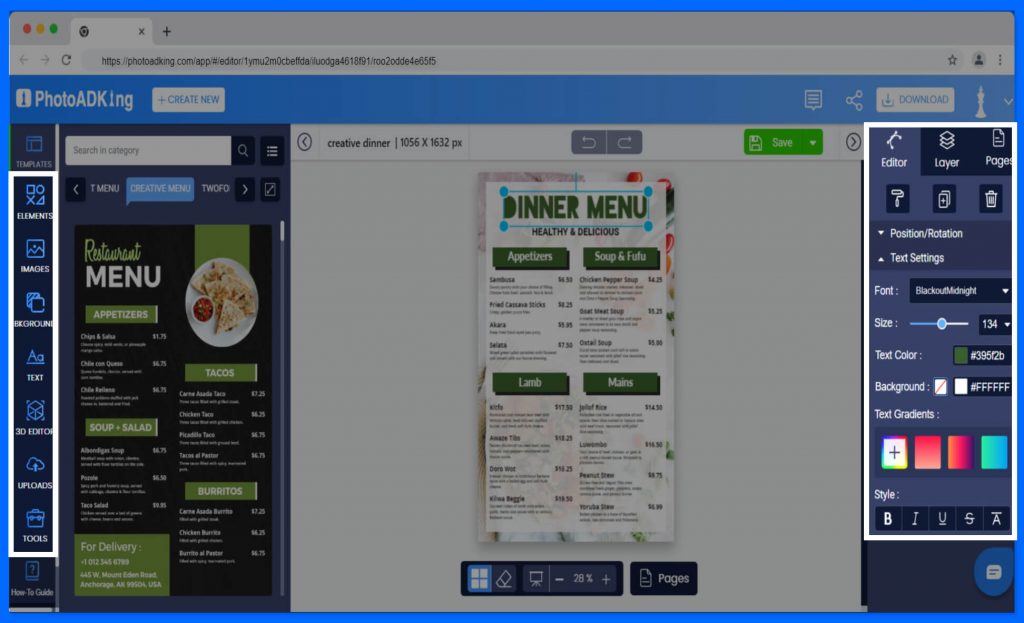 Step 5: Download the Menu
After completing the design of your dinner menu, you can download it in various file formats, including JPG, PNG, and PDF. You can then share the downloaded file with your family, friends, and guests via social media or print and display it at the event.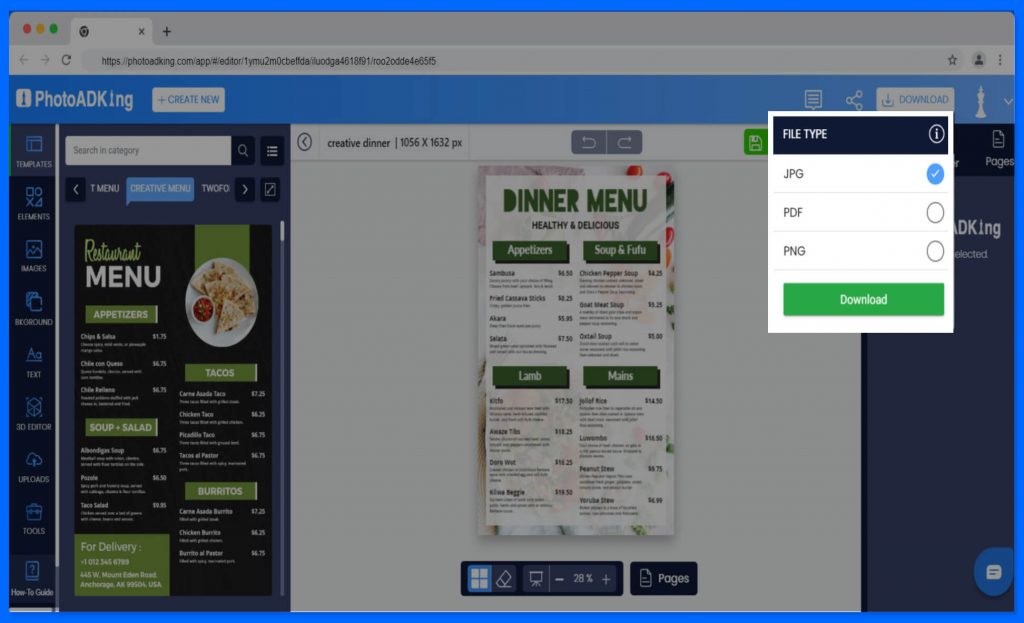 If you're having difficulty designing a dinner menu, you can check out some dinner menu design ideas to get inspiration.
Step 8: Print or Publish
Once satisfied with the design, you can easily download and print the menu from PhotoADKing. Alternatively, you can publish it online or share it on social media to promote your restaurant.
By following these steps, you can create a menu that is both visually appealing and easy to read. A well-designed menu can help attract customers to your restaurant and enhance their overall dining experience. Hope by reading and applying the above steps, you will be clear on how to design a dinner menu.
Different Dinner Menu Template Ideas
As a restaurant owner, you must know that diverse and enticing customers are key to success. A dinner menu template is one way to make the process easier. There are many different templates available that can help you create a cohesive and well-planned menu. When you are finding an answer to the question of how to design a dinner menu, then you also check some examples first, which gives you the perfect idea to design your menu.
Italian Dinner Menu Template
An Italian menu template is a classic option for any restaurant. It typically includes pasta, pizza, and seafood, focusing on bold flavors and fresh ingredients.
French Dinner Menu Template
A French menu template is another classic option with dishes like coq au vin, beef bourguignon, and ratatouille. These dishes often have a rich, buttery flavor and are perfect for special occasions or romantic dinners.
Mediterranean Dinner Menu Template
A Mediterranean menu template is perfect for restaurants that focus on healthy, fresh ingredients. These menus often include dishes like grilled vegetables, hummus, and falafel.
Steakhouse Dinner Menu Template
A steakhouse menu template is a great way to showcase your restaurant's selection of meats. These menus often feature a variety of steaks, as well as other dishes like seafood and salads.
Seafood Dinner Menu Template
A seafood menu template is perfect for restaurants that specialize in seafood dishes. These menus often feature lobster, crab cakes, and shrimp scampi.
Vegetarian Dinner Menu Template
A vegetarian menu template can be a great way to cater to customers with dietary restrictions or preferences. These menus often feature roasted vegetables, salads, and meatless pasta dishes.
Gluten-Free Dinner Menu Template
A gluten-free menu template is another great option for restaurants that cater to customers with dietary restrictions. These menus often feature dishes that are made with gluten-free ingredients, like quinoa or rice-based dishes.
Farm-to-Table Dinner Menu Template
A farm-to-table menu template is perfect for restaurants focusing on locally sourced ingredients. These menus often feature dishes that highlight the flavors of local produce, meats, and cheeses.
Brunch Dinner Menu Template
A brunch menu template is a great option for restaurants offering weekend brunch. These menus often feature eggs benedict, pancakes, and breakfast sandwiches.
Family-Style Dinner Menu Template
A family-style menu template is perfect for restaurants that serve large groups or families. These menus often feature dishes meant to be shared, like roasted chicken or beef, large salads, and side dishes like potatoes and vegetables.
Conclusion
Planning a delicious dinner menu can be made much easier with templates. From choosing a theme to selecting the perfect font and layout, templates offer various customization options to help you create a cohesive and visually appealing menu that your guests will love. You can also try our menu maker tool, which allows you to choose pre-designed templates and customize them as per your need.
Hope this blog on how to design a dinner menu will help you to make your next dinner menu.