If you're a restaurateur or a food service provider, creating a breakfast menu can be an exciting yet daunting task. It's not just about putting together a list of dishes; it's about designing a menu that's visually appealing and easy to read, all while conveying the unique flavor and personality of your establishment. So, How can you design a breakfast menu that will appeal to a wider audience and attract more customers?
Thankfully, with the use of breakfast menu templates, the process can be made a lot simpler. Templates offer a basic framework that can be customized and tailored to suit your specific needs, allowing you to create a professional-looking menu without starting from scratch.
But with so many online templates, how do you choose the right one for your business? It's important to consider factors such as the layout, font style, and color scheme to ensure that your menu is both aesthetically pleasing and easy to navigate. Utilizing a reliable menu maker can also simplify the process and help you create a menu that accurately represents your brand and offerings.
In the following sections, we will delve into the specifics of how to design a breakfast menu using templates. From choosing the right template to customizing it to fit your needs, we'll provide you with expert tips and guidance to make the process as smooth as possible. So, let's get started!
How to Make Breakfast Menu Using Template: Step-by-Step Guide
Step 1: Signup or Login with PhotoADKing
Photoadking is a graphic design tool that allows users to create professional-looking designs for social media, advertising, and more. It offers a wide range of customizable templates, graphics, and fonts to help users create unique and eye-catching designs.
Step 2: Search Your Template
In your Dashboard, Type "Breakfast Menu" in the box. Then, hit the Enter key.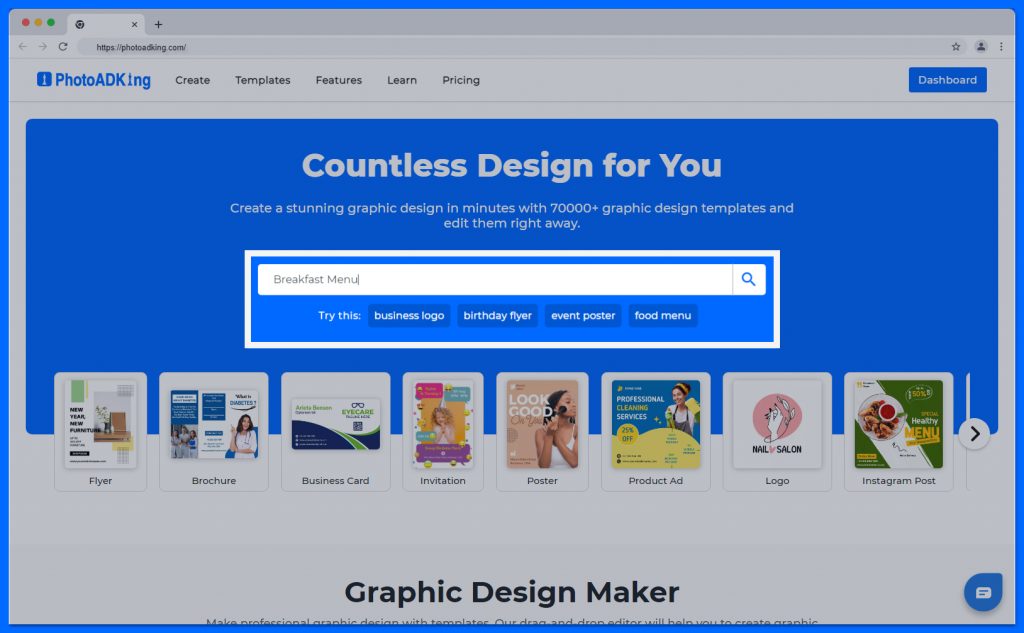 Step 3: Find a Suitable Template for Your Business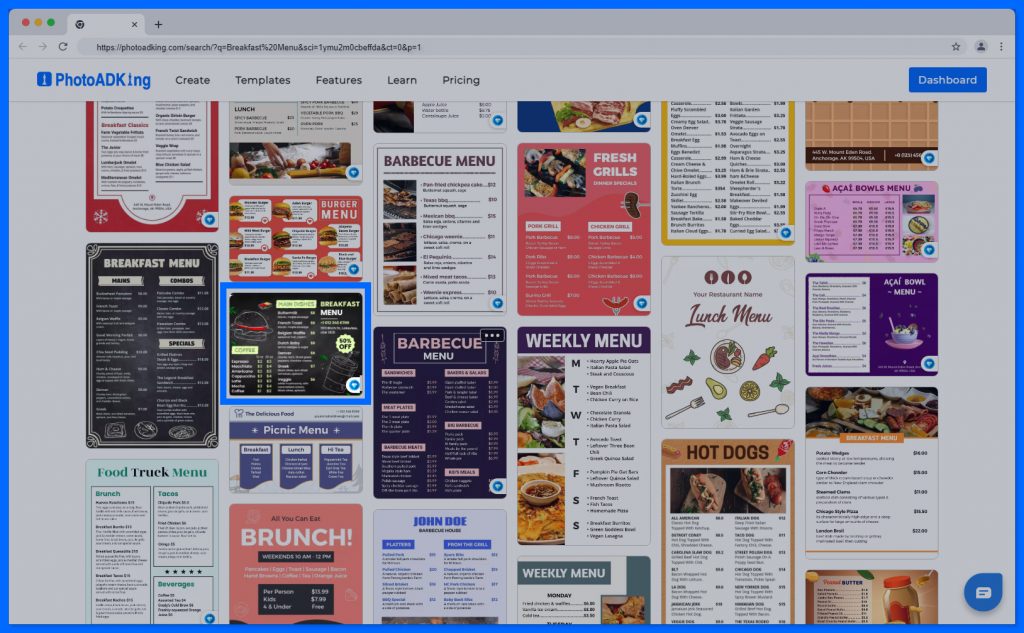 Step 4: Refine Your Template with PhotoADKing Editor
After choosing a breakfast menu template, you will be directed to PhotoADKing's editor where you can start editing. In the editor, you have access to a variety of resources such as graphics, stock images, and illustrations that you can use to enhance your design. You can modify any visible element on the pamphlet using these tools.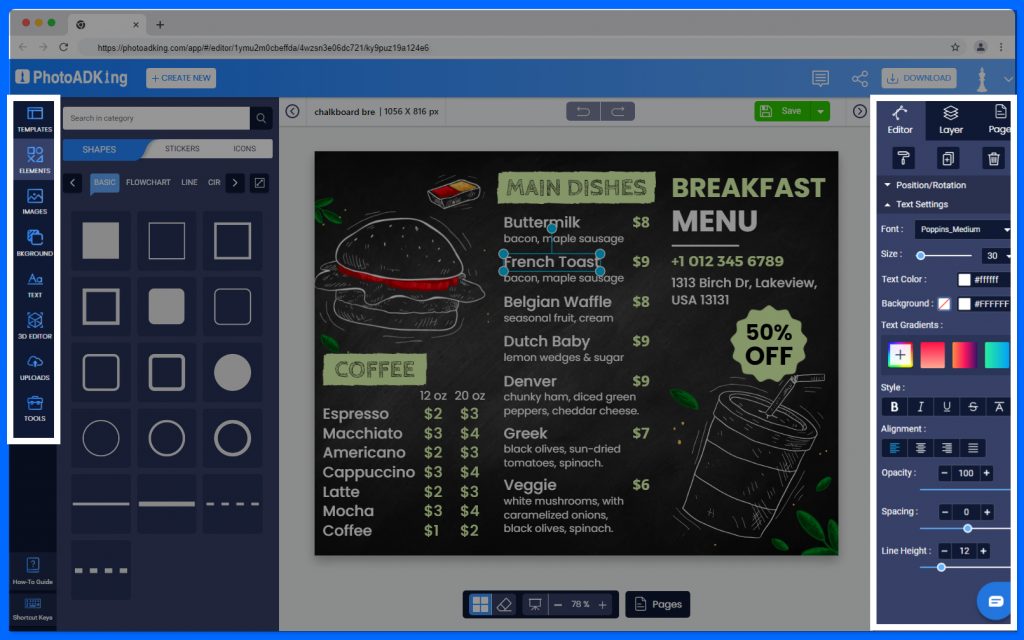 Step 5: Download the Menu in Different Formats.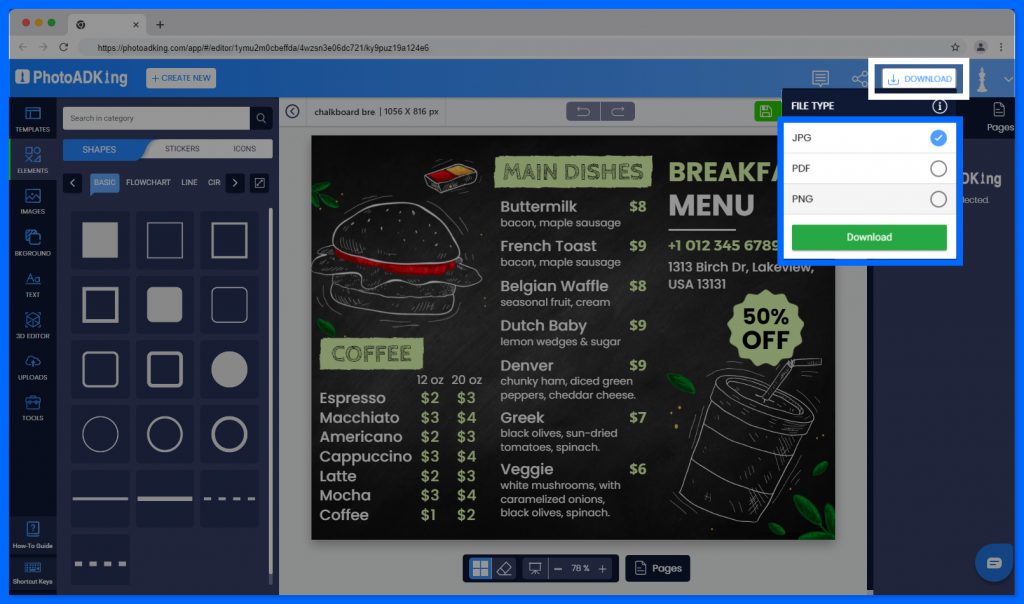 And that's it! With the help of this breakfast menu template from PhotoADKing, creating a beautiful and professional-looking menu for your restaurant has never been easier. Simply customize the text and images to suit your needs, and you'll have a stunning menu that is sure to impress your customers in no time. So why wait? Start creating your breakfast menu today!
Creative Breakfast Menu Templates
Black Chalky Modern Breakfast Menu
A black chalky modern menu typically includes information such as the name of the restaurant or cafe, the date and time of the menu, a list of morning meal dishes or items, and their corresponding prices. The menu may also include descriptions of the dishes, ingredients used, and any dietary or allergy information.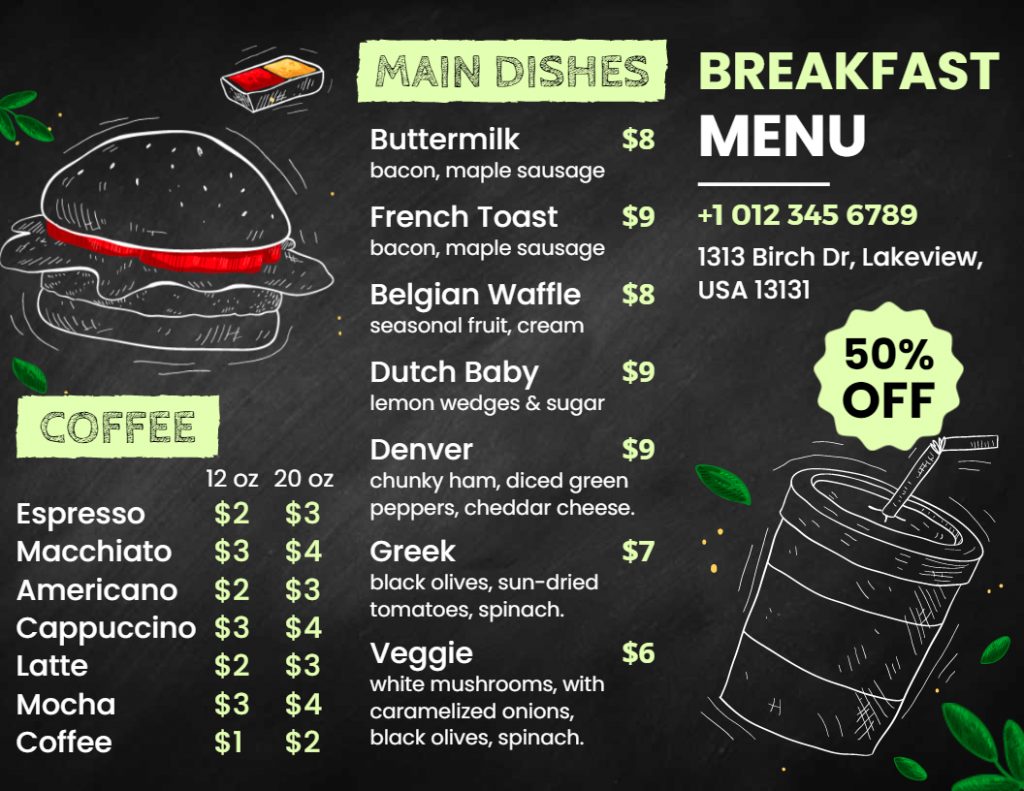 Italian Style Breakfast Menu
The Purpose of an Italian style menu is to offer customers an authentic taste of Italy and its cuisine. It may also aim to evoke a sense of nostalgia or provide a cozy atmosphere reminiscent of Italian cafes. Using Italian menu templates can help you achieve this by incorporating traditional Italian design elements, such as Italian fonts and graphics, and showcasing popular Italian breakfast dishes.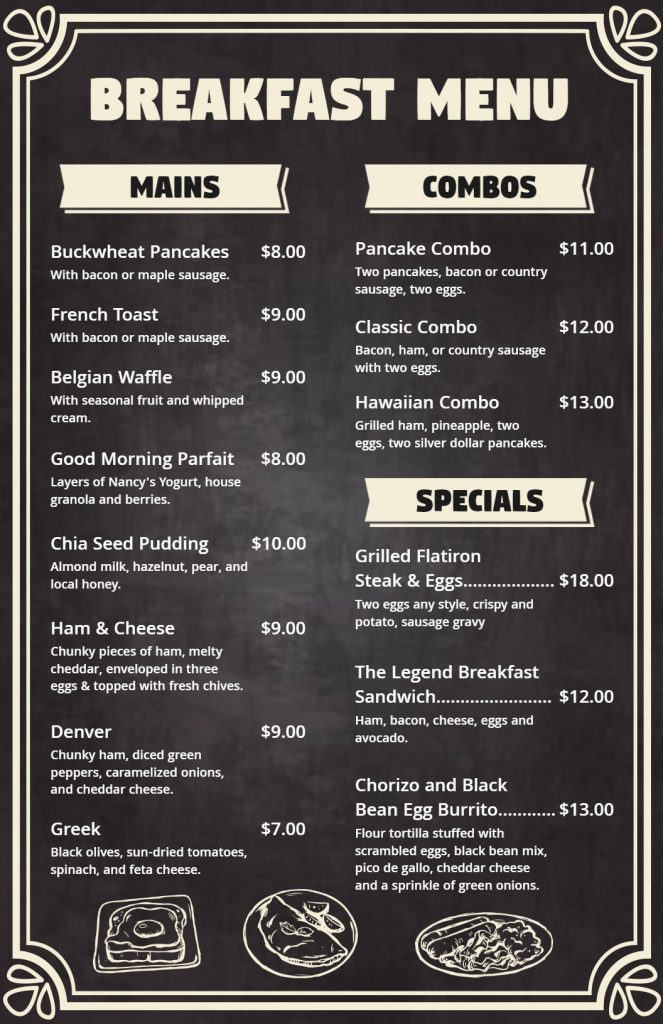 Photography Breakfast Menu
A photography breakfast menu showcases visually appealing breakfast items such as cuisines, fruit platters, and coffee drinks. Its purpose is to create an immersive dining experience for customers who appreciate beautiful visuals and delicious food.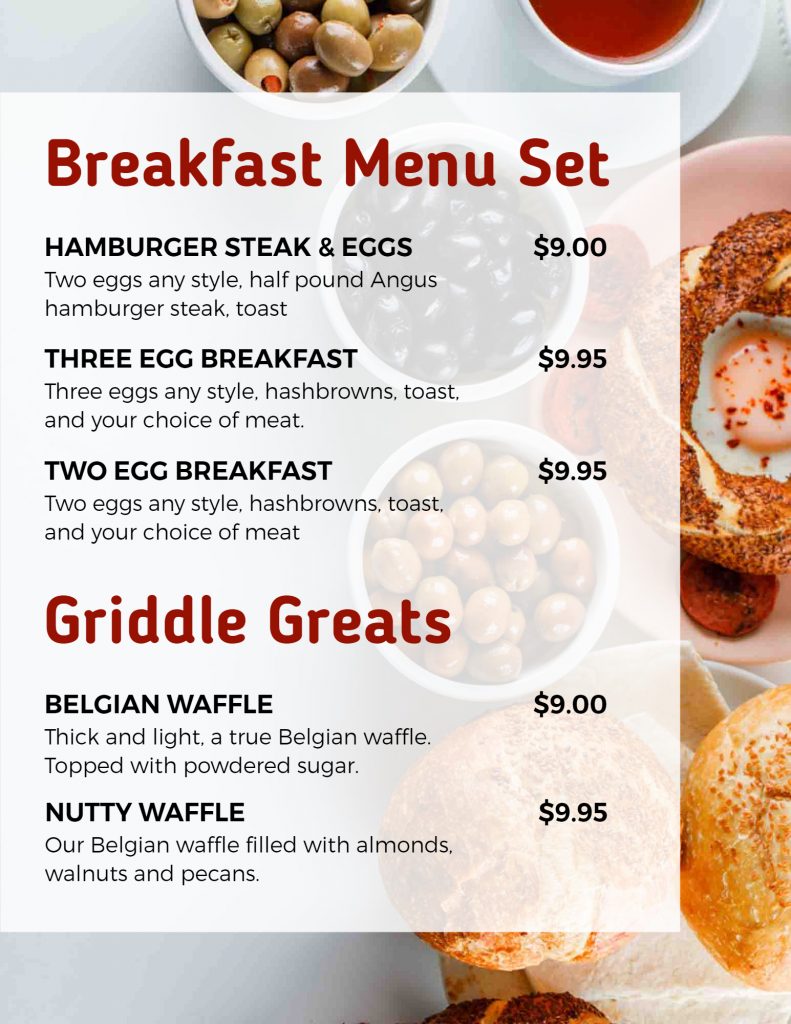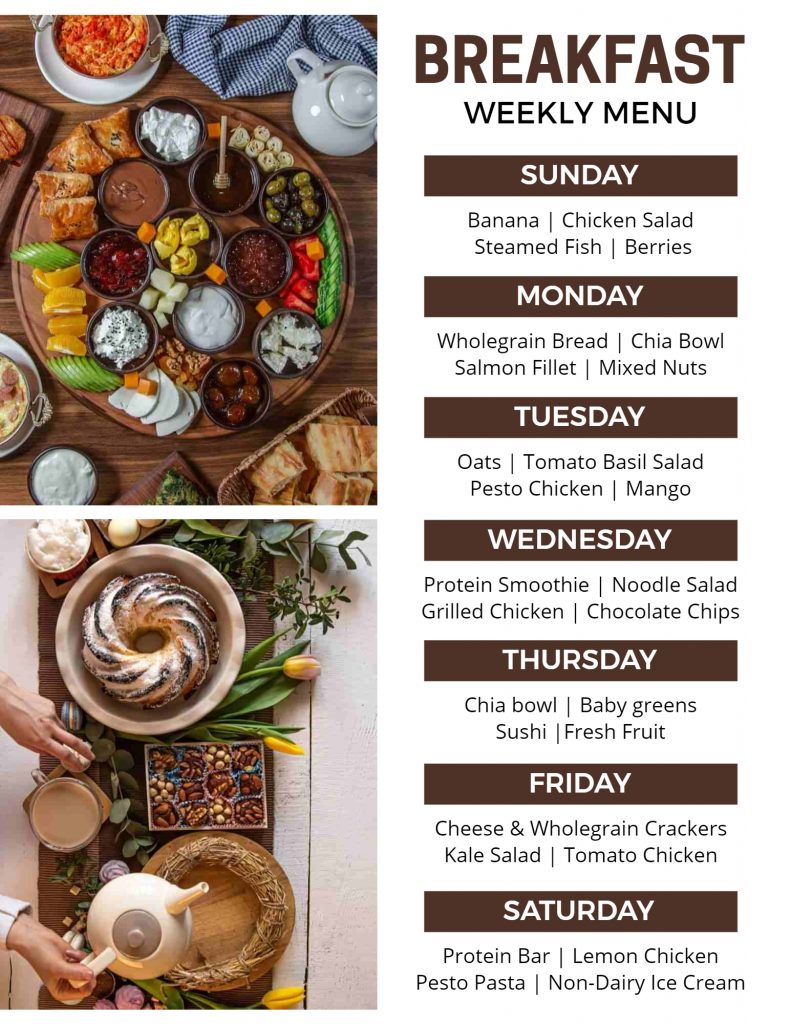 Yellow Minimalist Menu
A yellow minimalist breakfast menu can be an effective way to present breakfast items with a clean and visually appealing aesthetic. The menu typically features a simple and uncluttered layout with a color scheme dominated by shades of yellow, creating feelings of freshness and warmth. You can easily create your own minimalist menu using customizable restaurant menu templates.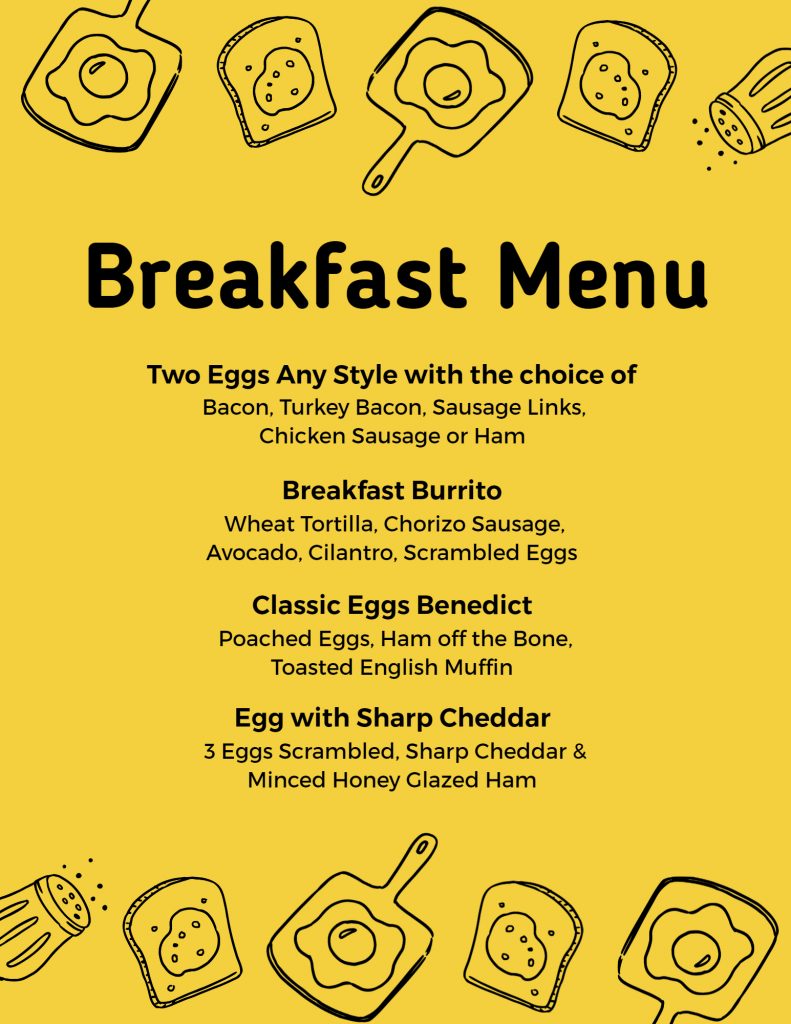 White and Orange Brust Breakfast Menu
A white and orange burst breakfast menu features a list of morning meal items that are presented in a clean and elegant manner, using a color scheme dominated by shades of white and orange. The theme and purpose of a white and orange burst menu are to create a visually striking and sophisticated dining experience, as well as to evoke feelings of energy, warmth, and creativity associated with the color orange.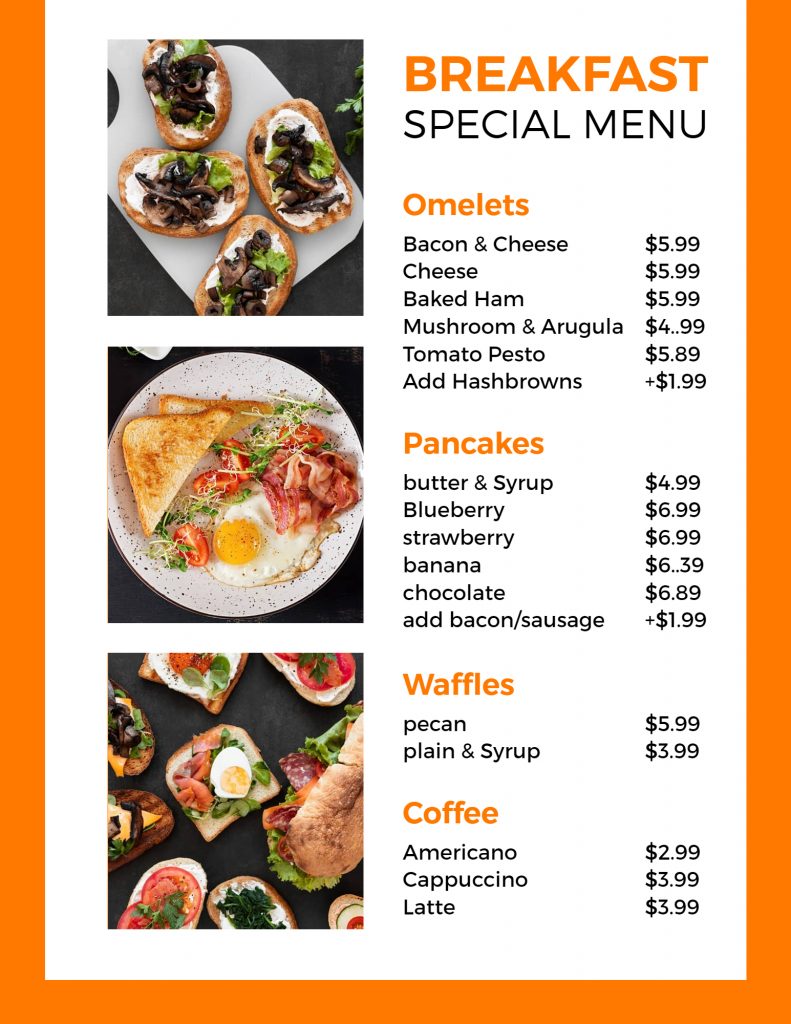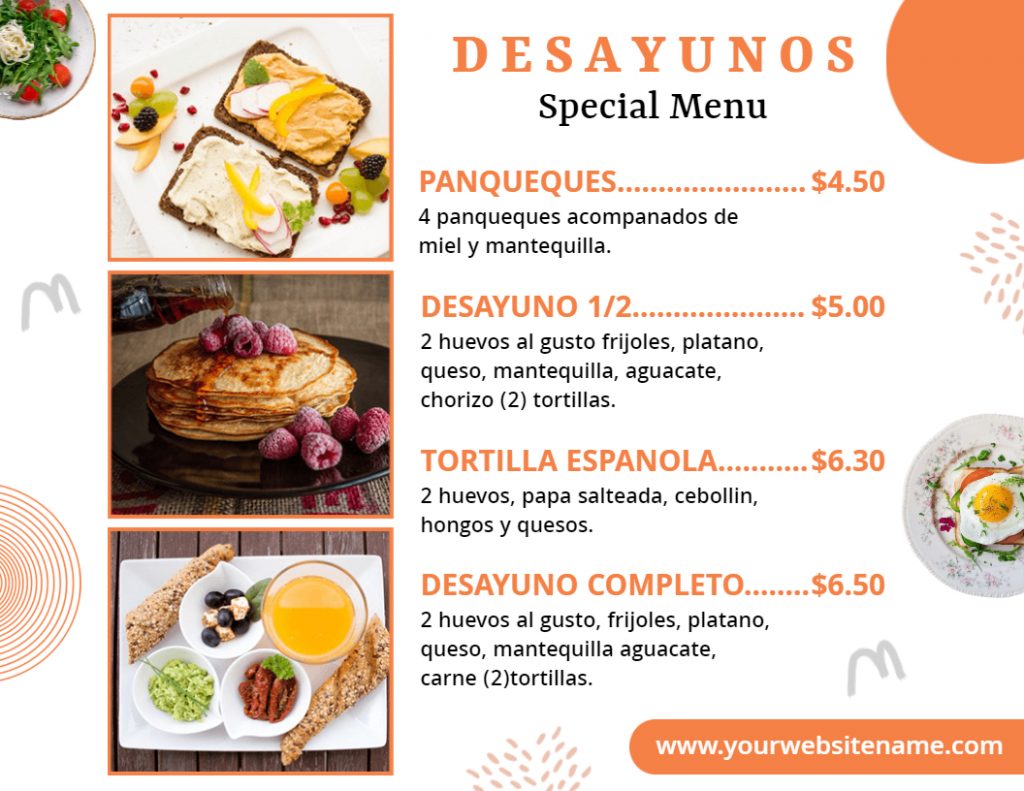 Simple and Minimalist Menu
A simple and minimalist breakfast menu features basic breakfast items presented in an uncluttered manner, emphasizing the quality and taste of the food. The menu aims to create a clean and unpretentious dining experience and may highlight the use of fresh, locally sourced ingredients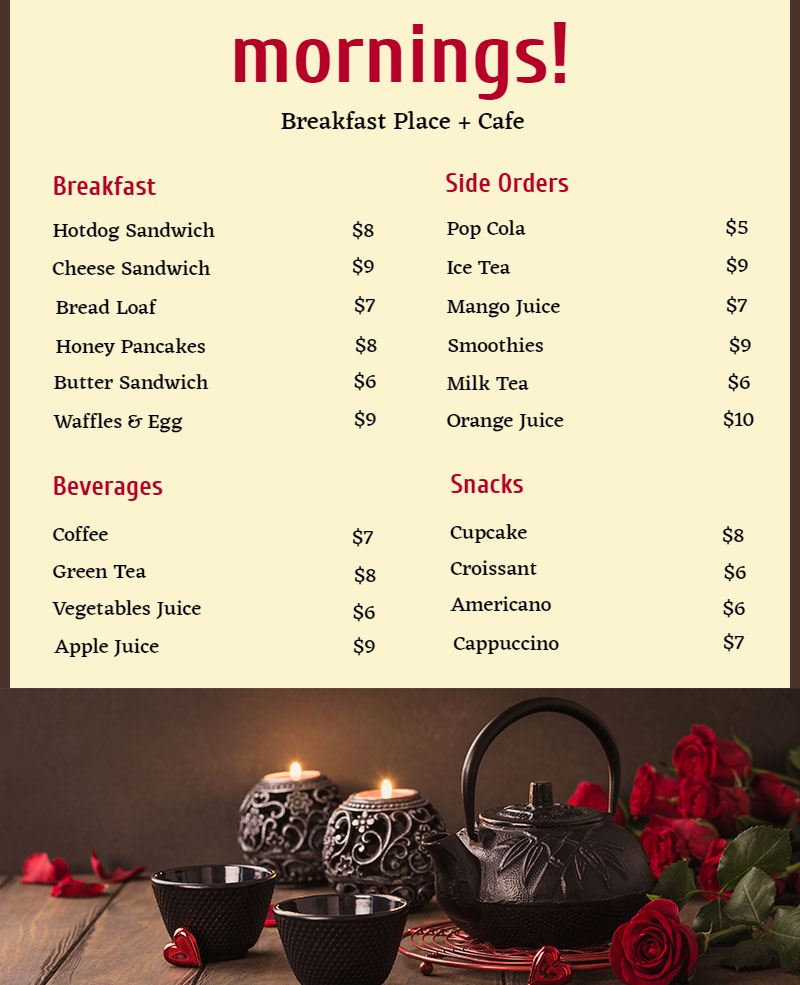 Tips For Making a Memorable Breakfast Menu
Decide the format
You can choose to create a breakfast menu in a traditional bi-fold or tri-fold format or opt for a digital menu that can be displayed on a tablet or website. Depending on the format, the layout and design elements may differ. If you're looking for inspiration, consider exploring different menu style ideas to find the perfect fit for your breakfast establishment.
Choose a color scheme
The colors you choose for your breakfast menu should reflect your brand and the type of cuisine you offer. For example, warm colors like red and orange may work well for a morning meal cafe that serves comfort food, while lighter shades like green and blue may be better suited for a health-focused menu.
Include high-quality images
Including high-quality images of your menu can entice customers and give them a visual idea of what to expect. Ensure that the images are well-lit, in-focus, and feature the dish prominently.
Organize the menu
Group similar items together, such as breakfast sandwiches, omelets, and pancakes. Consider highlighting signature dishes or popular items with a star or other attention-grabbing icon.
Provide descriptions
Each item on the breakfast menu should have a brief description that highlights the main ingredients and flavors. Use descriptive language and avoid using generic terms like "delicious" or "tasty."
Consider dietary restrictions
Include information on vegetarian, vegan, and gluten-free options, if applicable. This can help customers with dietary restrictions quickly identify what they can and cannot eat.
Don't forget the drinks
A menu should include a selection of beverages, such as coffee, tea, and juice. Consider including specialty drinks, like lattes or smoothies, as well.
Keep it simple
While it's important to provide enough information about the dishes, avoid overwhelming the customer with too much text or too many images. Keep the design clean and easy to read.
Conclusion
Designing a breakfast menu can be a time-consuming and challenging task, but using templates can make the process easier and more efficient. With a well-designed breakfast menu, you can attract new customers and keep your regulars coming back for more. So why not give it a try and design a breakfast menu using templates?