Are you in search of a beautiful & free Matrimonial biodata format to find the perfect life partner? You have landed at the right place. In the era when Facebook & Instagram has shouldered the burden of match-making, it is not hard to find your partner than it was 20 years back. (Agree, eh?)
A nicely framed biodata says it all. To be honest, you should only highlight "who you are" rather than boasting on "who you are not".
Well, there are people like you who believe in "Biodata at first sight" when it comes to getting married. After all, it's a matter of life that you're about to do when planning to get married. So, making a well-formatted matrimonial biodata design using any free online biodata creator seems like a good start, isn't it?
The Basics of Biodata Format
Before you proceed to make a smart Biodata Format, you should be well aware of what 'must' be included and what is considered as 'extra'. Include basics like date of birth, height, education, hobbies, address, contact number, and nationality. You may or may not add a photo, it's all your choice. Additionally, you should include what you expect in your life partner as well as your family background. This will give them a crystal-clear idea whether they are the right fit for you or not.
Your matrimonial biodata design should be such that it makes filtering legit & it's in your favour!
Stand out from the rest – That's all we want
As you know, there are numbers of matrimony sites and offline match-makers too who have a bunch of biodata to showcase. If you want to capture attention, there is no way out than having a dashing biodata which makes them say 'What a decently framed this one is, the person should be as interesting as their biodata'. It can be undoubtedly said that your biodata meets the candidate before you and the template that you choose creates an imaginary impression of your personality.
A Biodata can make or break it at a glance…
Some are just too confused about what to include and what to exclude and then end up scratching their heads. Decency is what wins the game while getting overwhelmed with extra details makes it complex. You have to balance the matrimonial biodata that seems 'Woah' and not boring or just another biodata in the heap.
Online Biodata Creator by PhotoADKing – Your Helping Hand!
Free matrimonial biodata template can be as simple as you want, provided that you know how to create one! Don't worry, we'll take you on a tour to PhotoADKing – Online Biodata Creator.
Step-wise Matrimonial Biodata Design with PhotoADKing's Templates
With instant use Matrimonial Biodata Design on board, you're about to enjoy biodata creation with us. Here you go with a step-wise explanation on how you can get your matrimonial biodata bride or groom-ready in as fast as 5 minutes.
1) Search for Biodata in the top section "What would you like to Design"
Understanding that biodata making can be done on-the-go, we have simplified it for you beforehand.
All you need to do is to go to PhotoADKing first. You'll see numbers of categories for social media post & story designs too. We don't want you to get lost in the sea and so you can just search with the term "BIODATA" in the "What would you like to Design" tab visible on the top.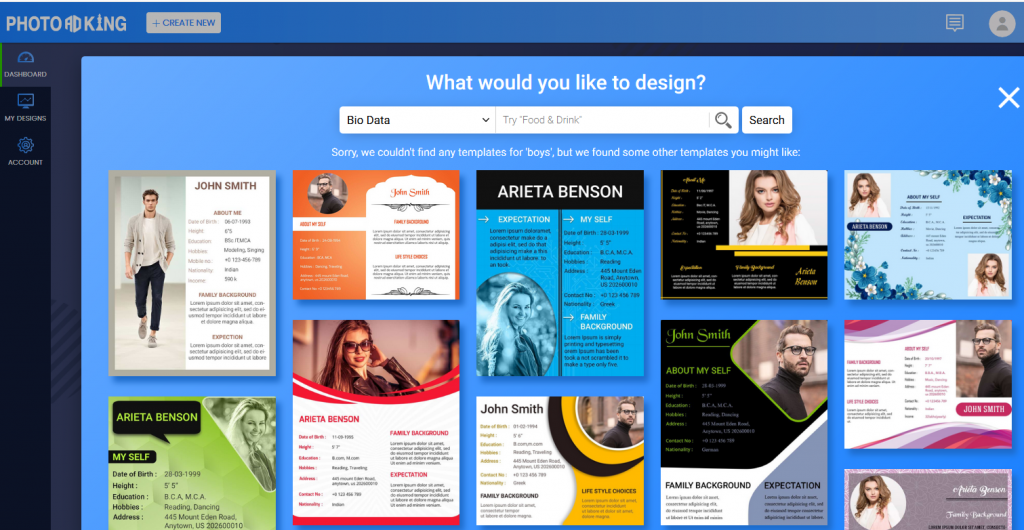 As you enter the term and search for it, you will be amazed by the creative matrimonial biodata templates we have designed for you. No matter if you are in search of a bride or groom, you will be thrilled with the fancy matrimonial biodata format we have treasured.
Also, you can access several free and paid versions of the same. In case, if you like any paid template, you can simply pay for that particular one and start making it. If you want to continue with free templates, you don't need to pay a single penny for it.
2) Make the right template Choice
We recommend you to explore all the templates availability so you don't have to change it later. Once you select a particular template, you will be taken to the designing interface. Here, you have all the controls on the extreme left panel while the chosen template is visibly enlarged. You can zoom in with "Zoom %" visible on the top so you can look closer to the design and make yours accurate.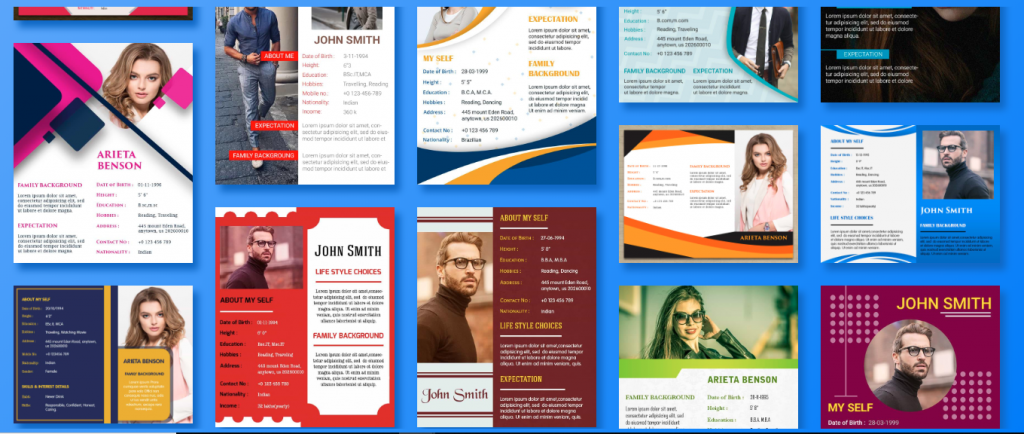 See if all the elements that you want in your matrimonial biodata are present in the respective Biodata Format.
3) Edit the Details on your Biodata
Next, you can proceed with the Editing with our Online Biodata Creator. Here, the extra templates are hidden for a better idea in designing your biodata. Anything visible on the template is editable and can be modified. You can remove the elements which are unwanted according to your need and add extra elements that you find missing.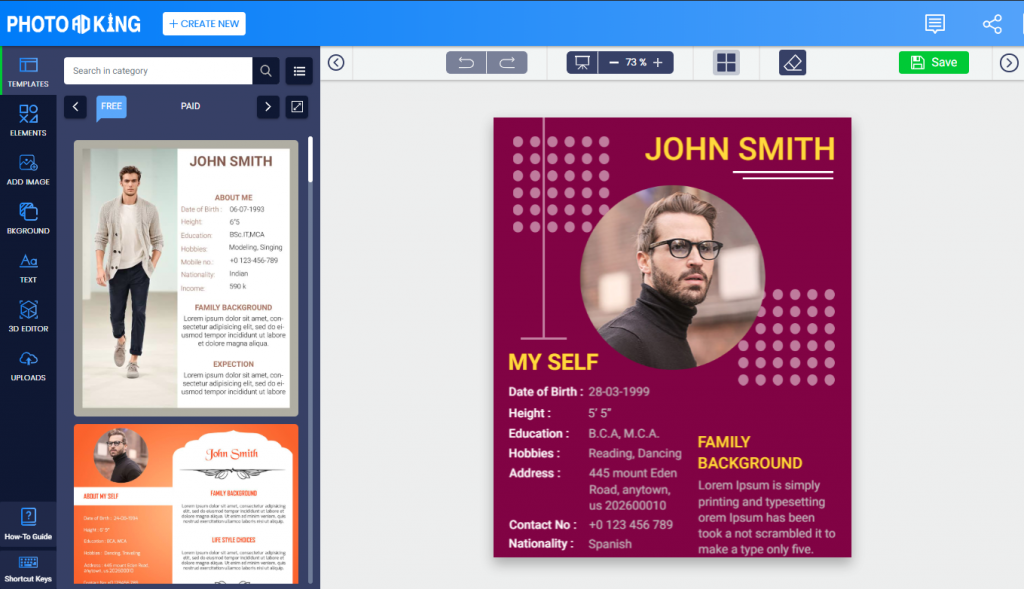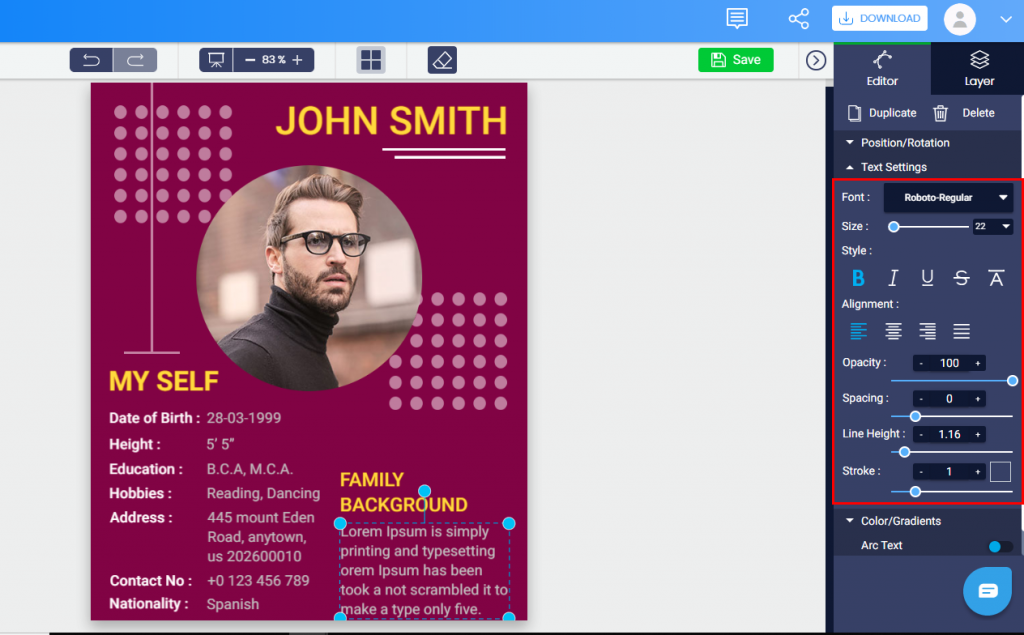 If you think that the existing details are all that you want then you can simply edit the section by clicking on it. Make sure that the details are in brief and should only give a hint of your background. After all, they should be given an excerpt and not everything should be mentioned when you intend to invite inquiry.
Pro-Tip
"When you're making biodata in urgency, it is better to just replace the dummy details with yours and make no modifications in the existing design which is created by professionals."
4) Add Sizzling Toppings i.e. Eye-catchy Elements
When you have got all the time in the world and you want to create an Avant-grade matrimonial biodata, you should watch around for more.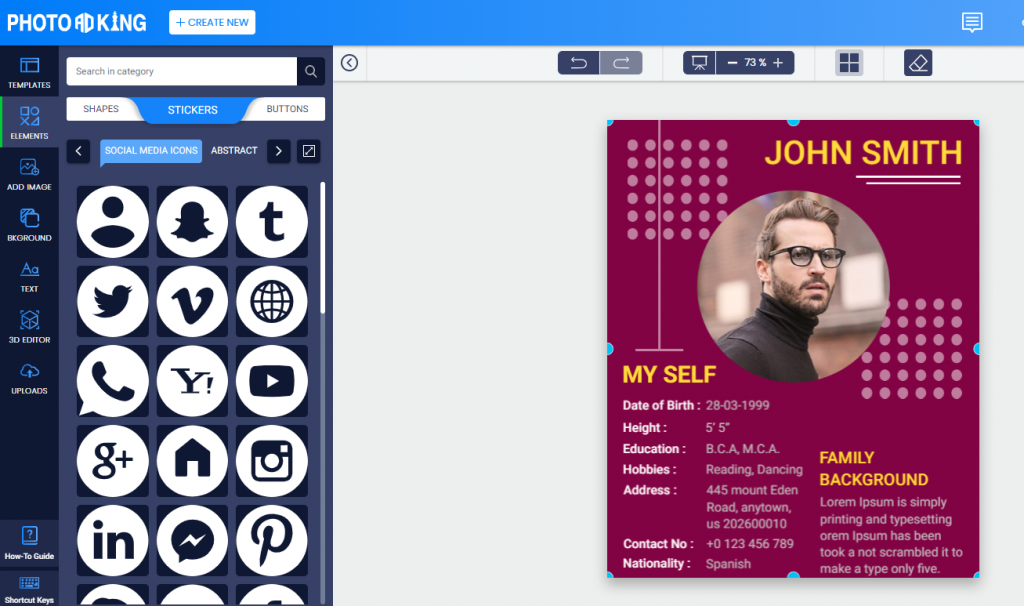 Detailing matters whether it is your Resume for Job or Biodata for Matrimony purpose. A hide and show of the details depend on your smartness after all.
For instance, you would like to mention your social media profiles like Facebook, Instagram, Twitter or Snapchat so that the candidate can know you better before meeting you then you can surely do it. Be careful with the position of the icons that it add-up to the overall outlook of your biodata and do not make it uglier.
You can also add borders and more elements that you think are useful and will add to the beauty of your profile.
5) Modify the Background
You can either choose to go simple and sophisticated or unique and outstanding at the same time. Don't miss out on the features given to you. Have a check on the elements like the Background colour (if you want to change it) and give a try to gradient and photo collection already available with us. If you don't find it suits your needs, you can also upload your own to have a customized biodata format for free.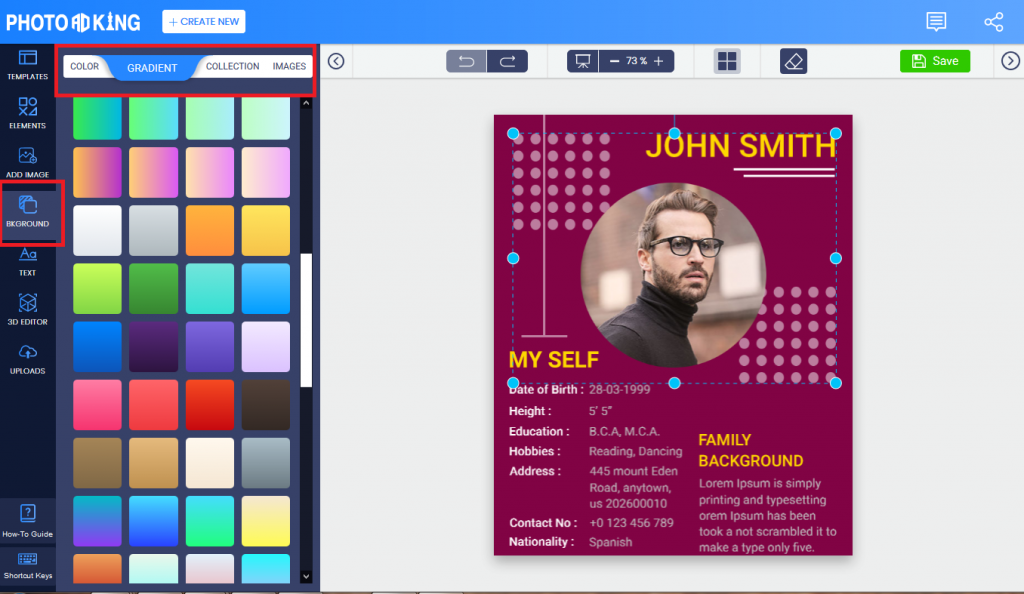 6) Add Photo of your Choice
Some people are just too shy to disclose their identity and prefer not to add photos while some prefer to be bold enough to add a graceful and ravishing photo that wins the heart at a glance. This is not the background photo discussed above but your very own photo to be included in the biodata.

Pro Tip:
Keep the background decent & simple if you plan to include your photo. Don't get overwhelmed with background + photo to make your biodata look clumsy & displeasing.
Also, make sure that the background colour is as per the overall colour scheme of the biodata format.
7) Change the Text Theme of the Template
Show some creativity with your text. You may want to highlight some information and we help you do so with different text themes available with PhotoADKing. Several font families are ready to be tried. All you have to do is select "Text" from the extreme left panel and you will see the options from which you can make your desired font selection.
Save time later by selecting the fonts in the beginning so that you don't have to rework.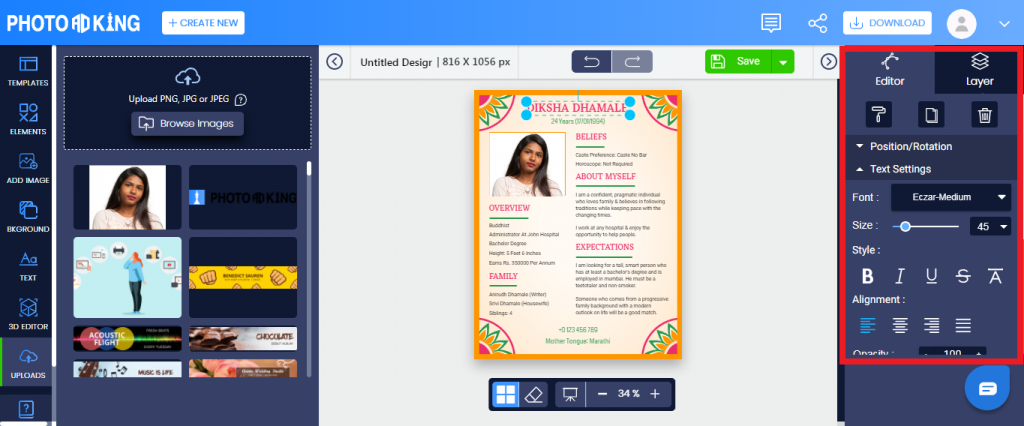 8) Save, Download or Share
Once you're done with everything, you are all set to use the matrimonial biodata format you have just created. You may use it digitally or get it printed and use it as per your need. You can either save it online with PhotoADKing if you are running out of time at the moment and want to make changes later. The biodata can be downloaded in high-quality format or can be shared online via email or social media, whichever you want.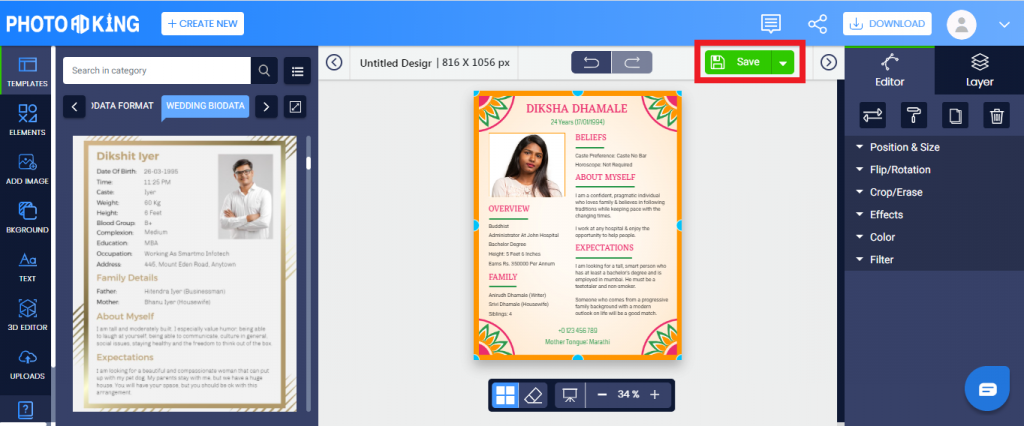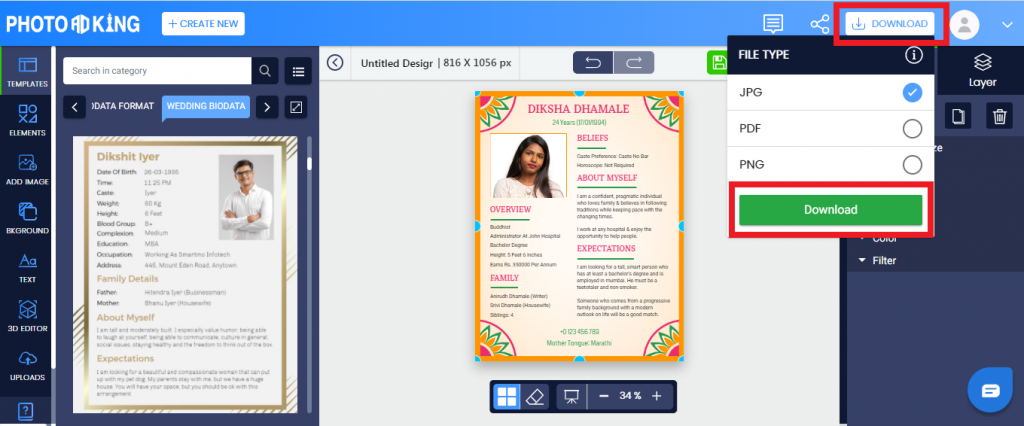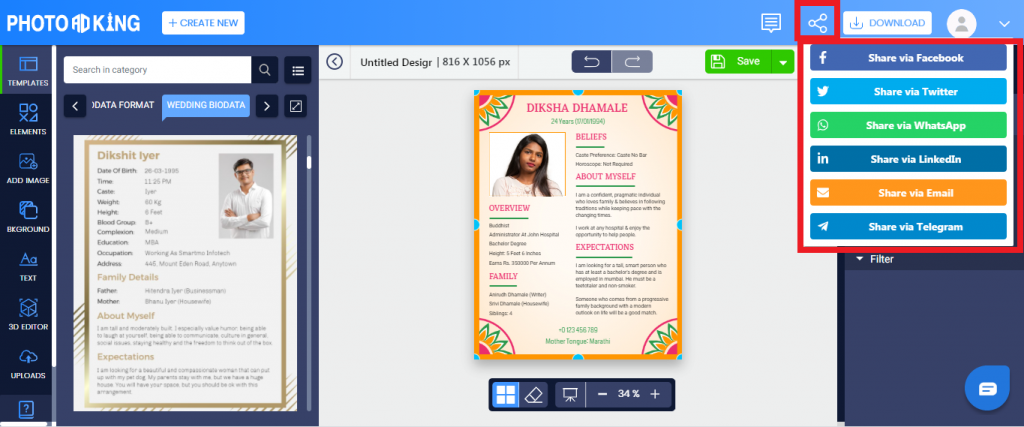 End up with an Impressive Matrimonial Biodata Design. If you are interested to get ideas of wedding announcement template, we can help you
When you make a Matrimonial Biodata Design with PhotoADKing, it is hard to recognize if it is made by you or any professional. You can experience this right now by making one. Don't forget to share it with your friends if you like using our free online biodata creator.