Do you often find yourself struggling to create professional and visually appealing certificates for your special occasions or achievements? You're not alone! Crafting the perfect certificate format can be a daunting task, especially if you lack design skills and access to the right tools.
But that's not all, with the certificate maker tool, you can create professional certificates in minutes. This not only saves you time but also guarantees a well-designed and attractive certificate. With certificate templates, you can easily customize and adapt them to suit your specific requirements.

In this blog, we'll dive into the essential components of a well-designed certificate format and explore the significance and purpose of certificates.
Table of Content
Well-Designed Certificate Format
The Purpose of a Certificate
To Sum Up
FAQs
Let's explore what makes a certificate look impressive and professional.
---
Well-Designed Certificate Format
---
A well-designed certificate format should be visually appealing, and professional, and convey the necessary information clearly. Here are the essential elements of a well-designed certificate format:
Title:
Make the title clear and easy to read.
Use a font style that aligns with the formality or theme of the certificate.
Consider using a larger font size or bolder font weight for the title to make it stand out.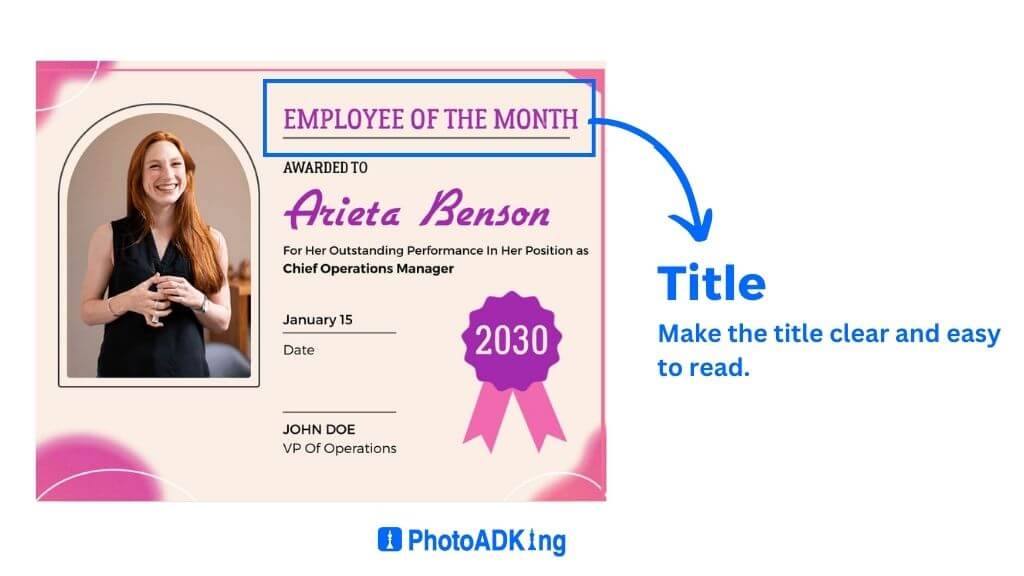 Border or Frame:
Ensure the border or frame complements the overall theme and purpose of the certificate.
Borders can be simple lines or more elaborate designs, but avoid excessive clutter.
Make sure the border or frame doesn't overpower the content.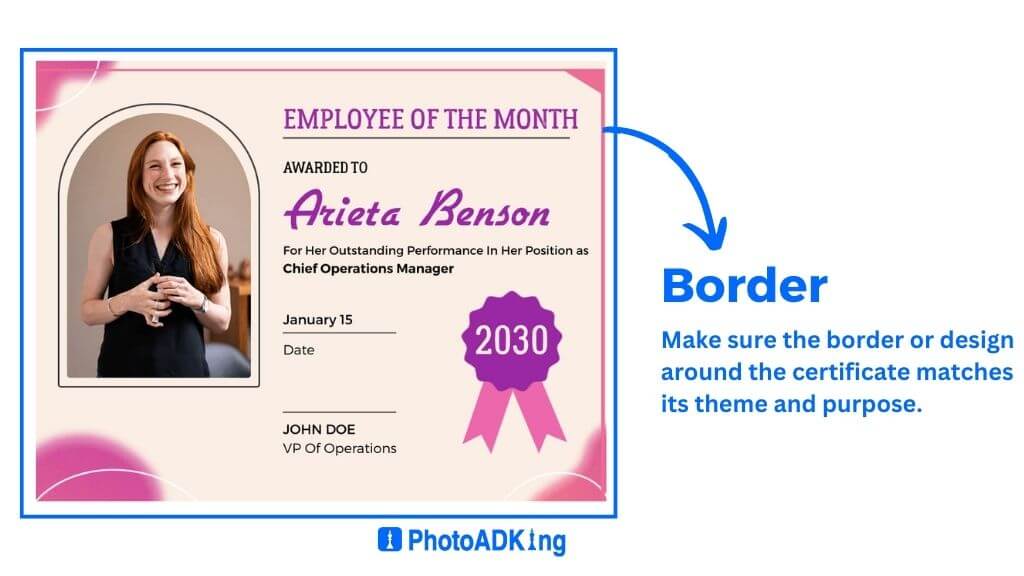 Background:
Choose a background color or texture that doesn't distract from the text.
Lighter backgrounds with darker text tend to be more legible.
Keep the background clean and consistent throughout the certificate.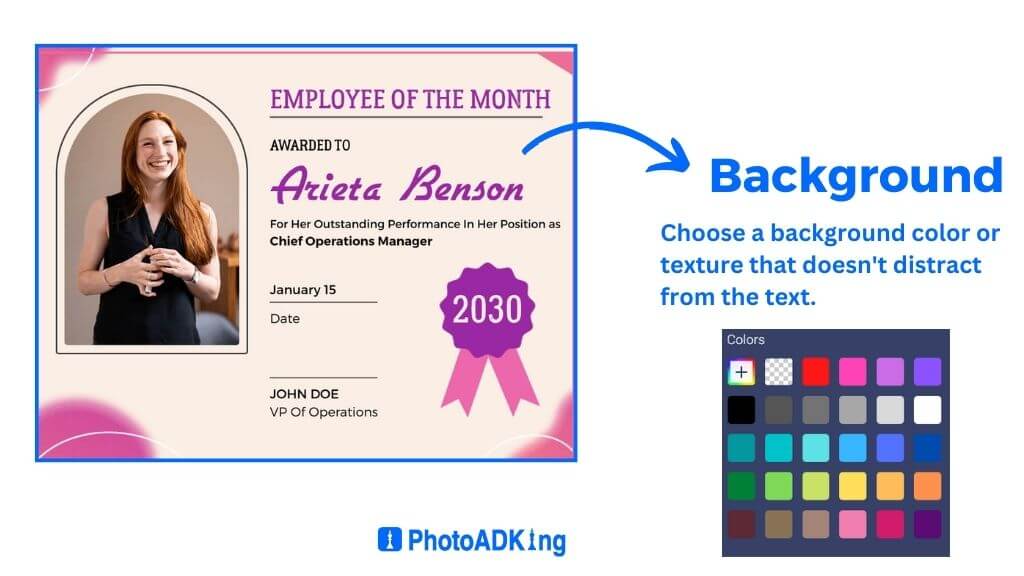 Recipient's Name:
Use a font that is elegant and distinguishes the recipient's name from the rest of the text.
Consider a larger font size or a different color for the name.
Ensure the recipient's name is spelled correctly and matches the information accurately.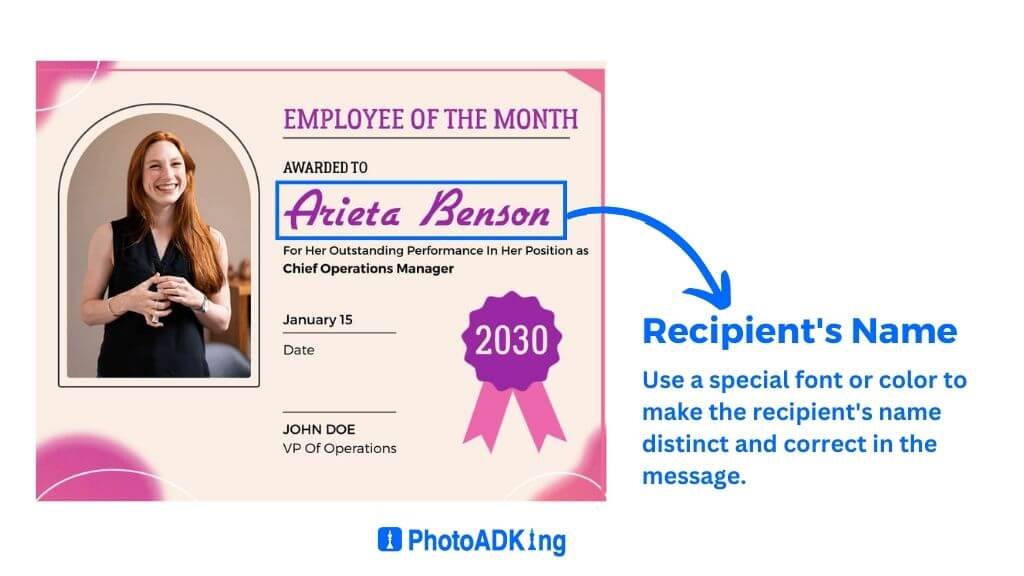 Description:
Keep the description concise and to the point.
Use formal and professional language.
Clearly state the purpose of the certificate and the reason for recognition.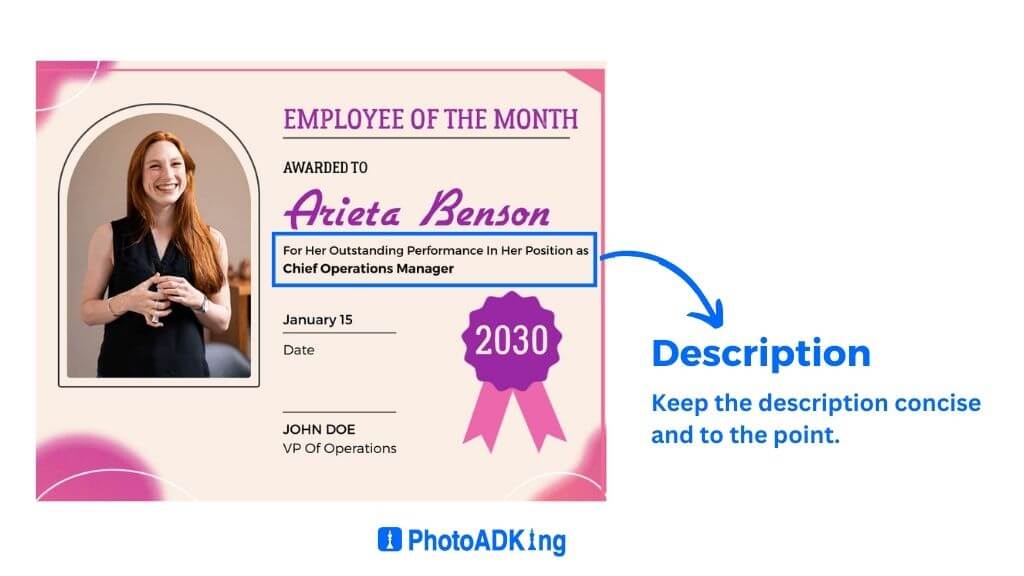 Date:
Display the date prominently, often in the lower part of the certificate.
Use a consistent date format, such as "Month Day, Year" (e.g., January 15, 2030).
Ensure the date is accurate and matches the issuance date.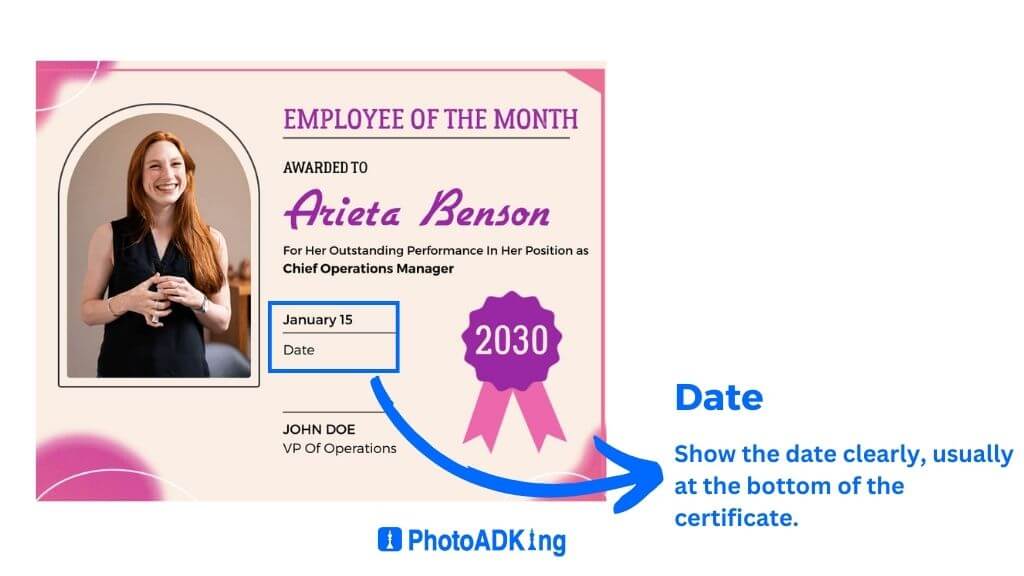 Signature Line:
Leave enough space for signatures, ensuring they can be easily written or printed.
Clearly label each signature line, specifying the role of each signer.
Make sure the signatures are legible and match the authorized individuals.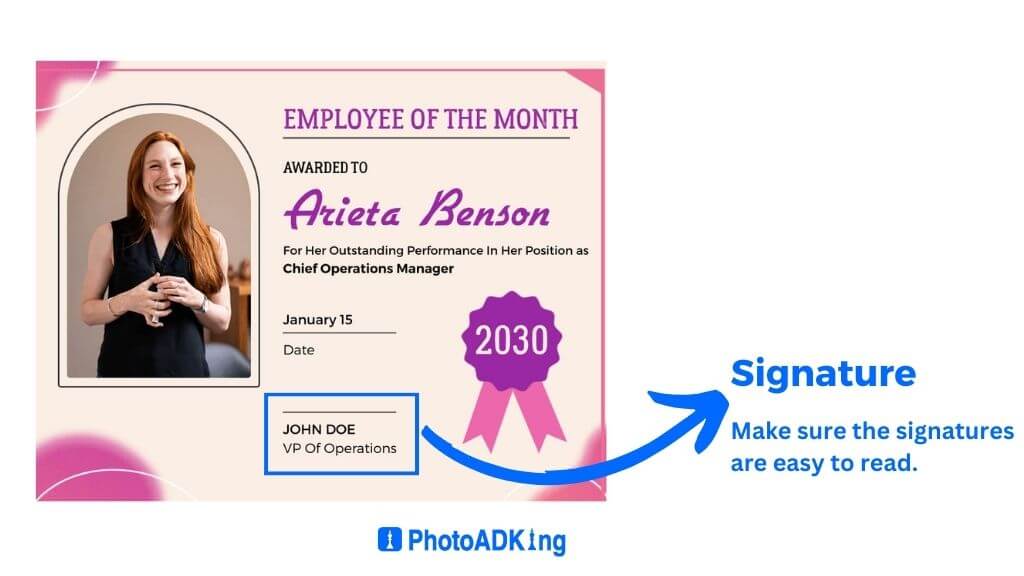 Images/Design Elements:
Use design elements sparingly to enhance the overall look.
Choose design elements that align with the theme and purpose of the certificate.
Ensure design elements do not overcrowd or distract from the important information.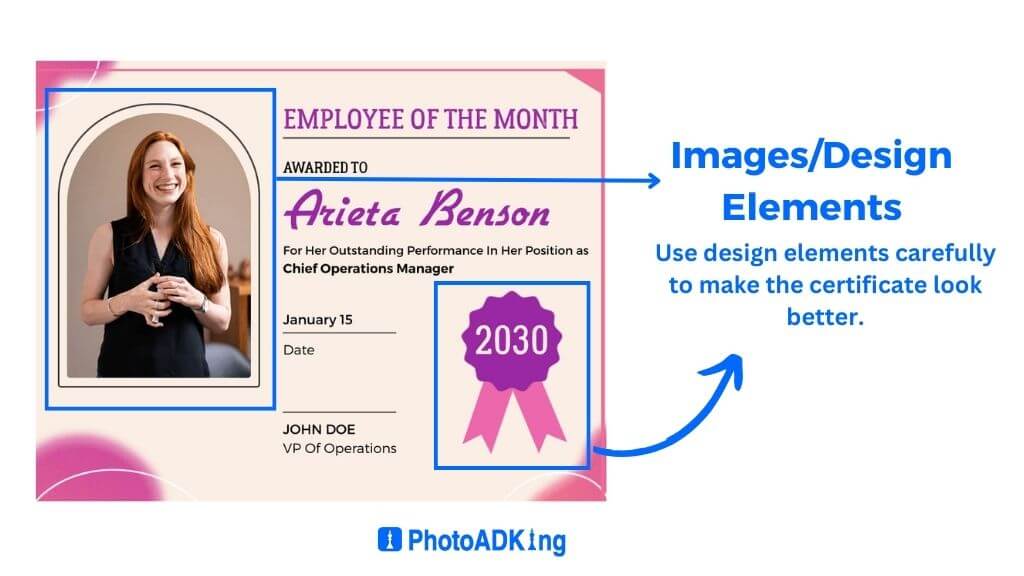 Size and Orientation:
Choose a size and orientation that suits the content and style of the certificate.
Common sizes like 8.5 x 11 inches or 11 x 8.5 inches are practical and standard.
Consider the orientation (portrait or landscape) based on the certificate's layout.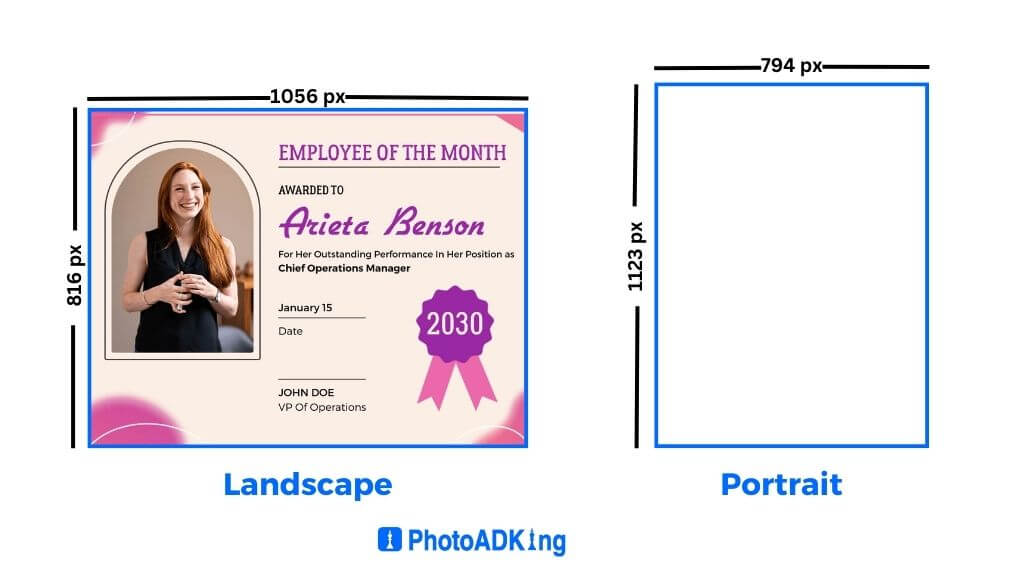 Remember that the specific design elements and style of your certificate may vary depending on the occasion and the organization's branding guidelines. Tailor the format to meet your unique requirements while maintaining a sense of professionalism and aesthetics.
Now, let's understand why certificates are important and what purpose they serve.
---
The Purpose of a Certificate
---
Certificates serve various purposes, such as:
Acknowledging Achievement
Certificates are a tangible representation of success and accomplishment. They are given to individuals or organizations to acknowledge their achievements and hard work.
Providing Validation
Certificates validate qualifications and skills. They offer credibility and assurance to employers, institutions, and clients.
Promoting Brand Image
Certificates can also be used as a branding tool. Organizations can customize certificates with their logos and colors to reinforce their brand image.
If you like what you read on our blog, you might also be interested in checking out some of our other blogs.
---
Recommended Blogs
Standard Certificate Size and Dimensions
Certificate Layout
How to Choose the Right Certificate Size for Your Design
The Ultimate Guide to Choosing the Perfect Certificate Font
Different Types of Certificates
Inspiring Certificate Examples and Ideas
Certificate Border Design Ideas
How To Use Certificates For Marketing Your Business
Certificate Background Design Ideas
---
To Sum Up
---
In conclusion, whether you're using certificates to recognize educational milestones, employee achievements, or special events, following this certificate format will help you create certificates that are not only visually appealing but also effectively convey their purpose and significance. And remember, if you're in need of a quick and efficient way to design professional certificates, consider using certificate maker tools to save time and ensure a polished result for your special occasions or achievements. Start designing your unique certificate today and make a lasting impression!
---
FAQs
---
Why is a certificate format important?
A certificate format provides a consistent and professional appearance for certificates, ensuring that they are easily recognizable and convey the necessary information accurately.
What are the common elements of a certificate format?
Common elements include the certificate title, recipient's name, date of issuance and signature, and often a brief description of the achievement or qualification.
Can I customize a certificate format to suit my preferences?
Yes, many certificate templates are customizable. You can adjust fonts, colors, and layout elements to make it unique while retaining the necessary information.