Are you ready to make the most out of this Black Friday frenzy? We've got you covered with a treasure trove of engaging Black Friday post ideas! In this digital age, your marketing strategy needs to stand out and reach your audience where they spend a lot of their time: on social media.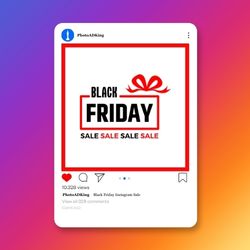 Easy-to-Use Black Friday Social Media Post Maker!
Create Black Friday posts using PhotoADKing social media post maker, designed to suit your distinctive style.
Try Social Media Post Maker!
In this blog, we're going to give you some really creative black friday posts ideas. Also, these ideas will help you stand out in the world of online shopping and make a big impact on your customers
---
Creative Black Friday Post Ideas
---
Whether you're a seasoned marketer or a business enthusiast, these easy-to-implement concepts will keep your audience engaged and anticipating your deals. Moreover, these beautifully crafted Black Friday social media post templates are the key to grabbing your customers' attention, building excitement, and ultimately, boosting sales. So, let's dive in!
Teaser Posts
Teaser posts are like sneak peeks that build anticipation for your Black Friday deals. They give your audience a glimpse of what's to come.
Countdown Post
Countdown posts are all about creating excitement by sharing the number of days or hours left until Black Friday. It's a great way to remind people about the upcoming event.
Sneak Peek Posts
These posts offer a sneak preview of the products or deals that will be available on Black Friday. It's like showing a little secret to your audience.
Early Access Posts
Early access posts inform your loyal customers or subscribers that they can get a head start on Black Friday deals before the general public. It's an exclusive opportunity.
Flashback Posts
Flashback posts reminisce about previous Black Fridays, highlighting the best moments and deals from the past, which can make people nostalgic and excited for this year's event.
Last Chance Posts
Last-chance posts create a sense of urgency, reminding customers to act quickly because the Black Friday deals are ending soon.
Gift Ideas Posts
These posts provide gift suggestions and product recommendations, helping shoppers find the perfect presents for their loved ones on Black Friday.
Thank You Posts
Thank you posts express gratitude to your customers for their support during the Black Friday sale, showing that you appreciate their business.
User-Generated Content Posts
User-generated content posts showcase photos or reviews from your customers who have enjoyed your products. It's a way to build trust and show off real experiences.
Limited Edition Black Friday Posts
Highlight limited-edition items to showcase special, limited-edition products that are only available for Black Friday. Build hype around their exclusivity.
Feel free to adapt these black friday instagram post ideas to your brand's unique style and offerings. Whether you're promoting electronics, fashion, or any product, these post ideas can suit your business. Also, you will like these similar articles and they will give you unique information about black friday.
---
Wrapping Up 
---
In the world of digitalization, Black Friday is like a big competition, and creative content is your best tool. When you use these special Black Friday post ideas, you can make your online presence better and beat your competitors. It's not just about selling things; it's about making your customers remember their shopping experience.
So, go ahead and use these ideas. They will help your Black Friday marketing strategy become even better. By being ahead of the game with exciting and new content, you'll definitely leave a strong impression on your audience.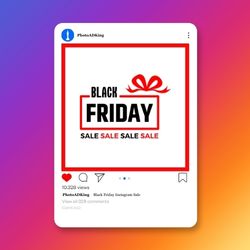 Explore Black Friday Posts Templates to Boost Sales!
Check out our customizable Black Friday Instagram post templates on PhotoADKing to match your unique style.
Try Black Friday Post Templates!