WhatsApp status design is what businesses are starting to care about and we are no wonder queued for the same. We hardly find someone who is not using this globally popular and dominating service connecting people from various dimensions.

WhatsApp is utilized for both – business and personal use and no doubt you own a business and a personal account separately. So, are you making optimum use of both or sharing the same stuff and making connections feel bored?
When you're a newbie, it seems difficult to spare a budget for marketing or you may wish to try a hands-on DIY status maker with whatever you have.
WhatsApp clicks first to show everything to your connections – about your products, offers, upcoming exhibition, and whatnot?! If you don't want them to just tap, tap and go, this read is for you!
What is WhatsApp Status size?
1080px * 1920px is the recommended size for WhatsApp Status. The WhatsApp Status image Size is expected to be sized as at least 400 px wide and 150 px in height.
How do design your WhatsApp Status?
If you are new to WhatsApp Status Templates, we would like you to know how to 'design' your status which makes you stand out from the rest.
Here are a couple of steps that you need to follow while designing your WhatsApp Status with PhotoADKing to expose yourself to an amazing Status Design at the end:
Steps To Design Your Own WhatsApp Status.
Signup with PhotoADKing
Jump to the Dashboard and find "WhatsApp Story" under the "Social Media" section
You will be exposed to a dashing UI that will make you feel no less than a Graphic Designer. Explore the available tools you have got in the extreme left panel
Pick the suitable story template which fits your need well and you will be in the Edit mode. There are "Free" and "Paid" options available for the same.
Click on the text to choose the font style, size, or any other modifications desired for the text.
You may use the existing background image or add your own i.e. solid color, any image from your computer, and so on. There is more to do with the image and you can find it easily from the UI.
Once the design is finished, you can download your WhatsApp Status Video Maker instantly in JPG, PDF, or PNG format as desired.
How to add your status design to Whatsapp?
The following steps should be attempted for adding the design you just created to Whatsapp:
Open WhatsApp on your mobile application or web.whatsapp.com
Switch to the "My Status" tab and tap it as it reads "Tap to add status update"
Once you tap it, you will be able to see the recent images on your smartphone. If you are adding it from the desktop, you can choose the desired folder where your image exists.
Select the image you created with PhotoADKing which is nothing but the WhatsApp Status Design you just made with us. As it is designed according to the standard status size by WhatsApp, be assured that your status will fit any screen size perfectly.
Once the image is selected, you will be taken to a screen where you can add a caption to this status, crop it (if needed), add stickers, or text, or highlight it with a color pen from the controls appearing on the top of your smartphone or desktop screen.
As you select the features you wish to add, your WhatsApp Status is ready to be published.
Hit the Green icon visible in the bottom right corner of the screen and TADA! Your WhatsApp Status Design is published successfully.
So, you just published your first status, what's next? Your work does not end here. There is more to expect from the status that you invested your time to design.
How to analyze your WhatsApp Status views?
Designing a "wow-full" status is one side of the coin while analysis lies on the other. Analyzing the WhatsApp Status holds a vital role too. You need to find out how many of your users have checked it and how many conversions are received.
Here is what you can figure out:
The number of people who have viewed your story
If you have received the expected response from your users
The types of responses received (no. of inquiries, no. of users who didn't respond, etc)
The time when your users are more active on WhatsApp
Customize your Target Audience with WhatsApp Status
When it is to WhatsApp Status for business, it is likely that multiple contacts exist. This may include B2B as well as B2C contacts. What if you want to play "hide and show" with your stories?
You can customize your target audience easily by filtering them with "Status Privacy".
Users can easily manage their audience by selecting the ones they want to show their status to and deselecting the ones who are not expected to view it. The Status Privacy (the first option from the three-dotted icon on the top-right corner) has three options to choose from:
My Contacts (The status will be visible to everyone in your contacts list)
My Contacts Except (Exclude the contacts you don't want to show status to)
Only Share With… (Limit the contacts by selecting the ones who must see the status)
Once you select the target audience, click on 'Done' and your story will be visible to the desired audience only. Moreover, you can reset your privacy right after publishing your story and apply your next filter to show your next story to a particular audience group only.
What if you make a mistake in publishing your WhatsApp Status?
In case, if you realize that you made a mistake or forgot something important to be mentioned in your Status, you can delete it easily.
Open the Status Tab
Click on the three horizontal dots visible right next to your status and select the "Delete" option.
If you have published multiple statuses, you can delete individual ones by opening them respectively, tapping on "View" and then tapping on the Bin icon on the top. That's it.

What else you can do with your WhatsApp Status?
One WhatsApp status can be used for dual purposes i.e. you can utilize the same for publishing on Facebook Story too. As you publish your status, you will view the "Facebook Story" option below your current status on the screen with a "Share" icon on the right. This way, you can directly add this to your Facebook Story too so you don't have to make additional efforts in designing it again.
What does it mean to get your WhatsApp Status 'Design'?
The latest WhatsApp Status Design is a whole different world contributing like anything to conversions for businesses. Even if you are a newbie, you can sail the sea swiftly. Thanks to the internet, you have the power of tools and dashing features to make the best use. All this can be done in just a few minutes and Hola, you'll get a stunning status design to launch on WhatsApp.
3 Tips for Creating Wonderful WhatsApp Status
1. Make WhatsApp Status that looks Professional
No matter if you own a small bakery or have just started a local salon, giving hints of professionalism will work wonders. Publish WhatsApp status in such a way as if it is designed by a specialized Graphic Designer hired by the firm (though you can DIY effortlessly on your own with PhotoADKing).
2. Sprinkle Exciting Add-ons
The palette is all yours with PhotoADKing and you can create magic with stylish elements like frames, stickers, images, backgrounds, font styles, and more. Everything is self-explanatory and you will be out of the factory without any hassle. The key is to use appropriate elements that match your needs.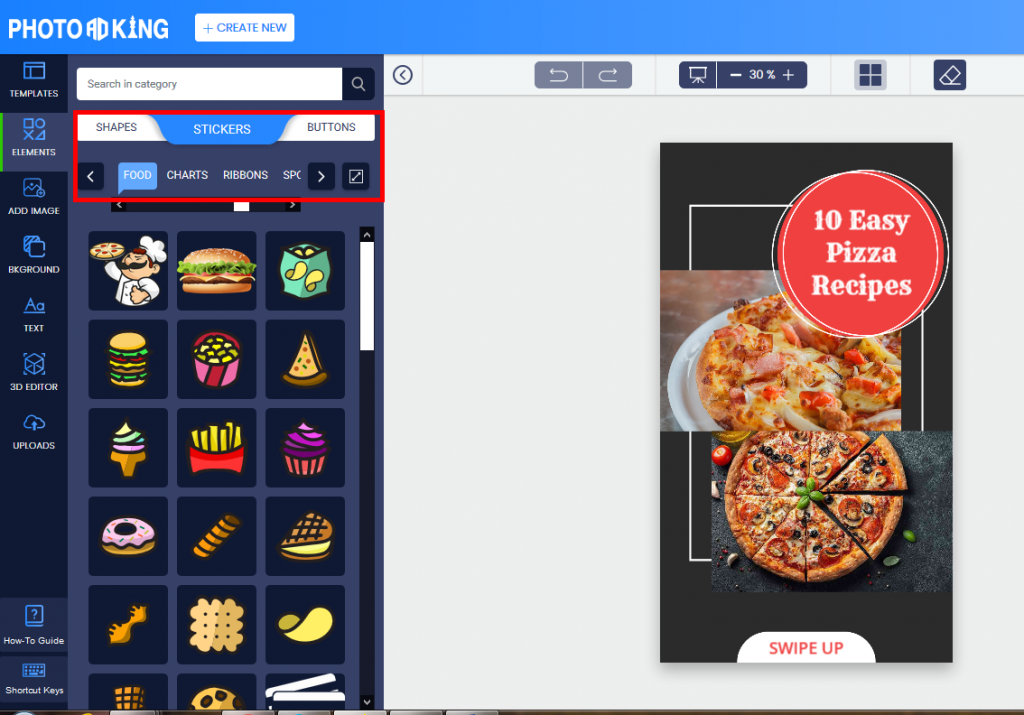 3. Keep it Simple & Sweet
Your WhatsApp Status Design Maker empowers you with everything but not getting overwhelmed will help you win the battle. Keep your WhatsApp Status tidy and cleaner. Overdoing text and graphics will not make your connections stop by and they will just keep tapping for the next.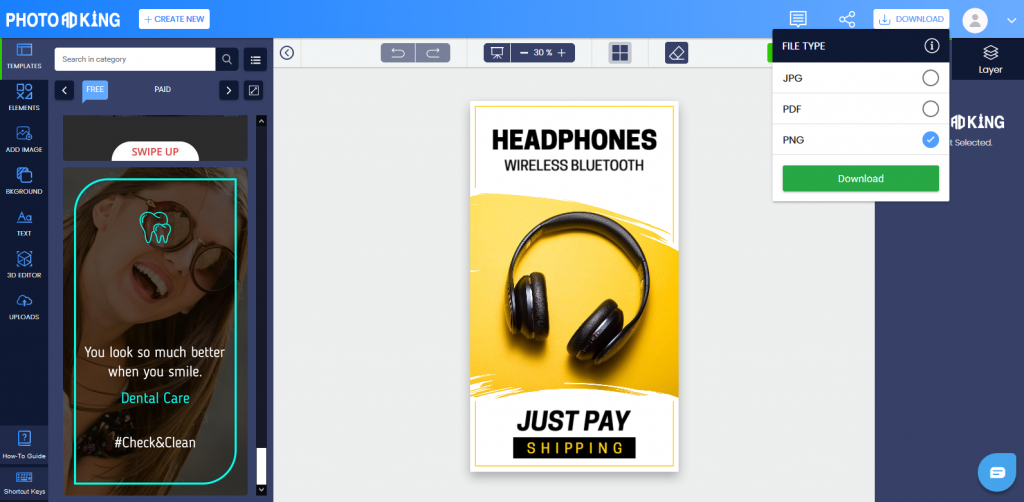 Caring for WhatsApp Advertising is Caring for Business Growth
WhatsApp Advertising is free of cost and so is PhotoADKing. Most features of our App are accessible at no cost and you need to be a Premium Member only if you find yourself more creative. What can be accessed for free will help you earn & nothing seems better than this, isn't it?!
Keep the WhatsApp Status publishing frequency in mind if you want to make the most of your WhatsApp Advertising efforts.
Don't make your users feel bored by spamming their status with all the impressive advertising stuff that you have. There is a time for everything, they say. Moreover, they may have a lot more contacts similar to your business, and irritating users are closing doors for you. But what about the Instagram story. Don't worry you are in the right place. You can get 12 hacks of Instagram story.
Be a wise marketer & use our WhatsApp Status Maker like a pro & witness the inkling chart of sales & conversions.