Online & Offline Marketers are well aware of the importance of Roll Up Banners & the way they can be used as brilliant branding tools, like always. It's a kind of sit back & relax kind of marketing strategy which works like anything, provided that you have worked out like a pro on your roller banner templates.
Before we dig in deep, let's have a glance at a few basics of Roll Up Banners & also see how you can make it online.
What is a Roll-Up Banner?
Also popularly known as pull-up banners, roll-up banners are tangible advertisements that we see stuck at Point-of-Sale terminals or outside a shop on the roadside such as Square point-of-sale. The main purpose is to educate the customers regarding the product/service in the best possible manner. It's a hattrick marketing tool that never goes out of style.
They are, in fact, a daily noticeable thing whether you're driving, visiting a trade show, company exhibition, or business seminars. Roll Up Banners are flexible and one of the most versatile advertising pieces which can be reused indoors and outdoors.
No matter what's your business, you can always have a rollup Banner Template that remains in the eyes of your target audience without wanting you to utter a word.
Roller Banner + Marketing = Deadliest Combination Ever
As you know, roller banners and marketing are the two sides of the same coin. It will give a boomerang effect as dozens and hundreds of leads in turn. Only if you know how to rock your roller banners, you can trigger desired actions therefrom.
For instance, you're launching a new burger combo & you want to increase walk-ins. The best way is to put up eye-catchy Roller Banner Templates outside & inside your outlet so you can make it a hit both ways. The people passing by will see that something exciting is available to try & people loving old burgers will try something different this time.

In a nutshell, Roller Banners are the most affordable branding tools in the world when some traditional techniques are ignored and some modern techniques fall too heavy on the pockets.
Prepare with your Roller Banner Kit First!
Preparations are a must when you are cooking your very own recipe for marketing with a roller banner template. Know what you need so you can center your focus on creativity as you sit down to make an extraordinary pullup banner online.
Rollup Banner Templates are lightweight, easy to install, and transport. They are mostly used in the form of Standees.
You should have your Brand Logo, an attention-grabbing quote, contact details, a service list according to the banner theme, one/more organized images & a call-to-action (Buy Now, Register, Enrol Now, Visit Here, etc). All these details make for a complete roller banner which should be used by keeping future needs in mind.
Make Spellbinding Roller Banner Design Online with PhotoADKing
Accessing an extensive range of Roll Up Banner Designs just got amazing with PhotoADKing. It's probably one of the best online roller banner makers you'll ever come across. You'll find something which fits your pocket, with quality and professionalism as add-ons. Enjoy your own space for designing without needing anyone's help.
Besides including the basics mentioned above, know how your roller banner can make an impact. Every roller banner template is extremely customized and personalized to the marketing purpose it is prepared for.
Let us help you with a step-wise and hassle-free process of roller banner designing online with PhotoADKing.
Step-by-Step Roller Banner Designing
1) Pick a Suitable Roller Banner Design
The very first thing you should do is select a roller banner design that meets your needs. There are several free and paid roller banners that can be accessed as you search for "roll up banner" on photoadking.com. Don't make any haste and scroll through all the template options you have got.
In case, if you like any free version, you'll get it for instant use without paying a single penny. If it's a "Pro" version, you will have to pay for the respective template upon finishing designing.
Don't worry if you want to switch over to any free template even after selecting a paid one as you can easily swap roller banner template designs from the left-hand panel controls.
Before you start designing with the selected template, check on alternatives of it on the left panel to ensure that you have selected the best one.
2) Dive Deep into Sizing & Features
2.1 Using the Right Panel Controls to the Fullest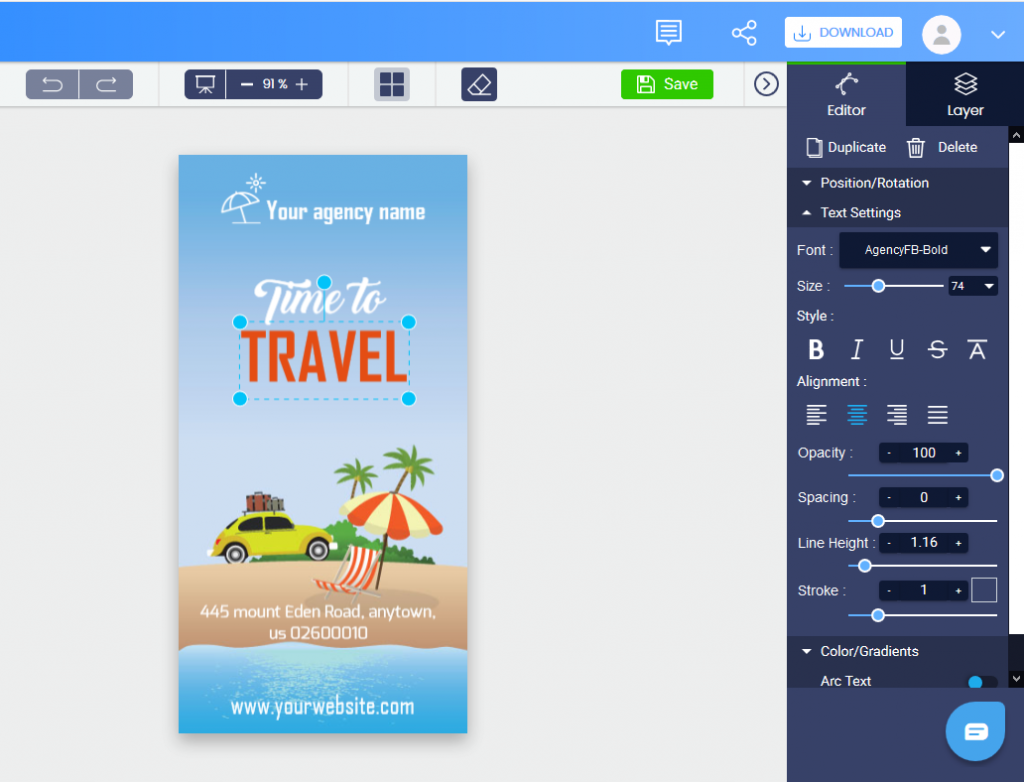 Once you have finalized the template, customize it as needed. As you know, pull-up banners can be in small, medium, or large sizes, depending on the information to be highlighted. You should know the size of the roller banner that you are about to create so that no conflicts occur at the time of printing.
A most common mistake made by online roll-up banner designers is to overlook size & dimensions which adds to rework & wastage of time.
Have a look at "Position" & "Size" in the Editor section on the right side of the screen where you have more options to explore. You can also flip or rotate, crop or erase, add effects or experiment with colors and filters to make out the most of your banner.
2.2 Making most of the Extreme Left Panel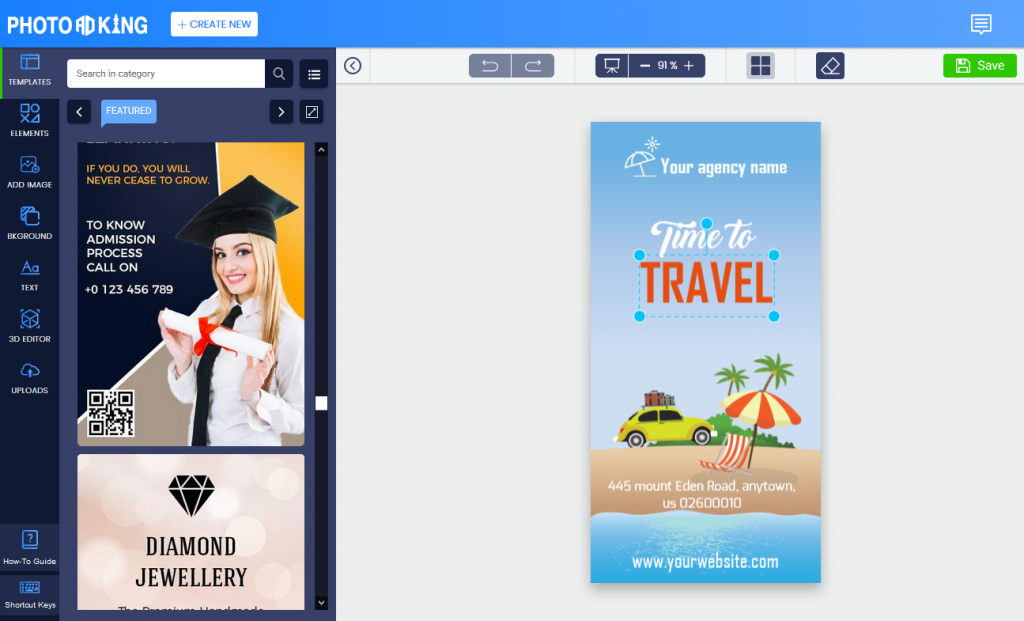 Check out the available elements, add images, modify the background, play with the fonts, and also access 3D Editor for better and more precise design. You can customize the given banner with everything as per your taste and preference. Have a check on the extreme left panel & see what can be used to make a better one.
2.3 Add Necessary Details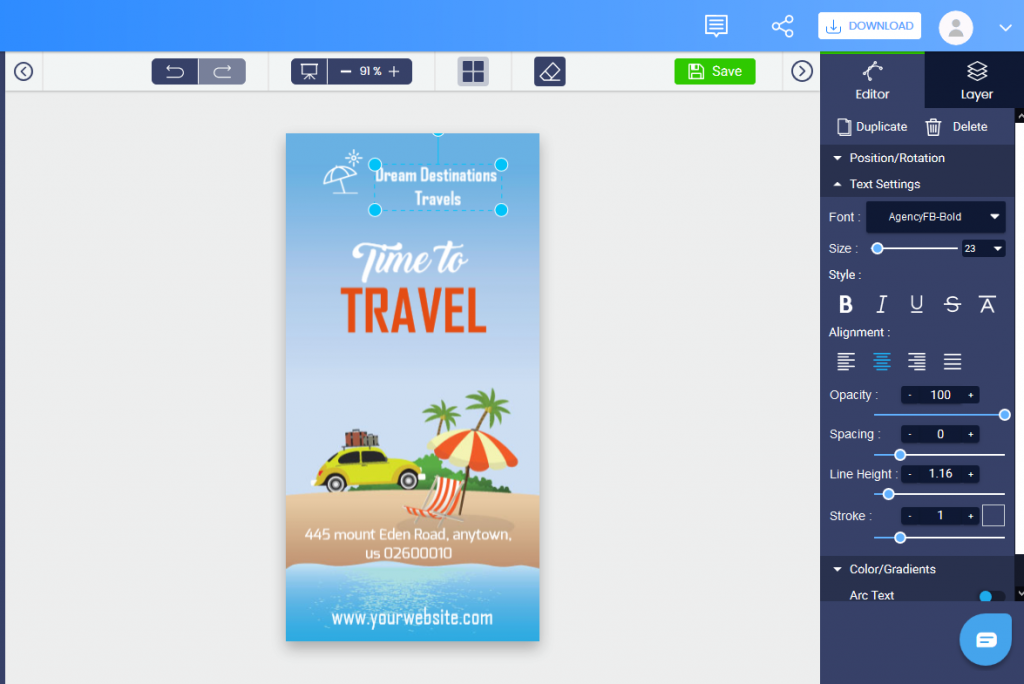 You know what details are 'must-haves' for this roller banner. Make sure you place every detail thoughtfully so that the pullup banner looks tidy, clean & professional. The focal text should be highlighted. Add contact details at the bottom of the banner in a font size that is visible properly. For more details on this, you can also have to check out the tips to create a wonderful roller banner on Google.
2.4 Download & Use
Once your Roller Banner Design is ready, you can pay for it and download it instantly. As it is already in a high-quality format, you can share it straight away with someone who can print it at affordable rates for you.
Done with Roller Banner Creation, What next?
No wonder you'll be thrilled with the experience of designing a roller banner in a clutter-free way with PhotoADKing. Why don't you try your artistry with our 30+ Roller Banner Templates right now! You also can learn about Wedding Announcement templates through this.
Also, take a few moments to share your experience with us by adding your precious review & ratings, and also share your feedback so we can improve our services.