BeFunky is a fantastic graphic designing tool, however, it does have some restrictions. As a result, customers hunt for a BeFunky alternative with better and more useful features. This blog will inform you about one of the top tools in the market.
Many people who are not graphic designers want an easy-to-use solution that meets all of their design demands. There are other BeFunky options on the market, but PhotoADKing stands out above the rest. Many people used to like BeFunky, but there are now many other options to pick from.
BeFunky vs PhotoADKing (Quick Comparison)
We have put together a quick comparison of both tools so you can choose the best one for your needs. Look at the table below:
BeFunky and PhotoADKing are two of the best graphic design tools available. Both provide a wide range of functionality as well as easily customizable templates. PhotoADKing appears to be a step ahead because of the numerous additional functions that BeFunky lacks.
The Key Features of PhotoADKing – The Top BeFunky Alternative
PhotoADKing is a powerful BeFunky alternative that lets users produce stunning images for their projects. The site has a wide range of services that allow users to edit images, and create flyers, posters, banners, and brochures, among other things. Here are some of PhotoADKing's most important features:
Pricing (Per Month)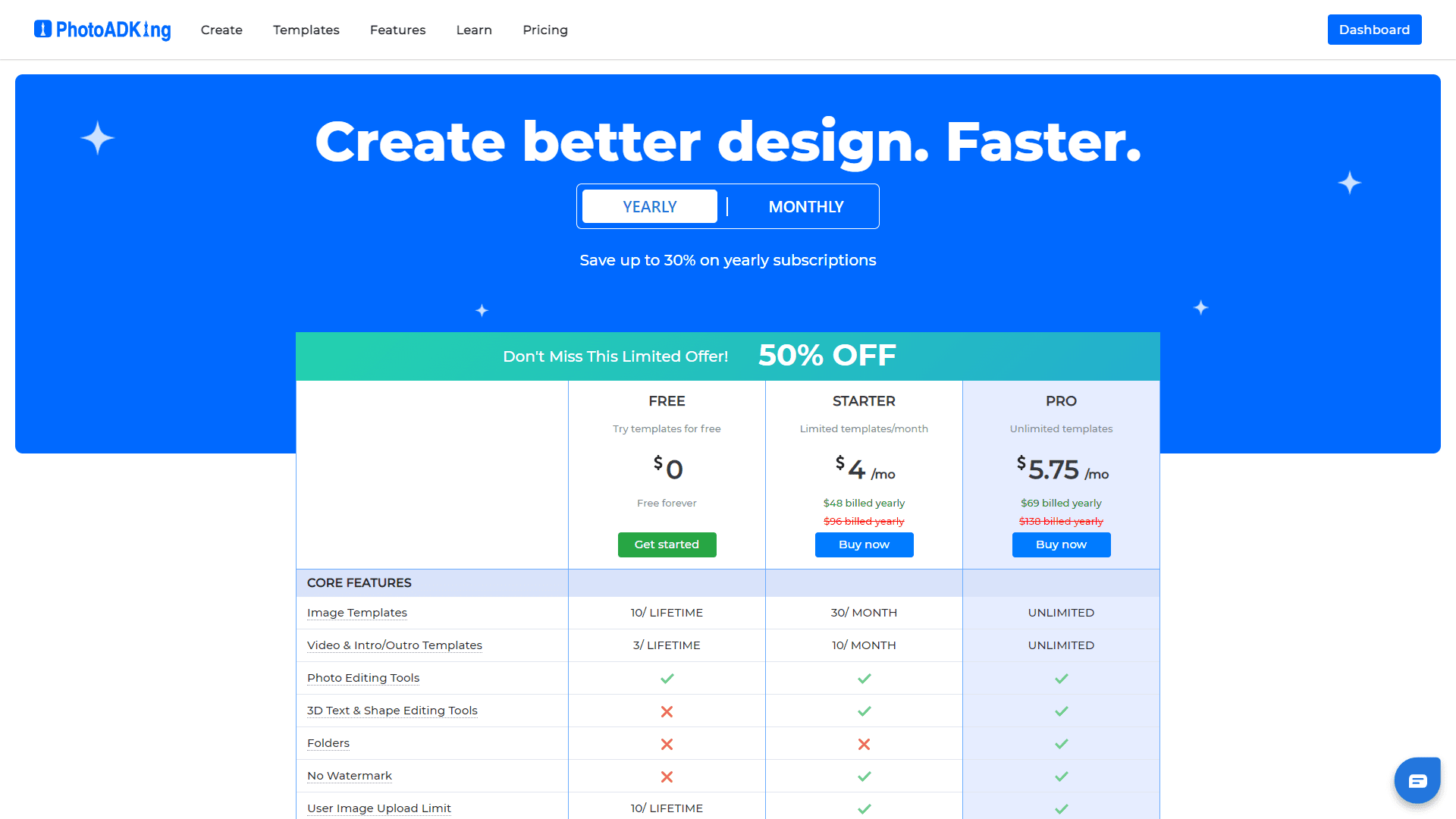 PhotoADKing's pricing is fairly moderate, making it an affordable BeFunky alternative for folks who need to produce outstanding photos and designs without paying too much money for a good deal.
One-Time Purchase (Limited Period Offer)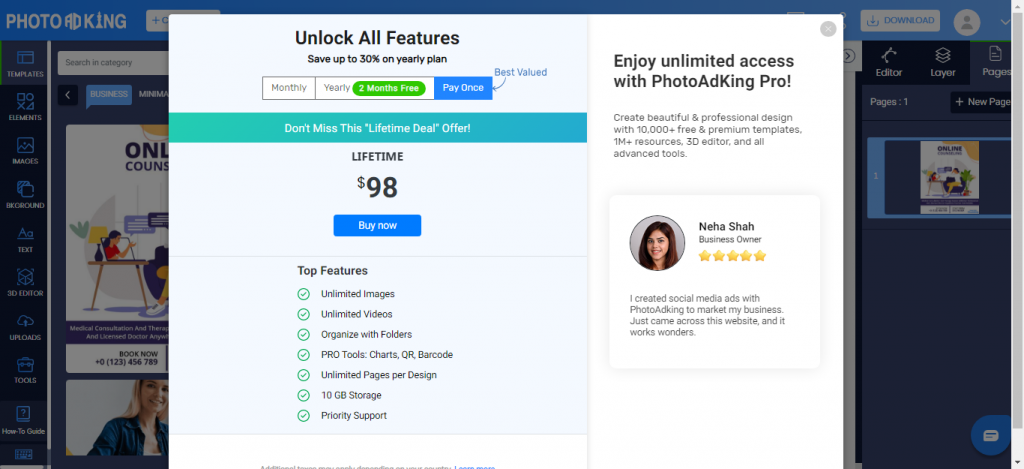 If you work in the creative design sector, you understand how crucial it is to have a fully functional design tool. PhotoADKing is the one that offers a one-time buy-for-a-lifetime deal.
You might not find this feature with BeFunky, therefore PhotoADKing is your best bet if you're looking for it. For an incredible $98 you get access to all of the premium templates and features.
Templates on User Demand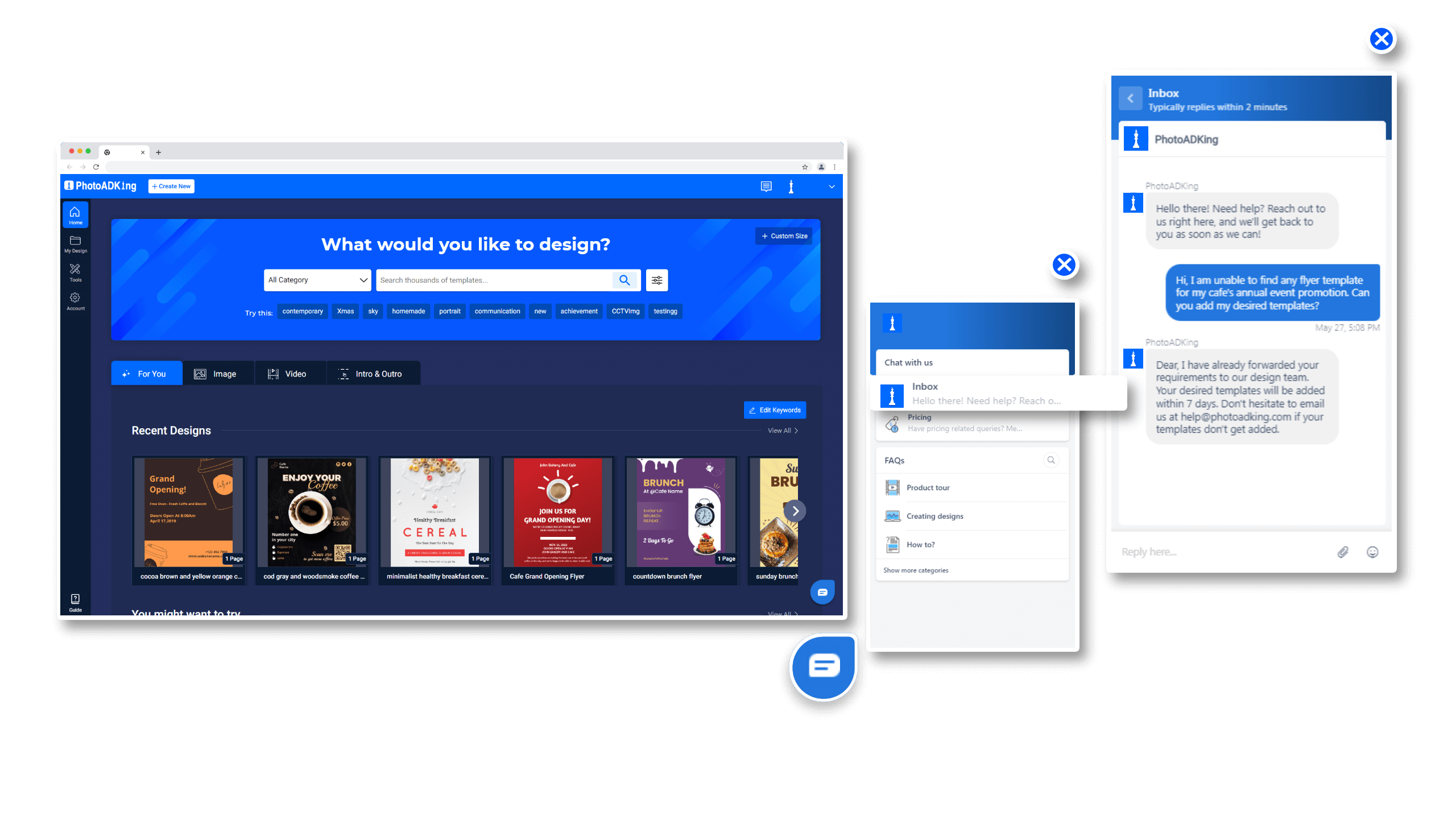 PhotoADKing now offers templates on demand. As a result, you can directly request specific templates for your project. Send a message through the help center or an email with your template request. PhotoADKing's purpose is to produce the template as soon as possible and make it available to users.
Layer Editor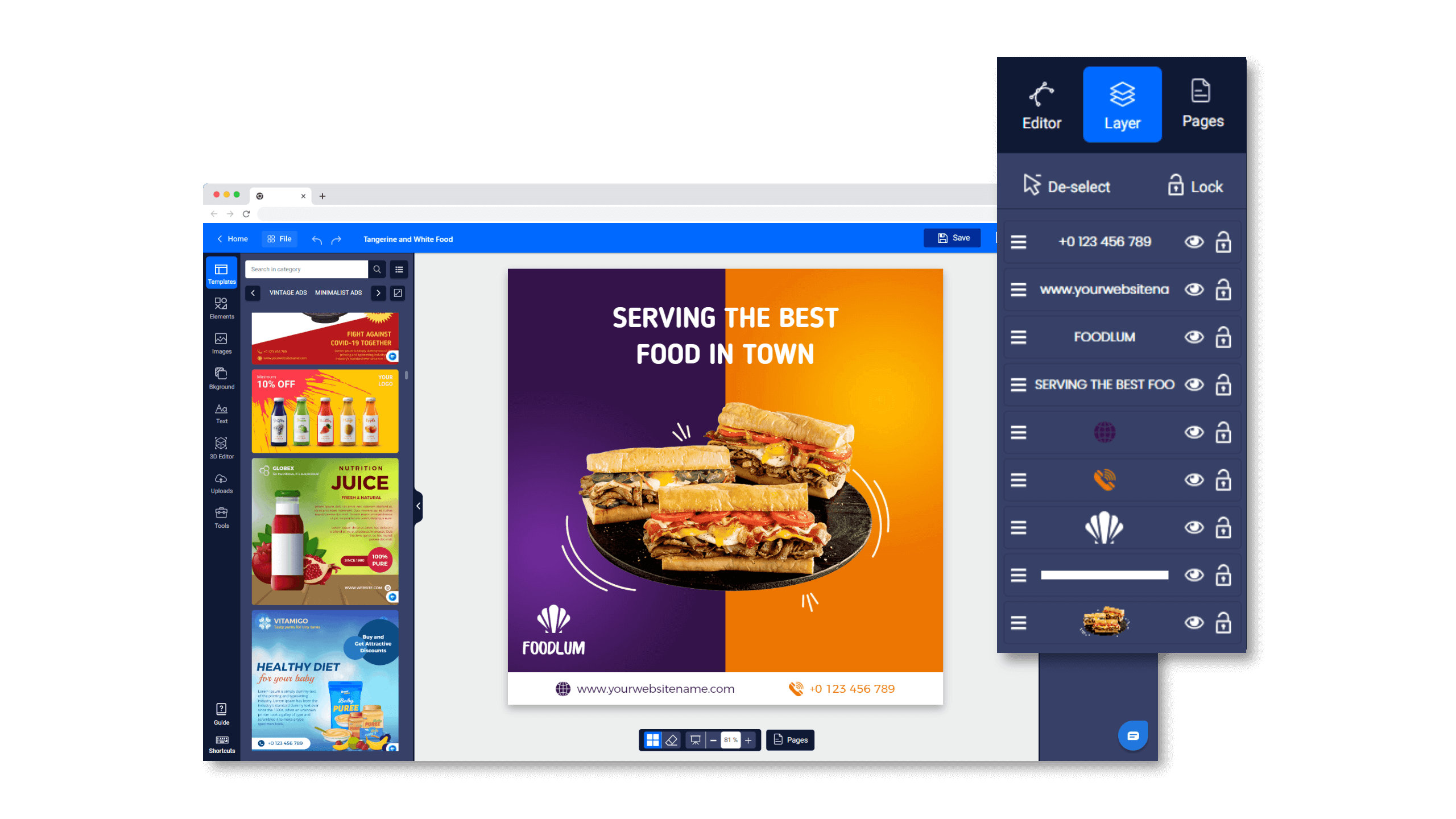 If you're serious about your profession, you should pick a tool with more features and settings than BeFunky. Using the Layer Editor, you can simply manage your design elements and make adjustments with a few clicks. Layers can be hidden or locked and repositioned within templates as needed.
Upload Your Own Font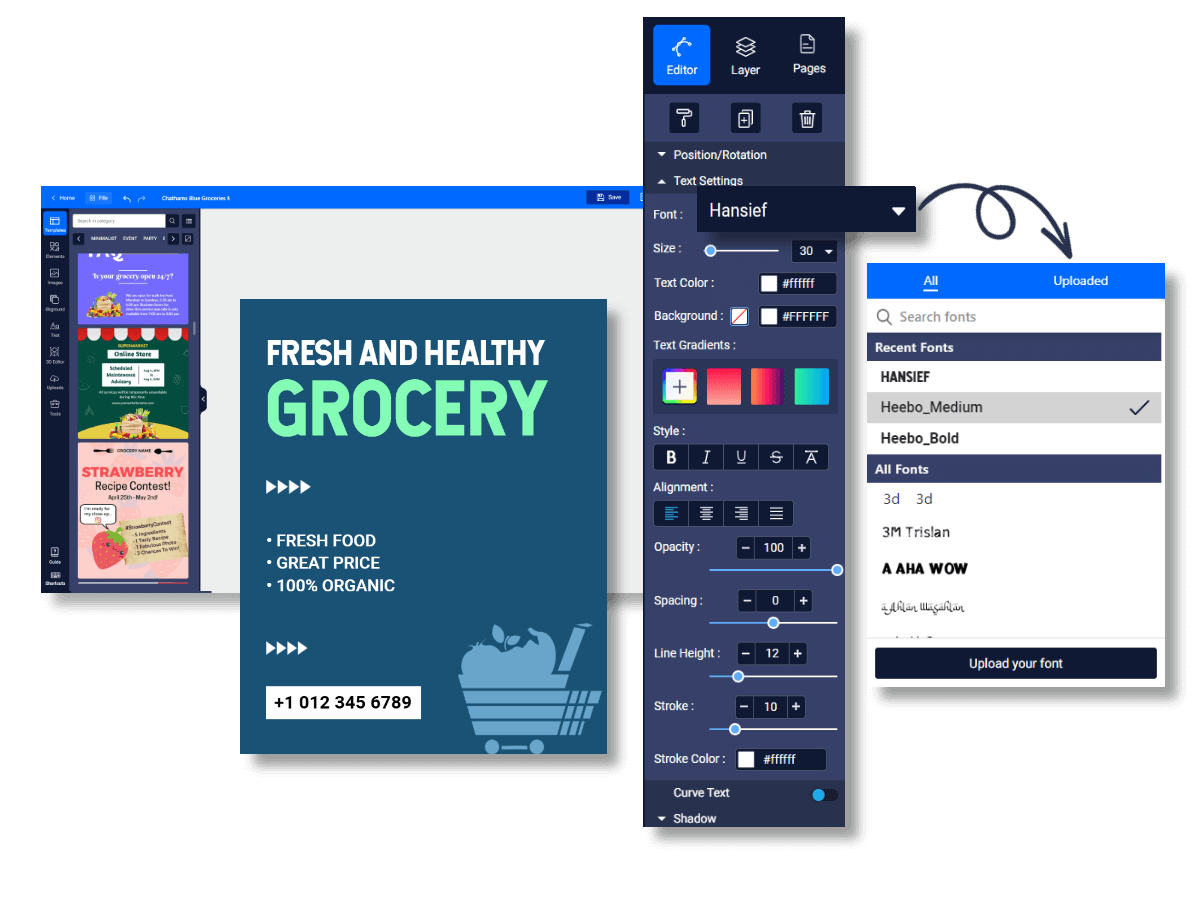 Did you know that PhotoADKing allows you to choose your own font? This is an excellent approach to ensure that the typography in your designs is consistent with your brand identity. To upload a font, go to the Text Setting and click the "Upload Font" option. You can use it as soon as it is uploaded, just like any other font in the library.
Chart Templates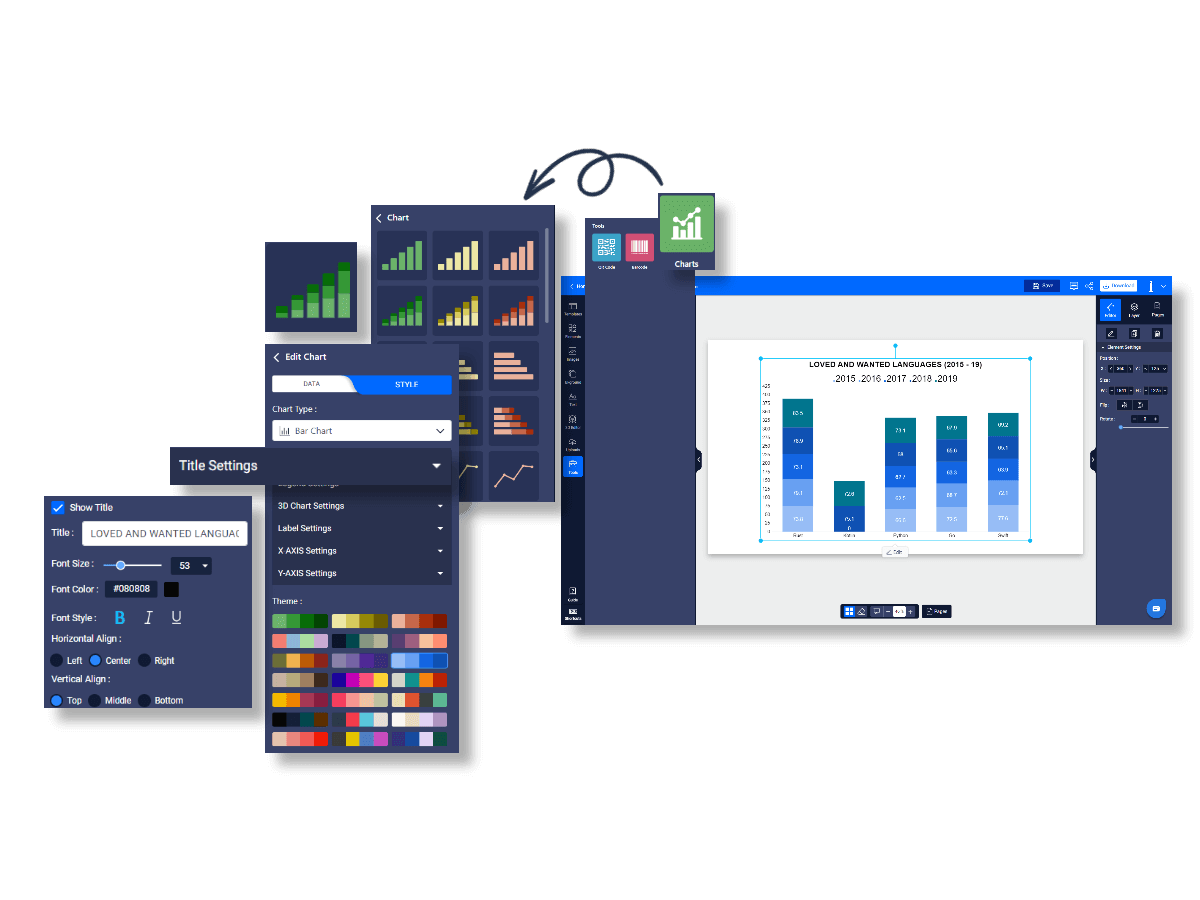 The charts featured in PhotoADKing are unrivaled. The simple interface and number of built-in templates and designs make it easy to create eye-catching charts.
This Chart Maker has all of the tools you need to quickly and easily construct a simple line chart or a massive multi-layered pie chart.
PhotoADKing's chart templates are an excellent method to make your data more visually appealing. You'll have no issue choosing one that matches your needs with so many various designs and styles to choose from. The PhotoADKing templates are simple to use and modify, allowing you to personalize them to your specific requirements.
Social Media Content Calendar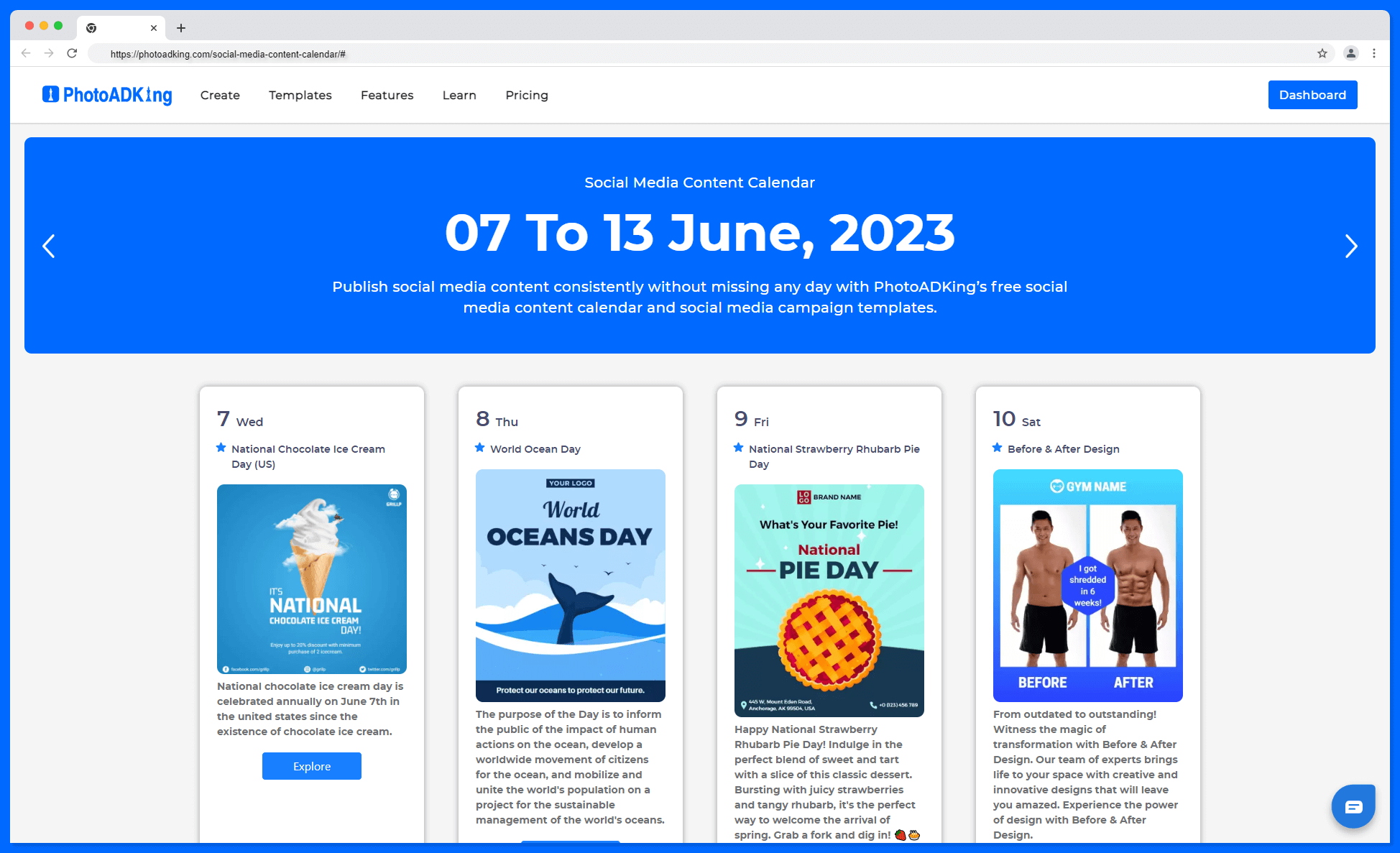 If you're looking for a social media content calendar, PhotoADKing has you covered. This feature assists you in tracking your material and publishing it on critical dates. With this calendar, you can plan your content ahead of time and verify that it aligns with your company objectives.
Content calendars are an excellent method to keep organized while concentrating on your social media marketing strategy. The nicest aspect is that special occasion templates are available with a single click. You can also customize the designed template.
QR Code Generator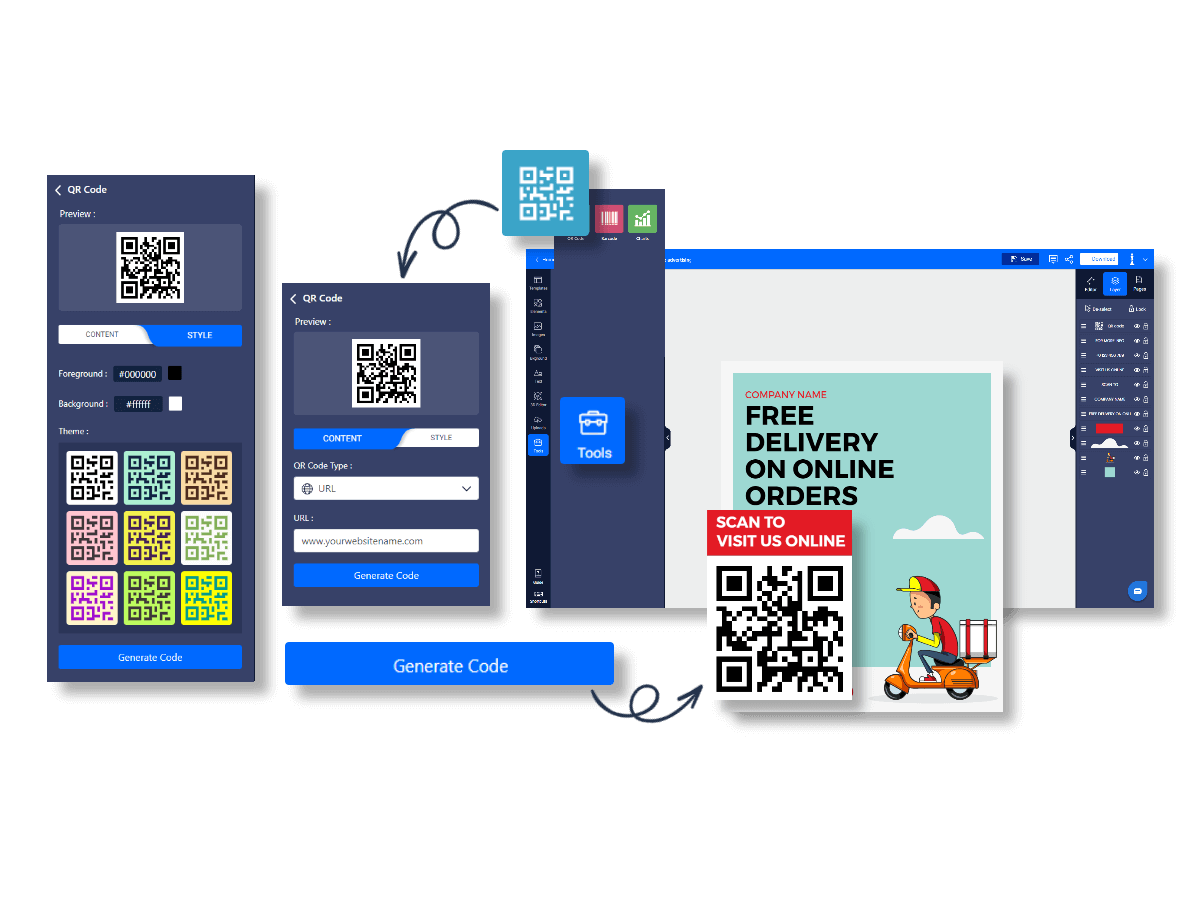 With QR codes, businesses can engage with customers in a more innovative way. You can create your own codes to open URLs with PhotoADKing's QR Code Maker. Provide your customers with contact information with a company QR code. A QR code can be affixed to your business cards as well.
You can create a QR code that automatically dials a number when you scan it. QR codes from PhotoADKing let you share your phone number quickly and easily.
Barcode Generator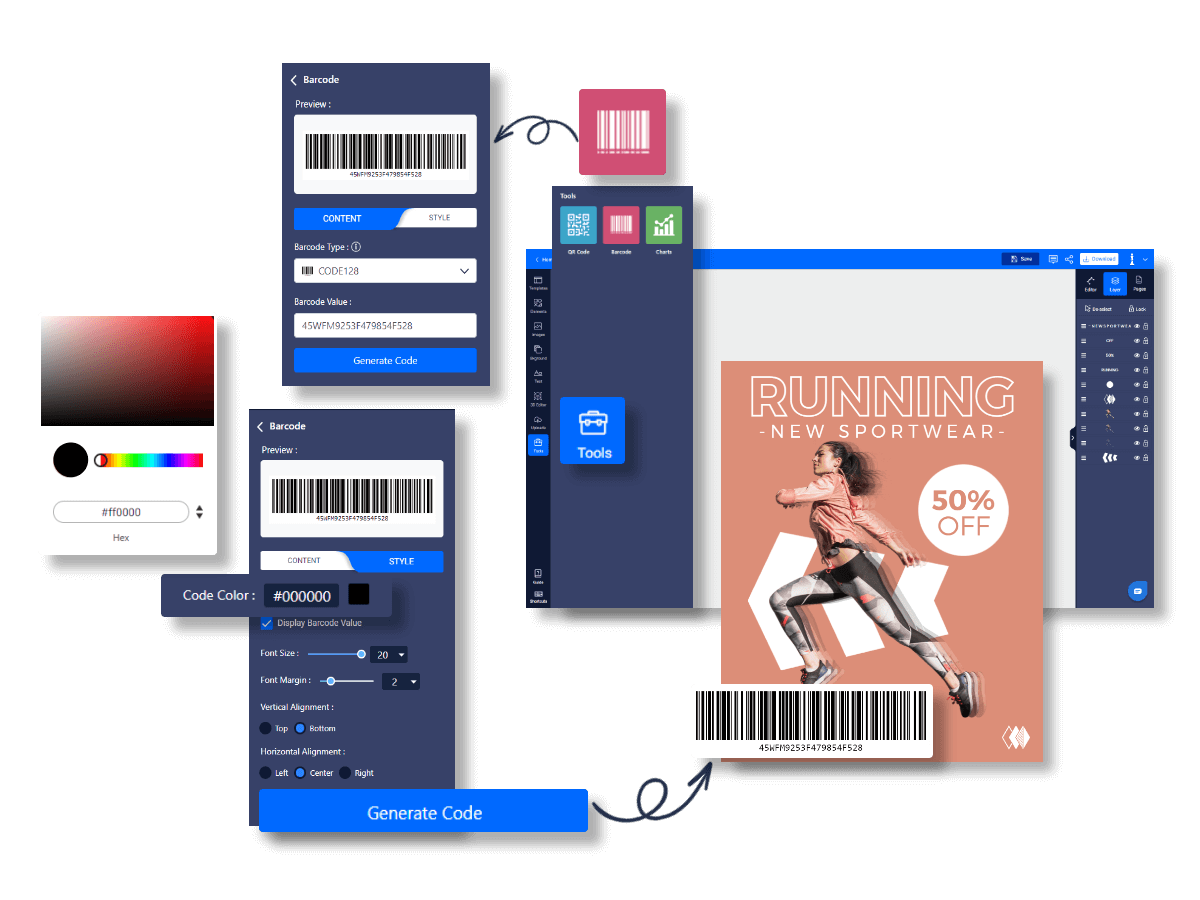 Barcodes are fantastic for making your marketing materials stand out. This BeFunky alternative offers various types of barcodes. You can generate barcodes like code 128 barcode, UPC barcode, EAN8 barcode, Code39 barcode, ITF14 barcode, and Codabar.
The barcode generator is simple to use and can be tailored to meet your specific requirements. PhotoADKing also has a variety of sizes and colors to choose from so you can choose the right one for your project.
Blend Mode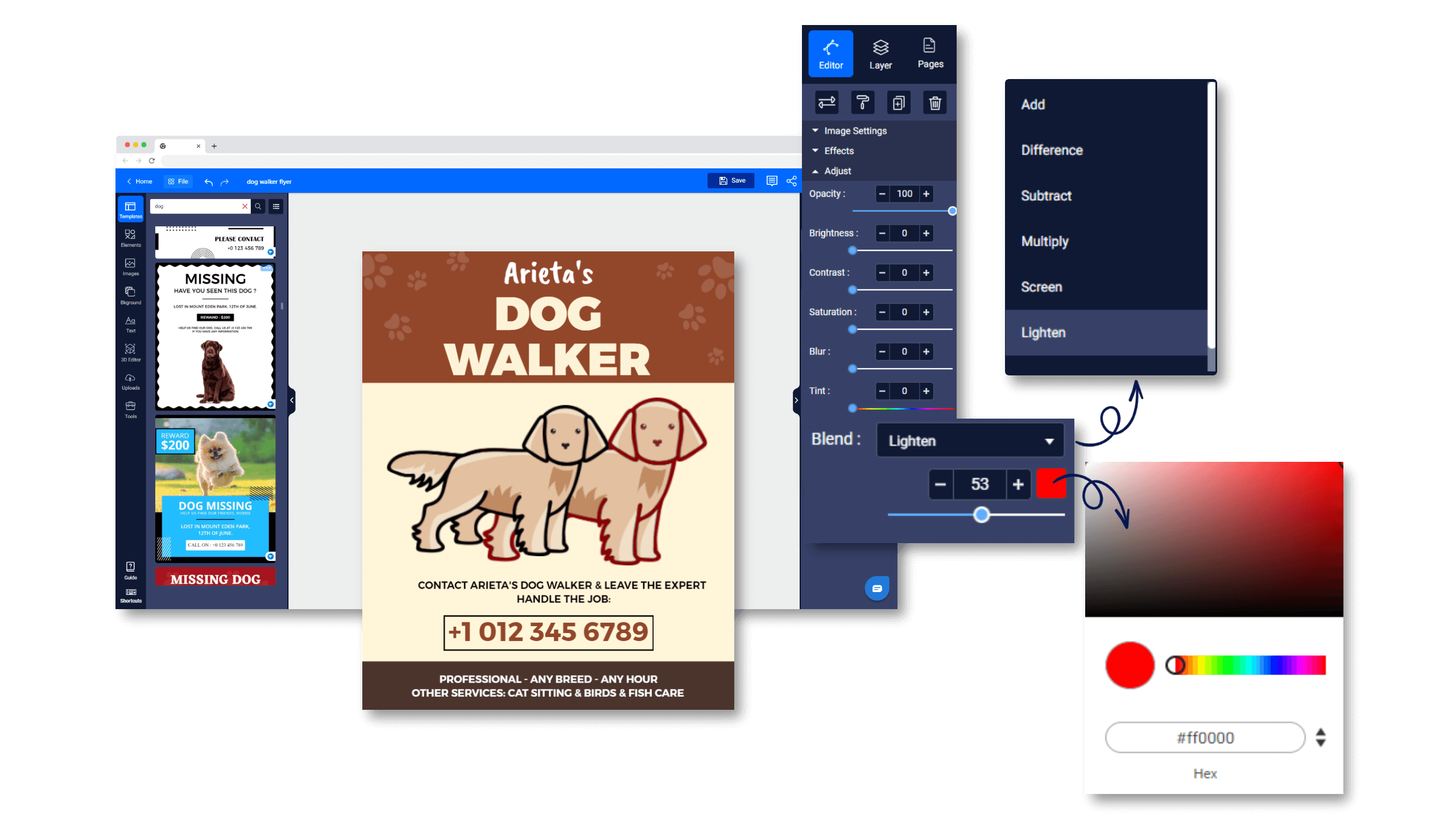 A blending mode is a layered effect that changes how colors blend with colors on lower layers. The appearance of your illustration can be changed simply by altering the blending modes. The Blend Mode function in PhotoADKing is a fantastic method to add a little bit of appealing impact to your visuals. The Blend Mode can be used to create a wide range of effects, from subtle to spectacular. To make your shape stand out, experiment with different blend modes such as add, subtract, screen, and lighten.
3D Shape & Text Editor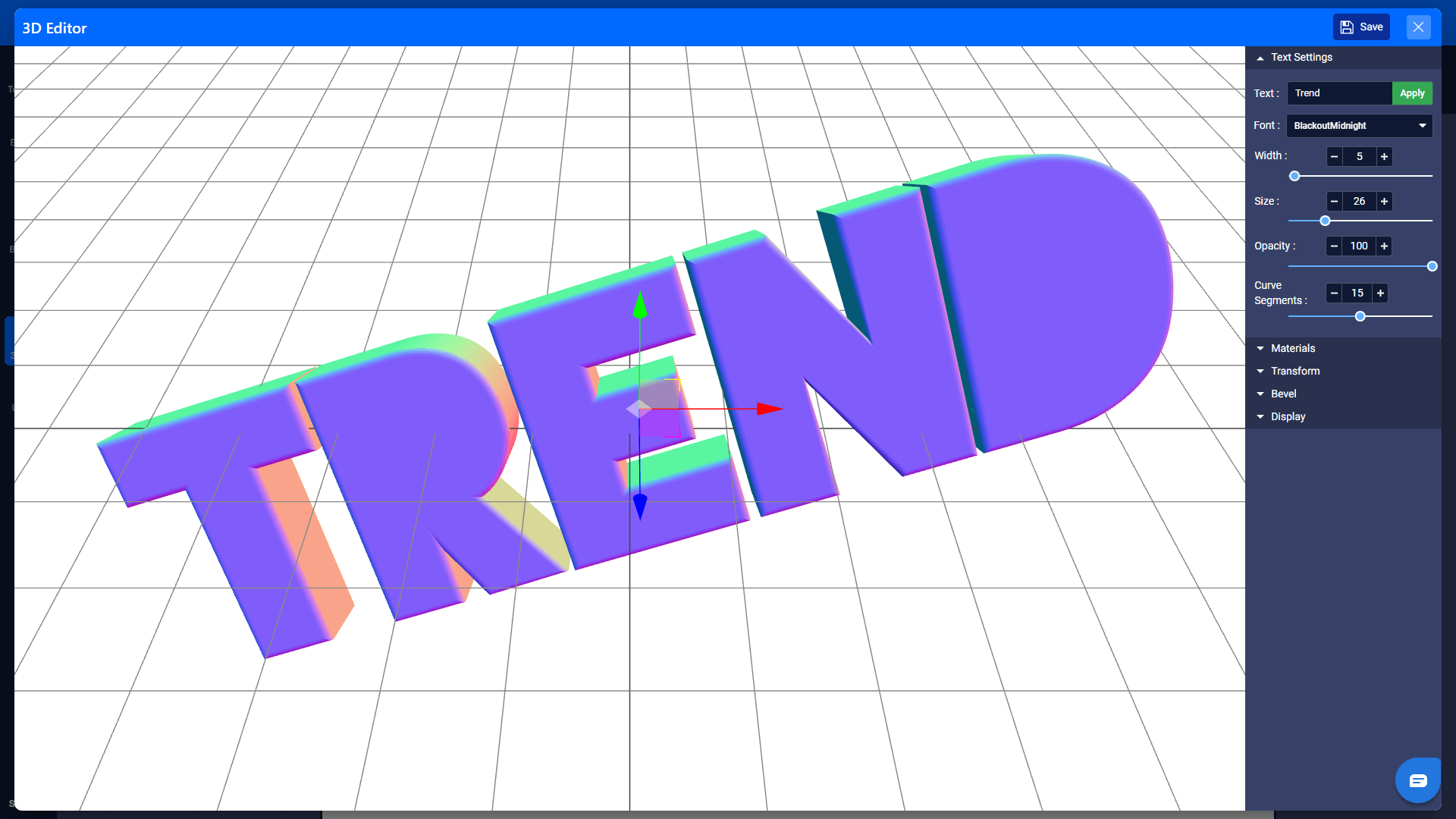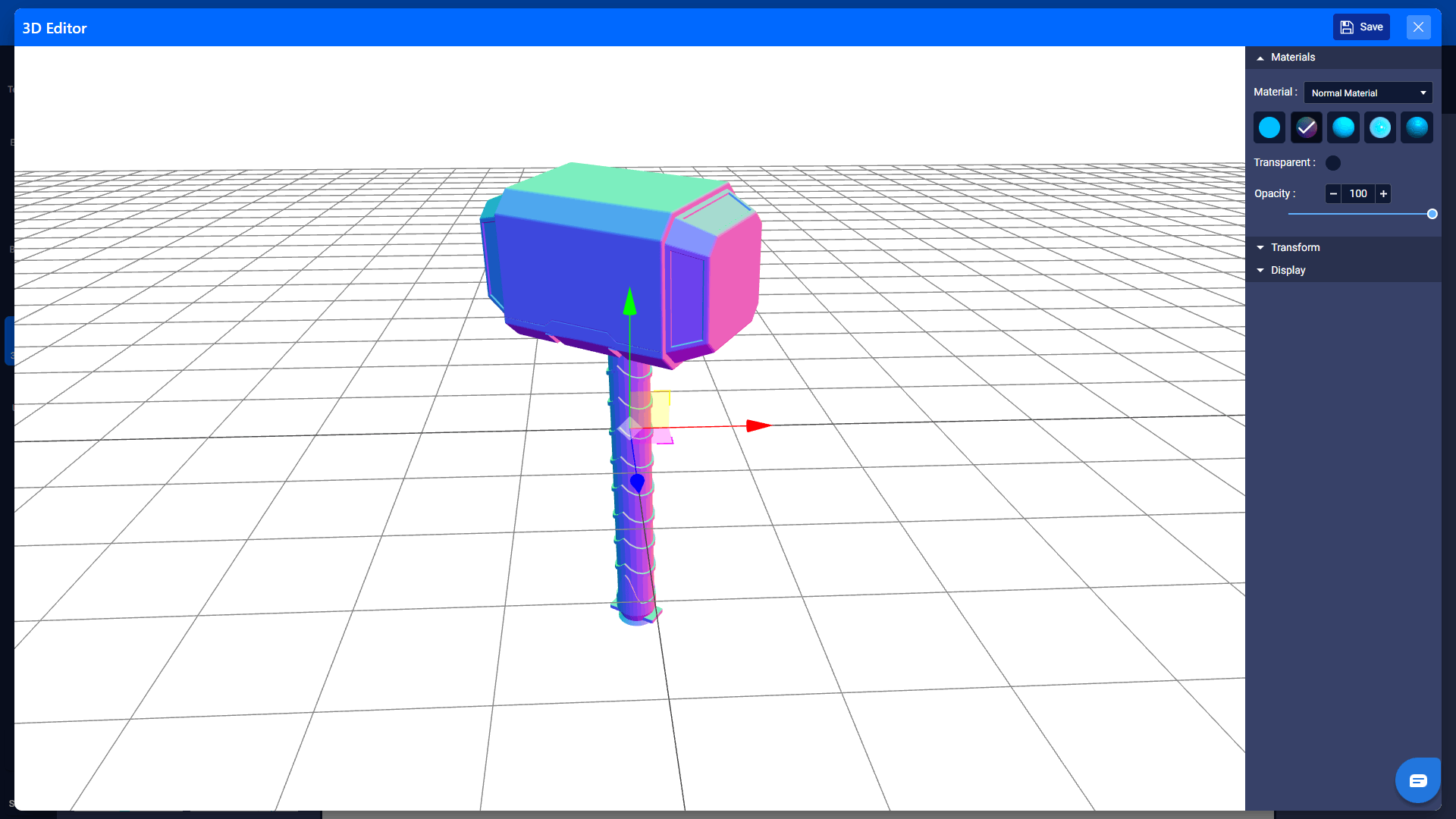 PhotoADKing's 3D Shape & Text Editor is an excellent tool for making your ideas stand out. Using this tool, you can easily add three-dimensional shapes and text to your projects, giving them a unique and professional aspect. Best of all, you won't find this feature on a tool like BeFunky, and PhotoADKing provides it so you can take your design work to the next level.
Using the 3D editor, you can create unique effects for text and shapes. Make text or graphics come to life by customizing the material type, gloss, and color. Choose what you want to see for the object, such as movement, rotations, scale, shadows, and more.
Conclusion
BeFunky is an established online visual design tool. Despite this, PhotoADKing is the greatest option for both professional and non-professional graphic designers. It has more functions and is easy to use. It is enriched with greater customization choices and more professional-looking templates that meet all of the users' design needs.
Most importantly, PhotoADKing's editor is simpler and easier to use. As a result, PhotoADKing will be your best option over any other design tool.