Get the right dimensions for your YouTube thumbnails with our YouTube Thumbnail Size Guide. Ensure your thumbnails are eye-catching and help drive views for your videos. Find the perfect size, resolution, and aspect ratio for your YouTube thumbnails now.

What if we say that showing creativity in the teeny-tiny YouTube thumbnail size can bring major changes to your video views? If you're curious enough about taking those baby steps, read this blog till the end.
Why it is important to create a YouTube thumbnail?
You never realize how important YouTube Thumbnails are until you learn some techniques to try & test with them. Just like your video title, YouTube Thumbnails can make it a hit or miss. It's the magic of YouTube Thumbnail dimensions that attract viewers before they hit your video. You can now assume what level of creativity it takes to convince viewers to watch your content.
After all, your video isn't the only one on the given topic. The numbers of alternatives are below & above yours. Your YouTube Thumbnail shoulders the responsibility to steal the show.
But what if you have a perfect thumbnail for your YouTube video but it is not attractive that should be? Even if your YouTube video's thumbnail is in the perfect dimension but if it is not attractive, no one will click on your video and you will lose your attention. To get maximum attention you should use attractive and click-worthy YouTube thumbnails.
before that, you should have a knowledge of graphic design. Don't worry, PhotoADKing can help you if you are not that good at graphic design. PhotoADKing has 1000+ YouTube thumbnail templates that can help you to ease your work. All YouTube thumbnail templates are fully editable and designed by professional graphic designers.
YouTube Thumbnail Size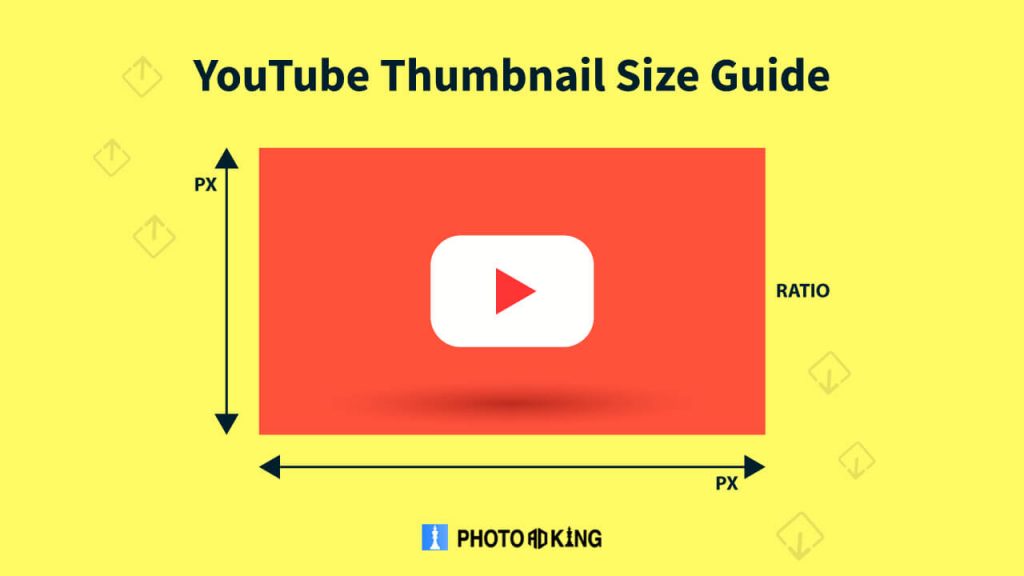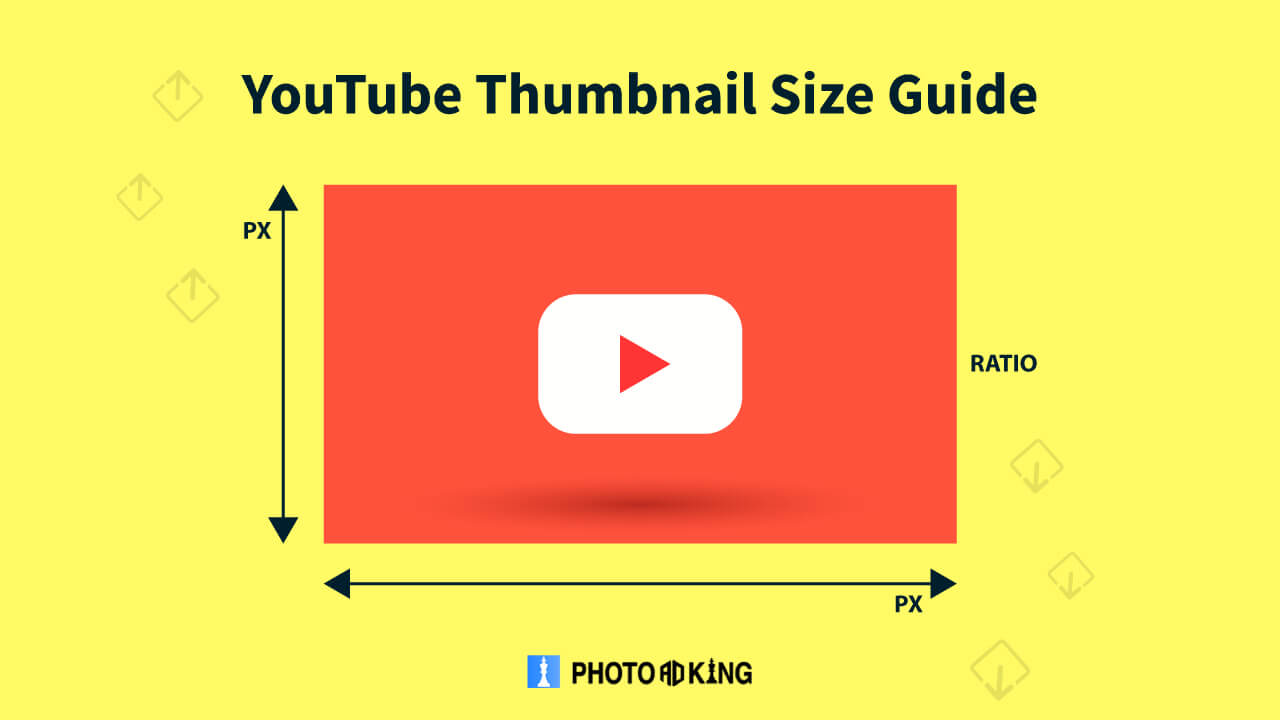 1280*720 pixels is the ideal size for a YouTube thumbnail.
Talking about YouTube thumbnail size further, here are some details you should consider:
Minimum Thumbnail Width – 640 Pixels
Maximum File Size – 2 MB
Recommended Ratio – 16:9
Preferred File Types – .jpg, .png, .gif, and .bmp
Minimum Thumbnail Width
Although 1280 x 640 pixels is the ideal width, 640 pixels is the minimum advised width for a thumbnail image.
Maximum File Size
A YouTube thumbnail image can be uploaded in files no larger than 2MB. For it to be possible to successfully upload to YouTube, keep the file size under 2MB.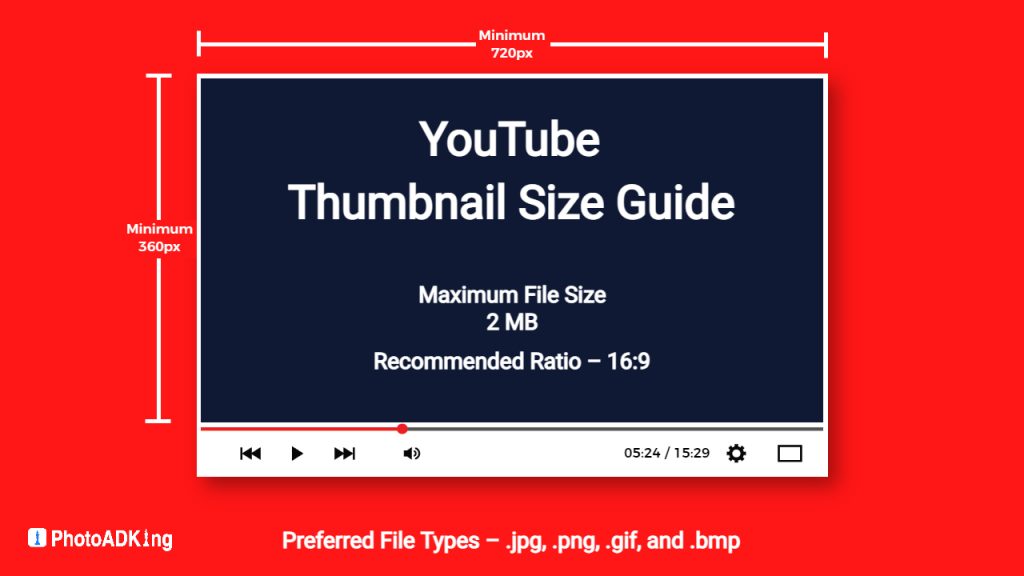 Recommended Ratio
The aspect ratio of your thumbnail picture should remain at 16:9. By measuring the width and height of the image and expressing the comparison as a ratio, the aspect ratio is determined.
Why is it 16:9? Because YouTube players and previews most frequently use that aspect ratio. To ensure that your thumbnails adhere to this ratio, you might utilize a straightforward aspect ratio calculator.
Preferred File Types
For a thumbnail image, YouTube will accept files in the following formats: jpg, png, gif, and bmp.
Are you trying to make your YouTube video's thumbnail image custom? You must first enable this functionality on YouTube in order to be able to establish a custom thumbnail for a video there. Discover how you could achieve it by reading on.
Besides keeping the YouTube thumbnail dimensions in mind, you also have to consider these aspects. It helps you create an ideal YT thumbnail.
---
Best Practices of YouTube Thumbnail
The YouTube thumbnail is often the first thing that viewers see when they come across your video, and it's a crucial aspect of your overall video marketing strategy. By following these best practices, you can create an effective YouTube thumbnail that will help you to achieve your video marketing goals. Whether you're a small business owner, marketer, or content creator, these tips will help you to get the most out of your YouTube channel and reach your target audience.
High-Quality Images
One of the most important things to consider when creating a YouTube thumbnail is the quality of your images. You want to make sure your images are clear, crisp, and of high quality. A blurry or pixelated image can make your thumbnail look unprofessional and discourage people from clicking on your video. It's also important to choose images that are relevant to your video content, as this will help to draw people in and give them an idea of what to expect from your video.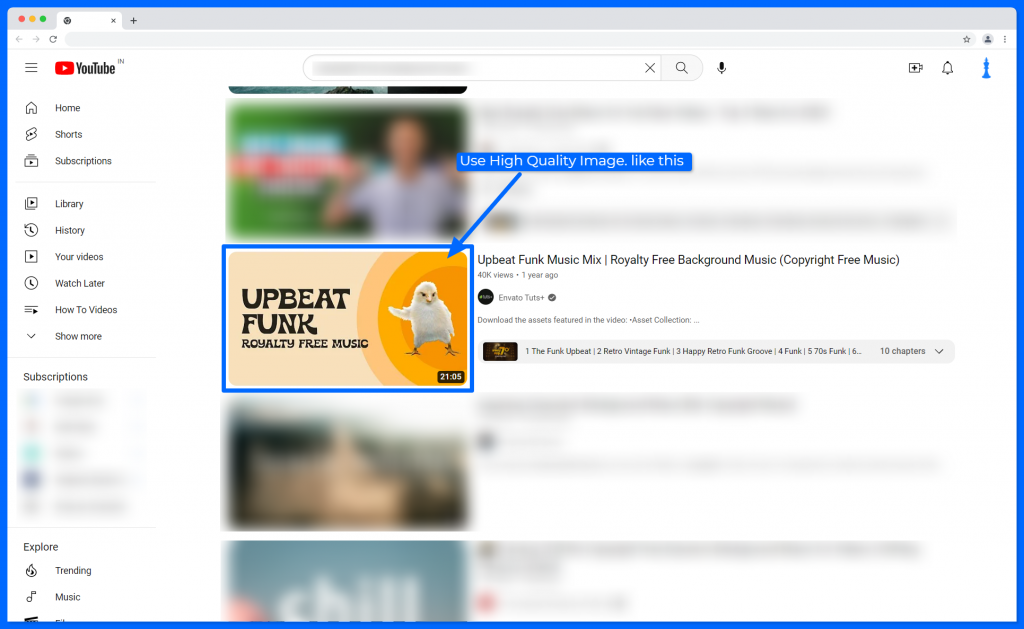 Make it Visually Appealing
In addition to the quality of your images, it's also important to make your thumbnail visually appealing. This means using bold colors, contrasting images, and attention-grabbing graphics. You want your thumbnail to stand out on the search results page, so be creative and don't be afraid to try out new things.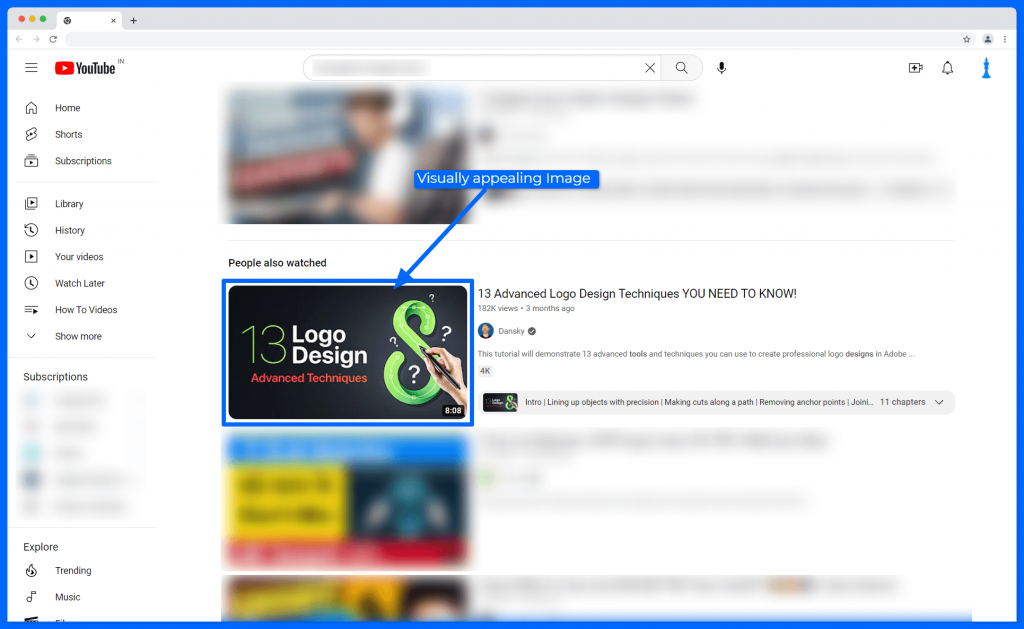 Choose the Right YouTube Thumbnail Size
Another important factor to consider is the size of your thumbnail. The recommended size for YouTube thumbnails is 1280 x 720 pixels, as this provides the best resolution and clarity. By using this YouTube thumbnail size, you'll ensure that your thumbnail will look great on any device, whether it's a desktop computer or a mobile device.
Include Text Sparingly
Text can be a powerful tool for grabbing attention, but it's important to use it sparingly. Too much text can make your thumbnail cluttered and difficult to read, which can discourage people from clicking on your video. When using text, make sure to choose a font that is easy to read and fits in with the overall look and feel of your thumbnail.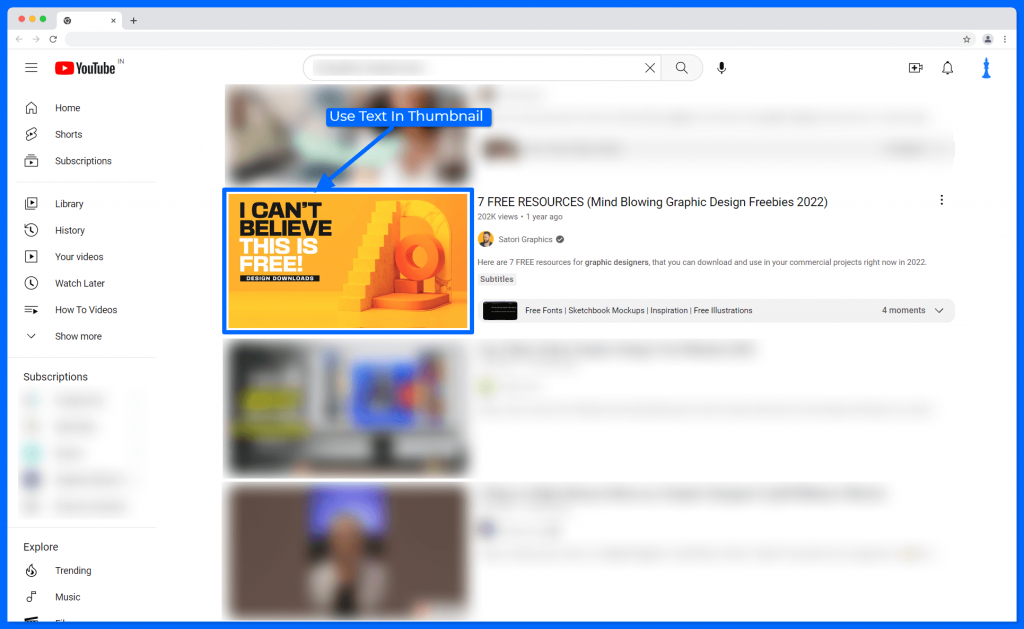 Showcase the Key Message
Your thumbnail should accurately represent the content of your video and give people an idea of what they can expect to see if they click. Make sure to highlight the key message or theme of your video, and use images and graphics that support this message.
---
Perfect Your Thumbnail with These no-nos
Don't Use Copyrighted Images
Never use copyrighted images in your thumbnails. This can get you into legal trouble and could result in your video being taken down. Always make sure to use original images or ones that are licensed for commercial use.
Don't Misrepresent Your Content
It's also important to avoid misrepresenting the content of your video. Don't create a thumbnail that misrepresents the content of your video, as this can lead to high bounce rates and low engagement. People will feel misled by your content, and this can damage your brand image and reputation.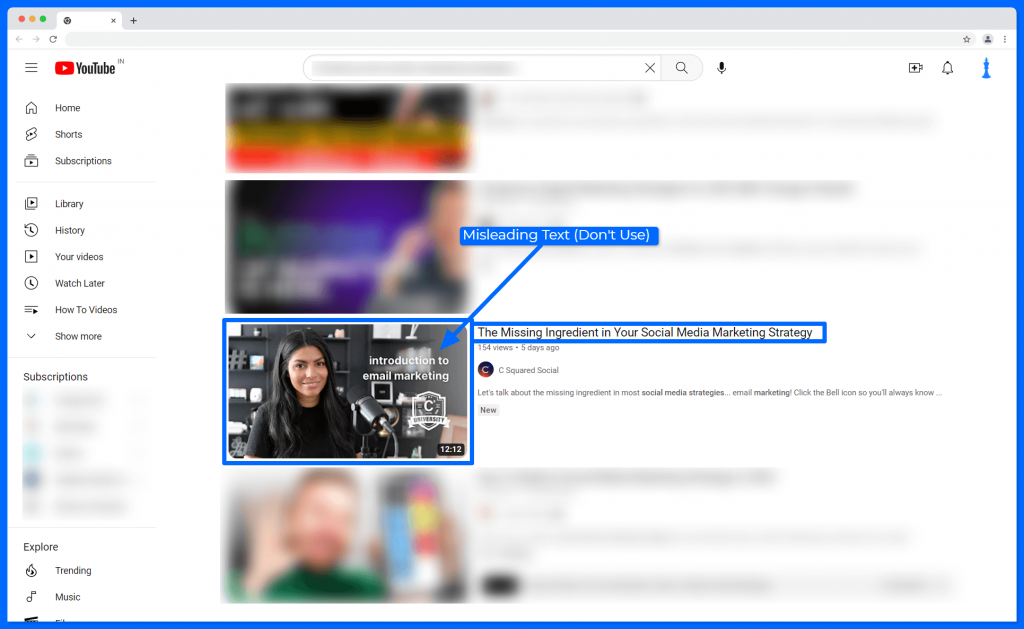 Don't Use Low-Quality Images
In addition to avoiding copyrighted images, it's also important to avoid using low-quality images or graphics in your thumbnail. This can make your thumbnail look unprofessional and detract from the overall appeal of the thumbnail.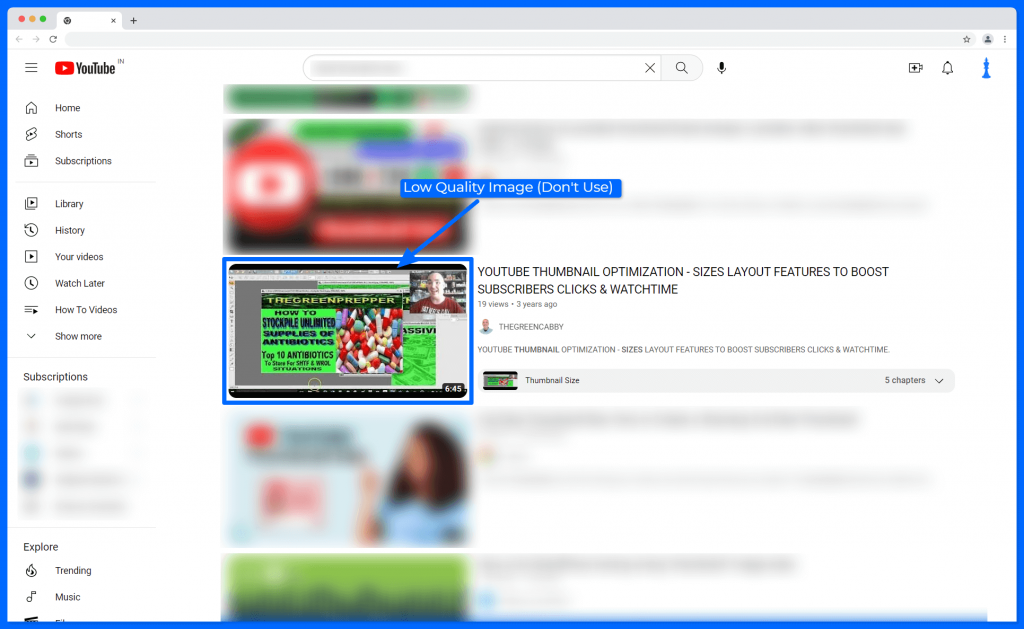 Don't Make it Too Busy
Finally, it's essential to avoid making your thumbnail too busy with multiple images, graphics, and text. This can make it difficult for people to understand what your video is about and can detract from the overall appeal of your thumbnail.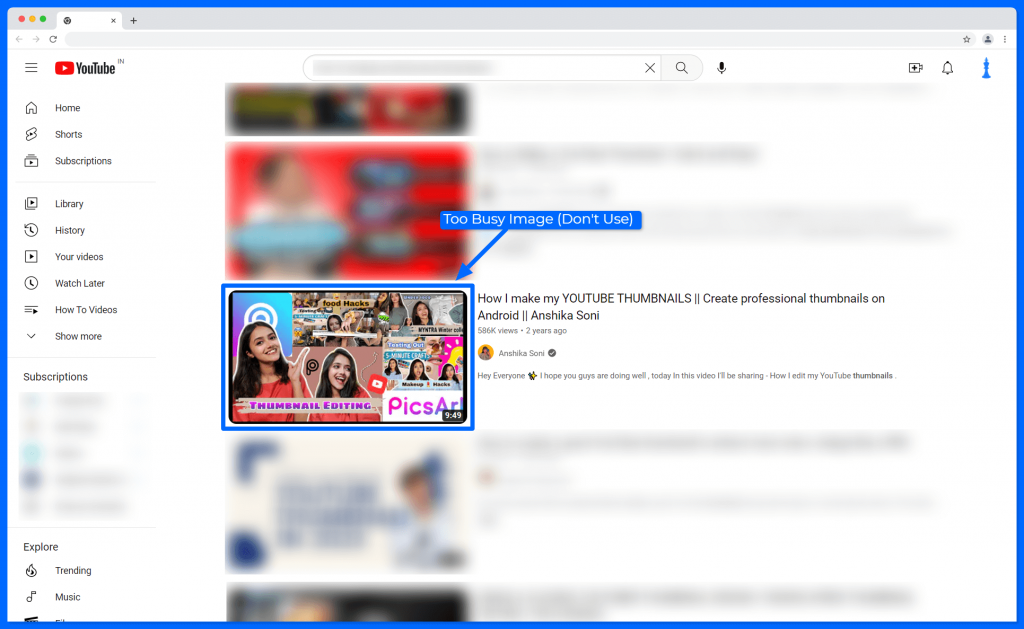 ---
How To Make A YouTube Thumbnail
Are you looking forward to creating stunning YouTube Thumbnails? So PhotoADKing is here to assist you. You can create custom YouTube Thumbnails in a few minutes only. Thanks to its incredible collection of hundreds of readymade YouTube Thumbnail Templates, Likewise, the process gets smoother.
Here is what you'll have to do:
Signup/Login with PhotoADKing
Explore YouTube Thumbnail Templates predefined in standard dimensions.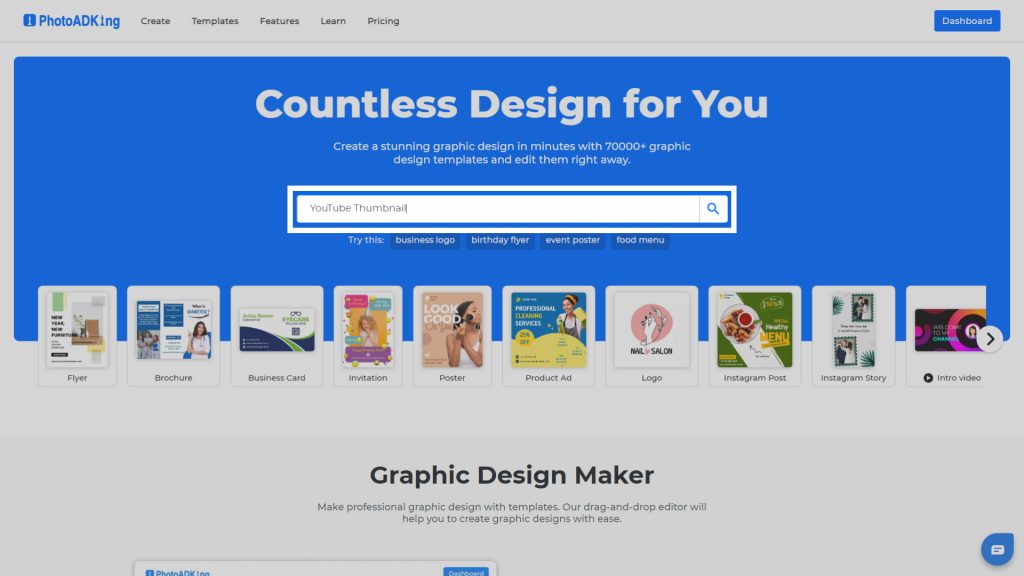 3. Then Choose your desired YouTube thumbnail.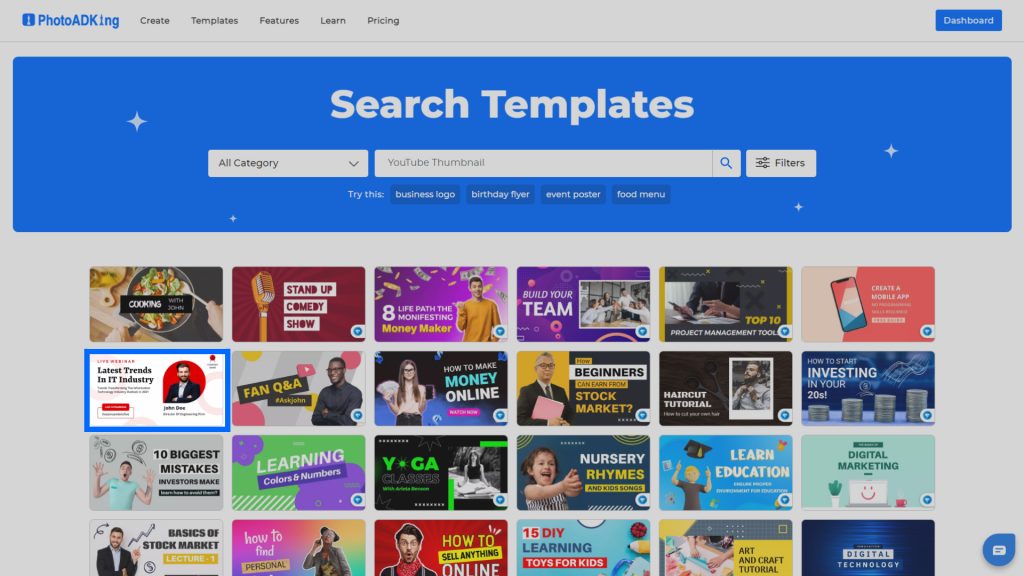 4. Use PhotoADKing editor to personalize your YouTube Thumbnail in the desired template & save your copy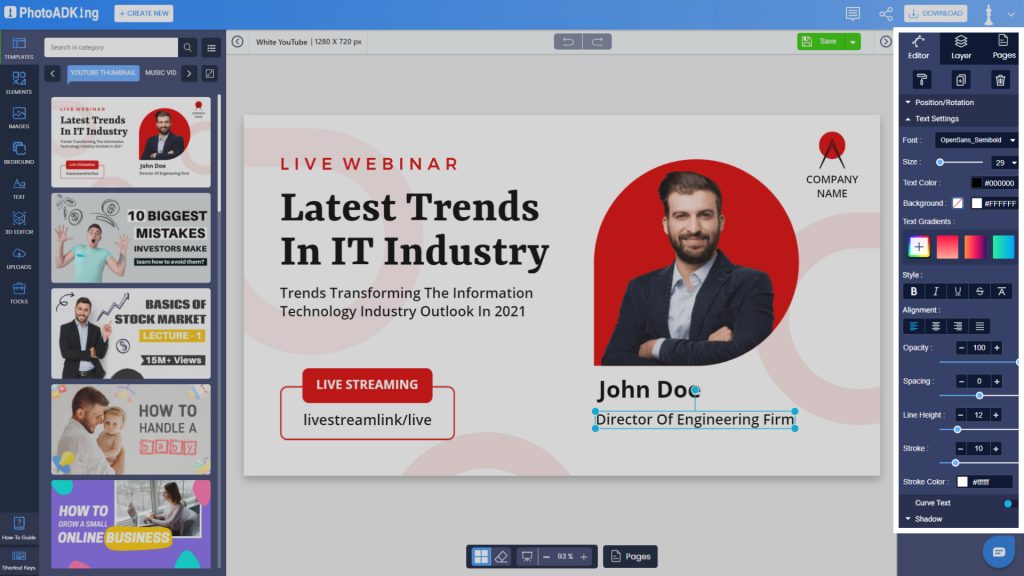 5. Once you customize the YouTube thumbnail template as you need, Download and share your YouTube Thumbnail in JPG, PNG, or PDF format.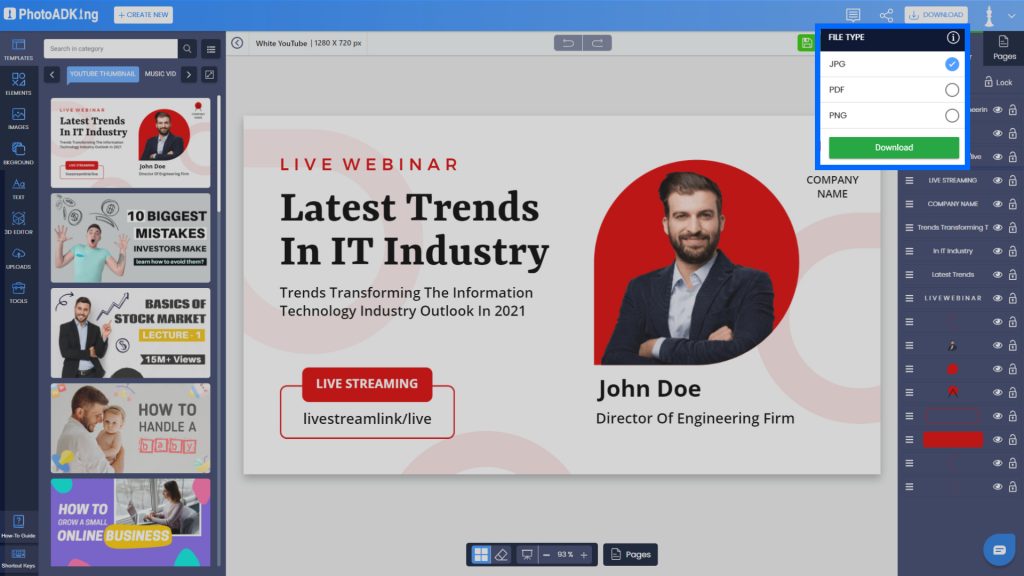 Don't you think it's easy as a breeze? Believe us; it's worth giving a try so go for it now!
---
How to Validate Your Account for Custom Thumbnails?
Custom YouTube thumbnails cannot be uploaded using a basic YouTube account. You must validate your account for it to have this capability.
Here's how to verify your account and begin adding unique thumbnails:
Log in to YouTube.
Select "Settings" from the dropdown menu by clicking on your profile icon in the top right corner of the page.
Select 'View additional features' under the 'Your account' category.
Press the blue "Verify" button that is located just below your channel name.
Select whether you want the verification code sent through SMS or phone call, then enter the phone number you want to receive it on, and finally click "Submit".
Type the verification code and select "Submit"
Now that your account has been validated, you ought to see a confirmation message.
Let's look at how to create a custom thumbnail using the ideal YouTube thumbnail size now that we have activated this function.
As a marketer, it is important to have a perfect YouTube channel. And for the professional YouTube channel, you also should focus on the YouTube channel logo, Description, Required information, and a YouTube banner that fits perfectly on all devices. Here is the guide for YouTube banner size that can help you to design your own YouTube banner perfectly.
---
How Can I Publish a Thumbnail on YouTube?
While submitting your YouTube video, or at a later time, you can post your thumbnail as well. You can add two different kinds of YouTube thumbnails.
Use System Thumbnails
These are pictures that YouTube automatically choose from your video when you uploaded them. To choose a thumbnail for your YouTube video before it is published, look through these pictures. It should be noted that YouTube will automatically choose a thumbnail image from your video to use as your account's thumbnail if you don't post one. See the thumbnails for 3 automatically generated YouTube videos in the image below.
Use Custom Thumbnails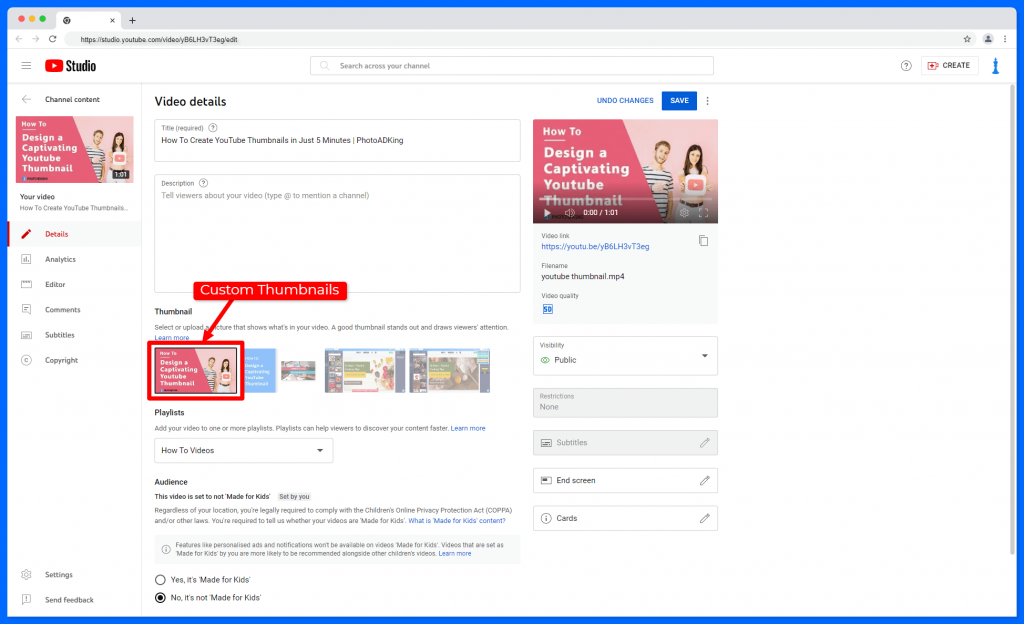 You made and posted this image to YouTube. This approach is preferred by the majority of YouTubers when creating a Youtube thumbnail. Ninety percent of the top-performing videos on YouTube, according to the site, have unique thumbnails. Technically, YouTube does not require a unique thumbnail for each video. However, having a unique thumbnail image will be quite helpful if you want to appeal to both your visitors and the YouTube algorithm.
The steps listed below can be used to upload a custom thumbnail to an existing YouTube video:
Open YouTube Studio
Land to the YouTube studio of your YouTube channel. and click in the "Content" section at the left bar to access your all videos.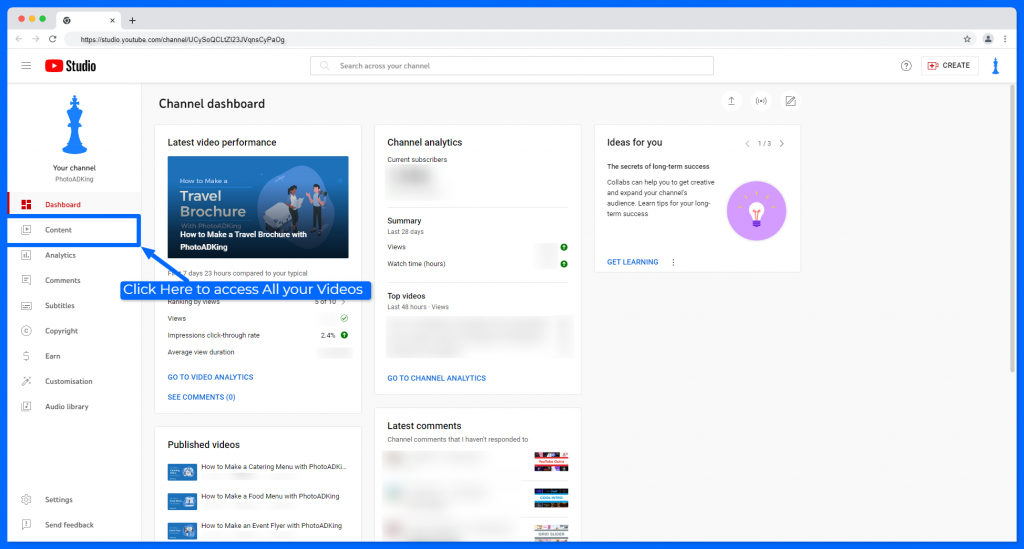 Choose Video
Choose the video whose thumbnail you wish to change, then click the edit icon.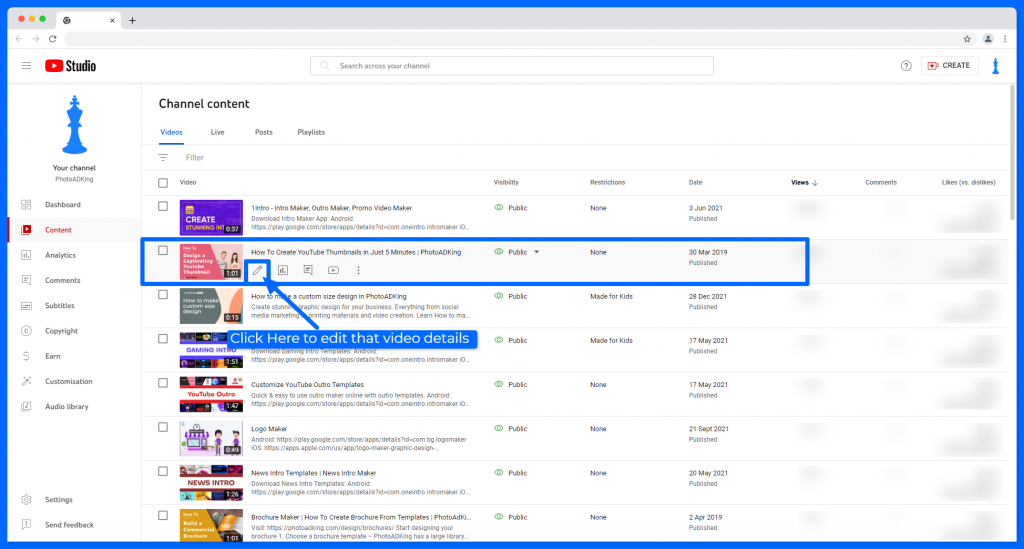 Upload Custom Thumbnail
Simply scroll down to the thumbnails area of your video and click the "Upload thumbnail" button to set a custom thumbnail on your YouTube video.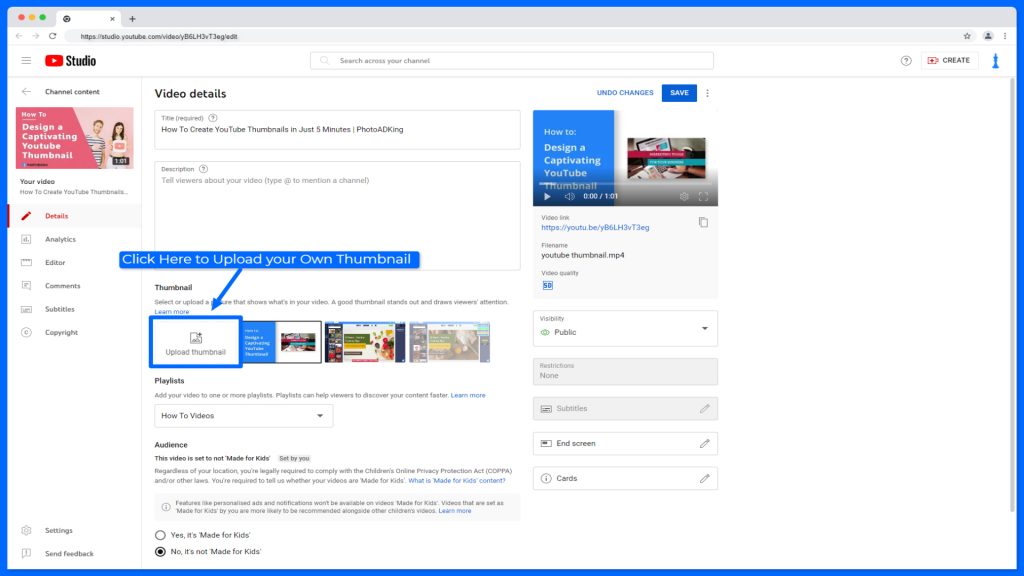 Save Video
Once finished, simply click "Save" to finish.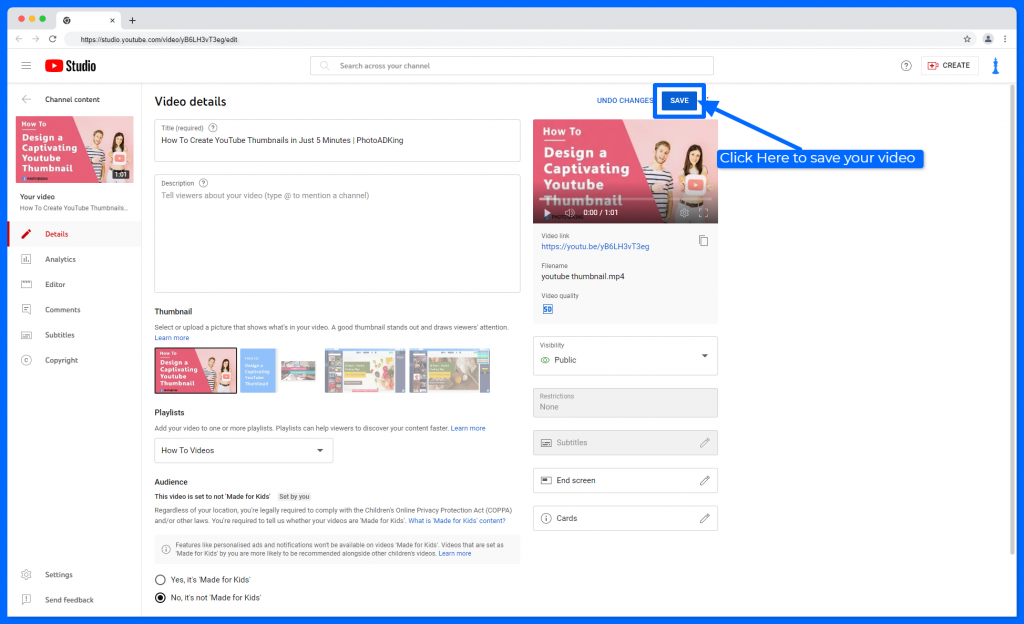 Once you save your video we suggest you check your YouTube video and make sure your video thumbnail looks good and attractive.
---
YouTube Thumbnail Examples
Gradient YouTube Thumbnail Example
Pet YouTube Thumbnail Example
How To Video YouTube Thumbnail Example
Business YouTube Thumbnail Example
Investment YouTube Thumbnail Example
Minimal Theme YouTube Thumbnail Example
Money YouTube Thumbnail Example
Tutorial YouTube Thumbnail Example