Knowing how to make memes is just another way of leveling up your digital marketing. Memes are major helpers in gaining traction & you should definitely think about it.
Trending memes are dropped every next day. When your social media feed is flooding with memes, how can you even sit back and relax? It's important to customize the memes, blend it with your niche & bring your business to the spotlight.
Memes are for smart viral marketers to grab the fail-proof opportunity. In this blog, we'll be talking about all things memes & how to create memes with PhotoADKing.
What Do You Mean By Meme?
A meme is just an image, GIF, or a short video clip that often reflects humorous concepts. They spread like wildfire on social media as they often imitate a common idea or feeling. The meme trends evolve frequently & anyone can go viral by implementing them.
In short, the meme is a powerful & instant attention-drawer. You cannot help yourself to share it. By the time you're reading this, you must have imaged the trending memes on your Facebook or Instagram feeds right now. Aren't you?!
Nail Your Digital Game With Meme-Jacking
We're sweetly calling meme-making meme-jacking here.
For digital marketers who're constantly hunting for hot-cake content ideas, a meme could be a game-changer. It's a marketing window you should rush to grab. And if you still think it's slang for your business, you're missing out. Let's drill down to why you should create a meme.
Viral Memes Is Half-Job-Done
You can turn any funny image into a meme if you know how to ace it with engaging image text or caption. It's all about how 'relatable' you can think. Any random viral meme can be your best-performing marketing material because you don't have to start from scratch.
Moreover, the concept is ready to work on. So, just pick the meme template, personalize as desired & publish it on the go.
Fresh Memes = Less Content Creation Efforts
Content creation is an overwhelming task at times. Especially, inbound marketers can have fresh content handy with the least effort. Imagine waking up to creative memes that your marketer brain can modify & utilize accordingly.
Memes are visual entertainers that keep coming your way with fewer efforts at your disposal. So quick to create & they communicate purpose smoothly!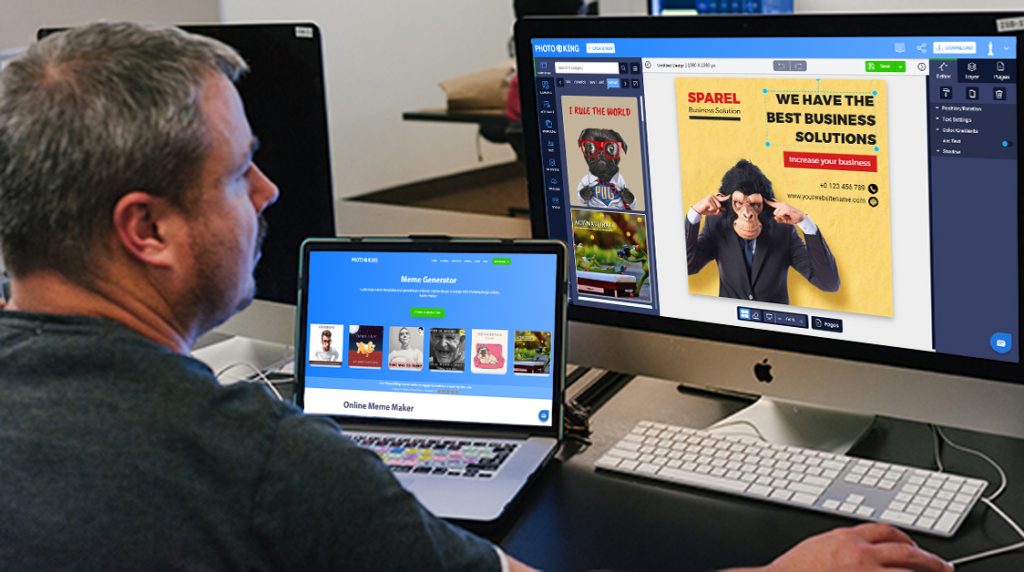 Visuals Make Conveying Concepts 10X Easier
'What content to plan for the week?' If this is your daily task then memes are the visual treats you must try. Text posts & quotes are too mainstream. Memes are like wine, the older they are, the more popular they seem.
In other words, you can easily convey any concept or reflect business idea in brief with just memes. Take a trending meme image & add custom text to it. You're all set to rock it. Your target audience will not need to stress understanding what you want to say through it.
Insane Traffic, Likes & Links Drive-In
Besides publishing memes, you should make sure they accompany relevant hashtags too. you can add your custom memes to blogs or social media profiles for better outreach & impact. This makes your memes an appropriate time investment that drives traffic, likes & shares. Also, you should know about all social media image sizes.
Additionally, they can be linked to your website as you post them on different social media platforms.
To- Additionally, you can create website and link them to it as you post them on different social media platforms.
Taking this other way, you're branding with memes that let your users know that you're in the game. It reflects the bright side of your brand in turn.
Now we guess you've got some obvious reasons to make a meme online, isn't it? Meanwhile, let us introduce you to one of the easiest ways to create memes i.e. using PhotoADKing.
Step By Step Guides For Making Meme With PhotoADKing
Meme-jacking is no rocket science. Anyone can do it with efficient graphic designing tools like PhotoADKing by their side. Furthermore, you have to make sure your brand impression is on-point professional.
With PhotoADKing, meme creation goes as breezy as picking a template, edit your memes & share instantly. Here's how you do it in a few minutes only:
Step #1: Signup or Login with PhotoADKing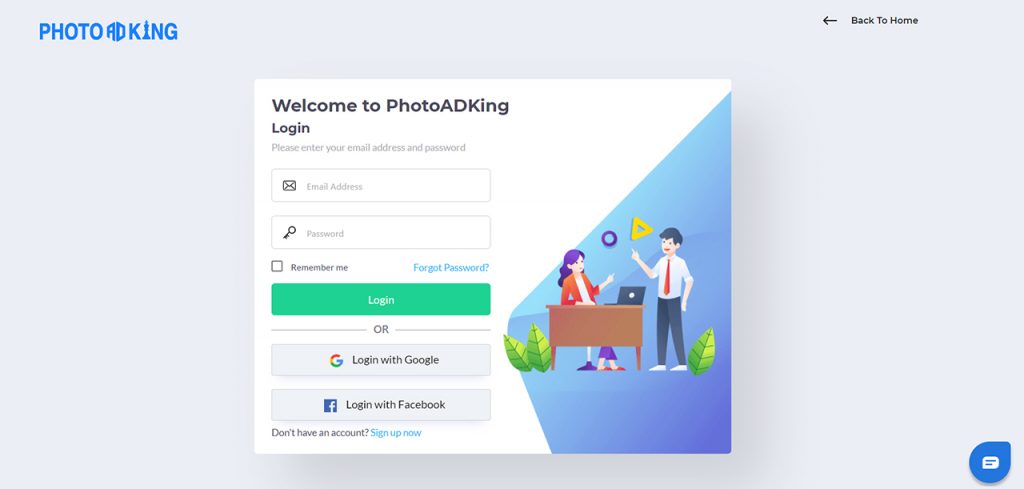 Step #2: Go to Dashboard & hover to the Search Bar. Select the Category of post you want to create & type "meme" in the search box.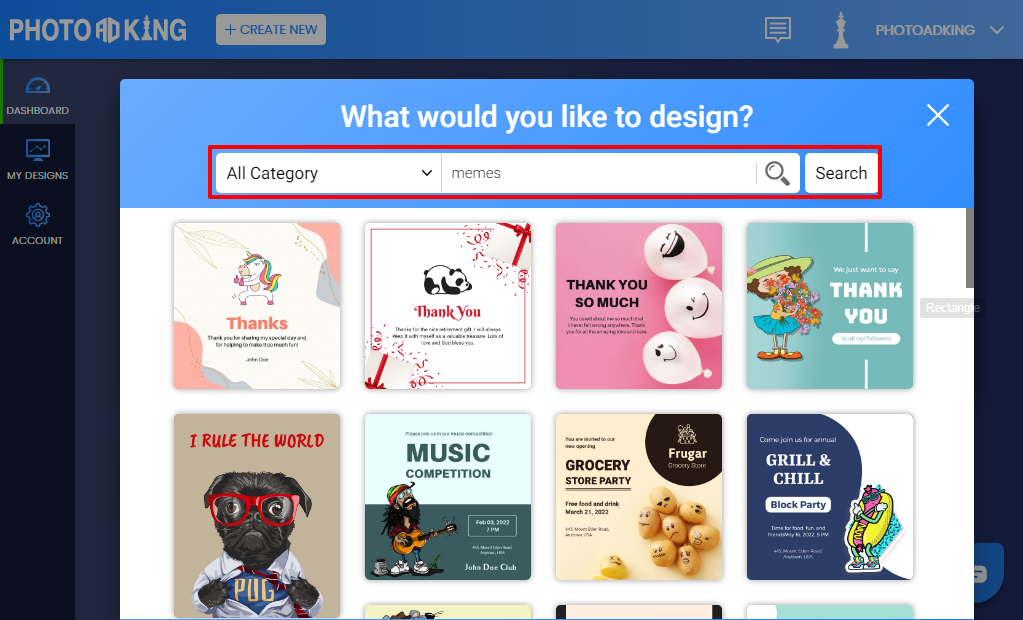 Step #3: Have a look at all the stunning & trending meme template options right below the search bar. Scroll through the entire template library. Find your desired memes template & click on it.
Step #4: You're now in the Editor window with a lot of graphics & illustrations to create the meme you want. They're drag & drop kind of feasible. Upload your meme image if desired. Select your font style & adjust the text on your memes.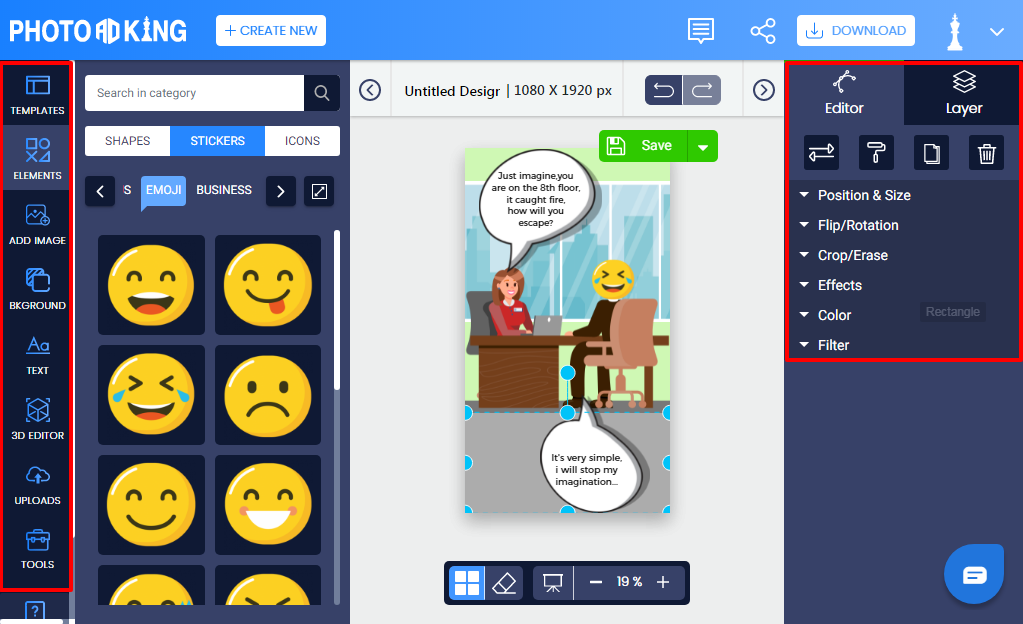 Design Tip: If you want to create a meme from scratch, customize your post dimensions for the respective social media platform. You may upload media, add arts & illustrations, stock images, typefaces of your choice & make happening memes instantly.
Step #5: Preview what you've just created. Make necessary changes (if any) & finalize your meme. It's a one-click share from the editor interface itself. Alternatively, you may either choose to download it instantly or save it as a draft for future reference.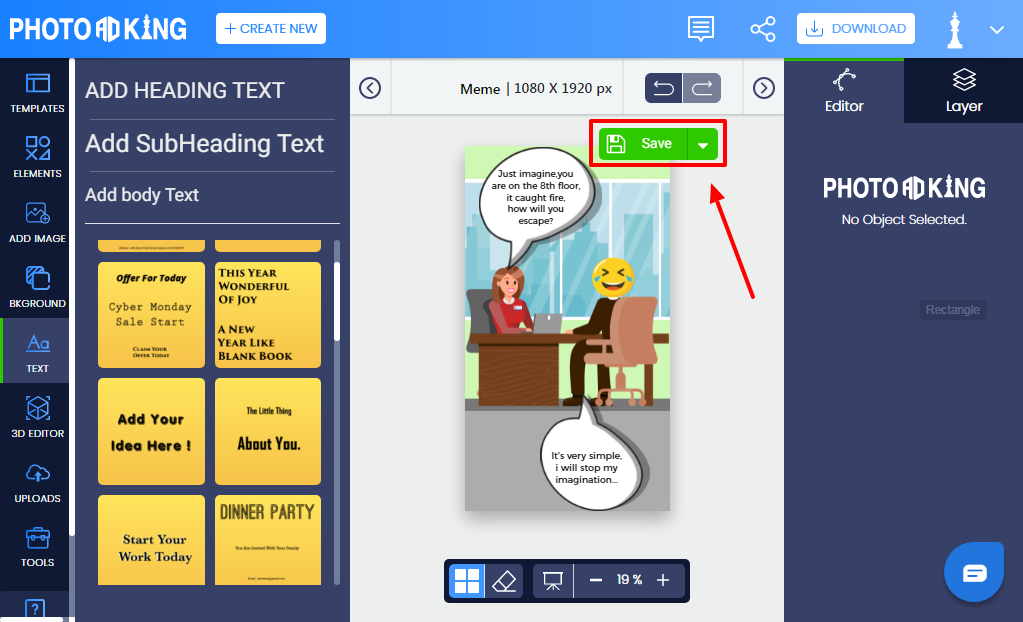 Reward: Go Premium & be one in a Million
Besides creating free memes online, you can also access hundreds of premium memes templates with PhotoADKing. You get access to thousands of stock images as well as funky arts & typefaces if you're looking forward to extremely unique memes on the web. Go ahead & make it happen with premium templates.