Are you looking to create an internship certificate but unsure where to start? Wondering about the best practices and tips for designing a professional and effective internship certificate? Look no further! In this article, we will provide you with a step-by-step guide on how to make an internship certificate that meets industry standards and leaves a lasting impression on your interns.
Also, you can use internship certificate templates, which have the person's name and the name of the work or activity. And you can easily customize a certificate that reflects your internship certificate. Whether you are a business owner, HR professional, or an internship program coordinator, this article helps you create a certificate that truly stands out.
Before You Start to Design a Gift Certificate
Understanding the Purpose
The first step in designing a gift certificate is to understand its purpose. Why are you creating a gift certificate? Are you trying to attract new customers, retain existing customers, or reward loyal customers? Knowing the purpose of your gift certificate will help you design it in a way that will achieve your business goals.
Define Ideal Customer
Once you know the purpose of your gift certificate, the next step is to define your ideal customer. Who are you targeting with your gift certificate? What are their needs, wants, and preferences? Understanding your ideal customer will help you design a gift certificate that appeals to them and motivates them to purchase from your business.
Know Your Brand Personality
Your gift certificate should reflect your brand personality. Are you a luxury brand, an eco-friendly brand, or a family-friendly brand? Your brand personality should be reflected in the design, colors, and messaging of your gift certificate. This will help create a consistent and cohesive brand image that your customers can easily recognize and remember. Also, consider the border of the certificate for that; you should read this guide on certificate border design ideas.
Convey Your Message
Your gift certificate should convey a clear message. What do you want your customers to know about your business? What makes your business unique? Your message should be concise and easy to understand, so your customers can quickly grasp the benefits of purchasing from your business.
Clear Call to Action
The final element you need to consider when designing a gift certificate is a clear call to action. What action do you want your customers to take? Do you want them to purchase a product, sign up for a service, or visit your website? Your call to action should be clear, concise, and easy to follow, so your customers can quickly and easily take the desired action. If you don't have a guide for choosing the right certificate size. Check this guide on how to choose the right certificate size and be clear about the size for your design.
Now that you have a clear understanding of the key elements you need to consider before designing a gift certificate, you can start creating a design that will meet your business goals and appeal to your ideal customer. Remember to keep your design consistent with your brand personality, convey a clear message, and include a clear call to action.
How to Make Internship Certificate With PhotoADKing
Here are step-by-step guides which help you to choose an internship certificate template and also allow you to customize the certificate templates as per your requirement.
Step 1: Signup or Login to PhotoADKing
Go to the PhotoADKing website and click on the "Sign Up" button to create a free account. Fill in your details and log in to get started.
Step 2: Search Certificates in the Search Bar
Use the search bar to look for "Internship Certificates" templates. This will display a list of templates to choose from.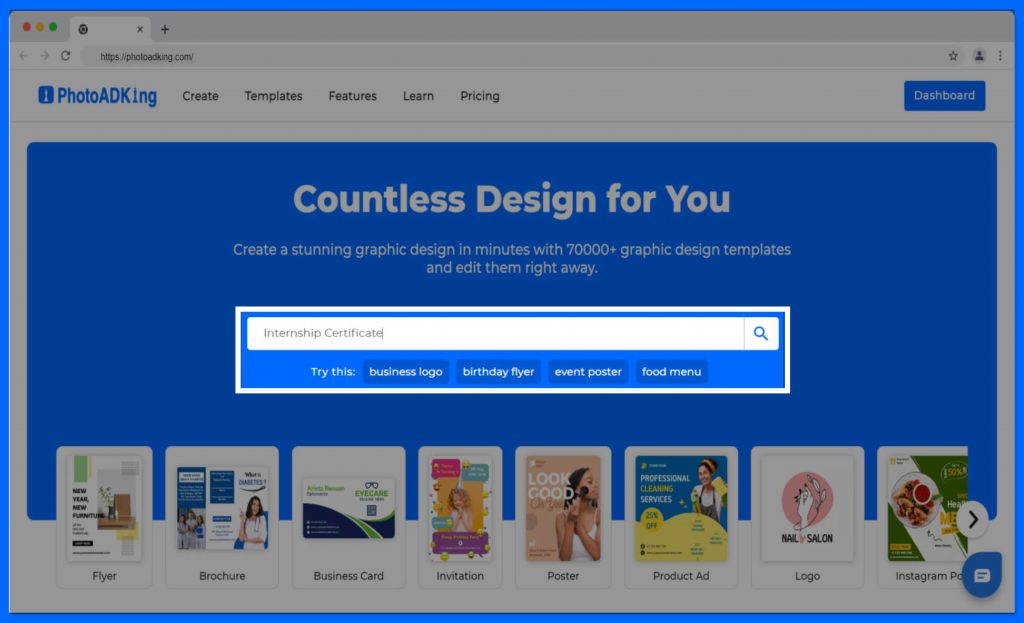 Step 3: Choose Your Internship Certificates
Select the template that best fits your theme from the list of options provided.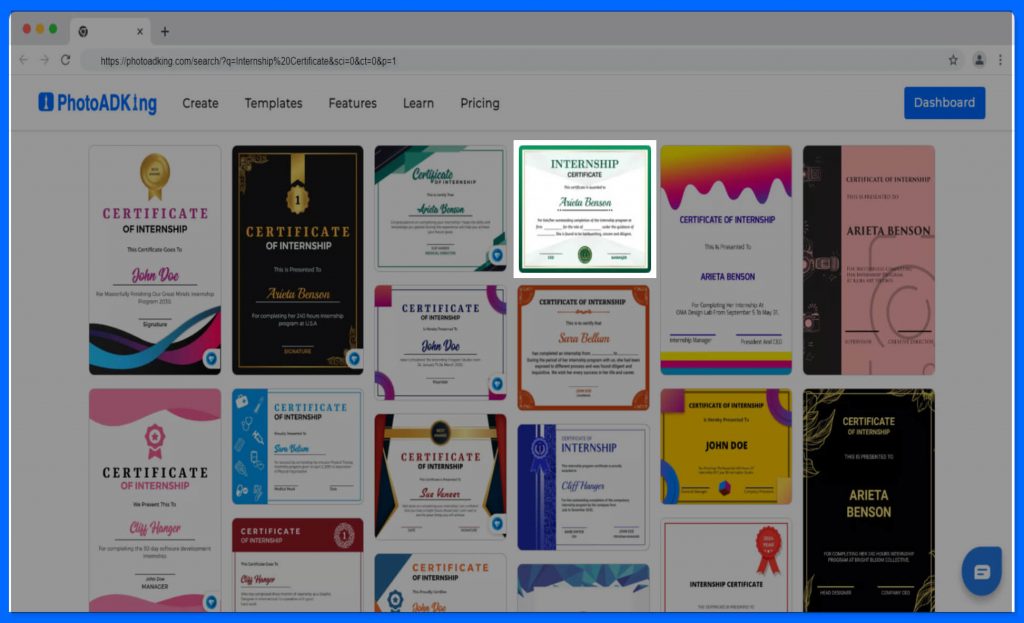 Step 4: Customize the Internship Certificates
Customize the certificate template to match your theme and style. You can edit the text, font, and color, add images or logos, and make other modifications as desired.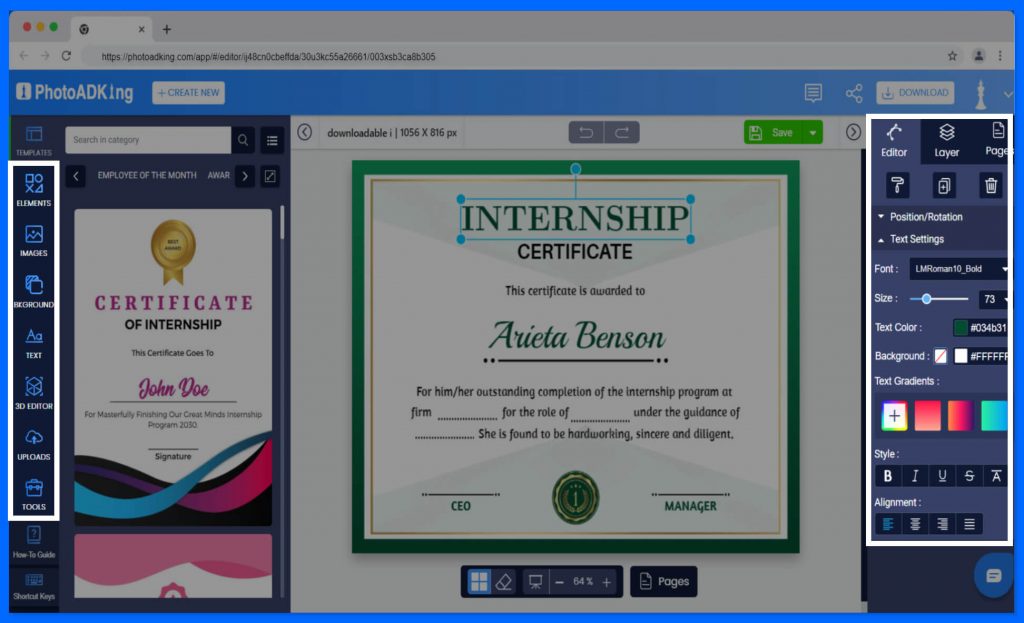 Step 5: Download and Share Certificate Design
Once you are satisfied with your design, download the internship certificates in a high-quality format such as PDF or PNG. You can then print it out and place it at the event or corporate location or share it digitally via email or social media with your recipients.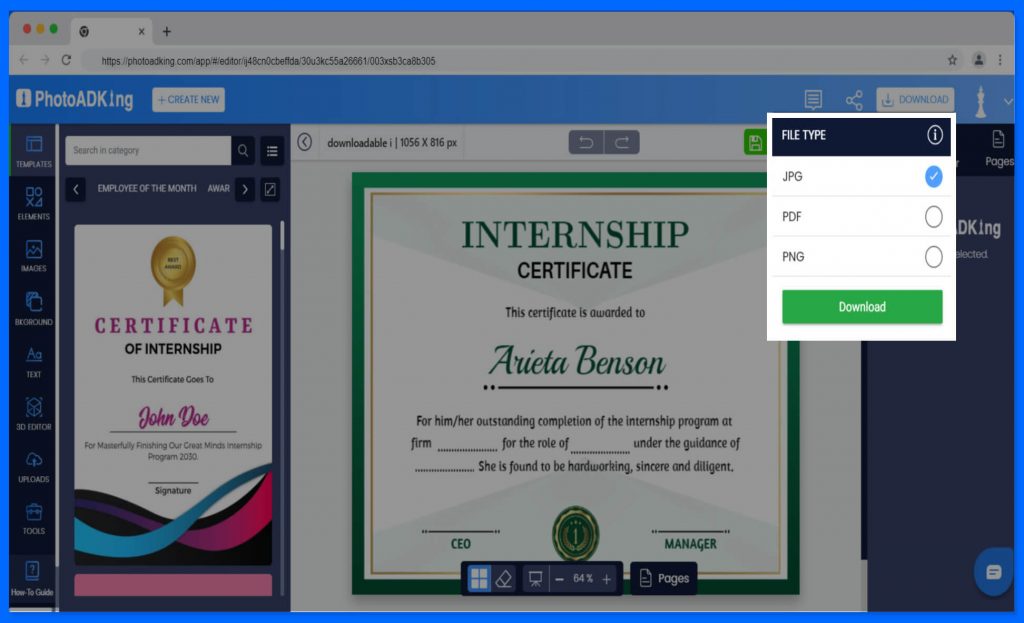 Now you are clear about the method of creating a certificate. Now it's time to follow instructions, but the question is how to choose a certificate? Consider our internship certificate sample guide, which will help you to get started.
Conclusion
Creating an internship certificate is a simple yet effective way to recognize your interns' hard work and achievements. By following the step-by-step guide outlined in this blog post, you can create a professional and impressive internship certificate that will enhance the resume of your interns. You can use our certificate maker tool. A certificate maker is a useful tool that allows you to create customized certificates by adding the person's name and reason for the certificate. It also offers various designs, colors, and pictures to choose from, making the certificate visually appealing.