'How To Make YouTube Intro' is always a question for beginners as well as YouTube channel owners who're out of creative ideas.
With nearly tons of videos uploaded on YouTube every day, there are good ones, the better & the best. We see videos in almost endless categories & even videos on how to Make videos! No matter what's your topic of interest, your ultimate goal is to be noticed, grow video view counts & subscribers. And the good news is – You don't need to hire a professional editor for a polished YouTube Video. It's a DIY.
YouTube intro maker can help you to easily Make intros for your YouTube channel. We're taking you through one of the most important aspects of YouTube Videos today: YouTube Intros. Starting with the basics, we'll help you out with a stepwise guide on how to make Intros for YouTube. Let's not waste time & start!
What Does An Amazing YouTube Intro Look Like?
As you look up to the YouTube Intros of popular YouTubers, you'll see it's all about animations, transitions, and templates. It makes YouTube Intros a visual signature of your brand.
YouTube Intros are expected to be highly engaging, short & concise at the same time. Your audience has a glimpse regarding the video content, about you, and sometimes the brand or the firm you represent.
You can say that YouTube intros templates are so in demand because you want to make that first impression stunning. Also, you can create uniformity in all your videos with similar YouTube intros. YouTube intro video ideas and examples can help you to easily create stunning intros for the YouTube channel.
Why should you have a custom YouTube Intro for your videos?
A custom YouTube Intro is your visual signature. It makes your videos easily recognizable.
We recommend creating custom YouTube Intros for obvious reasons. It adds a professional touch to your videos & is much-needed as it is being hosted on a public platform. You'll surely want to stand out among your competitors.
What Is The Ideal Length Of A YouTube Intro?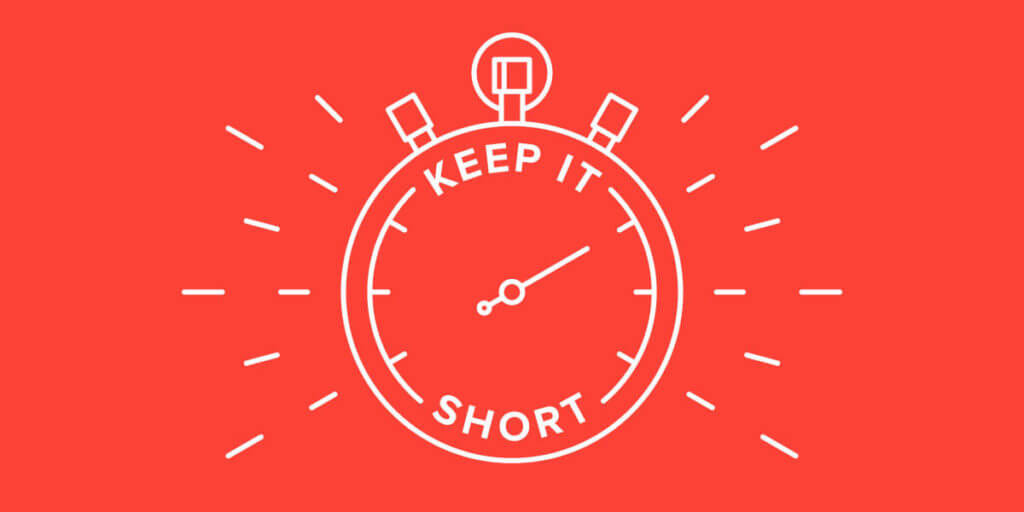 Nobody has all the time in this busy world to watch out for a long intro. It should be quick & purposeful. Thus, 3 to 7 seconds is the ideal length for a YouTube Intros.
You can greet your viewers, share a bit about the presenter & give a quick intro about the video content within this duration. It can be via text or a verbal explanation.
Warning! Never ask for likes, subscriptions, comments, or shares in your YouTube Intros. It seems odd in the beginning to do this before your viewers have watched your video. Keep it for Outros.
How To Make A YouTube Intro Video In PhotoADKing? [4 Easy Steps]
You now have enough basic details for YouTube intros. So, let's proceed to the steps on how to make a YouTube intro video in PhotoADKing. You may utilize the online YouTube Intro maker app for your smartphone to ease the process. After that, you can follow these steps.
1. Design A YouTube Intro From Scratch Or Choose A Template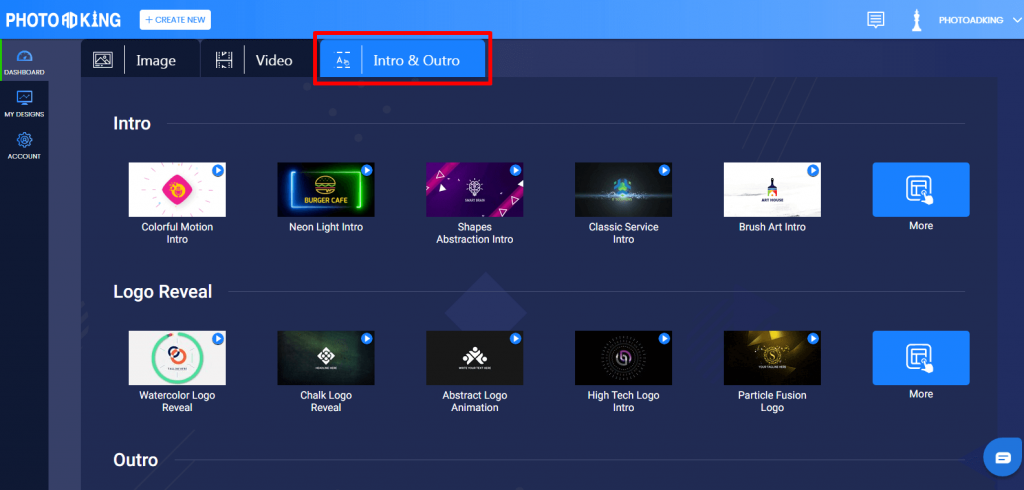 Discover PhotoADKing for extremely feasible designing of YouTube Intros from scratch. Alternatively, you may explore their range of free YouTube intros templates. No matter if you're running a Makeup Channel, Travel Channel, Digital Marketing Tutorials, or YouTube affiliate marketing business.
You'll find eye-popping gaming intro templates, music promo templates, travel promo videos, restaurant promo videos, and much more Intro Template categories you've been looking out for elsewhere.
Find your match & it's all set to personalize.
2. Edit Your YouTube Intro Template Design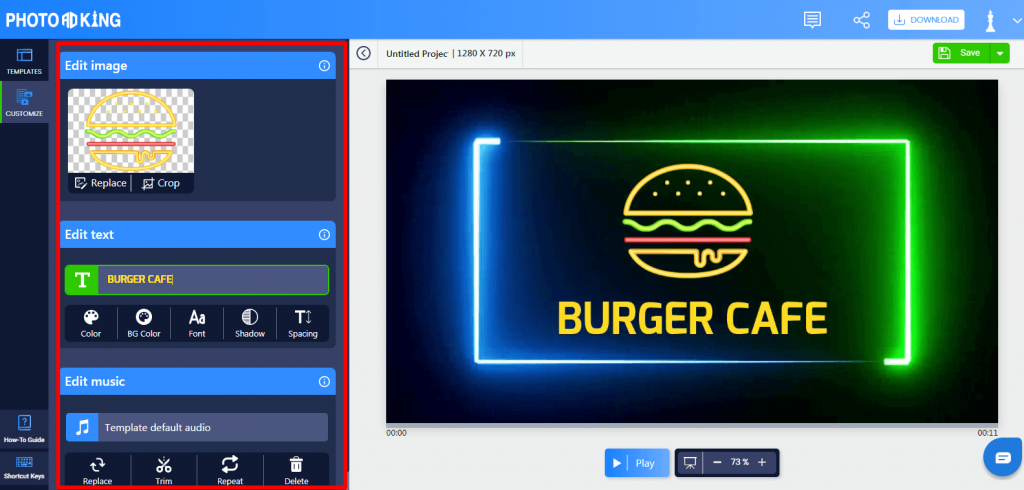 You can edit everything visible in your selected YouTube Intro template. From the typography style to template color, graphics, illustrations, stickers, to stock images, everything!
Besides this, you may upload your pictures or logo to set in the template design. Not just images, you can also upload videos for your YouTube Intros. Just replace the elements you wish with your media.
Next, you can add animation effects & background music from PhotoADKing's free library. Isn't it impressive already? Create & preview your YouTube Intro Template for as long as you make it according to your taste.
3. Download & Publish Your YouTube Intro Video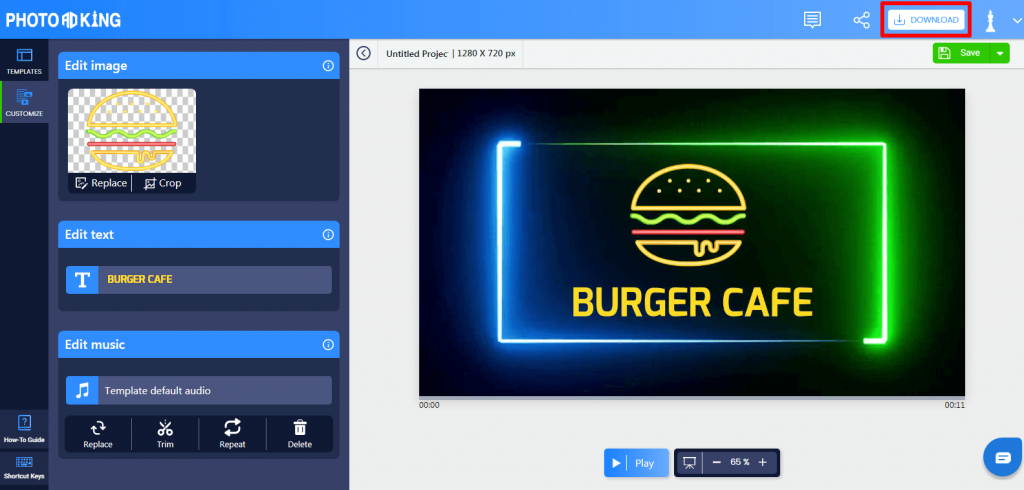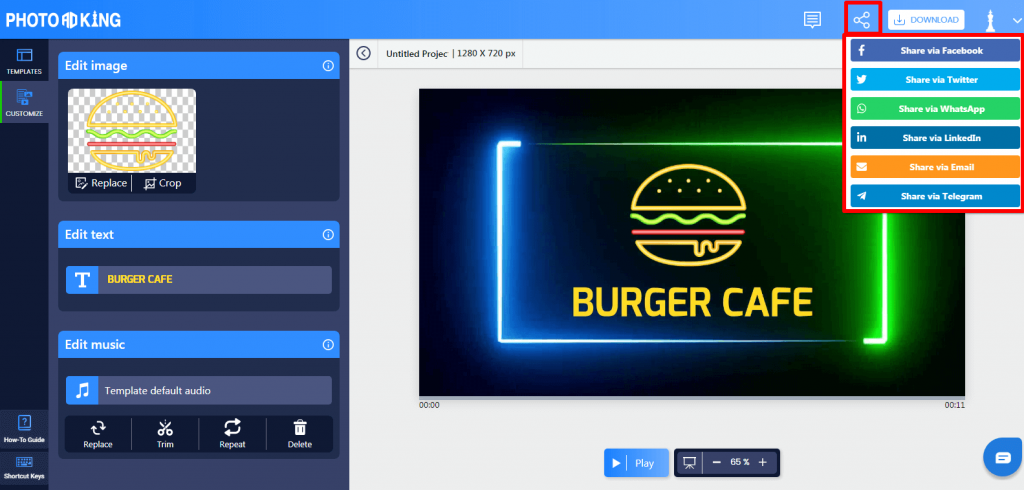 When your final design is ready, you can download it instantly. PhotoADKing facilitates one-click share on YouTube too. Additionally, you may drop hints on Facebook, Instagram, or save your YouTube Intros on Google Drive without leaving the editor interface.
4. Watch Out For The Accurate Dimensions & File Type
Besides creating amazing YouTube intros, it's important to have some knowledge regarding the dimensions & supported file type. Make sure that the aspect ratio is maintained to 16:9. For HD videos are commonly uploaded in 1920*1080 pixels. The supported file types are .mp4, .avi, .mov & .wmv. You can also check the social media image size guide to verify your picked size.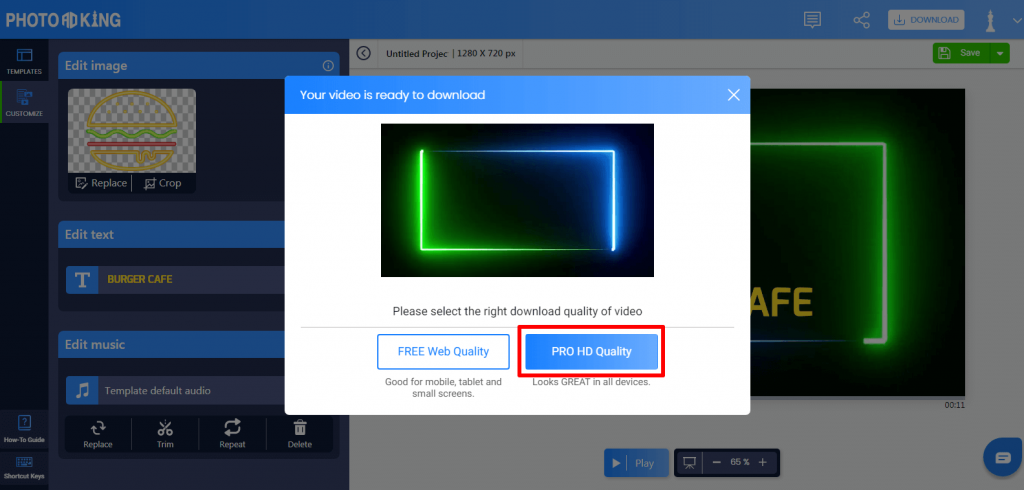 Trending YouTube Intros Ideas and Examples
1. Follow The Ideal YouTube Intro length Rules
You may consider YouTube Intro videos as teasers of your video content. Try finishing your intro within 10 seconds, ideally between 3 to 7 seconds only. Don't you think this duration is enough for branding, conveying your message, and evoke your audience's interest in your video? It must make your audience feel like they have clicked on the right video.
Try this short & sweet YouTube Intro Example
2. Strive For Attractive Visuals Only
Use nothing but eye-catchy for your YouTube Intros. It should be luring enough for your viewers to like & subscribe to your channel immediately. We thus recommend using bright & bold colors, stirring animations & creative text for a great visual impact.
For instance, if you're creating a must-buys video for Valentine's, here's how your intro should look like.
3. Take Your YouTube Intro To Branding Level
Always consider your brand identity when creating a YouTube Intro. It should be no less than classy & contribute to your brand image positively. So, don't forget to include essentials like your logo, channel name, hashtags & website link for your target audience. Do we need to mention that you can make these elements more attractive using animations? Create a grand brand appearance at first sight.
Here's how a decent & professional YouTube Intro looks like.
Try Free Custom YouTube Intro Maker Today!
You must be excited to practice the ideas you've just grasped, aren't you? Great! We have a suggestion of a free intro maker that'll make your day. Use PhotoADKing, it's one of the best YouTube Intro Maker you need by your side. 
We can say that it's an all-in-one graphic designing tool for DIY graphic designers as well as professionals who're looking for fresh ideas. Besides making engaging YouTube Intros, you can also create YouTube Thumbnails, YouTube Channel Arts, YouTube Banners, and many more.