Nowadays, many users use to look for a Fotor alternative or any other tool which best fits their criteria. Fotor is not the only design tool in the segment.
PhotoADKing is your destination if you are looking for Fotor alternative tool. There are many other Fotor alternative tools but PhotoADKing is on the top in every aspect. It offers much better features and functionality so that your work stands out. In this blog, you will come to know about the distinctive features of PhotoADKing:
Fotor vs PhotoADKing: Quick Comparison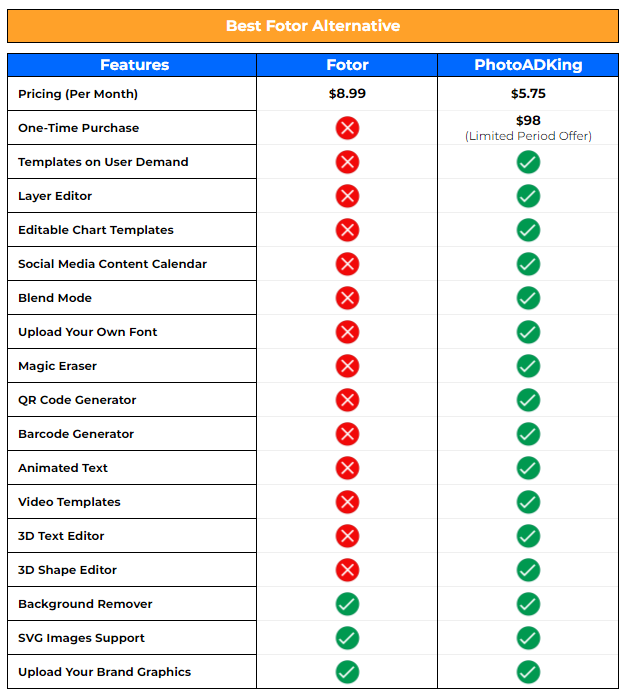 The Key Features of PhotoADKing – A Fabulous Fotor Alternative
As you can see in the above table, PhotoADKing clearly stands out. In fact, it allows users to make more attractive visuals in just a few clicks. You do not need to have professional designer skills to have such great output. It is a great tool for creating marketing materials such as flyers, posters, banners, etc. Also, if you want to create attractive social media designs, then PhotoADKing will be your best Fotor alternative.
Pricing (Per Month)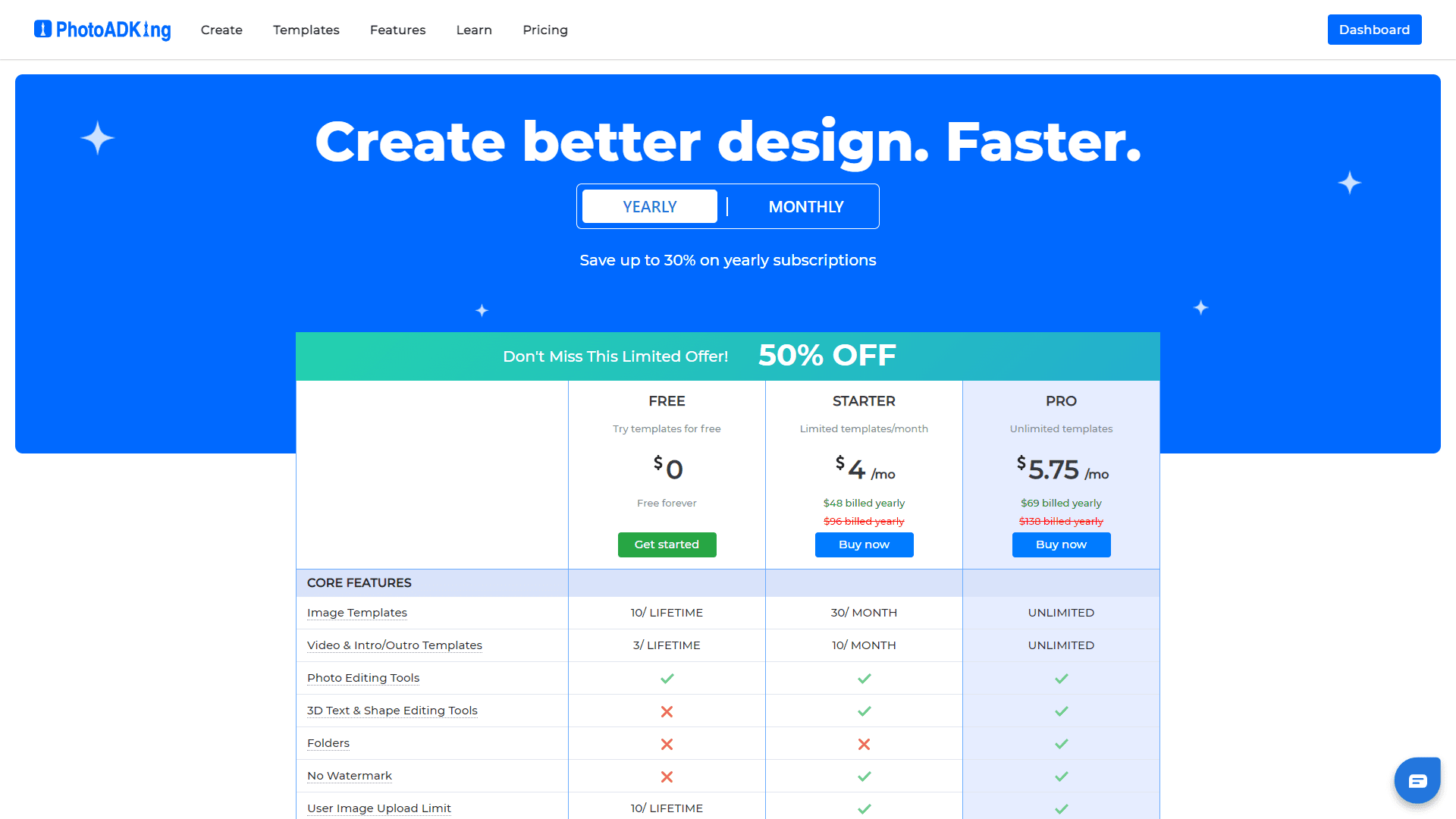 PhotoADKing's pricing is one of the most attractive things about it. Having a modest price but has a lot of great features, which you will learn about further down. 
One-Time Purchase (Limited Period Offer)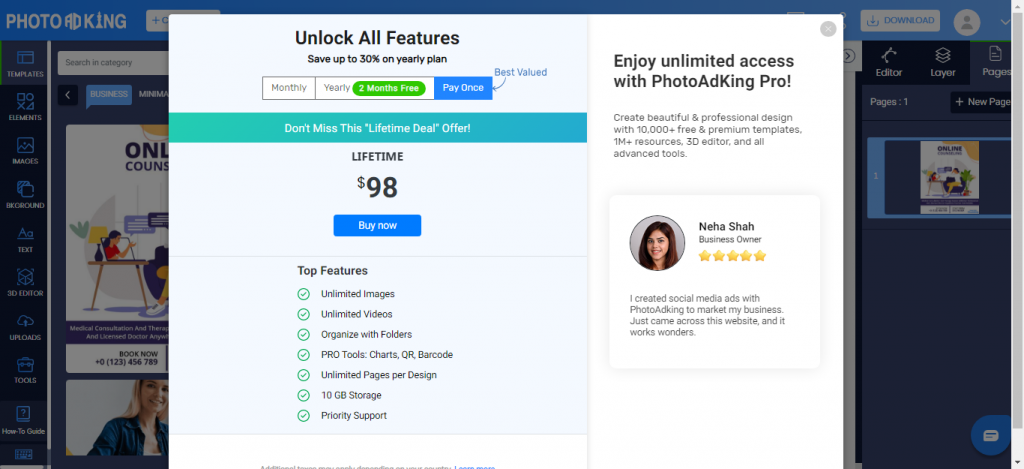 PhotoADKing is your best bet if you're looking for the most cost-effective, one-time purchase option for your layout needs. Get access to all premium templates and all features at $98 only (Limited Time Offer).
Templates on User Demand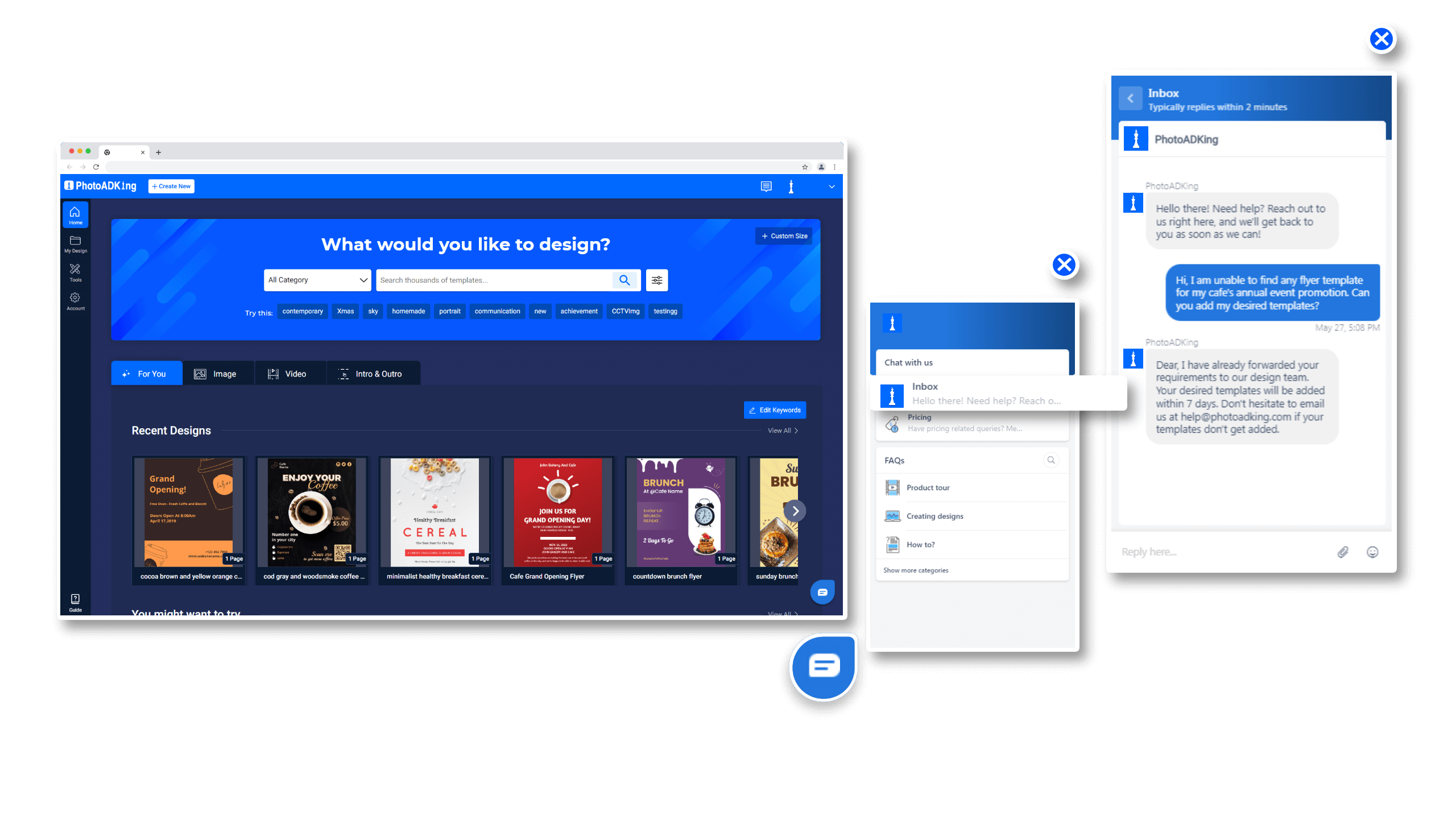 Another amazing thing about PhotoADKing is its template on-demand feature. Users can directly request their desired template and get it in a short time.
To get your desired template, message through the help center or send an email with your template request.
Layer Editor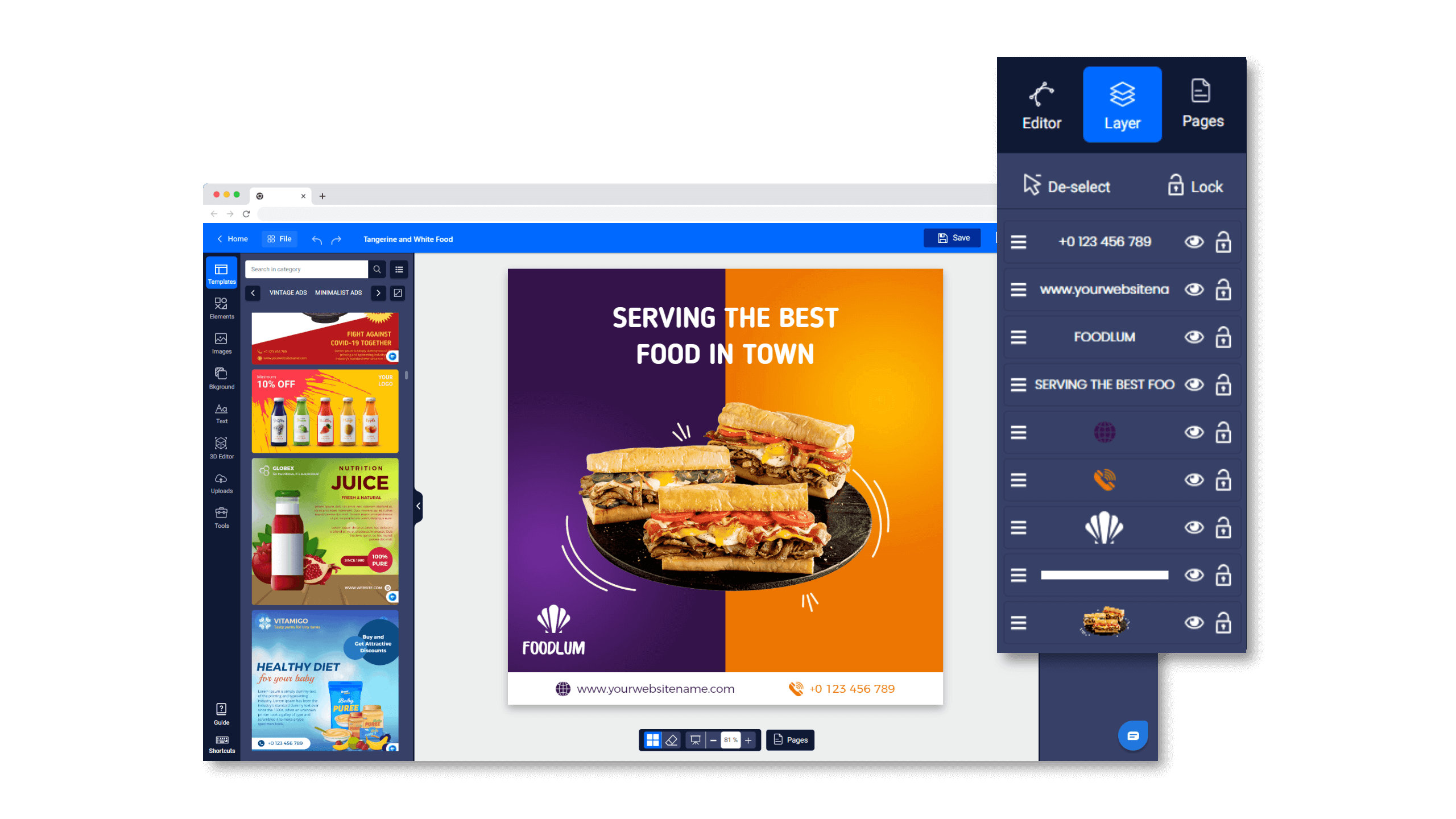 If you want more from your creative projects, you'll want to utilize a tool that has more functionality than Fotor. With PhotoADKing, your design elements can be handled with the Layer Editor. You can work with different layers within the templates as needed, and you can even hide and lock layers.
Upload Your Font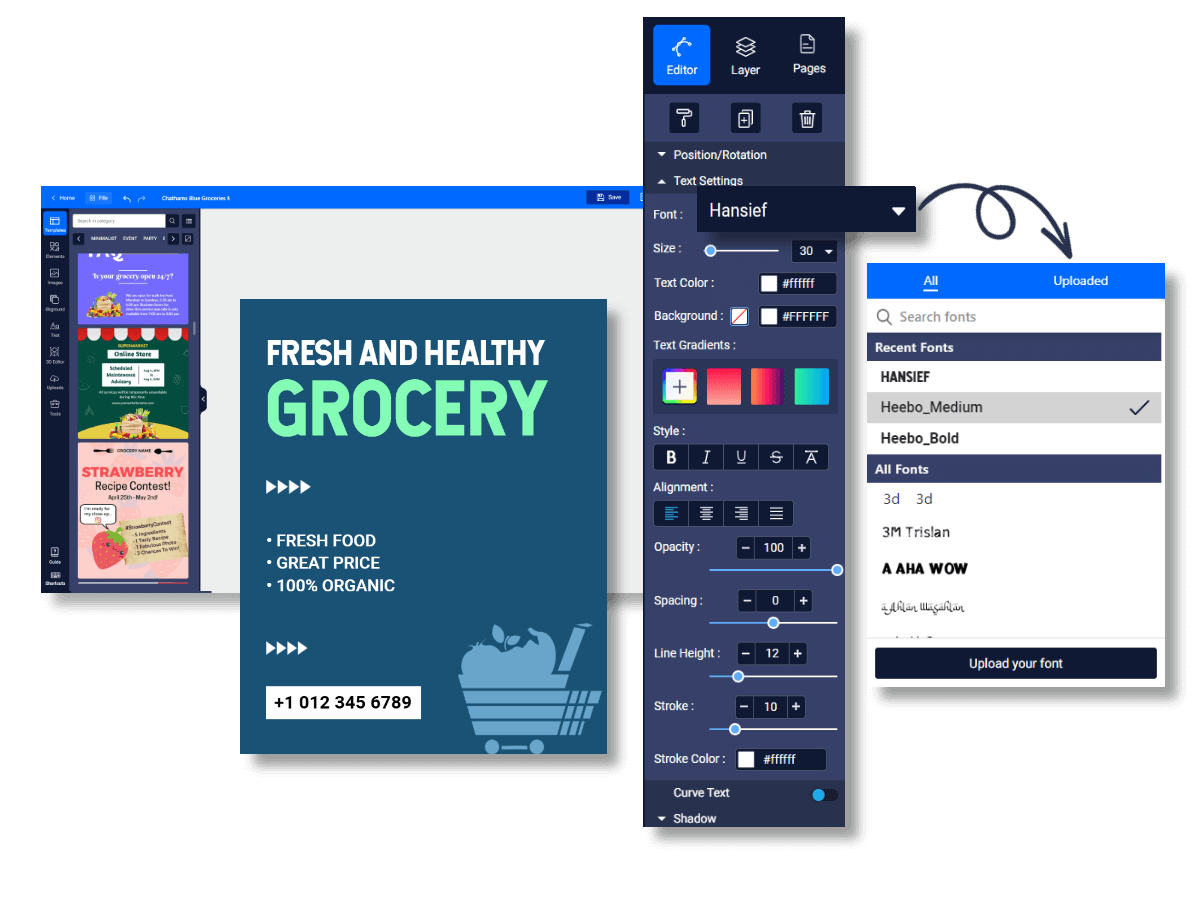 You can upload your own font and use them in your designs with PhotoADKing. This approach will result in your company's logo and designs using the appropriate font. Simply go to 'Text Setting' and select 'Upload Your Font'. Then, in the uploaded fonts, locate your font and begin using it as needed.
Chart Templates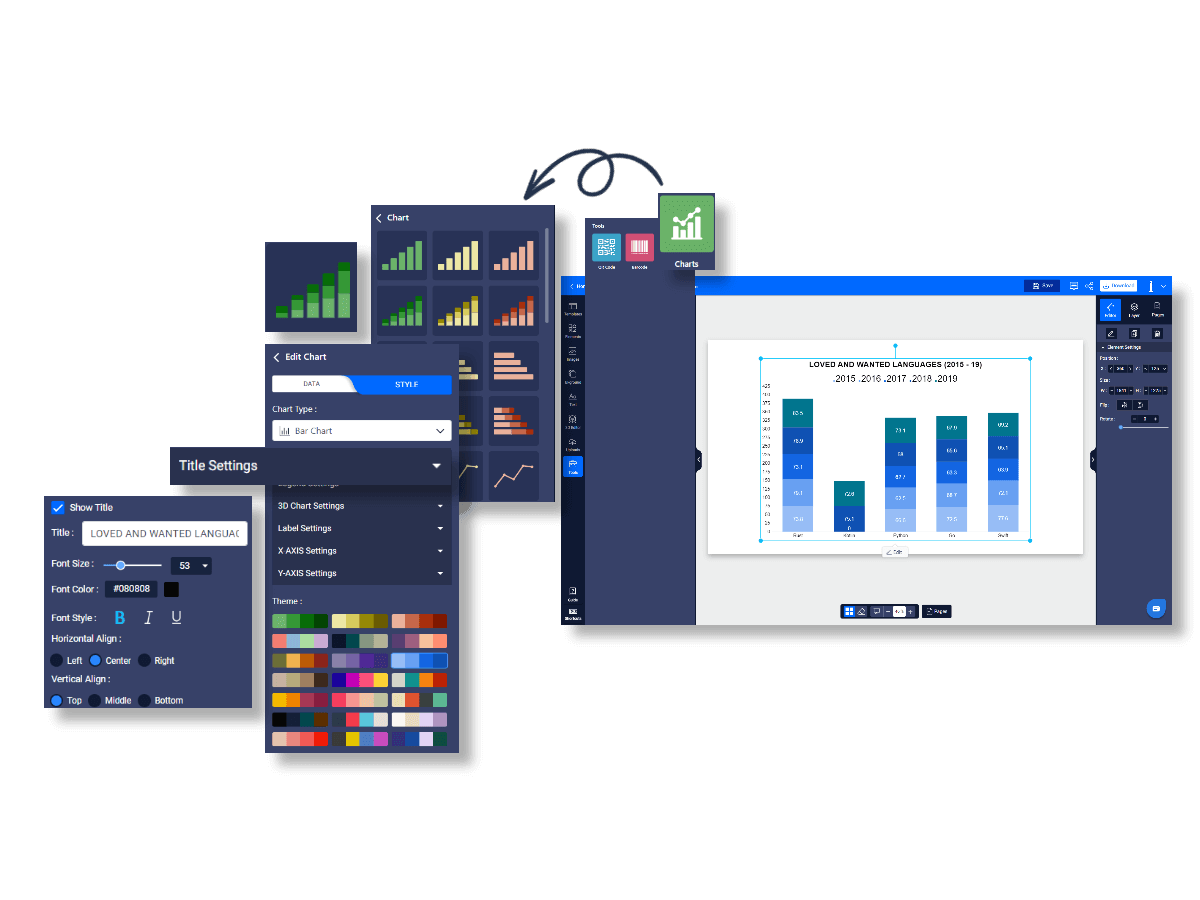 PhotoADKing makes it simple to build one-of-a-kind charts. You can easily customize these chart templates to meet your individual needs. It's a fabulous feature for analyzing data because of its simple interface and abundant chart designs.
You can create a bar chart, pie chart, doughnut chart, or 3D cylindrical chart. There are 100+ templates to create graphs or charts. All templates are professionally designed to keep the user first in mind. You can save time by uploading an existing Excel file. You can either manually put data or upload an Excel sheet. For non-designers, creating a graph with PhotoADKing is quite simple. In just a few minutes, you can create a graph.
Social Media Content Calendar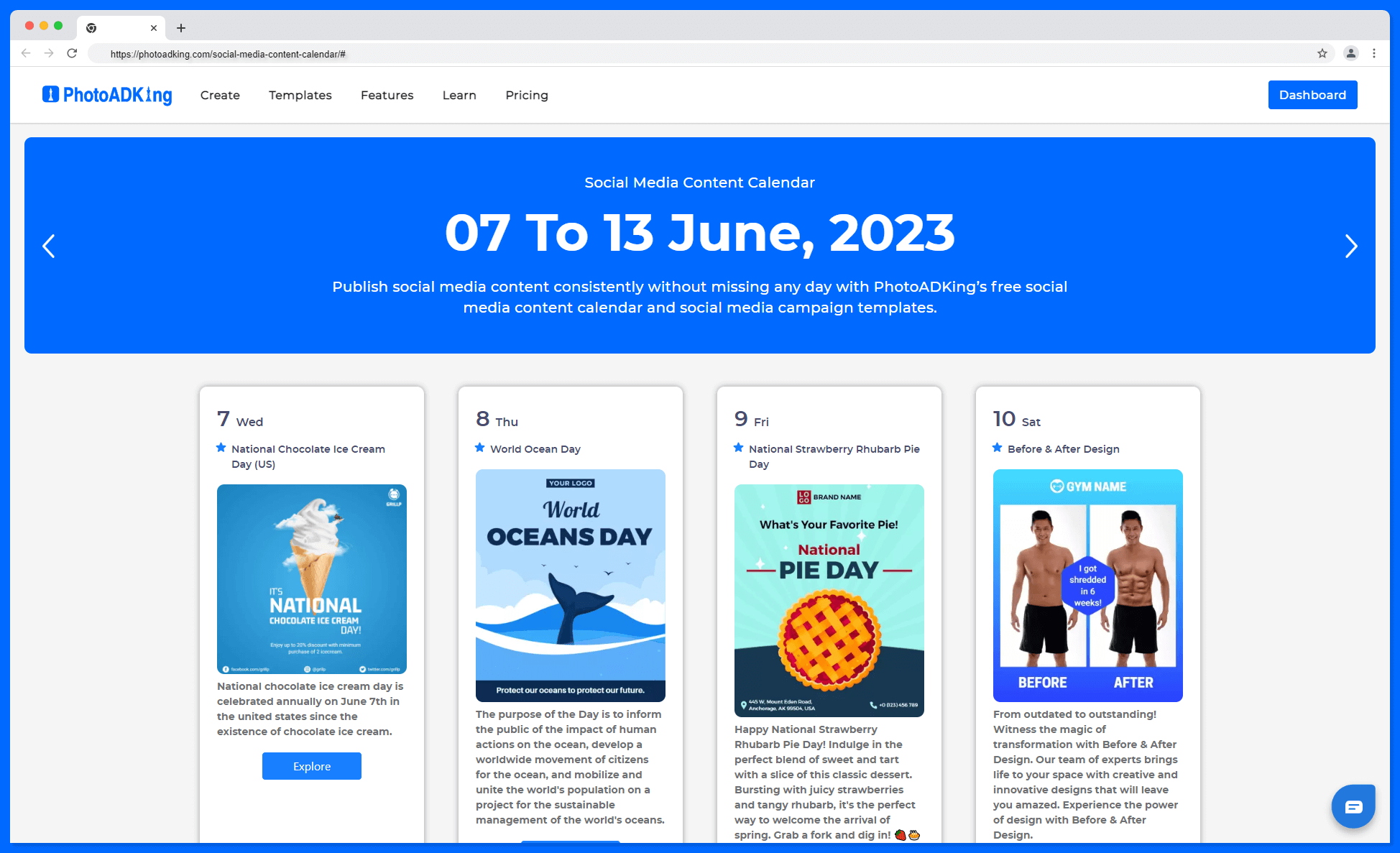 With PhotoADKing's social media content calendar, you can stay up to date on forthcoming events. Its social media campaign templates will assist you in increasing your social media reach. With PhotoADKing's social media content calendar and social media campaign templates, you can publish social media material on a daily basis without missing a beat.
If you want to create consistent Instagram content, for example, this content calendar is the ideal way to plan. Simply choose an upcoming event to share with your audience and schedule social media updates for the days ahead. Clear up any ambiguity on what to create for your company's social media marketing. Simply select a social media campaign calendar template and customize it to meet your requirements.
QR Code Generator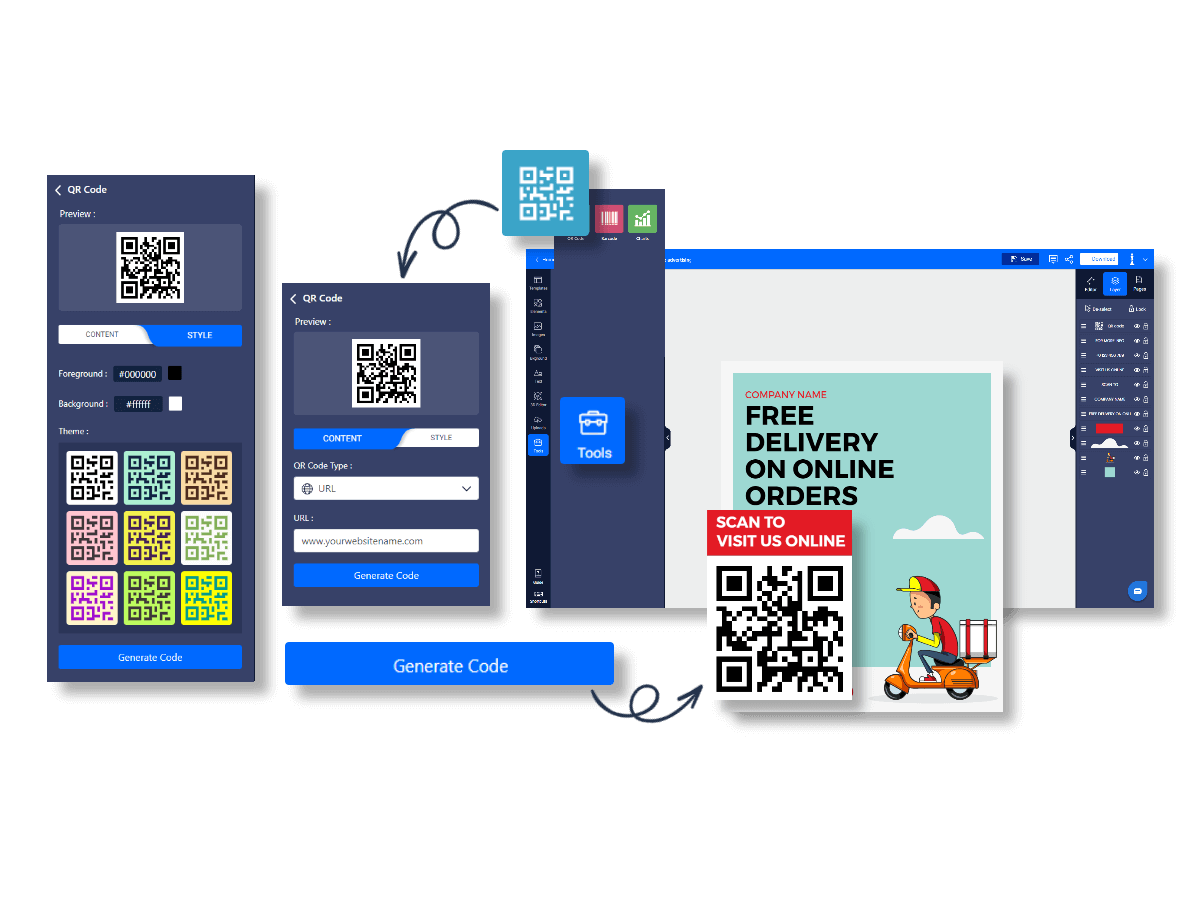 QR codes have become increasingly popular because businesses seek innovative ways to communicate with their clients. You can customize the size, shape, and color of your code, as well as the data you want to encode. This PhotoADKing tool makes it simple to design custom codes for your business or brand.
Barcode Generator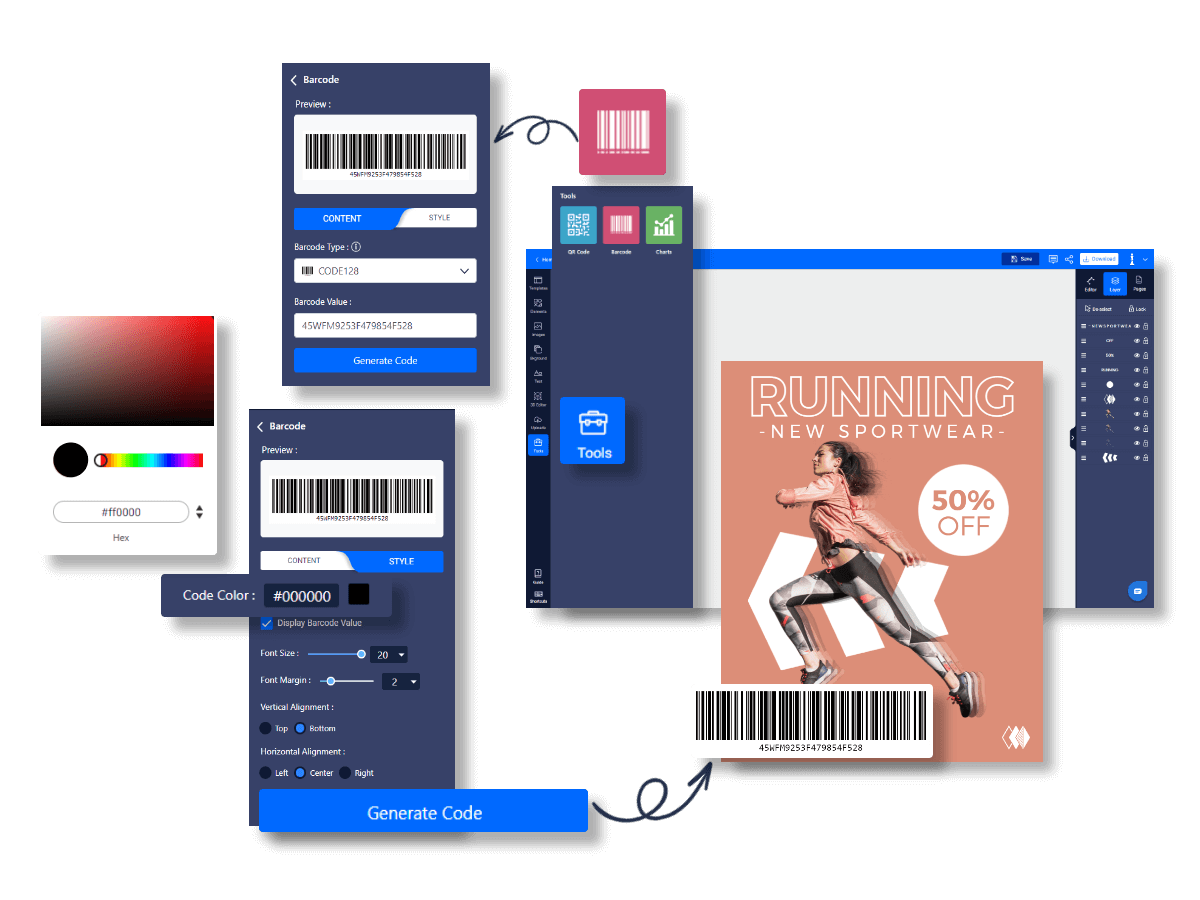 This Fotor alternative will assist you in creating a barcode that can be used commercially. This barcode generator is the ideal choice for you if you need a barcode for your product or business. The barcode generator is extremely easy to use and can be tailored to meet your specific needs. There are also a variety of sizes and colors available at PhotoADKing, so you can find the perfect option for your project.
Blend Mode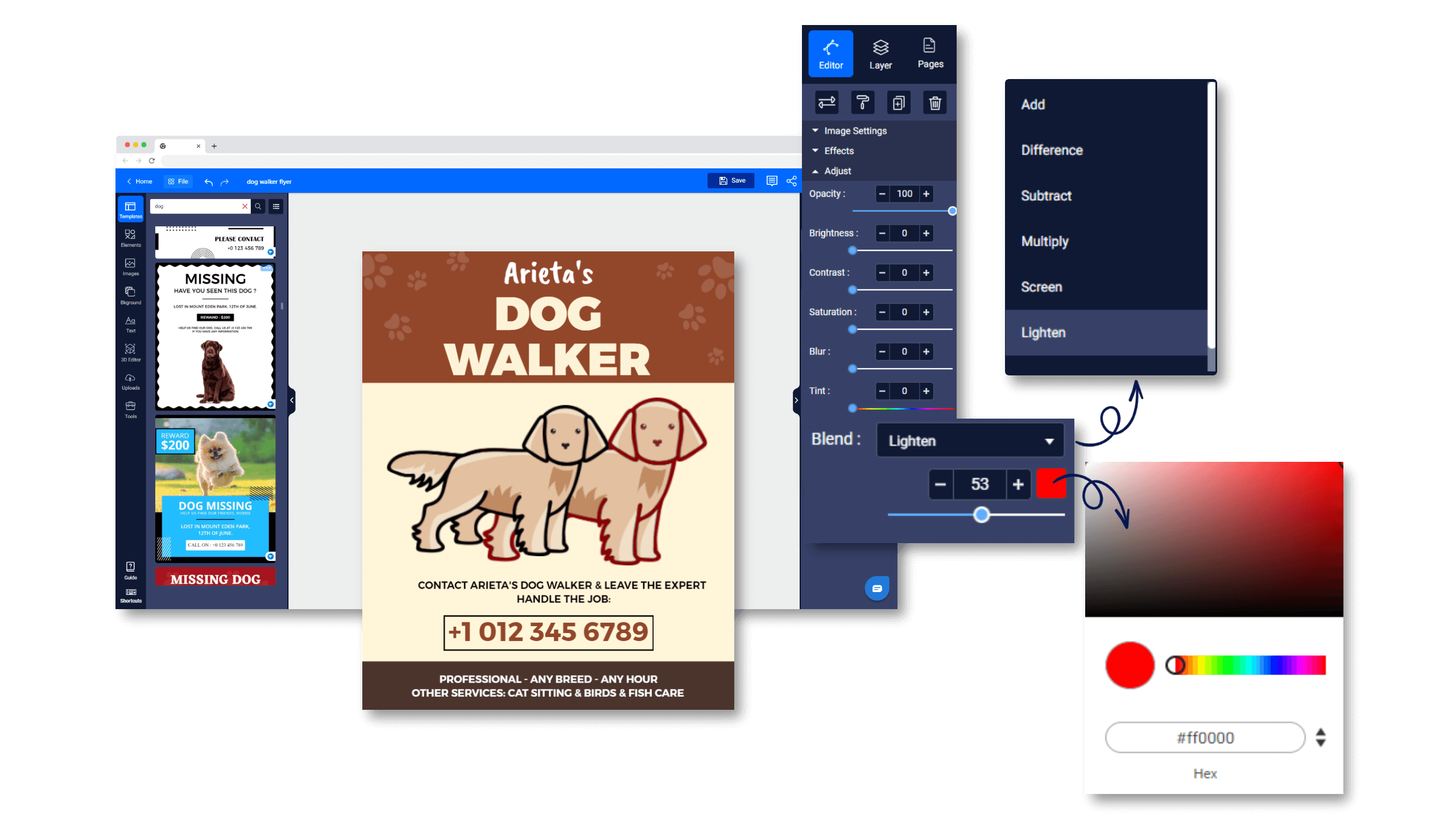 PhotoADKing's this option is an amazing way to add a little bit of creativity. Make your images looks different by using a variety of colors and effects. It's a feature that blends pixels from two images to generate a range of effects. This feature turns lighter images into darker or darker images into lighter ones.
3D Shape & Text Editor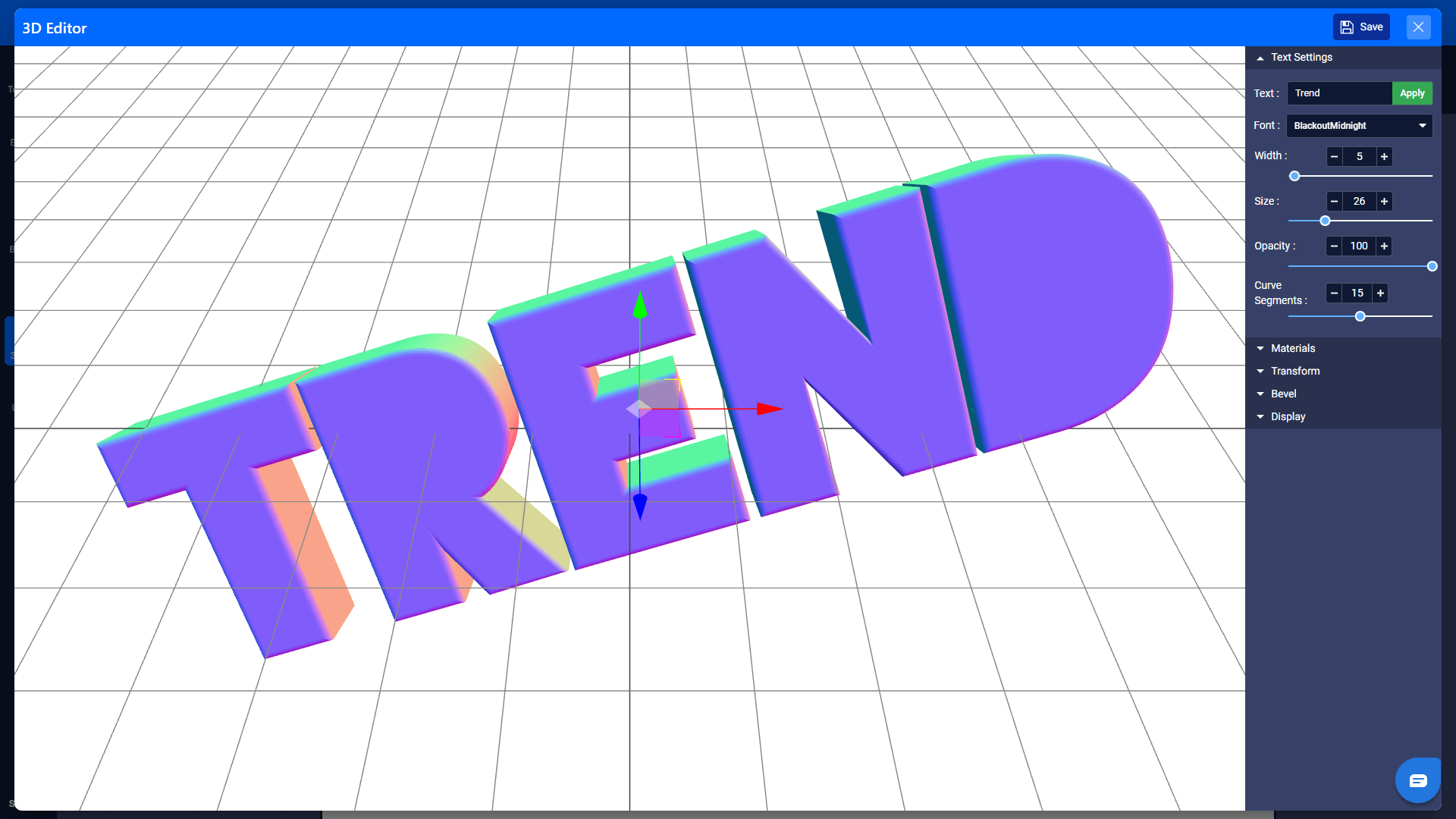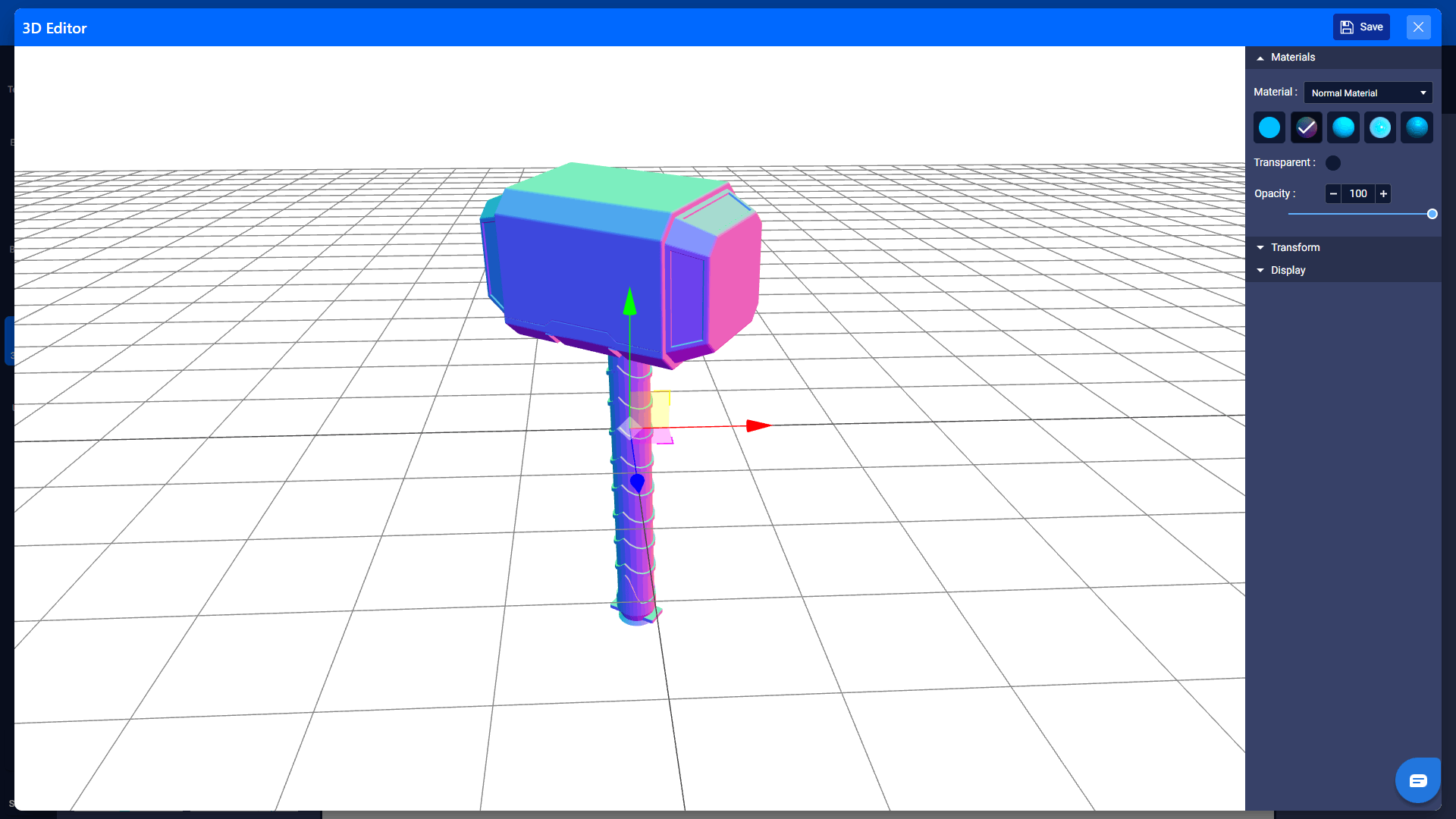 This feature of PhotoADKing allows you to create 3D visuals with ease and use them in your designs. 3D visuals give a completely different look to your designs so they stand out. You will not find this feature on Fotor but PhotoADKing offers this to take your creatives to the next level.
Conclusion
Fotor is a great tool but it has its own limitations. But on the other hand, PhotoADKing comes out effectively to fulfill the loopholes. Also, this Fotor alternative has more professional templates than Fotor. Its user interface is much more user-friendly irrespective of whether you are a professional designer or not.
Fotor is the tool that is worth every penny you spend. Overall, you will get more exclusive design features and more templates for making almost every marketing material. Hence, PhotoADKing is the best Fotor alternative.