Whether you're a small café, a large restaurant chain, or a food manufacturer. A brochure is a powerful tool to promote your food products and services that why food brochure design is an essential aspect of any food business.
A brochure can help you differentiate yourself from the competition by having an appealing design and distinctive information.

but, some of the problems that may arise when creating a brochure design include choosing visually appealing food images and colors.
Ensuring that the design is consistent with the brand's image, effectively communicating information about the food.
And its nutritional value, and making sure the brochure is easy to read and navigate.
In this article, we will explore the creative brochure design tips for a successful food brochure, and provide innovative and simple food brochure design examples.
Additionally, we will provide a variety of brochure templates to help you create your own stunning food brochure. Whether you're a restaurant owner, caterer, or food blogger, this guide will give you the tool you need to create a brochure that will make your food stand out.
So, let's dive in and explore the art of creating a mouth-watering brochure design for food products!
Table of Contents
7 Core Elements of Food Brochure Design
Appetizing imagery
The use of high-quality photographs or illustrations is essential in brochure design. because images are visually appealing and make the dishes featured in the brochure look delicious and inviting.
This can achieve through the use of professional photography, lighting, and editing techniques. The images should be high resolution and showcase the food in an attractive and appetizing way.
Clear typography
The text in a food brochure should be easy to read and follow. This can achieve by using a consistent layout and clear, legible fonts.
The text should be well-spaced, and the use of headings and subheadings because it helps to break the large text. and make it more manageable for readers.
Color scheme
The color scheme used in a brochure should complement the food and create a cohesive look. For example, warm colors such as red, orange, and yellow can use to evoke feelings of warmth and hunger.
And while cool colors such as blue and green can use to create a more calming and refreshing atmosphere.
Branding
Should Incorporate a restaurant's logo and branding elements throughout the brochure because it helps to increase brand recognition.
This can include the use of the restaurant's colors, font choices, and imagery, Including customer testimonials and reviews.
A brochure can help to build trust and credibility with potential customers. Branding elements should use consistently throughout the brochure and should be easily recognizable.
Menu items
A food brochure should include detailed descriptions of food menu items because it helps users to more deeply understand your food, including ingredients, price, and any special preparation methods.
This can help readers understand what they can expect from the dishes and can also help to entice them to try something new. and also the menu items should be present in a clear and easy-to-read format.
Call-to-action
A clear call to action should include in a food brochure to encourage readers to visit the restaurant. This can include a phone number, website address, or a statement encouraging readers to make a reservation.
The call-to-action should be prominently placed and easy to find so that readers can take action right away.
Additional information
A food brochure should also provide additional information about the restaurant, such as its location, hours of operation, and any special promotions or events.
This can include information about the restaurant's history, mission statement, and special features.
This information can help to create a sense of personality and character for the restaurant, and can also help to attract a certain type of clientele.
Food Brochure Design Helpful Tips
Make it shareable
Create a brochure that can be easily shared on social media platforms by including QR codes or links to your website or social media pages.
Test with different designs
Create different designs for the brochure and test which design received more attention or engagement from your target audience testing is essential because there is no chance of errors.
Keep it updated
Regularly update your brochure with new menu items, specials, and promotions to keep it fresh and relevant.
Be descriptive
Include detailed descriptions of your menu items and highlight any unique or special ingredients.
Highlight specials and promotions
If you have specials or promotions, make sure to highlight them in the brochure to entice customers to visit your establishment.
Utilize professional food photography
To create a sense of variety, ensure that the photographs are well-lit and captured from various angles. because professional food photography can help to showcase your dishes and goods in the best possible light.
Include contact information
Be sure to include your restaurant's contact information because it helps customers easily contact you, including your address, phone number, and website, so that customers can easily find your contact.
Finally, proofread and edit the brochure carefully to ensure that there are no spelling or grammar errors because errors reduce the business's reputation.
5 Best Food Brochure Design Examples
1. Minimalist Food Brochure Design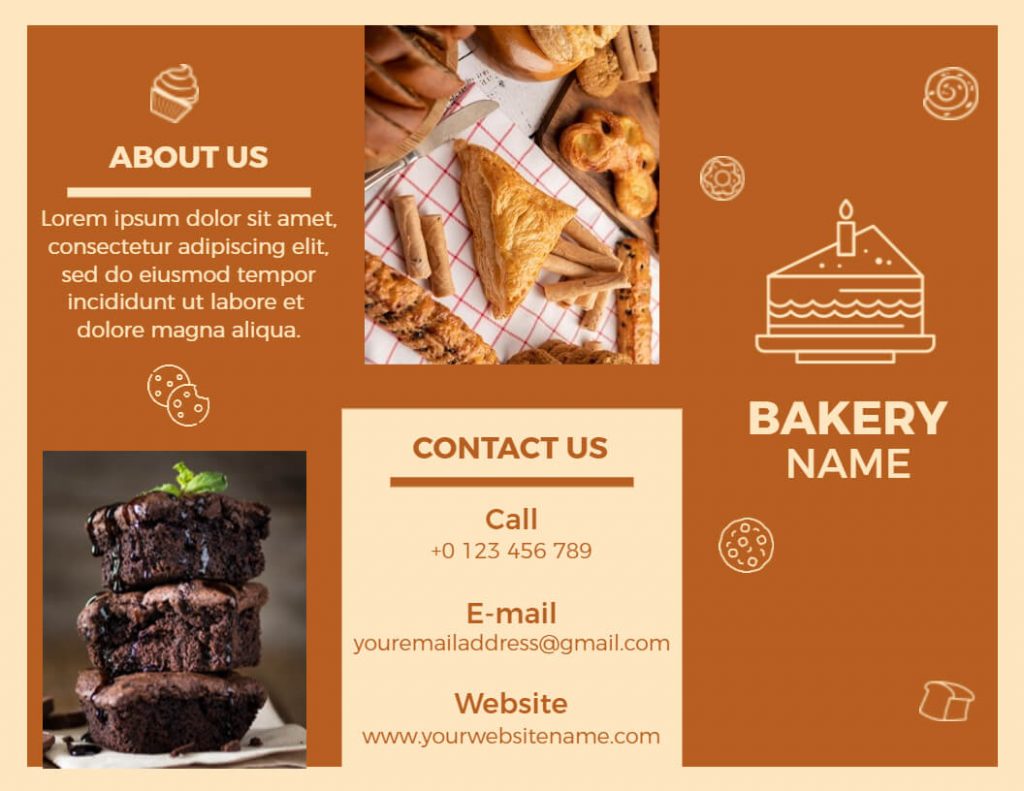 2. Dark and Light Food Brochure Design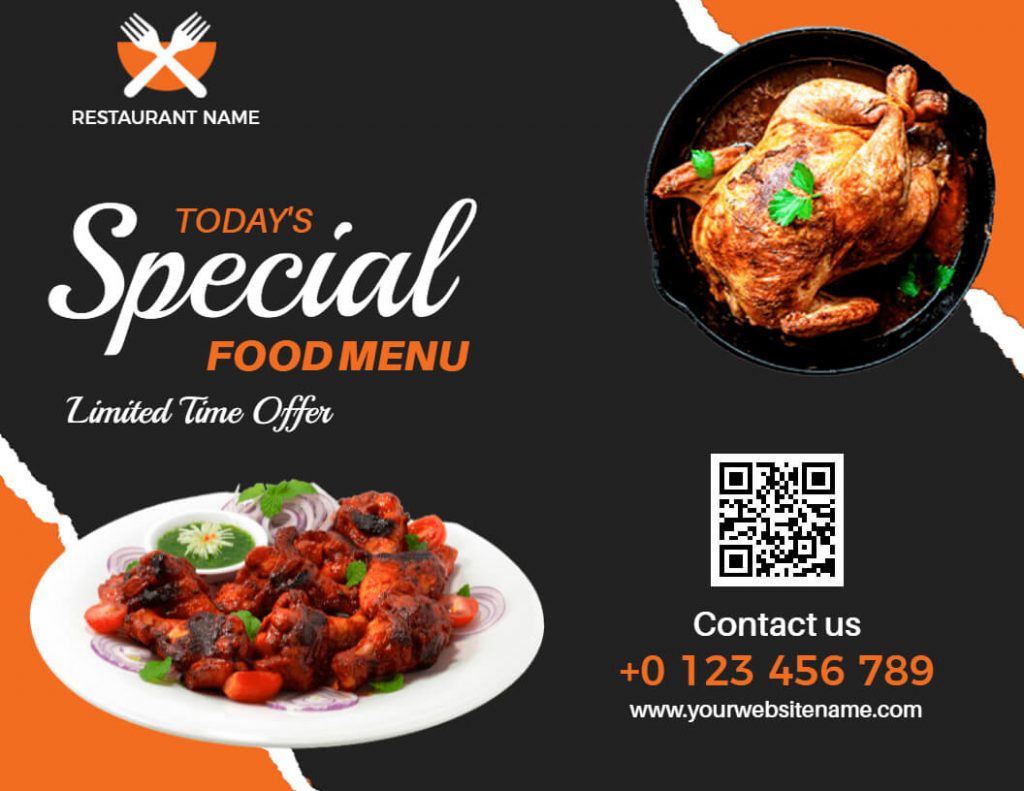 3. Simplist Tri-Fold Food Brochure Design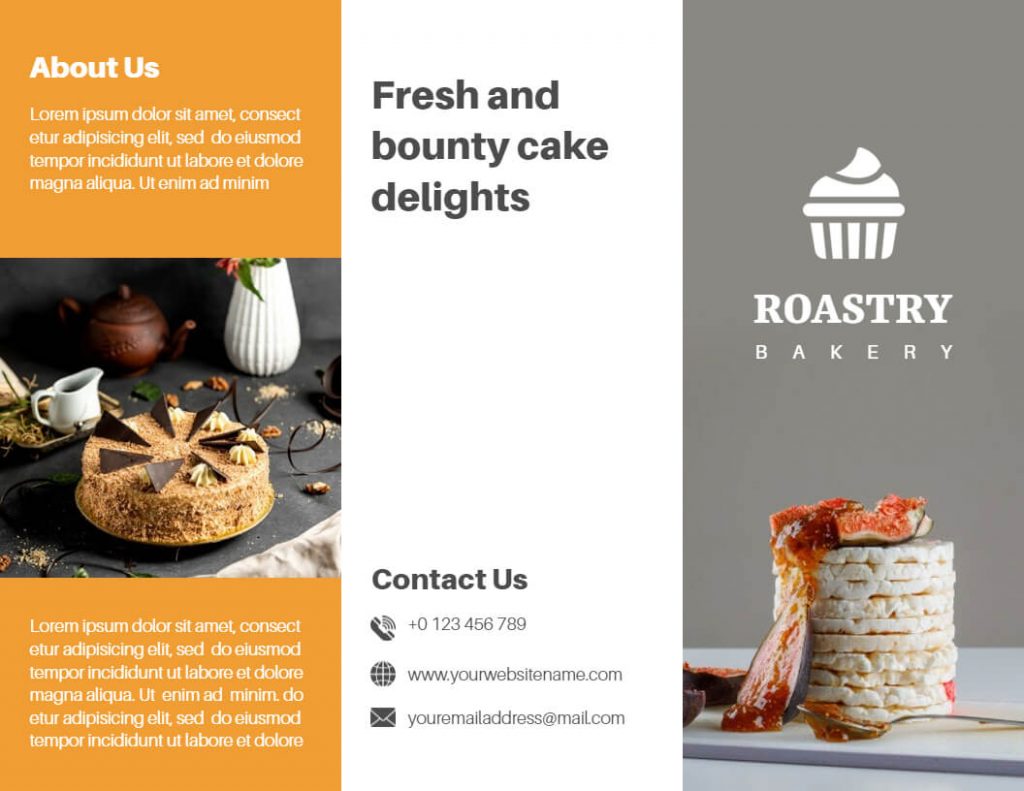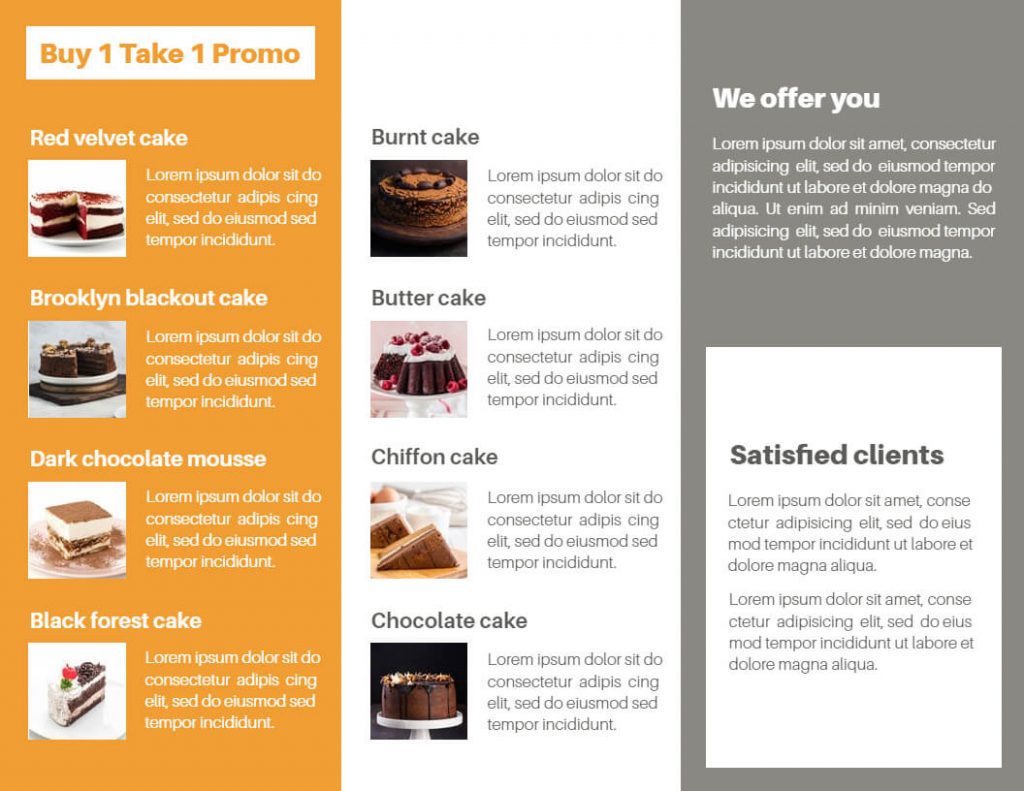 4. Light and Simple Food Brochure Design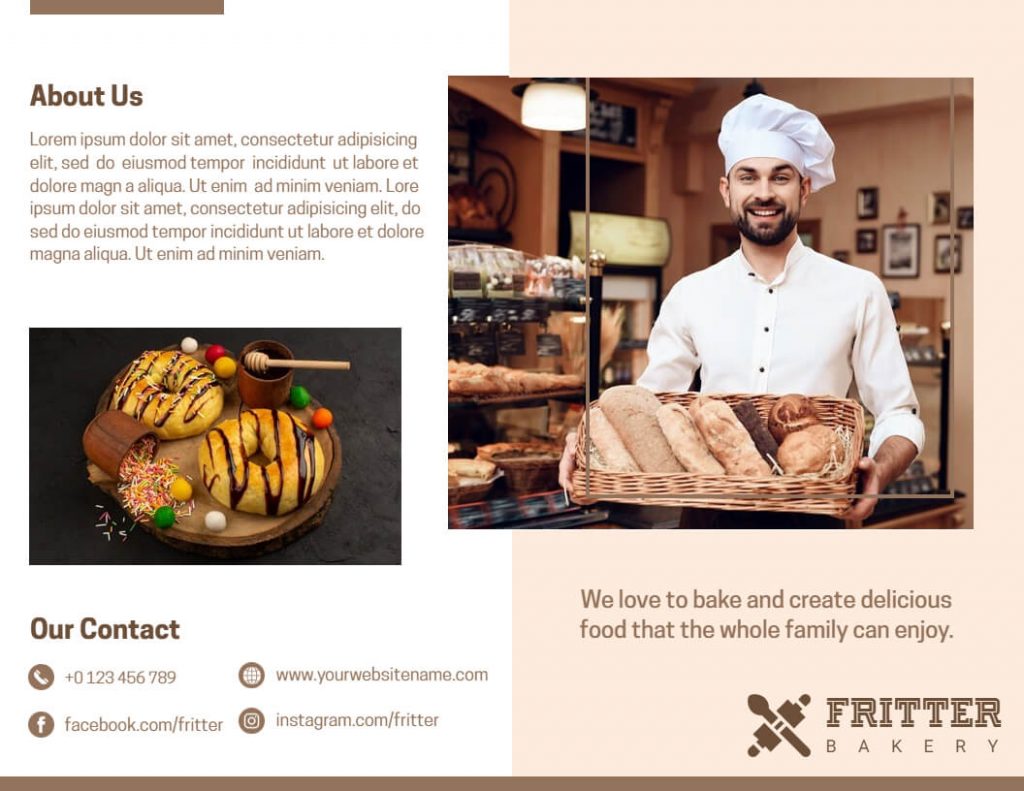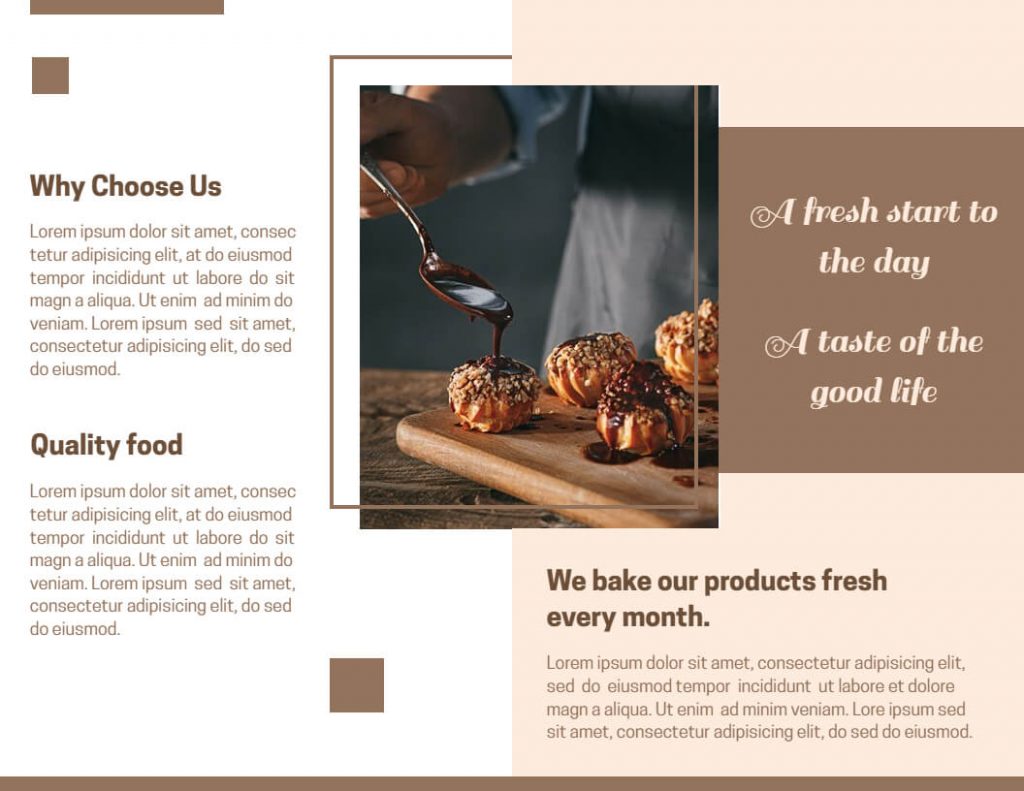 5. Attractive Tri-Fold Food Brochure Design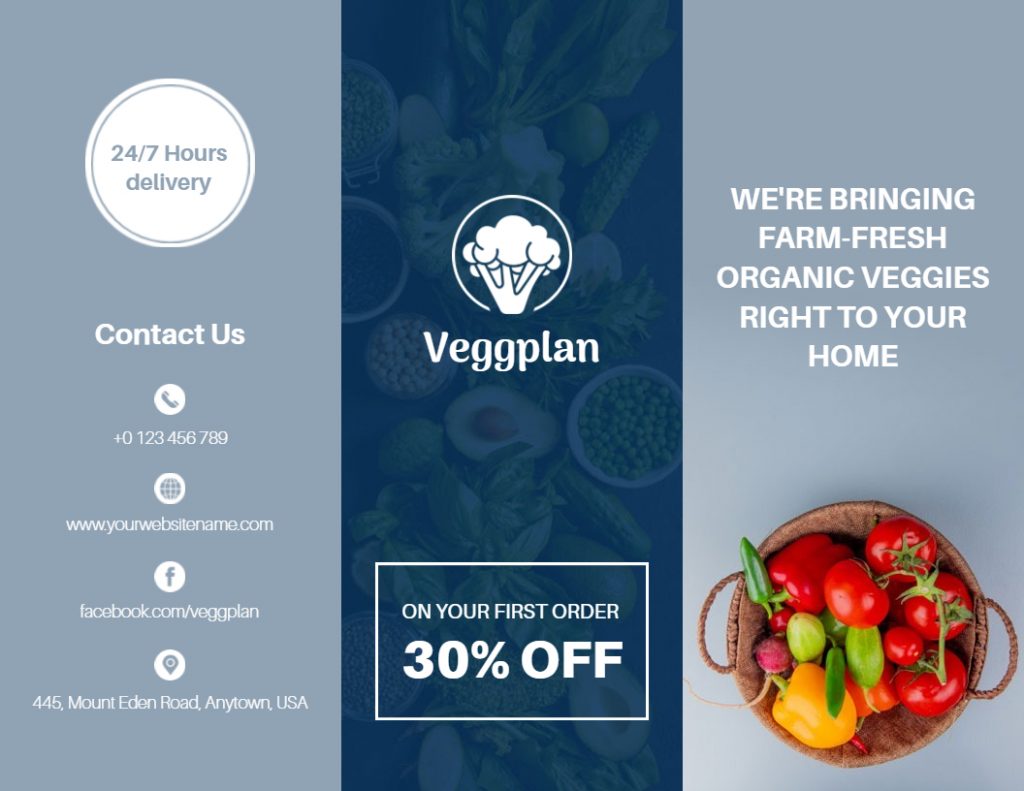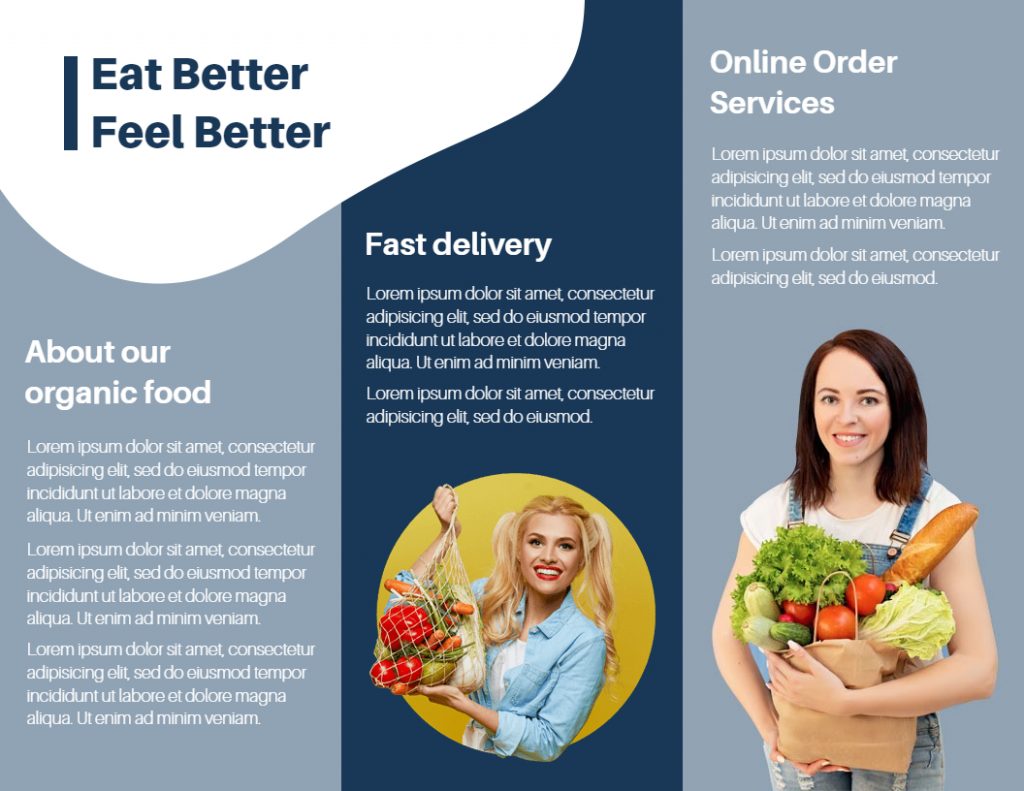 Digital Food Brochure Design Using PhotoADKing
1. Signup or Login with PhotoADKing
2. Go to your Dashboard & select 'Brochure' from the category dropdown. Enter your niche "food" in the text box beside the category dropdown and Press Enter.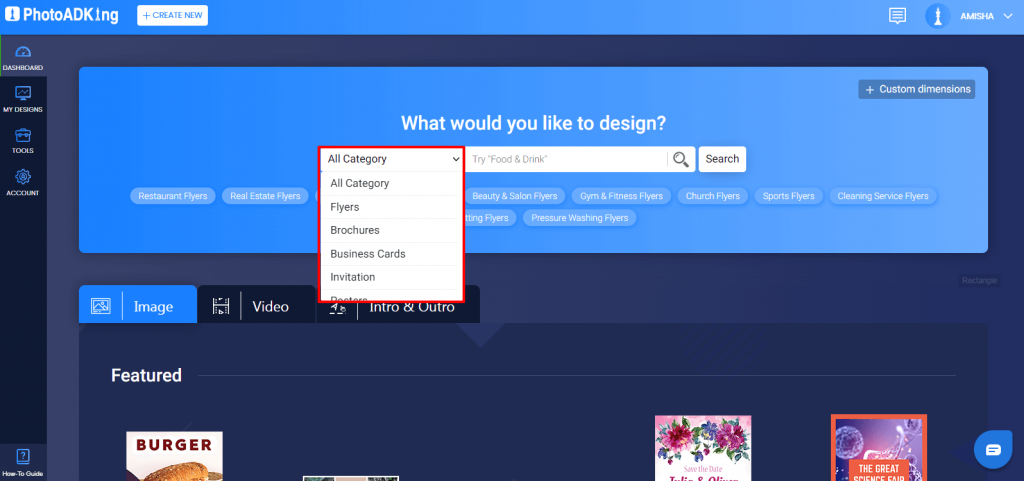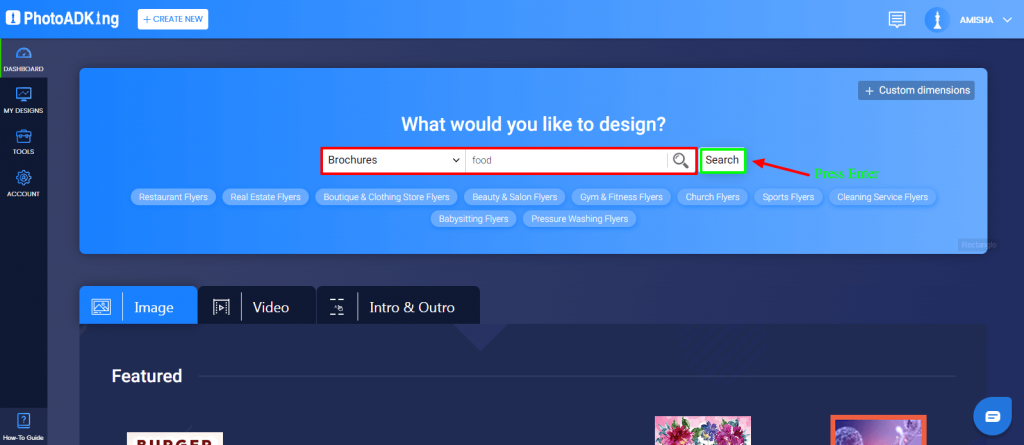 3. Scroll down & view the latest food brochure template design ideas.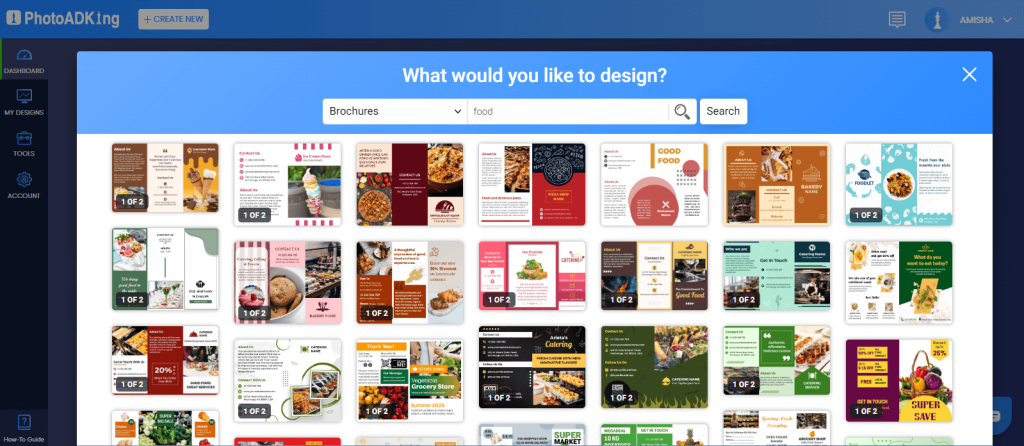 4. Choose the brochure template you want, and PhotoADKing will send you to the editor. so you may now use PhotoADKing's resource library, which has a tonne of graphics, stock photos, illustrations, and more, whilst you are in edit mode. Use whatever you want and make any necessary edits to the visible portions of your brochure design.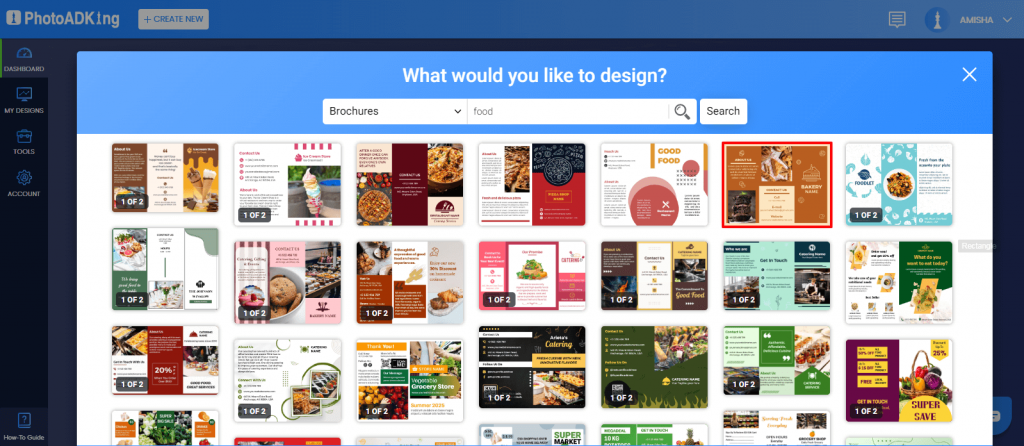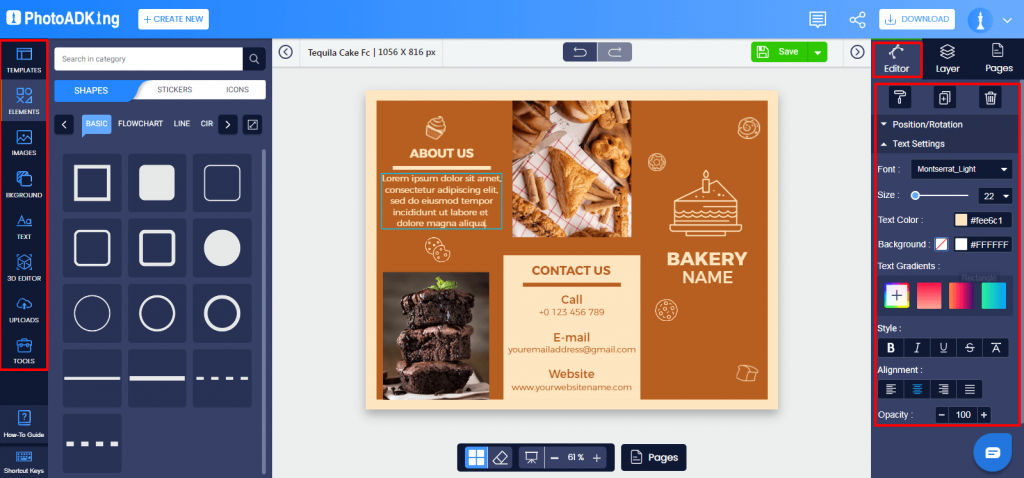 5. When your template is finished customize, and preview it until more changes are needed. so, Now you can download it, save a copy, or immediately share it online.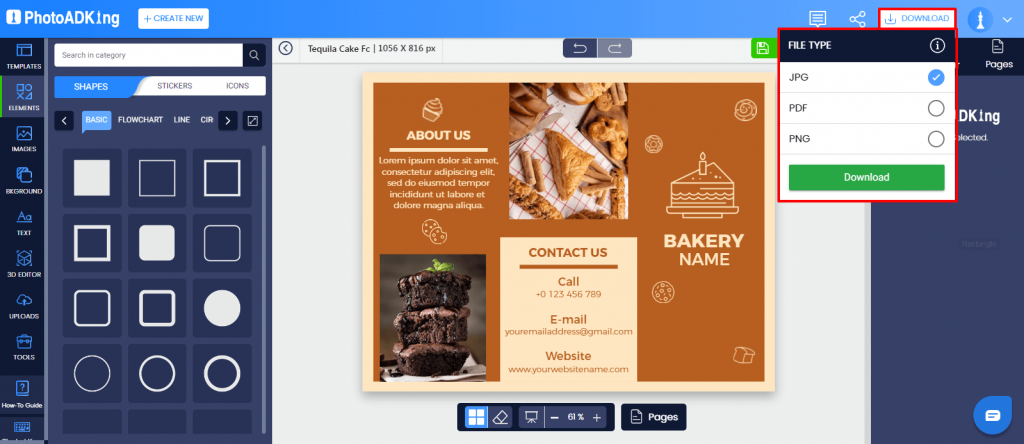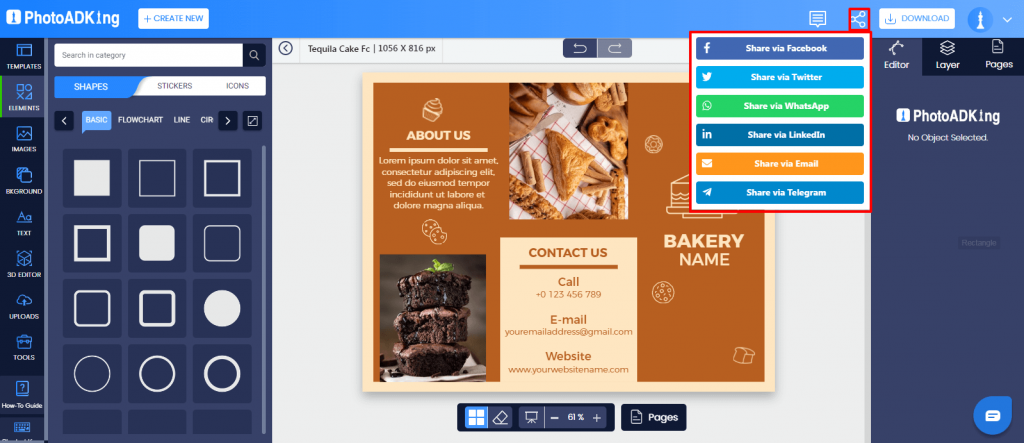 What a hassle-free experience printing brochures is! Try it today!
Bottom Line
In conclusion, designing a brochure requires careful consideration of various elements such as color scheme, typography, and imagery. because the design should be visually appealing and easy to navigate while effectively communicating important information about the item. A well-designed brochure can help to increase interest in the food items and drive sales. Also, if you are looking for food poster designs, then check out our blog on food poster ideas.