Facebook cover pics are an excellent example of how social media marketing differs from ordinary social media usage. A fantastic personal cover photo is anything that looks good on our profile, but our business cover photographs must do much more. The Facebook cover photo for a page should be branded and represent the company. Therefore, to create a Facebook cover, it's important to understand the correct Facebook cover photo size. In this piece, we'll look at the ideal Facebook cover photo size and premium cover photo techniques to ensure that your photographs accurately represent your company.

To create a visually appealing and professional-looking Facebook cover photo, you can use a Facebook cover maker tool that offers customizable templates, graphics, and fonts to make your cover photo stand out from the crowd.
Facebook Cover Size for Desktop
The recommended social media image size for a standard Facebook cover photo is 820 pixels wide by 312 pixels tall, with an aspect ratio of 16:9. This size ensures that your cover image looks great on a standard computer monitor, without being too stretched or compressed. When designing your desktop cover photo, make sure to use high-quality images or graphics that reflect your brand or message.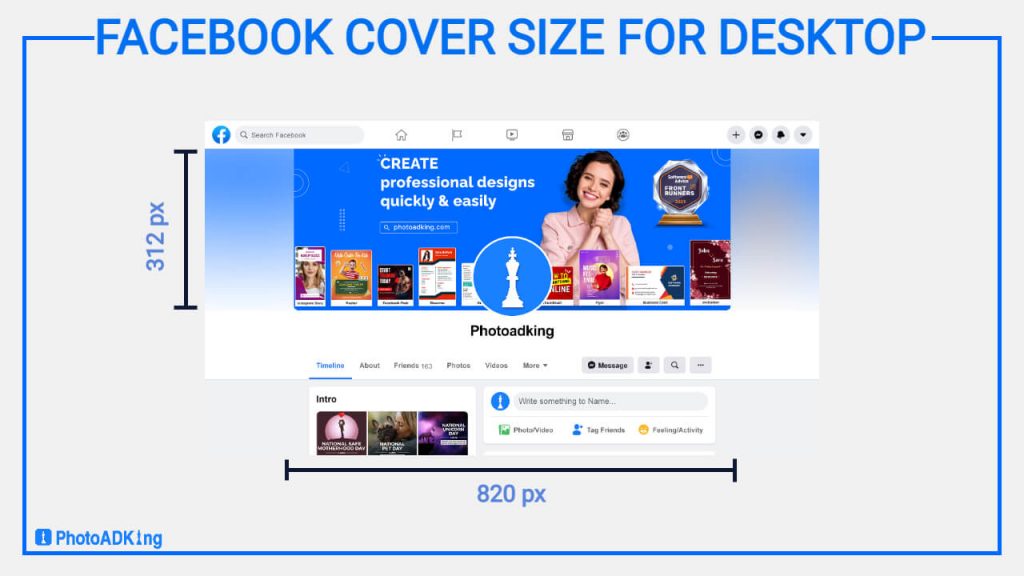 Facebook Cover Size for Mobile
With more people accessing Facebook on their mobile devices, it's important to optimize your cover photo for smaller screens. The recommended size for Facebook mobile cover photos is 640 pixels wide by 360 pixels tall, with an aspect ratio of 16:9. This size ensures that your cover photo looks good on both iOS and Android devices. When designing your mobile cover photo, focus on using high-contrast images or graphics that are easy to see on a small screen.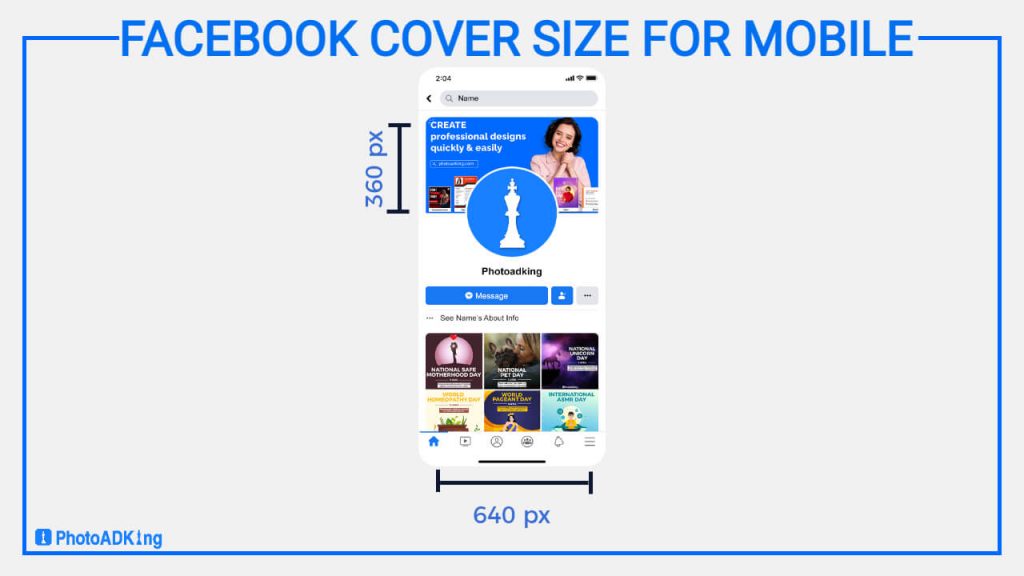 Facebook Event Cover Photo Size
For event cover photos, Facebook suggests images with a 1200 x 628 pixels resolution. This results in a 1.91:1 aspect ratio. The cover image may be extended depending on the device. As a result, we recommend that you choose a Facebook event photo size that is larger than the required dimensions. Your Facebook event banner should ideally be 1920 x 1005 pixels in size.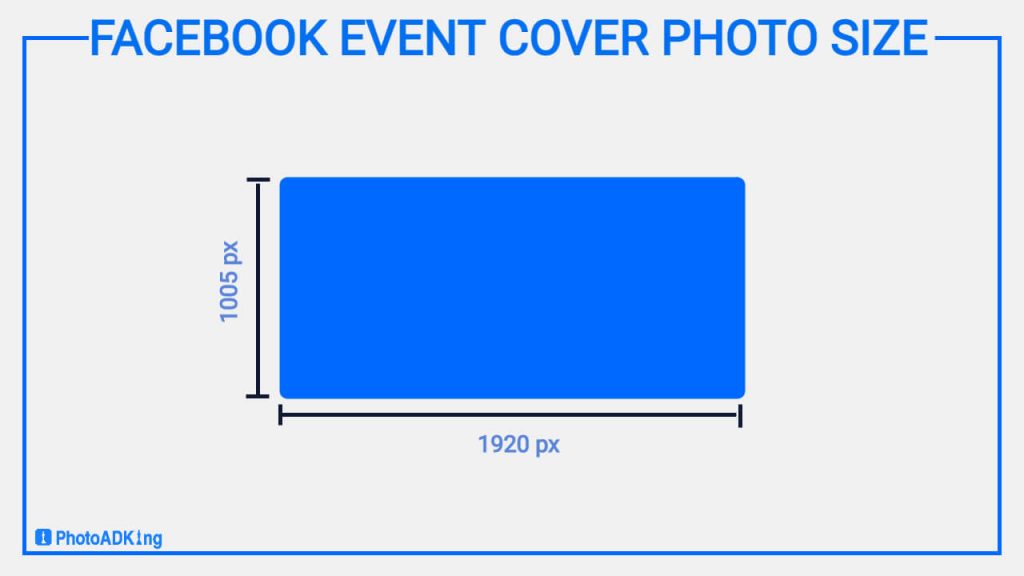 Facebook Group Cover Photo Size
The recommended size for a Facebook group cover photo is 1640 pixels wide by 856 pixels tall (aspect ratio – 1.91:1). This size ensures that the photo will display correctly on both desktop and mobile devices. It's also important to keep in mind that Facebook may crop the photo depending on the device and screen size, so it's a good idea to make sure the most important elements of the photo are in the center and not too close to the edges. Additionally, the maximum file size for a Facebook group cover photo is 4MB.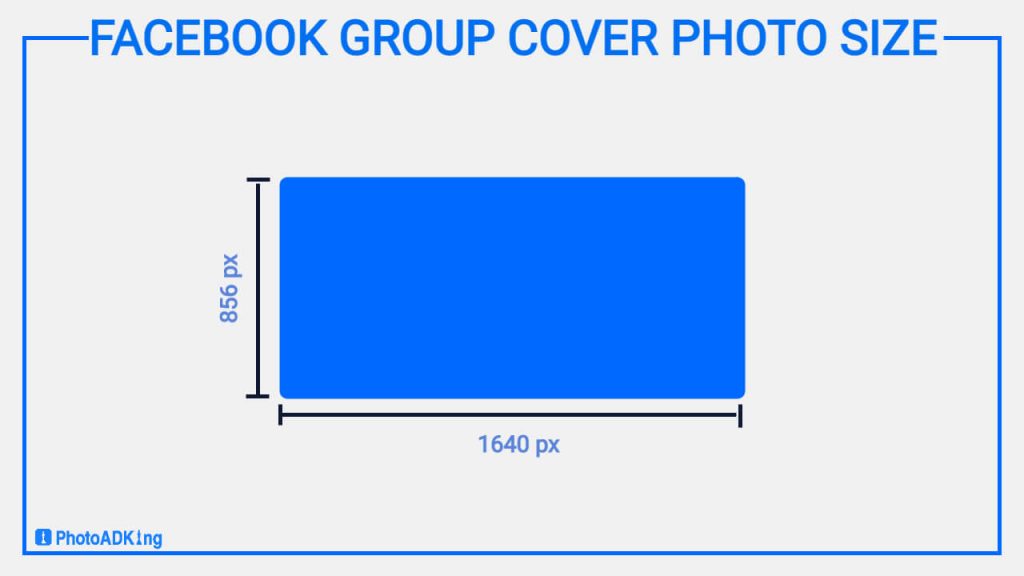 Facebook Business Page Cover Photo Size
Creating the perfect company page cover photo might be difficult. This is because the image is displayed in various sizes on different devices.
On desktops, for example, the cover photo retains its width on desktops cropped from the top and bottom. On smartphones, however, the image is cropped from the sides while preserving its height. Facebook recommends an image size of 820 by 360 pixels; a little larger image is preferable to allow for cropping. As a result, the ideal business page cover photo size for Facebook is 1200 x 674 pixels with a 16:9 aspect ratio.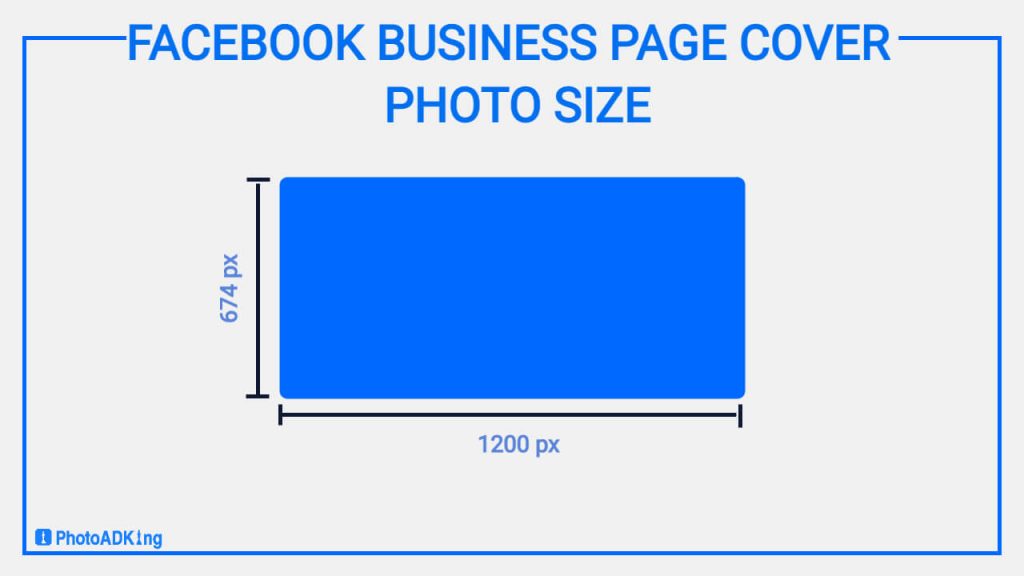 Here is the summarized table for sizes for various Facebook cover photo sizes:
Category
Ratio
Size in Pixels
Facebook Cover Size
for Desktop
16:9
820 x 312
Facebook Cover Size
for Mobile
16:9
640 x 360
Facebook Event Cover Photo Size
1.91:1
1920 x 1005
Facebook Group Cover Photo Size
1.91:1
1920 x 1005
Facebook Business Page Cover Photo Size
16:9
1200 x 674
How to Choose the Perfect Facebook Cover Photo for Your Business?
You certainly know what kind of design you want for your Facebook page, but what about the cover image?
Because adding a cover image to your Facebook page is simple, many firms use stock photos or select a theme and place a creative image on it. The good thing is that you can experiment with the design of your cover photo. If you can't afford to take that risk, you can use the PhotoADKing tool that provides predesign social media cover images with perfect size.
When creating a Facebook cover photo, keep the following in mind:
Use Your Brand's Colours and Theme
Facebook users are eager to learn more about you. And so do your potential clients, which is why your cover photo should be consistent with the overall identity of your firm. When it comes to acquiring new clients, Facebook pages can be incredibly effective. For example, a focused Facebook group can be useful for generating new leads. However, it is critical that you maintain consistency in your branding.
Visual Attraction
Keep your text brief and precise. Your goal is to increase visitors to your Facebook page. Anything that interferes with that purpose is a terrible idea. Including a lot of text on your cover photo takes up space and is merely a visual distraction. Take note of the layout, the separation of text and pictures, and how you build each section.
Visual Balance
The profile image and cover photo are two distinct components of your Facebook business page that require equal attention. The profile picture is on the left, and cover photo designers frequently emphasize the right side of the image to balance the pieces aesthetically. As a result, the design is visually appealing, well-balanced, and simple to understand.
Make It Simple
While your primary Facebook cover photo should include your brand name, having a feature photo for your brand is also vital. The cover photo should not be a generic company profile photo but one that clearly shows your brand in action and brings value to your customers' lives. It is impossible to merge the visual language of traditional website design into Facebook cover shots. As a result, it is acceptable to simplify your design.
Keep It Relevant
Your cover photo should be relevant to your business and your target audience. Consider your audience's interests and preferences, and choose an image that they will relate to.
Update It Regularly
Finally, don't forget to update your cover photo regularly to keep it fresh and relevant. This will help keep your brand top of mind for your followers and customers.
Consider Your Audience
Your cover photo should appeal to your target audience, so consider their age, gender, interests, and lifestyle when choosing an image. For example, if you're targeting a younger audience, you may want to choose a more playful or trendy image.
Highlight Promotions or Events
Use your cover photo to highlight promotions, events, or product launches. This can help generate buzz and drive sales for your business.
Test Different Images
If you're unsure which image to use, test different options to see which one performs best. You can use Facebook's built-in A/B testing feature to test different cover photos and see which one gets the most engagement.
Be Consistent
Finally, make sure your cover photo is consistent with your overall branding and messaging. This will help reinforce your brand identity and make it easier for customers to recognize and remember your business.
Conclusion
The ideal Facebook cover photo size can help you make a strong first impression with new members. Your image looks nice on both mobile and desktop, with no odd cropping or the image being off-center. Combining the ideal cover photo size with Facebook cover photo best practices can assist you in developing the social presence and reputation that you desire for your company. Moreover, you can also use customizable Facebook cover templates that come in the perfect size and saves you a lot of time. So, what are you waiting for? Try them out now!