Desygner is a popular tool in the design industry but it lacks some essential features. That is why users try to look for Desygner alternative tools which fulfill all their design needs. No matter if you are a professional designer or not, we have got you an amazing Desygner alternative.
PhotoADKing is the tool that stands out on the top among all the Desygner alternatives. It has all the essential features which every business or individual requires. Its brilliant user-friendliness makes it a complete package that every user needs.
Desygner vs PhotoADKing (Quick Comparison)
Here's a quick comparison of both tools so you can decide which one is best for you. Please see the table below: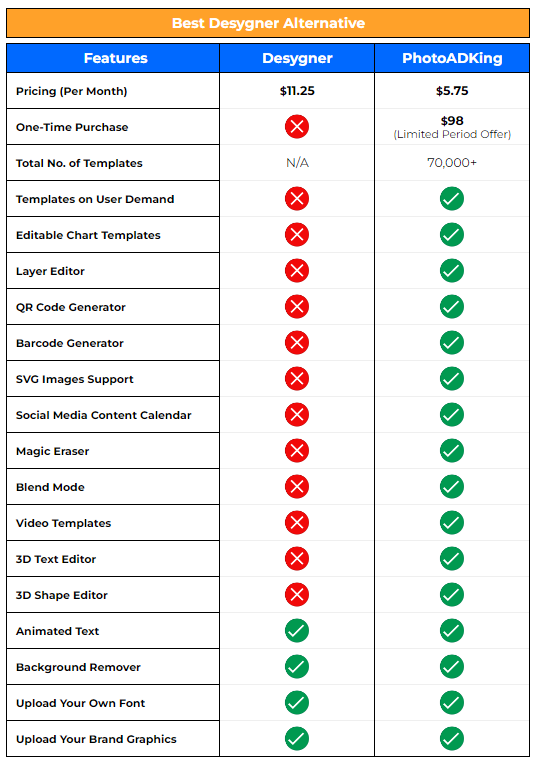 The Key Features of PhotoADKing – An Outstanding Desygner Alternative
PhotoADKing is a graphic design tool that allows you to create beautiful designs quickly. It has fantastic features that allow users to create flyers, posters, banners, social media marketing material, and a variety of other promotional materials. You will learn below about some of the most important elements of PhotoADKing that will be a game-changer in your design work.
Pricing (Per Month)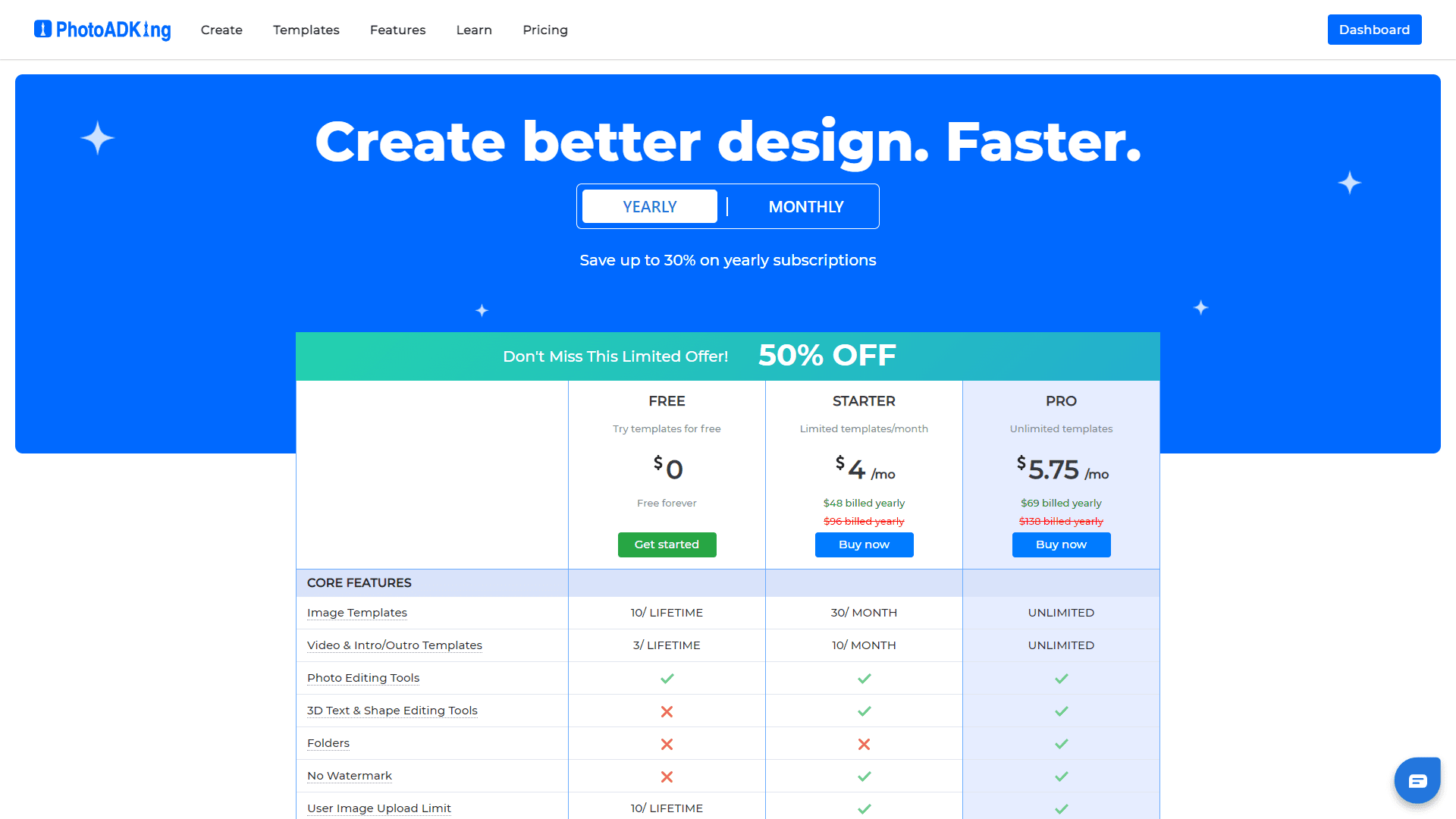 PhotoADKing is very reasonably priced, making it the most economical Desygner alternative for all users. You can make appealing designs without spending a fortune on a design tool.
One-Time Purchase (Limited Period Offer)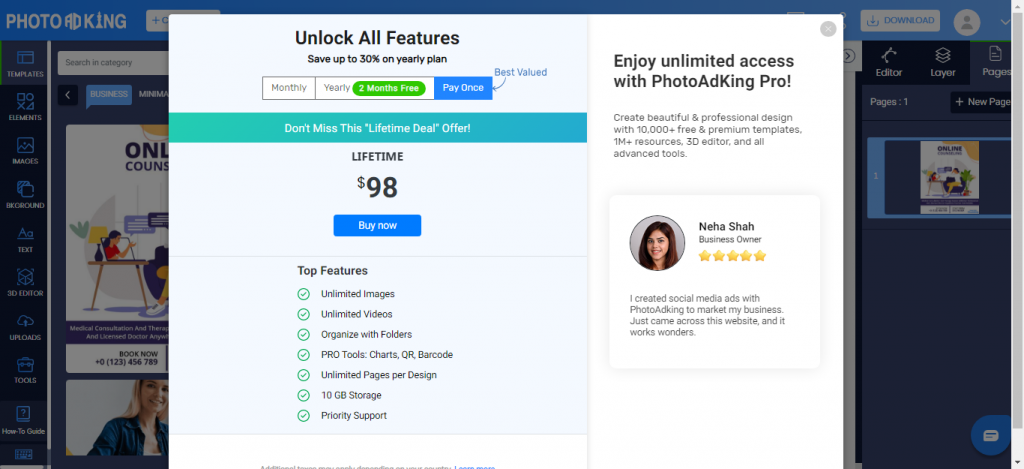 If you're searching for the most cost-effective, one-time purchase solution for your layout needs, PhotoADKing is your best bet. All premium templates and features are available for just $98. (Limited Time Offer)
Templates on User Demand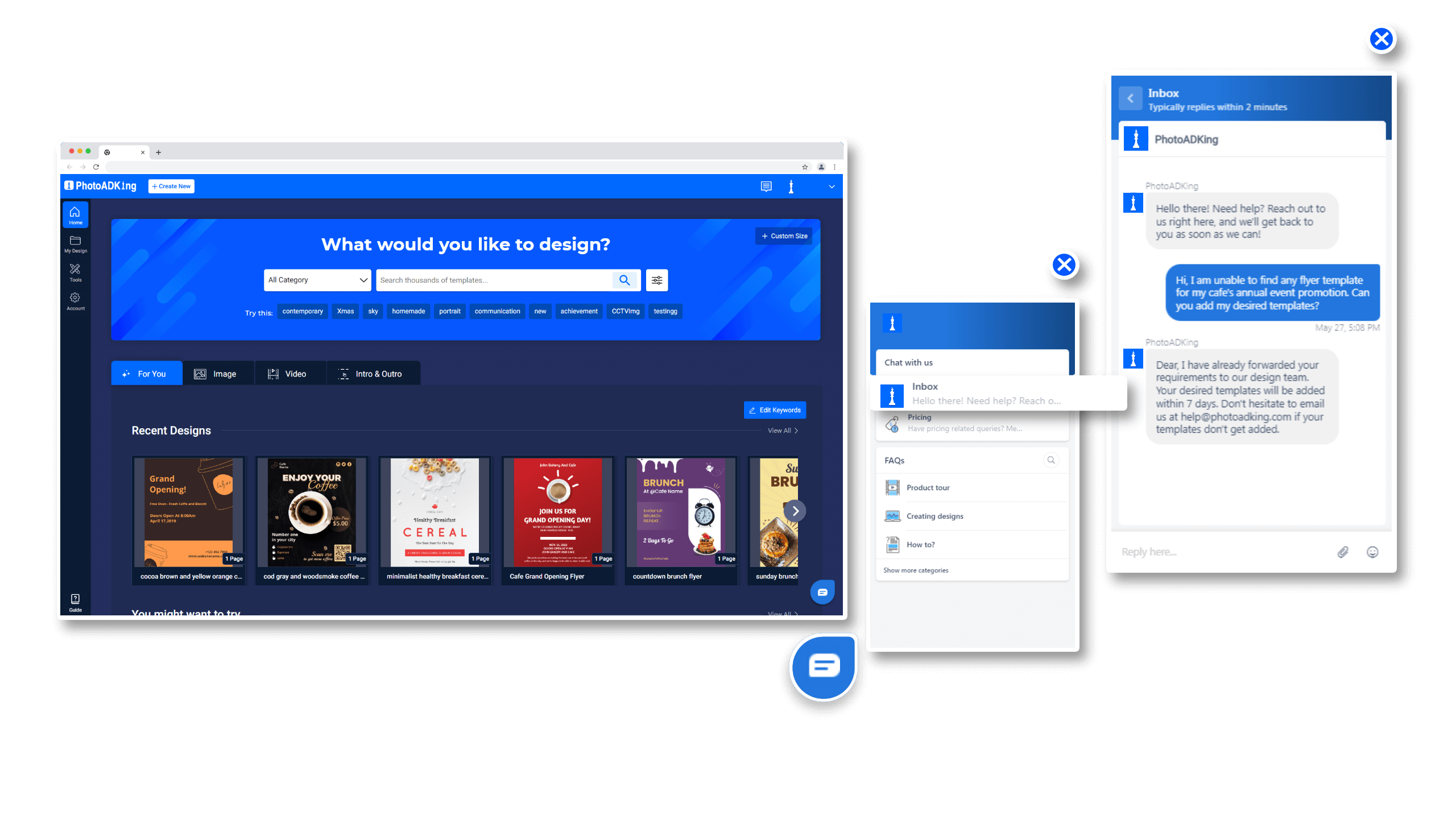 PhotoADKing delivers templates on demand. It implies that if you can't locate your preferred template, you can simply submit an email or a message through the help center. The template will be made accessible as soon as possible by PhotoADKing.
Layer Editor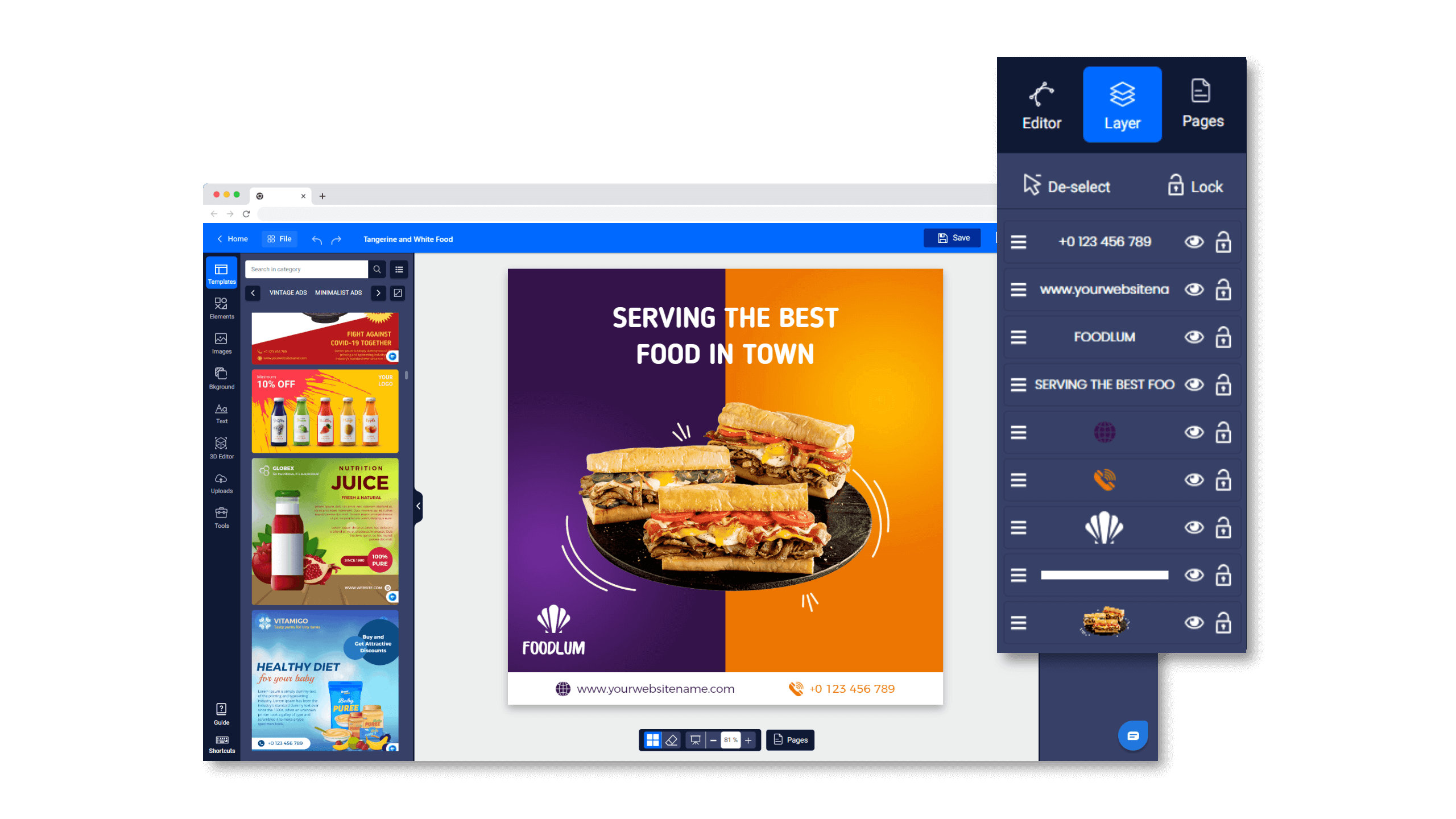 You must pick a tool with all key features for your design needs if you want to level up your marketing strategy. You can easily manage all the design elements within the template using PhotoADKing's Layer Editor. Any layer can be locked or hidden and repositioned as you need.
Upload Your Own Font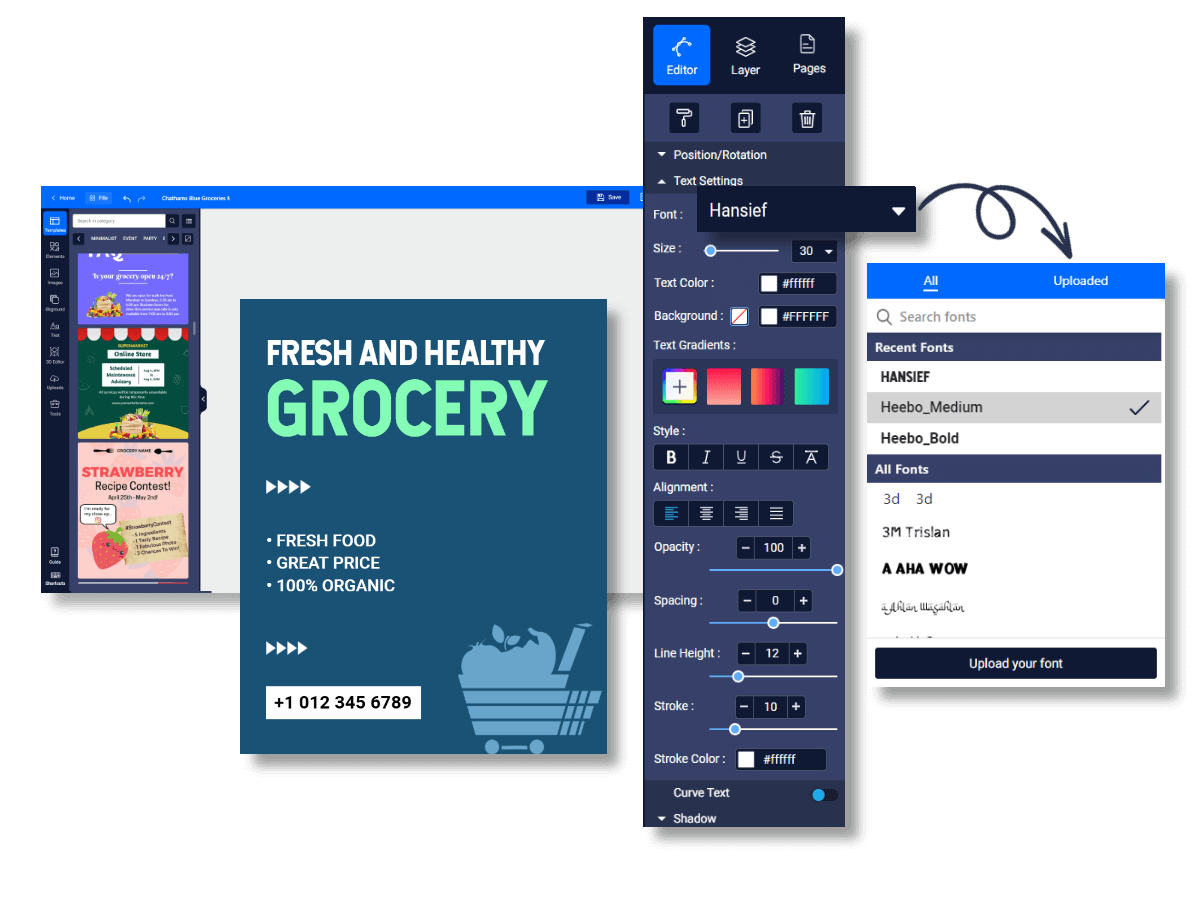 Entrepreneurs and business owners must always ensure that their marketing follows their brand identity. PhotoADKing simplifies the process for you. You can use your own font in your designs by uploading it. Simply go to the text preferences, click 'Upload Font,' and save it to your font collection. You can now use your uploaded font in the same way that you would any other existing fonts.
Chart Templates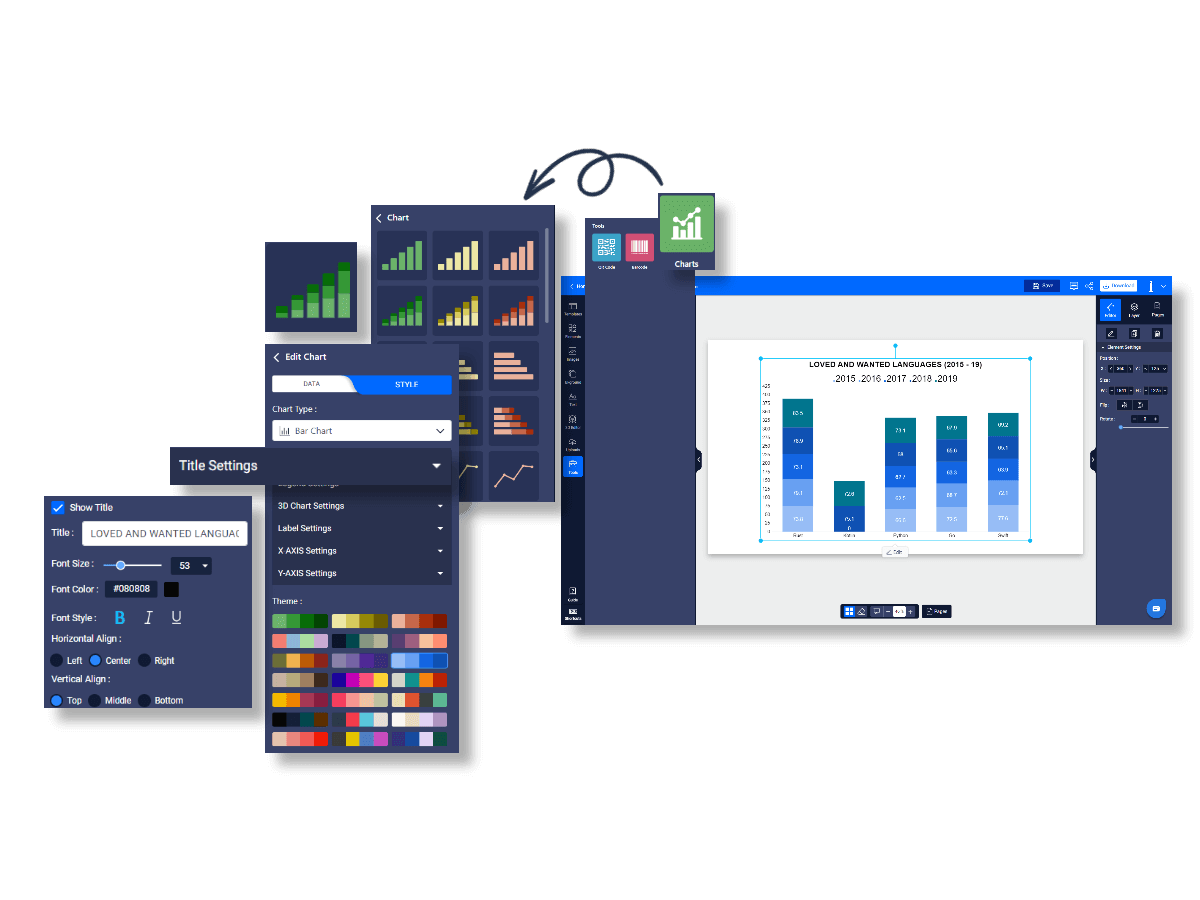 You can create custom charts and graphs in just a few clicks by using PhotoADKing's Graph Maker. Bar charts, Doughnut charts, Area charts, and Pie charts are available for every business that wants its designs to be eye-catching.
All available chart templates are professionally designed keeping the user first in mind. You may enter data manually in the editor or upload an existing Excel file which will save plenty of your time. After customizing, you can download and use it in high resolution.
Social Media Content Calendar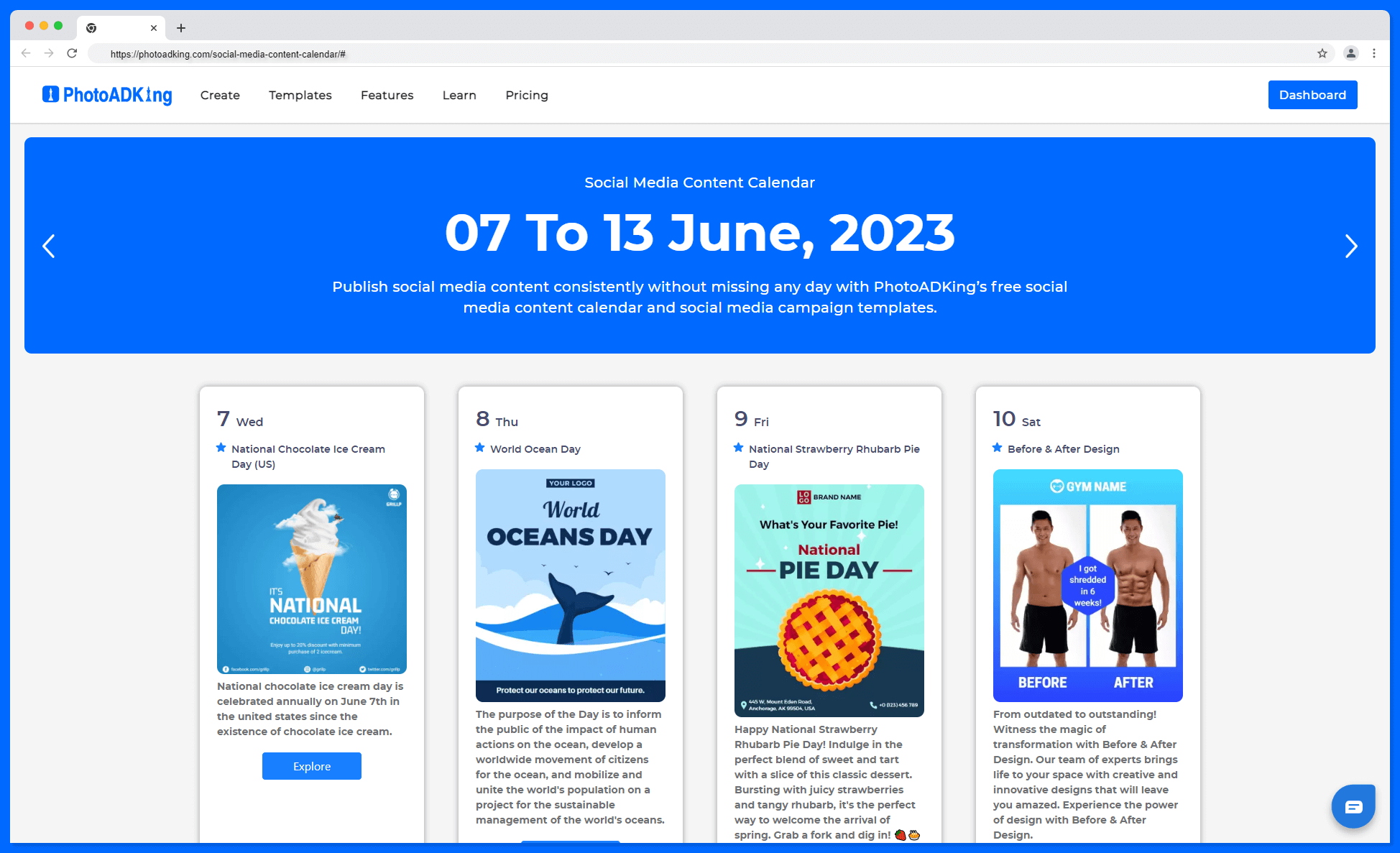 Create social media content within a minute using PhotoADKing's social media content calendar. Simply choose an upcoming event to share with your audience and schedule social media posts for the following days. Clear out your misunderstanding regarding what to design for your company's social media marketing. Simply select a social media campaign calendar template and modify it to meet your specific requirements.
Create wishes, quotes, offers, and discount sales, giveaways, and questionnaires, and announce business events by using PhotoADKing's social media content calendar to create interesting social media posts. Select a social media post template, personalize it, and share it.
QR Code Generator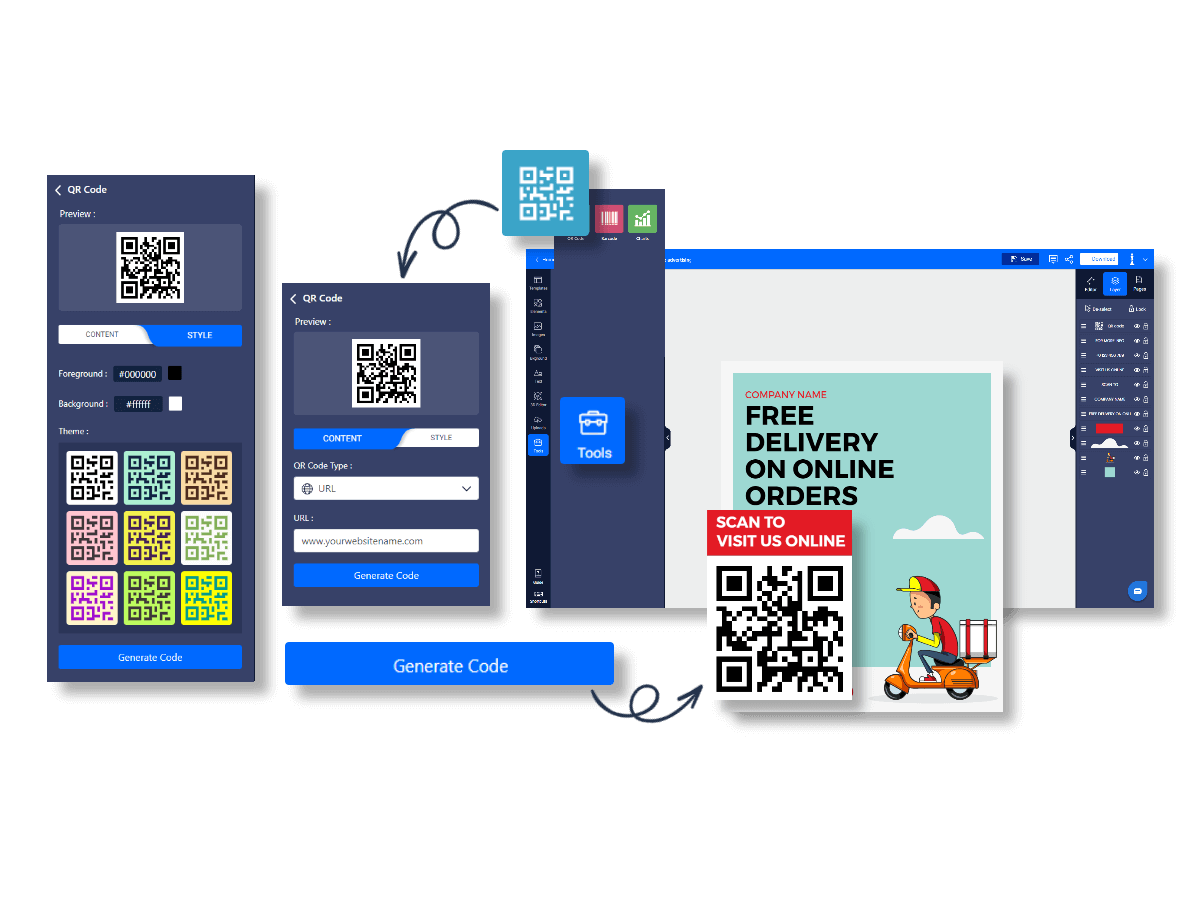 Qr codes are gaining popularity just because they are versatile and easy to create. You can use them to gather valuable feedback from the customers for products or services you provide. Generate different types of QR codes so you can promote your business substantially.
This Desygner alternative offers plenty of different QR Codes for marketing. You can Generate a URL QR code, Phone number QR code, vCard QR code, simple text QR code, SMS and Email QR code, and Wi-Fi QR code.
Barcode Generator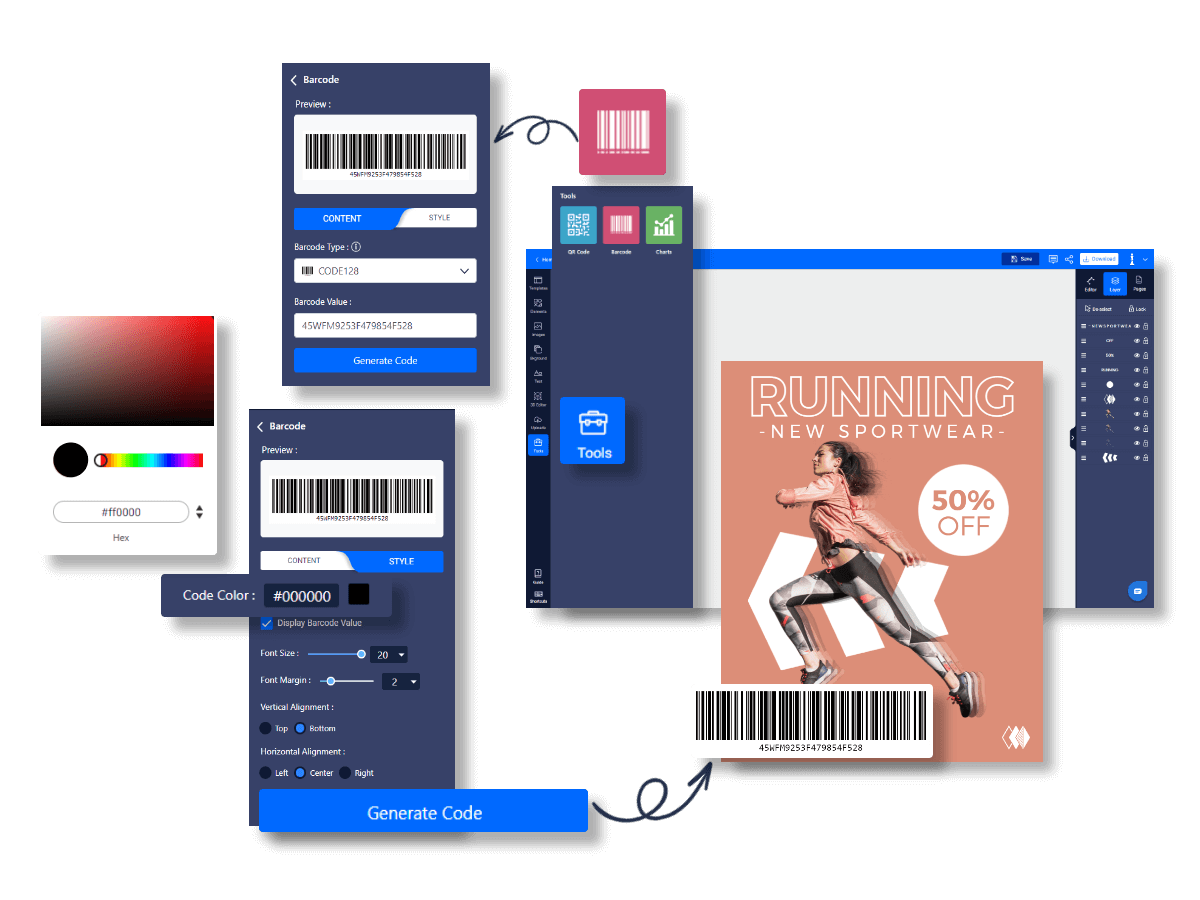 Barcodes are very accommodating for making your marketing materials look awesome. This Desygner alternative offers six types of barcodes. You may generate barcodes such as the code 128 barcode, the UPC barcode, the EAN8 barcode, the Code39 barcode, the ITF14 barcode, and the Codabar.
The barcode generator is very easy to use and customizable to match your individual needs. PhotoADKing is also available in a range of sizes and colors, allowing you to choose the ideal match for your project.
Blend Mode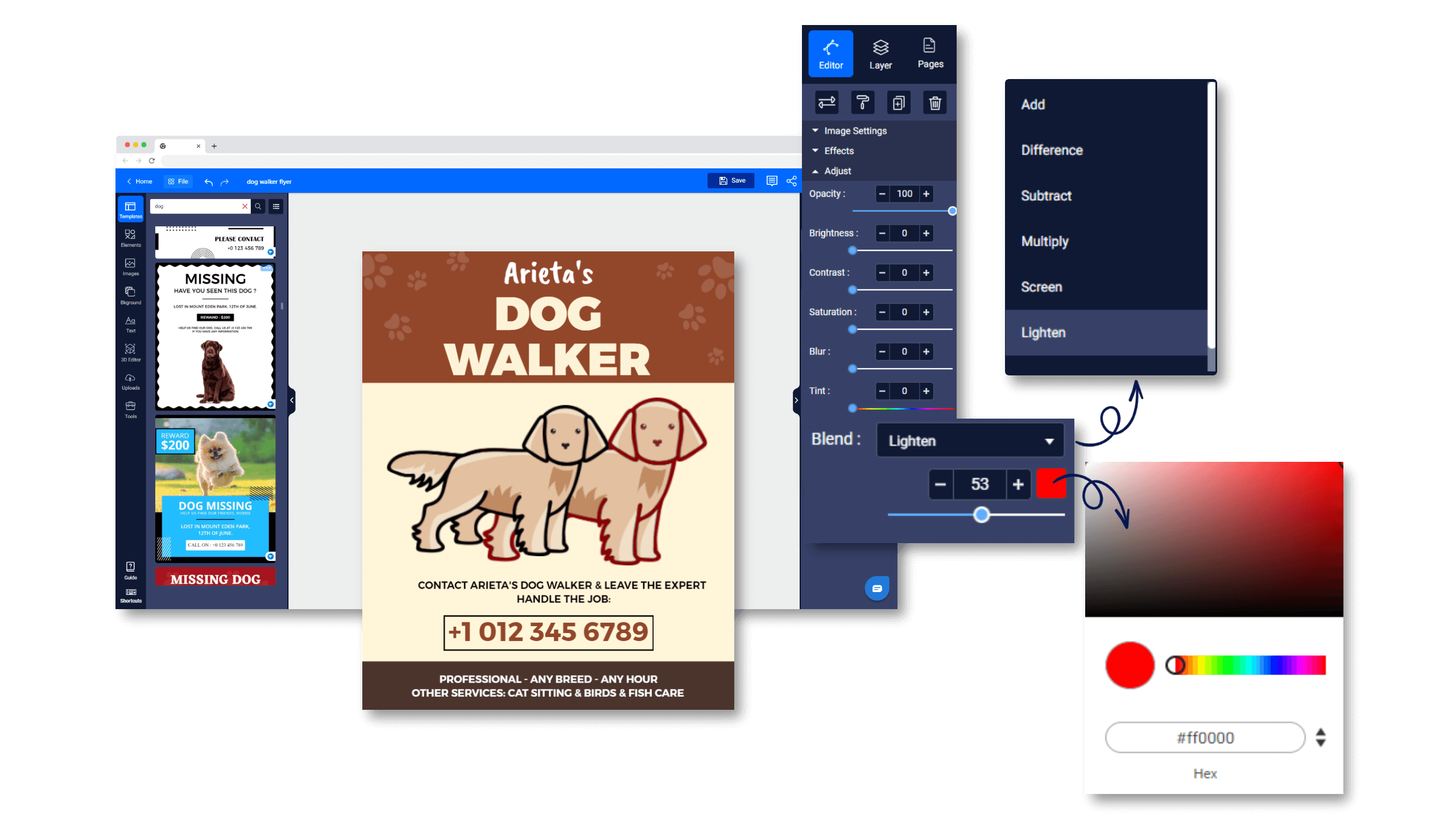 A blend mode is a layered effect that changes how colors on lower layers mix together. Simply changing the blending modes will change the appearance of your artwork. It's easy to add a little bit of an attractive effect to your visuals with the Blend Mode option in PhotoADKing. Try adding, subtracting, screening, and lightening your shape so they stand out.
3D Shape & Text Editor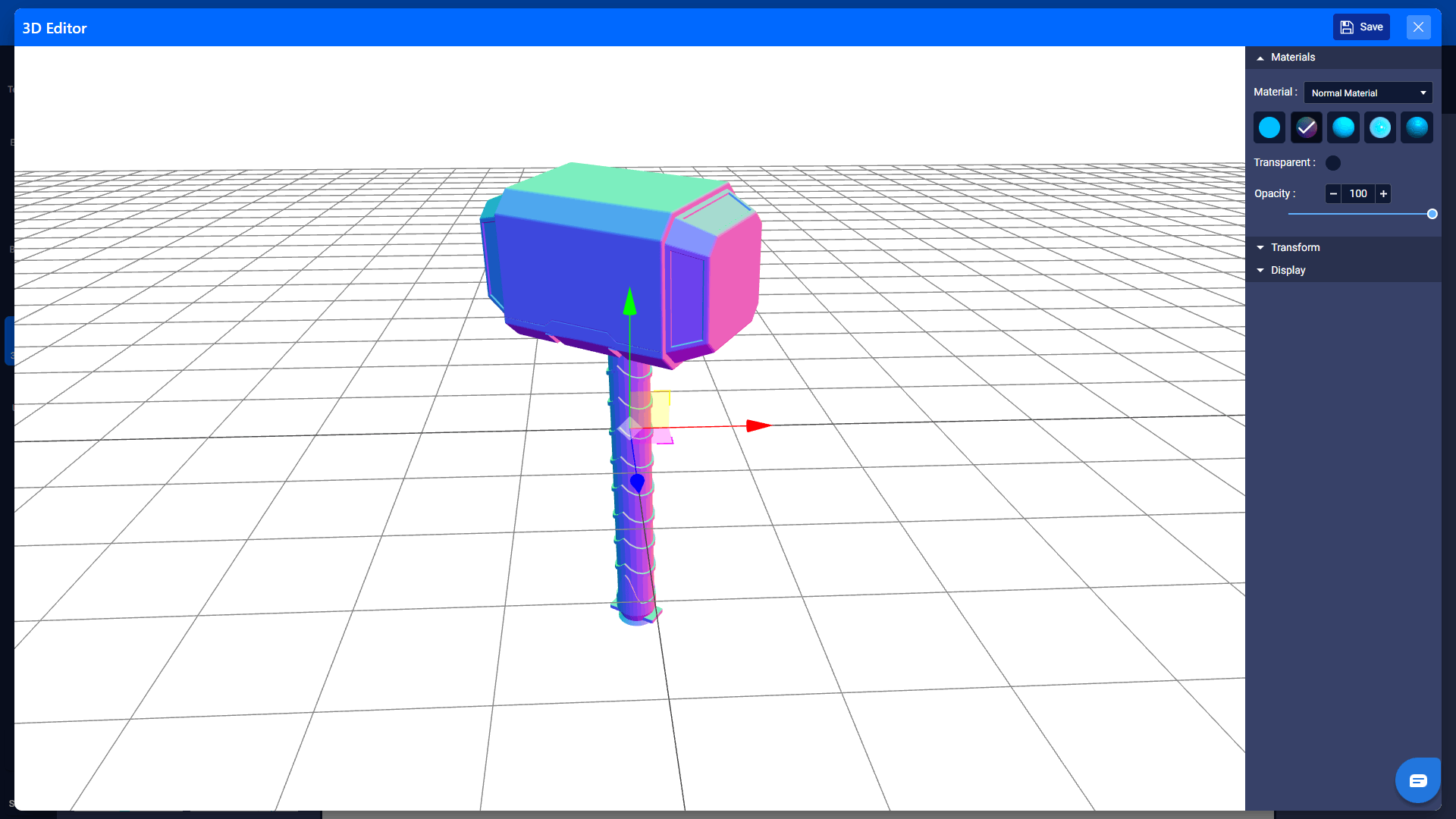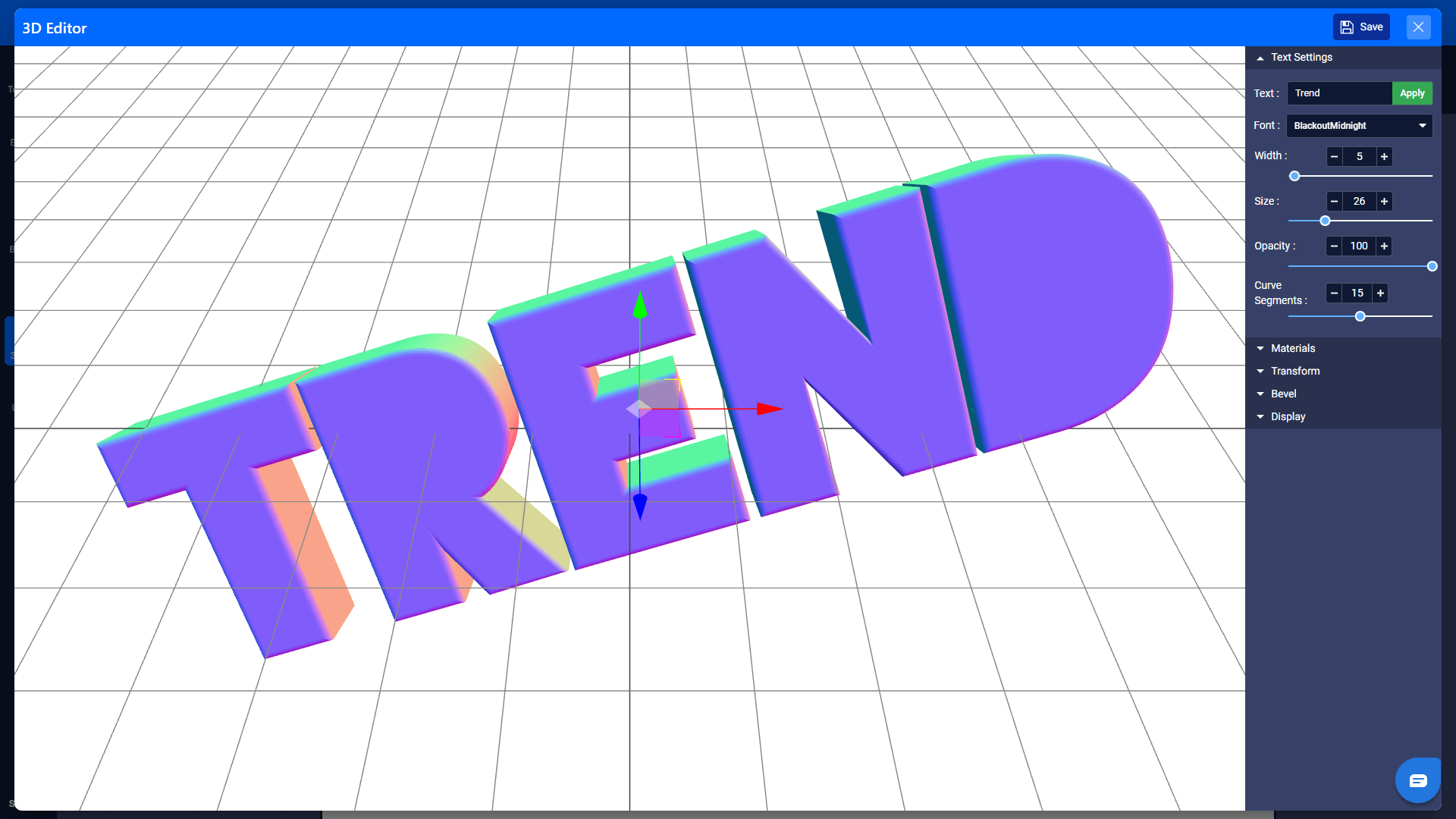 The 3D shape and text editor is an excellent tool for creating unique designs. Adding three-dimensional shapes and texts will give your designs a professional look. Most importantly, you won't find this feature in Desygner but PhotoADKing has it so you can level up your artwork.
Conclusion
Desygner is a well-known tool in graphic design. Regardless, PhotoADKing is the best tool for any designer or non-designer looking to create great designs. This Desygner alternative is a feature-rich tool with numerous customization options. Its templates seem more professional and are easier to customize than Desygner's. Therefore, PhotoADKing is the best tool in every aspect that is completely enriched with all your essential design features.