The catering menu is a crucial component of a catering business, serving as the showcase for food offerings and determining the overall client experience. A carefully crafted menu featuring a diverse array of enticing catering menu ideas can attract and delight clients, leading to repeat business and positive word-of-mouth. The use of catering menu templates can help businesses differentiate themselves in the industry and drive growth.
The problems faced by catering menus are a lack of customization to the event and guests' needs and preferences. In addition, there is inadequate alignment with the event theme and tone, and the potential for a negative impact on the overall experience. Catering menus may not always be suitable for the event or guests. To ensure a proper fit, use food menu templates that reflect the theme and tone of the event. This could be professional for a corporate function or festive for a birthday party.
What is a catering menu?
A catering menu is a comprehensive list of food and drink items that a catering company or service offers for order and service. Additionally, these menus can be tailored to fit the specific needs of the event or occasion, including a particular theme or dietary restriction. For example, a menu might include a variety of options such as appetizers, entrees, sides, desserts, and beverages. Furthermore, catering menus are typically used for events like weddings, corporate events, and other special occasions.
How does restaurant catering work?
Restaurant catering involves the provision of food and service by a restaurant for events and gatherings that occur outside of its regular operations. To ensure that everything goes smoothly, customers usually place a catering order in advance, detailing the desired menu items, quantities, and any special requirements. Upon receiving the order, the restaurant prepares the food and may also provide servers, tableware, and any other necessary equipment for the event. The delivery and setup of food and equipment are then coordinated with the customer, and the restaurant typically conducts the clean-up services after the event. Thus, restaurant catering provides a complete and convenient solution for all your food and service needs for any event or gathering.
What types of catering menus are available?
There is a plethora of catering menu options, each specifically designed to cater to a specific event or celebration. To name a few popular choices, some of these options include:
1. Corporate catering:
This type of catering menu is specifically designed for professional events such as business meetings and conferences. It offers a diverse selection of healthy and satisfying options, including sandwiches, salads, and hot entrees, to cater to a range of tastes and dietary needs. To accommodate the increasing demand for healthy and special dietary options, many corporate catering menus also offer vegetarian and gluten-free options. Whether it's a business meeting, a conference, or any other professional event, this type of catering menu provides a convenient and nutritious solution for all your food needs.
2. Wedding catering:
This type of menu is designed for one of the most important days of your life, your wedding. It is usually a formal and elegant affair, featuring a variety of appetizers, entrees, and desserts. Many couples opt for a plated dinner service or a buffet-style meal. Popular options include seafood, steak, chicken, and vegetarian options.
3. Social catering:
This particular type of menu is well-suited for social gatherings, parties, and events. It is characterized by a relaxed and informal atmosphere, with a combination of both appetizers and lighter entrees. Common choices for these menus include bite-sized sliders, personal-sized pizzas, and convenient finger foods.
4. Cocktail reception catering:
This type of menu is designed for standing events, such as receptions, networking events, and happy hours. It typically includes a variety of passed appetizers and small plates, along with a selection of wines, beers, and cocktails.
5. Ethnic catering:
This type of menu, which is meticulously crafted, aims to offer a tantalizing experience of a specific cultural or gastronomic tradition. Notably, Mexican, Italian, Chinese, and Indian cuisine are among the most favored options. Furthermore, these menus usually feature an assortment of appetizers, entrees, and desserts that authentically represent cultural cuisine.
6. Breakfast catering:
This type of menu is designed for early morning events, such as meetings, conferences, and networking events. It typically includes a variety of breakfast staples, such as eggs, bacon, and pastries, as well as healthy options like yogurt, fruit, and granola.
7. Dessert catering:
Design this type of menu for events that focus on sweet treats. It typically includes a variety of desserts, such as cakes, cookies, and pastries. Many dessert catering menus also offer a selection of specialty desserts, such as macarons, cupcakes, and truffles.
8. Barbecue catering:
Design this type of menu for outdoor events, such as picnics, reunions, and parties. It typically includes a variety of grilled meats, such as chicken, ribs, and burgers, along with a variety of sides, such as coleslaw, potato salad, and baked beans.
9. Buffet catering:
Design this type of menu for events where guests can serve themselves. It typically includes a variety of entrees, sides, and desserts. Many buffet catering menus also offer a variety of vegetarian and gluten-free options to accommodate dietary restrictions.
10. Family-style catering:
Family-style catering is a popular dining option for events that prioritize communal eating and shared experiences. as well as family-style catering is a great option for events such as weddings, birthday parties, and corporate gatherings, where fostering a sense of community and connection is of utmost importance.
What are the choices available for different tastes, preferences, and budgets?
In the following list, you will find options for all tastes, preferences, and budgets.
Sustainable or organic catering:
This type of catering places a priority on using locally sourced, organic, and environmentally friendly ingredients. As a result of the growing awareness of the environmental impact, it has become increasingly popular in recent times. People are seeking ways to reduce their carbon footprint and this type of catering provides a solution for that.
Farm-to-table catering:
By directly procuring ingredients from local farmers and producers, this form of catering can ensure the use of fresh and high-quality ingredients that are in their prime season. This direct link has several advantages, including fresher, more delicious food, more intimate relationships with nearby suppliers, and a reduced environmental impact due to less transportation. Furthermore, supporting local farmers and producers contributes to the growth and prosperity of the local community.
Kosher catering:
Adhering to Jewish dietary laws, this type of catering offers a diverse selection of meat and dairy-free options, catering to a wide range of dietary needs and preferences. These options include a variety of dishes that are both delicious and compliant with traditional Jewish dietary restrictions.
Halal catering:
In this type of catering, a diverse array of meat options is prepared under Islamic dietary laws, providing guests with delicious, halal-compliant options. These options include a range of dishes that are both satisfying and in line with Islamic dietary requirements.
Vegan and vegetarian catering:
Specifically, this catering specializes in offering only plant-based options and strictly excludes any meat or animal-derived products.
Ethnic catering:
This type of catering can include many cuisines, such as Italian, Mexican, Chinese, Indian, and many others. Each cuisine offers distinctive flavors, ingredients, and preparation techniques.
Food truck catering:
Food truck catering refers to the delivery of food and drinks from a mobile food truck, typically for special events and gatherings. In recent years, it has gained widespread popularity for its adaptability and capacity to provide a one-of-a-kind dining experience, as well as the advantage of bringing the food directly to the customer's location. This can be a fun and creative option for outdoor events and can include a variety of food options such as burgers, tacos, and ice cream.
Benefits of a catering menu:
1. Variety:
A catering menu offers customers the opportunity to select from an array of dishes and options, thus enabling them to make choices that align with their preferences and dietary restrictions.
2. Convenience:
A catering menu allows customers to order food in advance, which can save time and make planning events easier.
3. Professionalism:
Add a level of professionalism to an event by presenting a catering menu in a polished format, often printed.
4. Customization:
Tailor a catering menu to meet the specific needs of an event, such as dietary restrictions and themes.
5. Budgeting:
A catering menu can help customers budget for an event by providing prices and options for different levels of service.
Catering menu tips:
1. Offer a variety of options: Include options for different dietary restrictions, such as vegetarian, gluten-free, and nut-free options.
2. Keep it simple: Stick to classic dishes that are easy to prepare and serve in large quantities.
3. Use high-quality ingredients: Use fresh, seasonal ingredients to ensure that the food tastes delicious.
4. Be mindful of the occasion: Take into account the event you are catering for, and choose dishes that will be appropriate for the occasion.
5. Plan for leftovers: Make sure to have enough food to accommodate guests, but also plan for leftovers so that you don't waste food.
6. Have a balance of sweet and savory options.
7. Consider the time of the event and plan for the appropriate serving temperature.
8. Have a clear and detailed description of the dishes on the menu
How to make a catering menu
You can quickly create a food menu by using the PhotoADKing tool. All you need to do is follow the easy steps given below to create your food menu.
1. Go to the PhotoADKing website and sign up for an account.
2. Search for 'catering menu' in the search bar.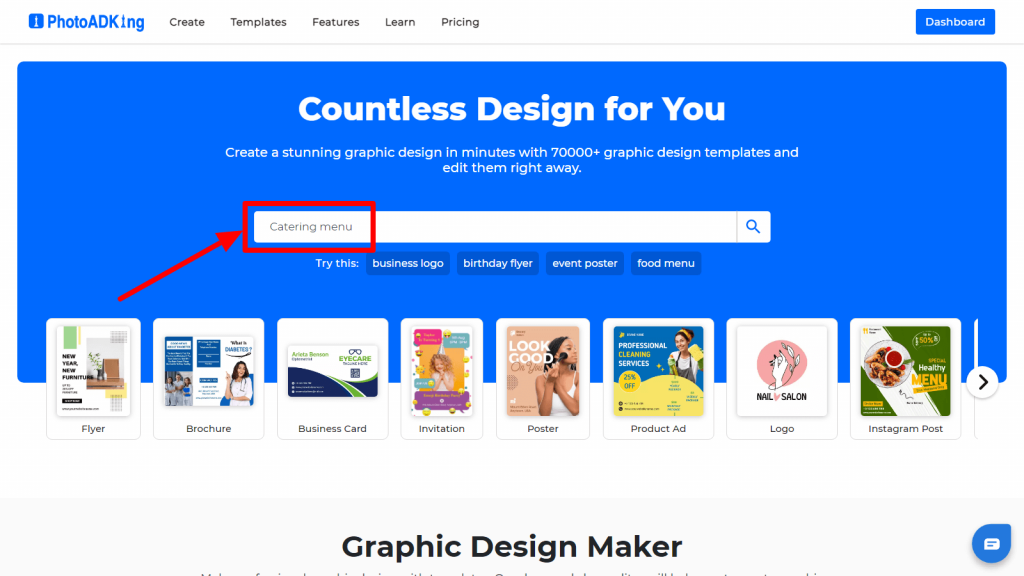 3. Select a template that best suits your needs.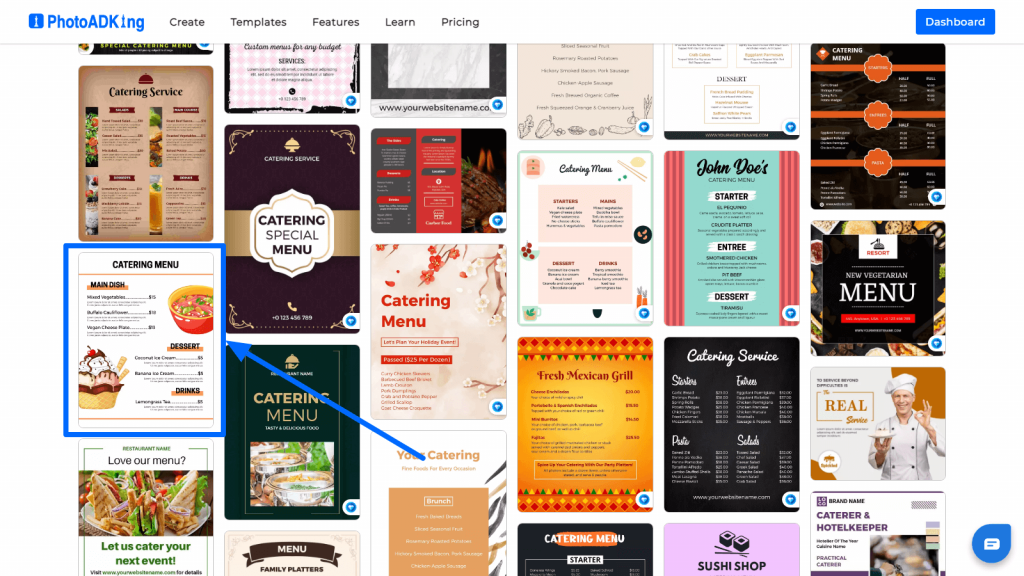 4. Edit the template's layout and design elements by adding images and text.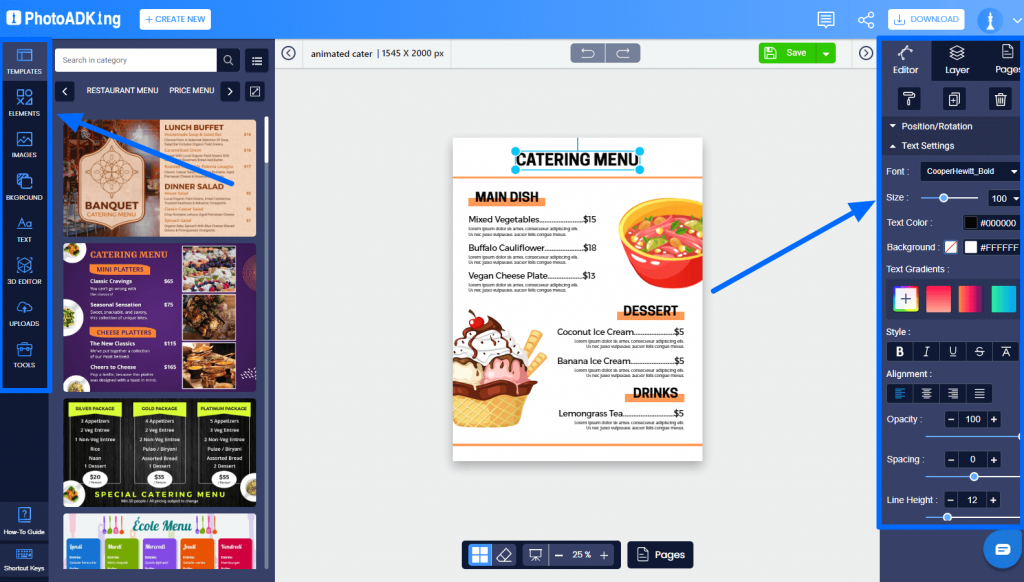 5. Download and save the menu as a print-ready or digital file.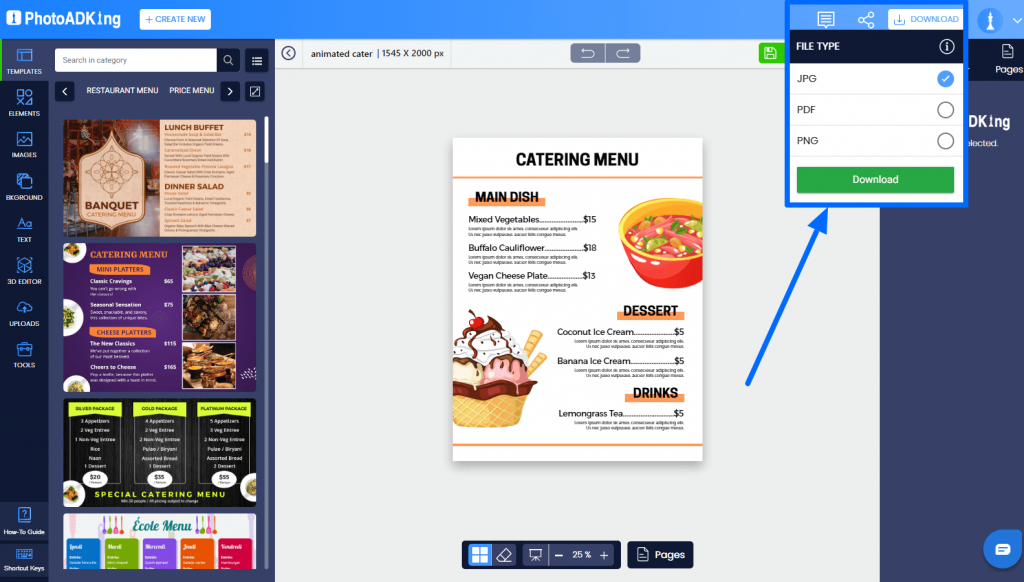 In conclusion,
The catering menu provides a diverse and extensive selection of dishes that accommodate a wide range of tastes and dietary restrictions. The menu offers everything from classic and traditional appetizers and entrees to innovative and contemporary dishes. As a result, there is truly something for every taste preference. Furthermore, the use of fresh, high-quality ingredients guarantees not only the deliciousness but also the nutritional value of each dish. Our professional and experienced catering team also tailors the menu to fit the specific occasion and budget. Hence, whether you are organizing a corporate event, a wedding reception, or a casual gathering, the catering menu proves to be a convenient and suitable option for all your catering needs.